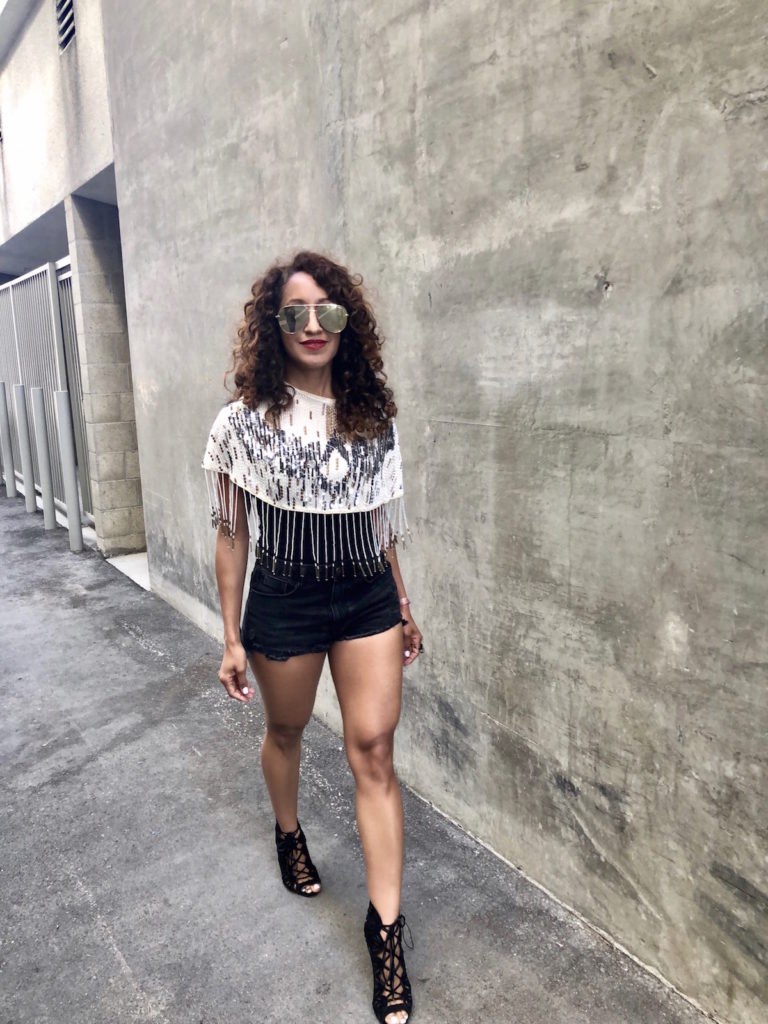 Coachella style isn't about playing it small (or demure).
One step on to the Indio, Calif. festival grounds or any bash during the weekends will show you that festival goers tend to have a go big or go home attitude,rocking bold eye-catching styles that show off their physiques, bare their booties, and may even blind you with the flash of a thousand sequins.
So, what should you wear when you hit Coachella – or any festival this season? Here are a few of the items you should pack in your bag to beat the desert heat and make a major style statement.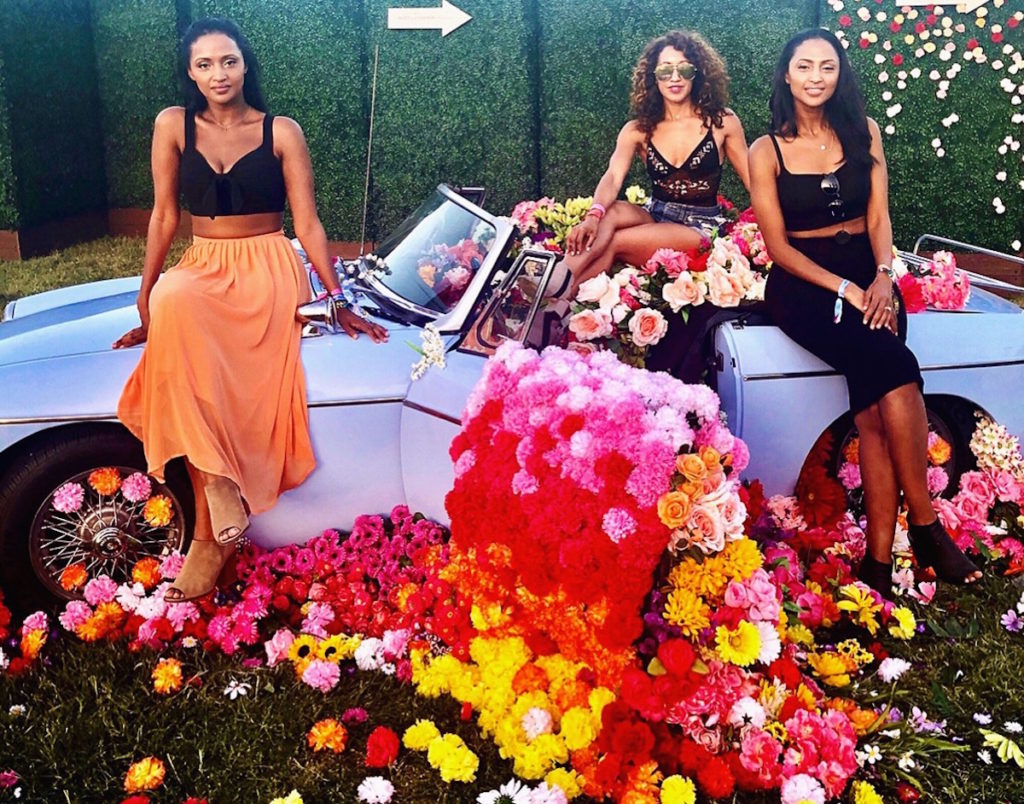 Crop Tops: Not only are crop tops on trend, but there are a ton that we love right now. This is one of the most versatile items you can take with you, because you can pair them with high-waisted shorts, high-waist skirts, cropped pants, and more.
RELATED: 10 Things We Couldn't Live Without on our Coachella Cadillac Girls' Trip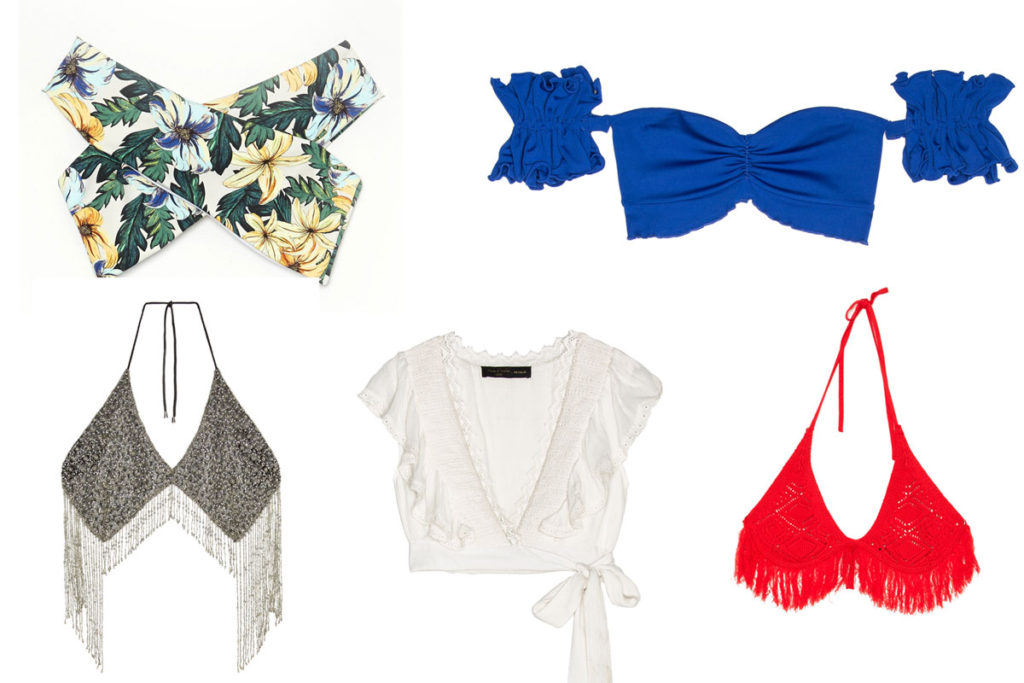 Pictured from top left to bottom right: House of Harlow 1960 x Revolve Blue Faron Top ($118), House of Harlow 1960 x Revolve Adeline Bralette ($98), 8 Other Reasons Fox Halter Top ($350), House of Harlow 1960 Revolve Juniper Top ($118)
Bold Looks: Specifically if you are heading to Neon Carnival at Coachella, sequined capes, bright colors, mirrored shades and reign supreme. We saw everything from over-the-knee python print boots to multi-colored sequined chaps.
RELATED: All the Details on Our Ultimate Cadillac Coachella Girls' Road Trip
This is one fest where you can try it all. For Neon Carnival, we opted for a yellow Topshop sheer, tiered romper with a pair of blue BCBG wedges. We originally paired this with a multi-colored sequined stretch headband.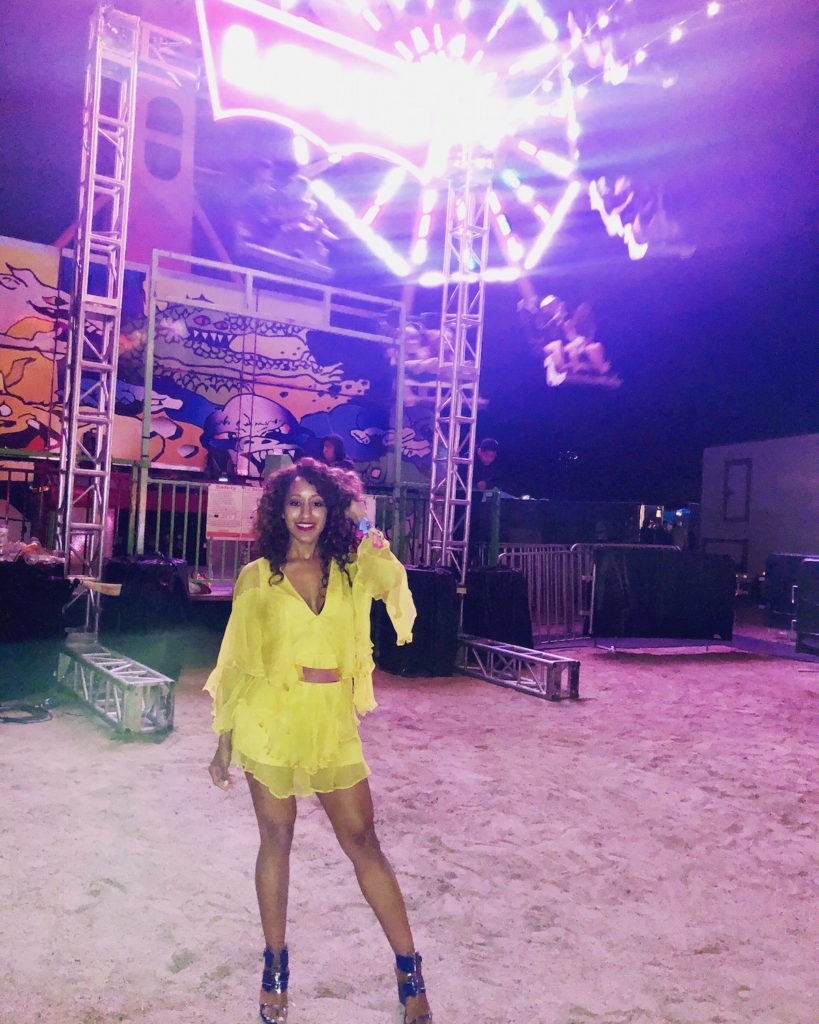 The Kicks: Leave your stilettos at home when you go to Coachella – or any festival this summer. A lot of the parties (day and night) are outside, and nothing is more annoying than getting your heels stuck in the dirt. Instead, go for block heels, sandals, and booties, which you can pair with any look.
RELATED: Inside the 2018 Levi's and Don Julio Neon Carnival
We did notice quite a few ladies hitting day parties in suede over-the-knee boots with sky-high block heels with cut-off shorts. This is totally fine, but if you're going to go this route, make sure to keep a pair of roll-up flats like Rollasoles in your bag in case your feet start to ache.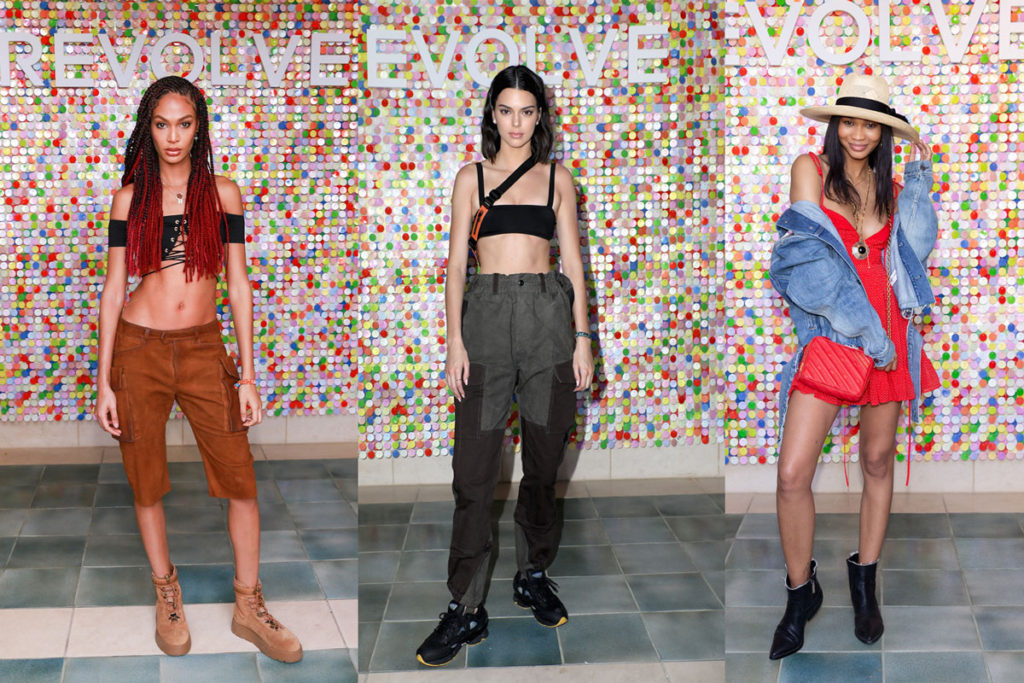 For day parties, we recommend opting for block heels, sandals, and booties. We loved the black black strappy Theory Alias Mae sandals and metallic gold strappy slip-ons in the photo below. Flat sandals felt a bit too casual for the nighttime fetes we attended (although people did wear them), so save those for daytime.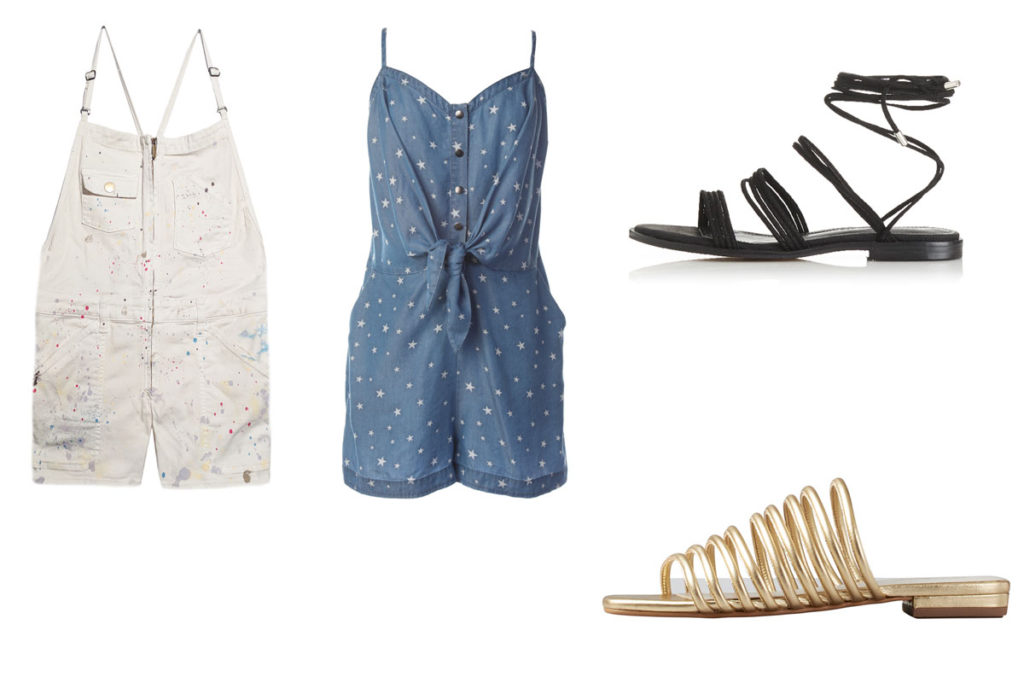 Pictured from left to right: True Religion Vintage Shortall Overalls, Naked Zebra Wendy Star-Print Romper, Theory Alias Mae Sandals
Jackets, Shorts, and Rompers, Oh My: Not every event at Coachella is glitzy, so for events that are a bit more low key, throw on a romper and amp it up with a block heel and killer shades. These paint-splashed True Religion Vintage Shortall Overalls ($219) were a fave (and so comfortable), as was this Naked Zebra Wendy Star-Print romper ($105). They're also perfect for road tripping.
Believe it or not, it gets chilly in the desert at night, so don't forget to pack a denim or leather moto jacket with you too.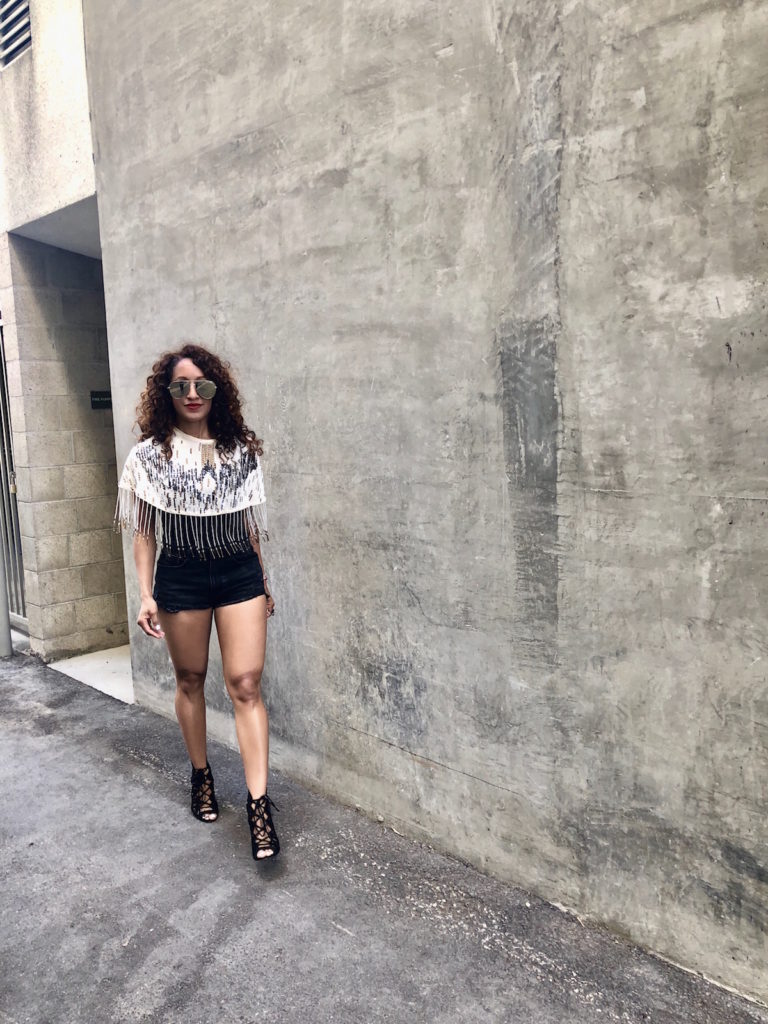 Fringe: Whether you're rocking fringe on your sequined cape or on your jacket, a fringed item is a great way to spice up any look. We fell in love with a cropped beaded fringe cape from Topshop, and paired it with a black bodysuit and denim black Zara shorts.
Stripe It Up: Striped matching sets, like these three crop top and short looks from the Lottie Moss Collection were also all the rage at Coachella. You can dress them up or down depending on your shoes or accessories (keep those simple since the stripes are already doing a lot).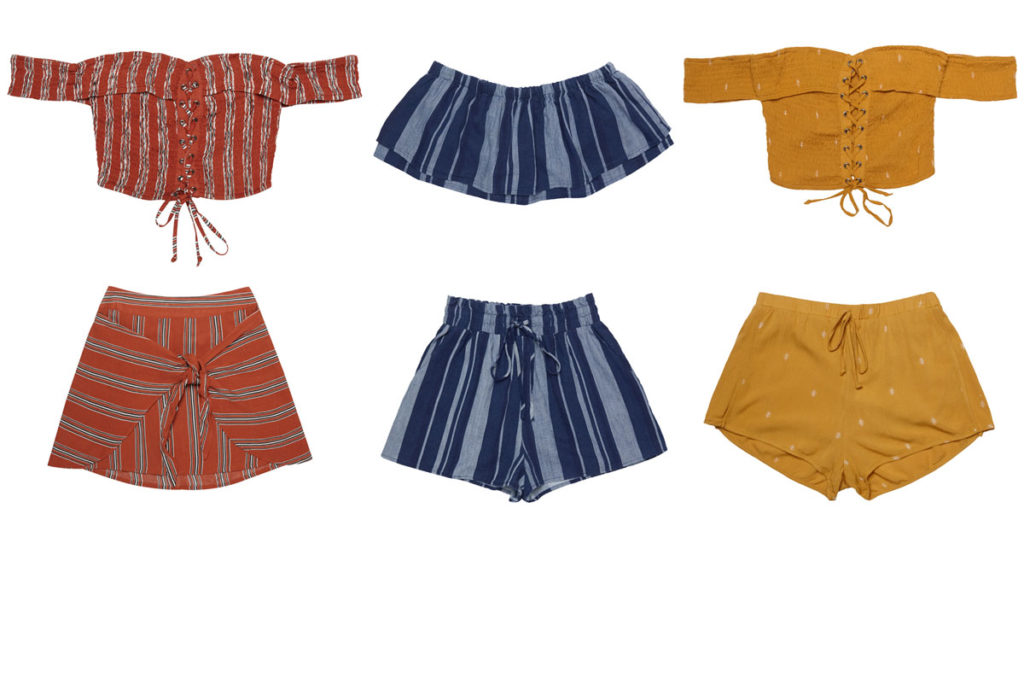 In general, matching sets are on trend now. We are obsessed with Endless Rose's Bustier Brocade floral crop top ($90) and high-waist shorts ($95) that we wore during the festival. We'll be rocking it all spring long (and summer too).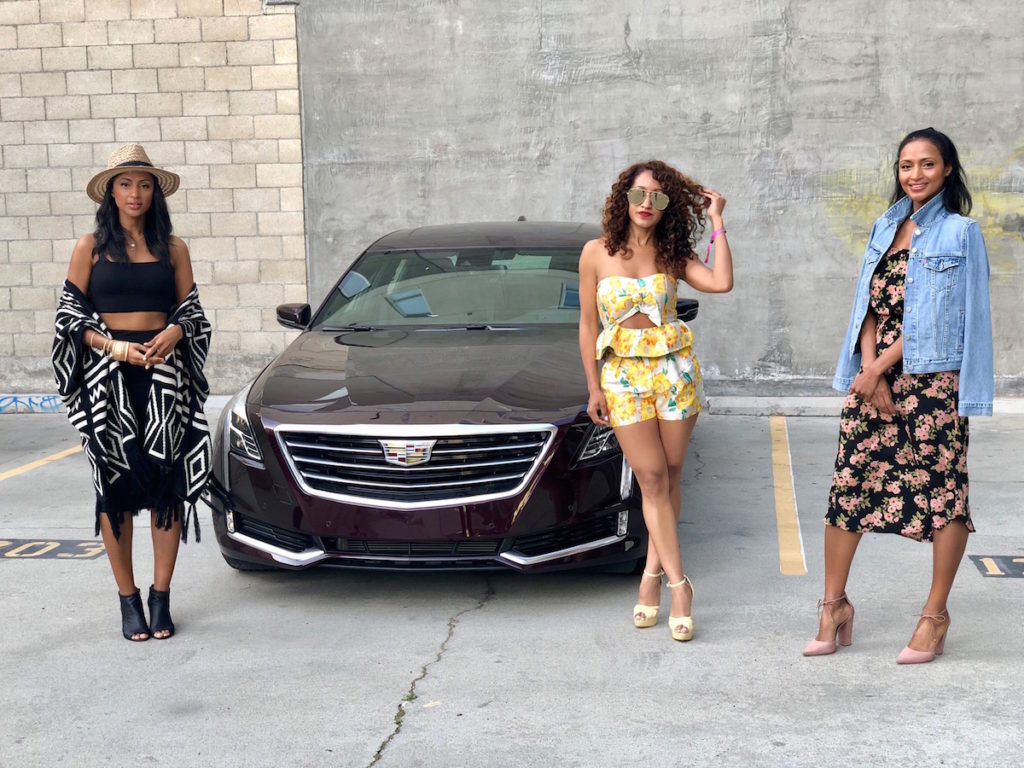 Swimsuits: Coachella isn't really about serving a high-fashion swim moment, but we couldn't resist adding these new Spring/Summer 2018 Andrea Iyamah suits we fell in love with to the mix. We love them because you can wear the bikini tops as tops in the desert too.
We also swooned over this red and gold blinged-out cutout swimsuit and this tropical bikini with a strappy, cleavage-baring bustline available on Revolve. Both gave us classic Coachella vibes.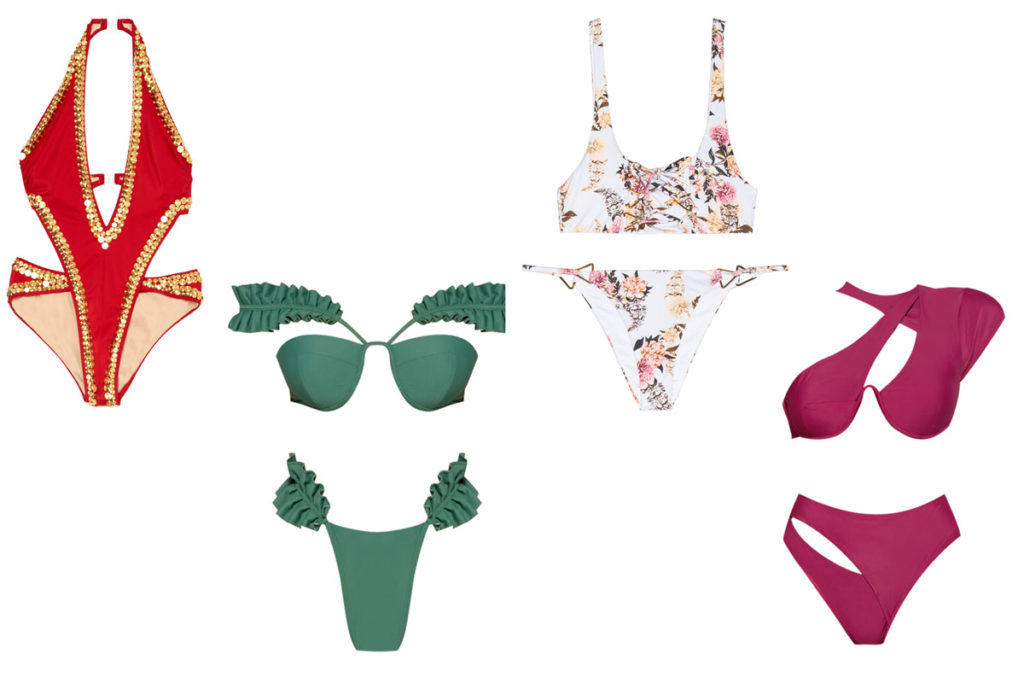 Pictured from left to right: Norma Kamali Gold Study Andy Swimsuit ($650) Andrea Iyamah Kivo Bikini (Top, $88; Bottom, $81); Beach Riot Tropical Bikini (Top $110, Bottom $88); Andrea Iyamah Mulan Bikini (Top, $90; Bottom, $78).
Bodysuits: This is also another one of those items that you need to have in your bag. Keep a plain bodysuit on hand in a neutral color to pair with bolder looks, but don't forget to pack a couple of statement-making lace and bead-embellished bodysuits too that can stand alone with a pair of denim cutoffs. We fell in love with a black sequined, lace bodysuit from Topshop that we paired with ripped denim shorts.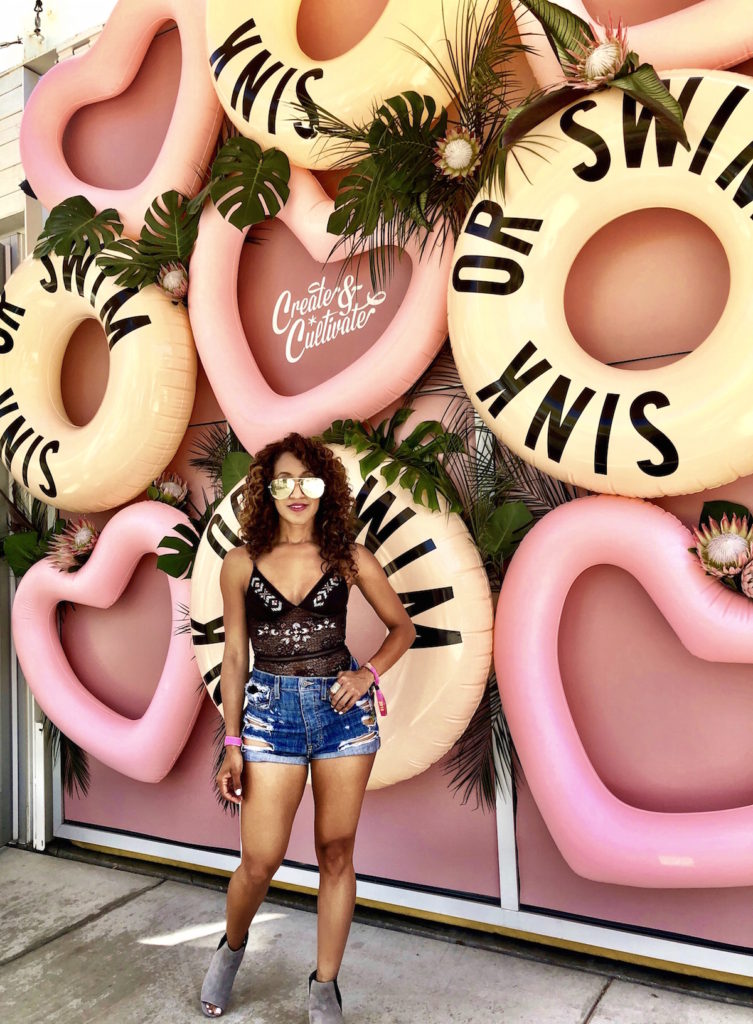 Dresses: Usually, an LBD is always a good idea, but go for something bolder for Coachella and other festivals. Since there are so many events, it's a good idea to pack a few light dresses – for day and night – that you can dress up or down depending on the event. Here are a few looks we loved from one of our fave online retailers, Revolve.
RELATED: Inside the Star-Studded Coachella Revolve Festival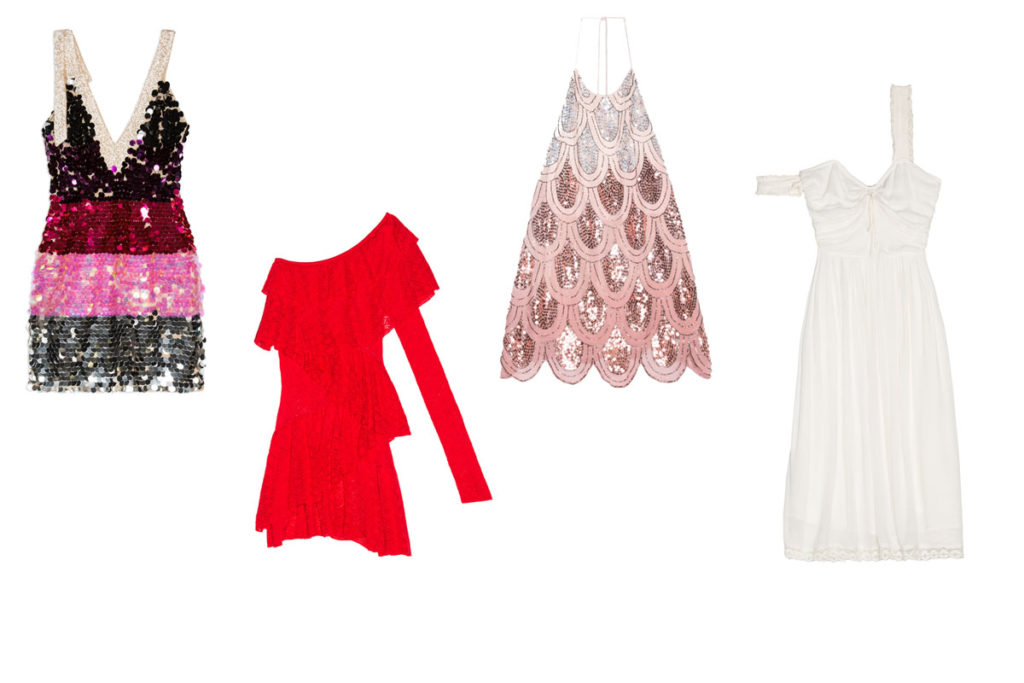 Pictured from left to right: LPA Payette Sequin Deep V Dress ($248), House of Harlow 1960 x Revolve Aries Dress ($198), NBD Dame Dress ($230), House of Harlow 1960 x Revolve Taylor Dress ($178).
We also swooned over the star-covered Silk Laundry 90s Silk Slip Dress (Silk Laundry, $192) that we were to the Rachel Zoe's ZOEAsis, and a yellow Naked Zebra Athena Off Shoulder Tie Dress (Naked Zebra, $66) that was so versatile that we wore it to four events in one day.
RELATED: Inside Rachel Zoe's Moroccan ZOEAsis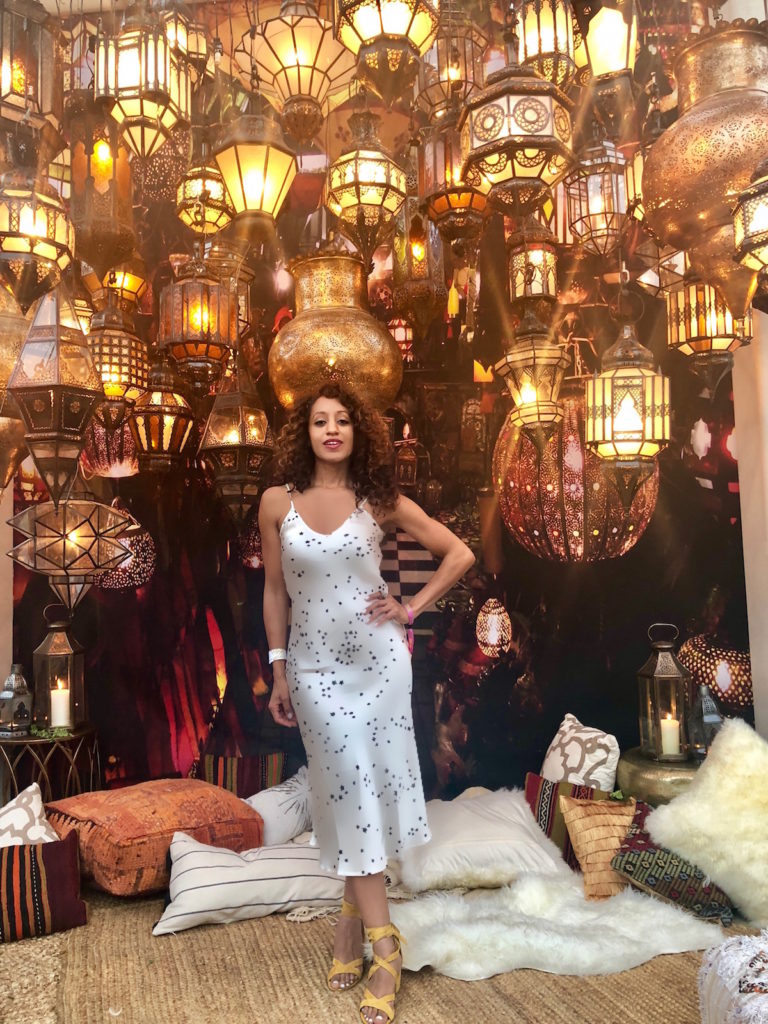 Sunglasses: Speaking of shades, you can't go to festivals and not pack a pair of these. Go for pairs of sunnies that stand out, like Quay High Key Mirrored sunnies, dramatic cat eye looks, or even glittery oversized square-rimmed sunglasses. (Pictured below: Quay High Key mirrored Aviator sunglasses in gold/gold, Bloomingdale's, $65)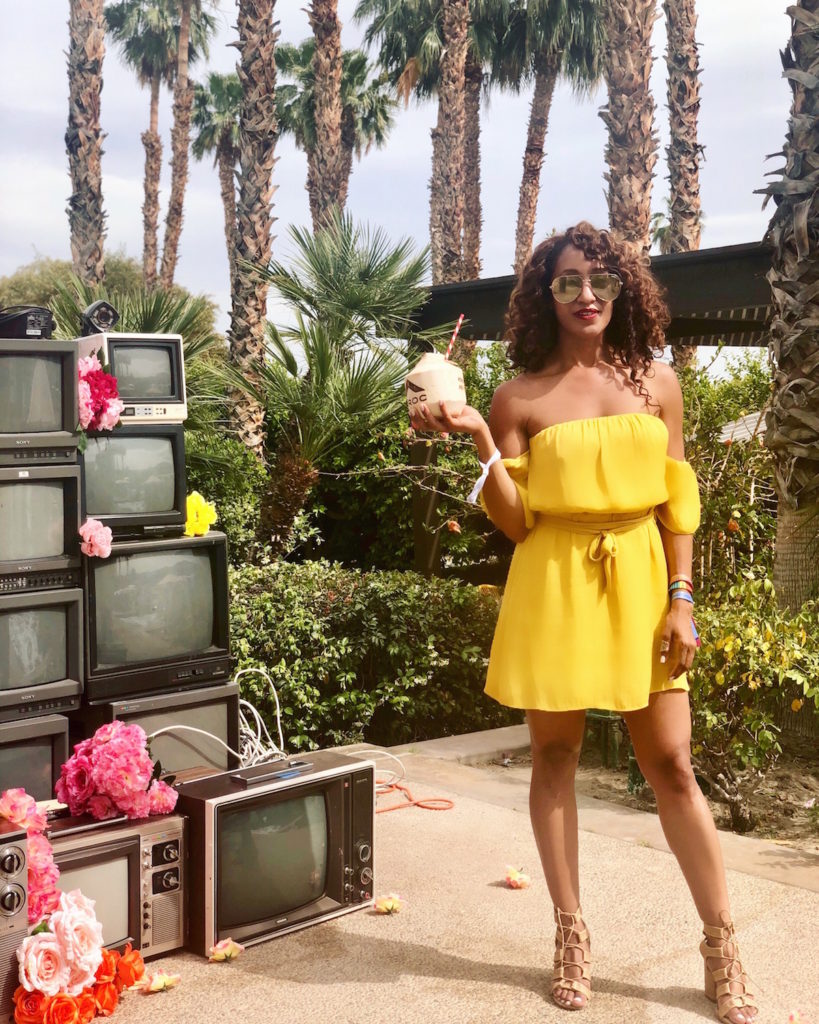 Cheers to an amazing festival season Destination Fabbers!