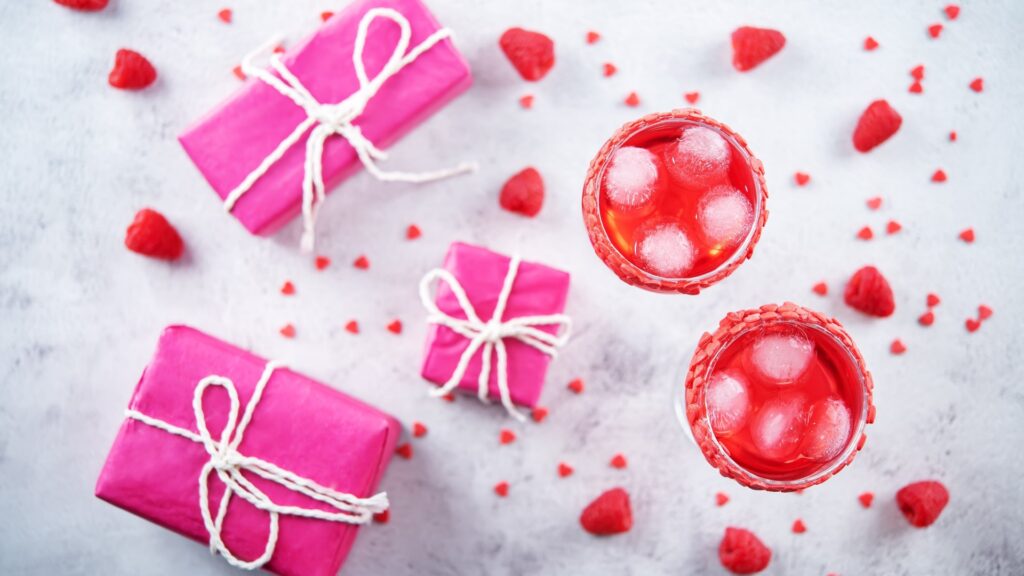 Happy Valentine's Day! Whether you're spending it with your beau or spoiling yourself, whipping up a Valentine's Day cocktail can make the occasion even sweeter, and there are three at the top of our Love Day cocktail list.
If you're looking for a way to make your love swoon on Valentine's Day or any other day, consider making one of these drinks before you hit the town, if you're spending the day at home, or after dinner.
Ciroc Pomegranate Sweetheart Cocktail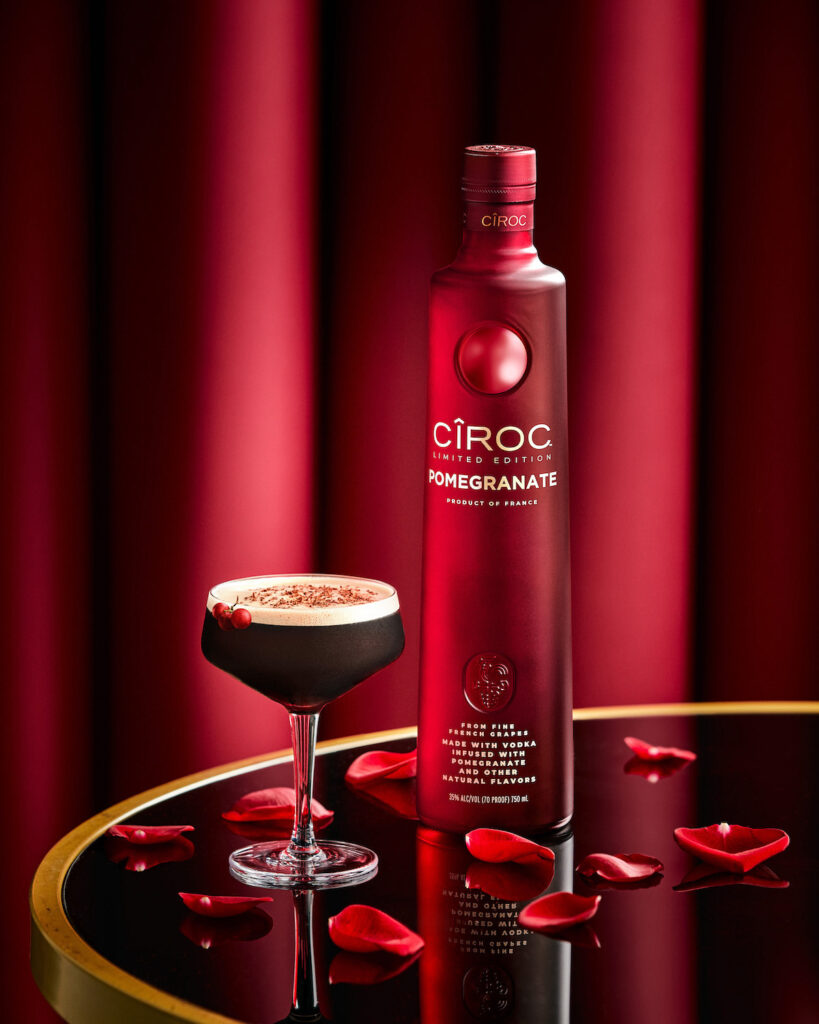 Photo Courtesy of Ciroc
Ciroc Pomegranate (you can get it delivered straight to your door on Drizly)  is smooth and fruity, with notes of red berries, hints of strawberry and bursts of pomegranate. The Sweetheart cocktail is infused with hisbiscus tea and grenadine and topped with a grated chocolate and/or red currant garnish. In addition to the cocktail, Ciroc Pomegranate is also smooth enough to sip on its own or mixed with cranberry juice and garnished with a lime wedge for a simple cocktail too.
Ingredients: 
1.5 oz CÎROC Pomegranate
1.5 oz Hibiscus tea
1.5 oz Concentrate coffee brew
0.5 oz Grenadine
Red currant/grated chocolate for garnish
Directions: 
Add all ingredients into a shaker filled with ice. Shake for 6 to 8 seconds. Strain into a coupe glass and garnish.
Spiked Hot Chocolate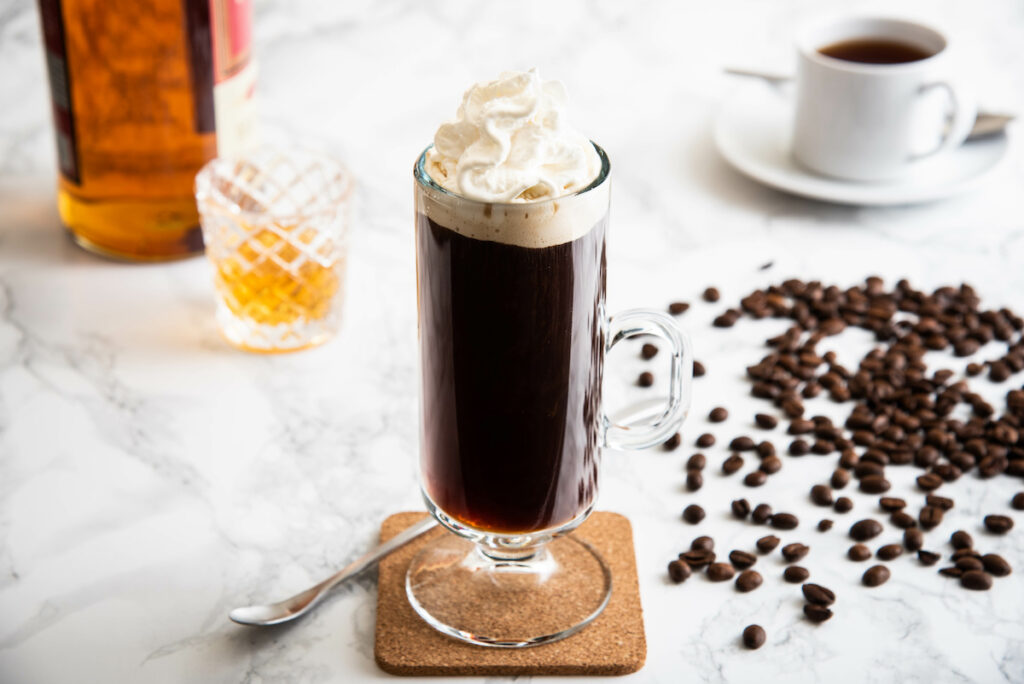 If it's a chilly Valentine's Day, mix this homemade hot chocolate with your favorite libation to take it to the next level. Cooks Country recommends adding bourbon, golden or dark rum, amaretto, coffee liqueur, brandy, or cognac to it.
Ingredients: 
¼ cup (¾ ounce) nonfat dry milk powder
¼ cup (¾ ounce) Dutch-processed cocoa powder
2 tablespoons confectioners' sugar
3 cups whole milk
1 cup (6 ounces) bittersweet or semisweet chocolate chips
4 ounces bourbon
1 teaspoon vanilla extract
Marshmallows or whipped cream (optional)
Directions:
Whisk milk powder, cocoa, and sugar together in a medium saucepan.
Slowly whisk in milk until incorporated and no lumps remain.
Bring it to a simmer over medium-high heat, stirring occasionally.
Remove it from the heat and immediately whisk in chocolate chips until melted and smooth.
Stir in bourbon and vanilla. Divide among 4 mugs. Top with marshmallows or whipped cream, if using. Serve.
A Pineapple-infused cocktail with a Twist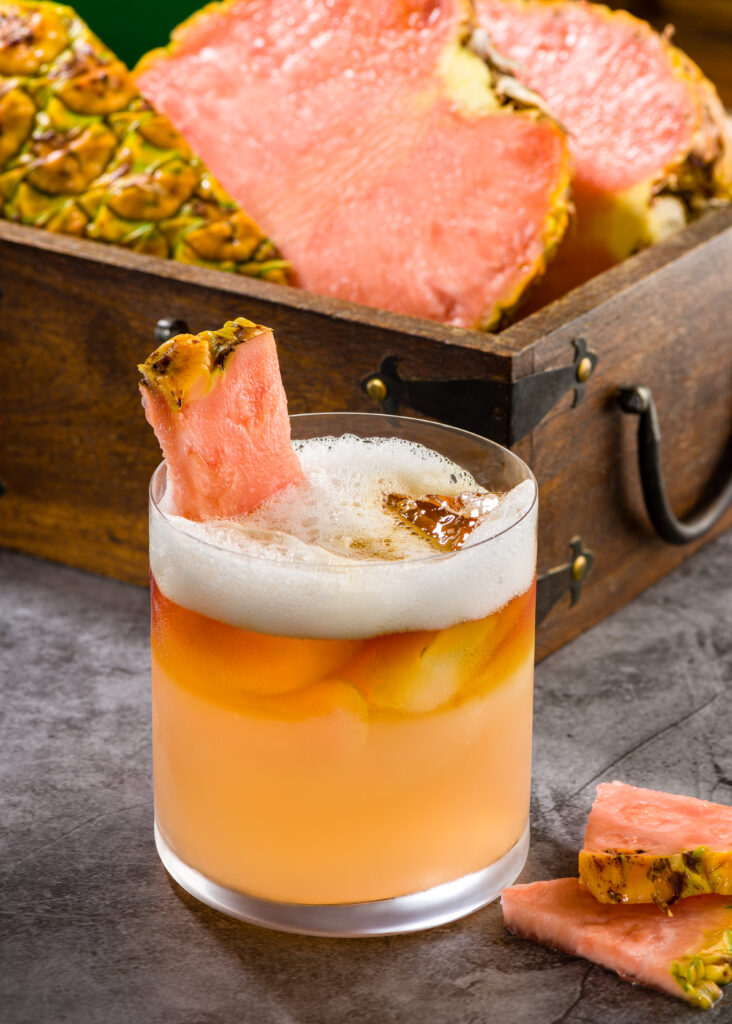 Photo Credit: Fresh Del Monte
Missing vacays on the beach? Add some tropical vibes to the day with a Pinkglow Pineapple cocktail. The Pinkglow pineapple is not only on theme for the occasion because of its pink hue, but the Fresh Del Monte pineapple is sustainably sourced and grown on a carbon-neutral farm in the South-Central region of Costa Rica. The taste is sweeter and less acidic than regular pineapples. It's also very juicy and has a cotton candy finish.
It's way more than the cost of your traditional pineapple at $39, but if you care to splurge and try something new, the Pinkglow cocktail with white and dark rum is worth a try. You can purchase PinkGlow Pineapples at Tropical Fruit Box and Melissa's.
Ingredients: 
Pinkglow pineapple
8 oz White Rum
2 oz of Dark Rum
Ice Cubes
4 Rock Glasses
Directions:
Cut Pinkglow in half. Use a sharp knife to peel the pineapple. Cut around the core to make pineapple wedges and discard the core. Cut the wedges into large chunks.
Add the pineapple chunks into a blender and blend until smooth to create a juice.
Fill the shaker with ice cubes.
Pour in white rum and 8 oz of Pinkglow juice and shake thoroughly.
Pour into each rock glass filled with ice cubes.
Top each glass with dark rum on the top to create a layer on top of each cocktail.
Add a piece of Pinkglow as a garnish to each.