Happy Cinco De Mayo! Whether you're hitting the town to have some fun or celebrating with an intimate fete at home, we've got a few cocktail recipes and recs that will help you kick off the holiday – and weekend – right. Hint: We're leaning margarita heavy this time around.
The Cincoro Margarita
If you're not familiar with Cincoro – the tequila brand Michael Jordan and other NBA vets created – try it immediately. It's so smooth that you can sip it on its own. That's why we're particularly smitten with this margarita recipe. It has four simple ingredients. Simply add ice, shake it up, and serve.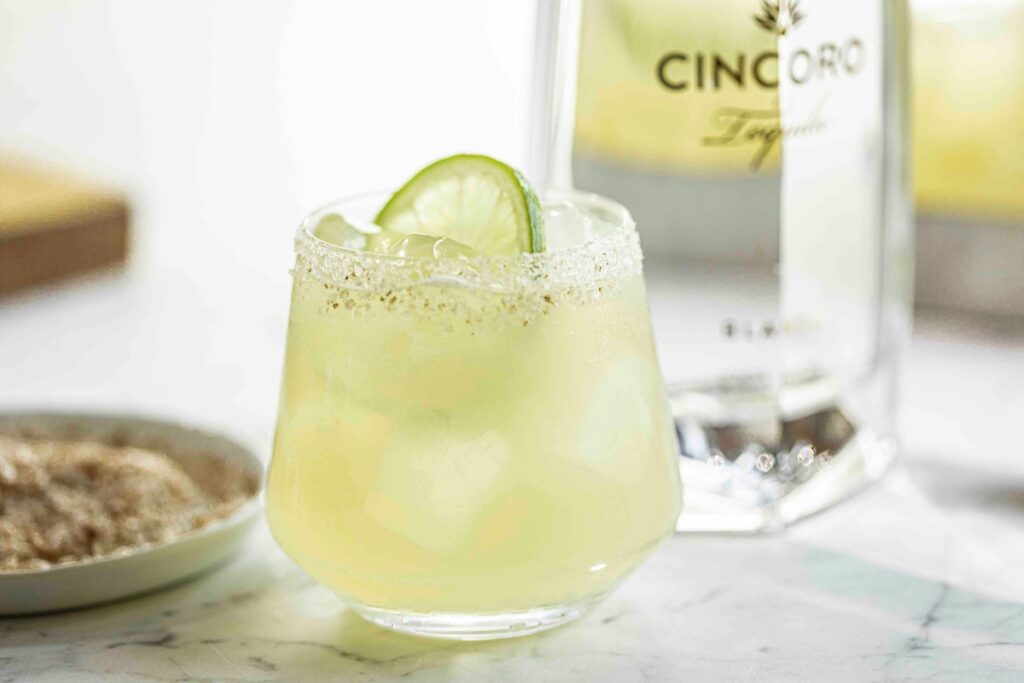 Photo Credit: Cincoro
Cincoro Margarita
Ingredients
2 oz Cincoro Blanco
.75 oz Pierre Ferrand Dry Curaçao
.75 oz Fresh Lime Juice
.25 oz Agave Nectar
Directions
Combine all ingredients in a mixing tin, add ice and shake vigorously until cold (shake longer if served up, shake shorter if served on the rocks). Garnish with Half-Salt Rim and Scored Lime Wedge
Hilton Vallarta's Green Mayo Margarita
Hilton Vallarta Riviera All-Inclusive Resort sent us over one of their Cinco de Mayo-inspired margaritas curated by their top mixologists and we're in love. It's a refreshing, smoky, and spicy margarita that can't be missed.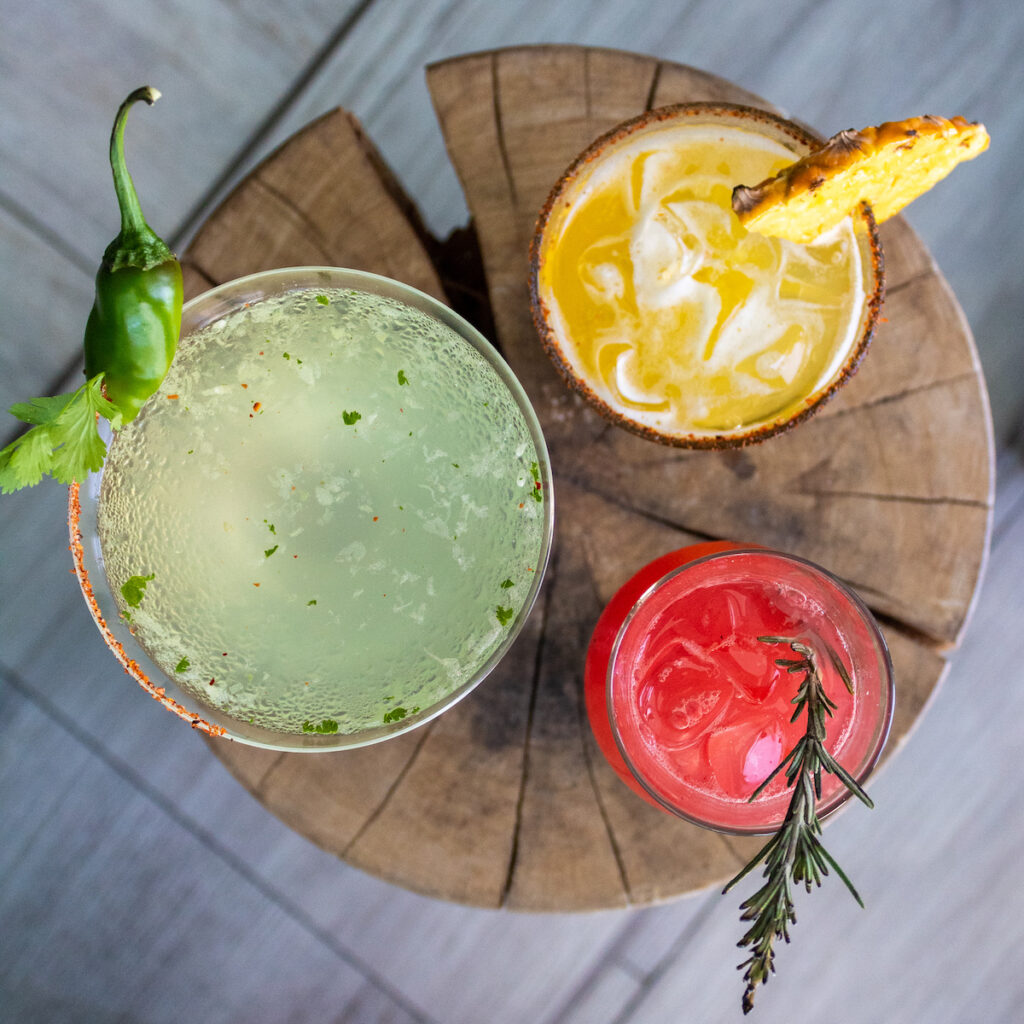 Courtesy: Hilton Vallarta Riviera Resort
Green Mayo Margarita
Ingredients
1.5 oz Mezcal Tequila
0.5 oz Agavero liqueur​
1 oz fresh lemon juice​
5 gr of cucumber​
1 gr of fresh coriander​
0.5 gr of serrano or jalapeño pepper​
Directions
Combine lime juice, cucumber and shake ingredients in a cocktail shaker
Add in mezcal, agave liquor, coriander and serrano pepper, add ice and shake
Using the strainer poor into glass of your choice
Garnish: serrano chili and coriander leaf
The Pre-Made Margs That are Perfect for At-Home Fetes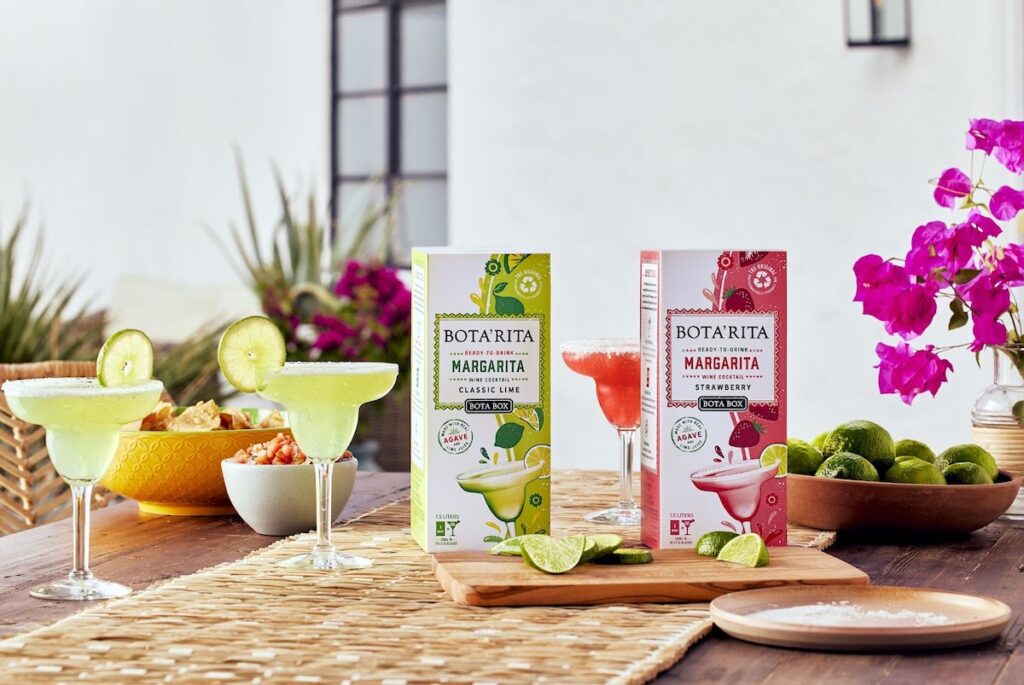 Bota
Bota Box's Margarita: Bota Box, known for its boxed white and red wines, has a new Bota'Rita, essentially a margarita in a box. There are two flavors  – Classic Lime and Strawberry – and they're made with high-quality traditional wine,real agave, lime juice and natural flavors. Just add ice and a salted rim if you wish and you're good to go.
sipMARGS Spicy Margaritas: These canned margaritas are great to bring to picnics and outdoor fetes, or serve at home. They're delicious and the brand just launched a new sparkling margarita flavor, Spicy (the other flavors are Classic, Coconut, Mango and Mezcal). For those working on their summer physiques, no worries on downing a couple of these. They're low cal and low sugar too. You can purchase them directly on sipMARGS.com.
The Cocktail Kits to Order Straight to Your Door for Cinco and Beyond: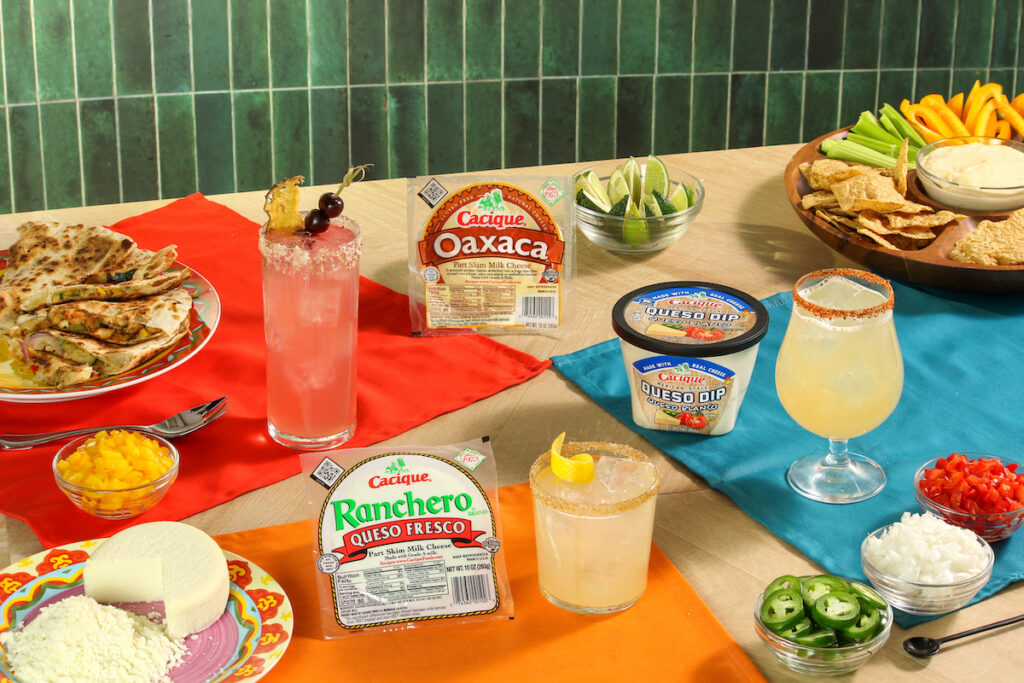 Photo Credit: Cacique
Cacique's "Queso and Cocktails" Kits: The kits come with all of the ingredients needed to create signature margaritas designed by Mexican American mixologist Erick Castro, that pair perfectly with the three Cacique quesos inside – Queso Blanco Queso Dip, Ranchero brand Queso Fresco and Oaxaca (If you've never tried Cacique, do it. It's so good). They're available for purchase from April 25 through May 25, 2022, and can be delivered straight to your door via Cocktail Courier.
Cointreau's Margarita Market Cocktail Kit: To kick-off the summer and celebrate Cinco de Mayo, Cointreau hosted a special Margarita Mobile pop-up in Los Angeles today with free margaritas to boot, but if you weren't able to attend, you can grab The Margarita Market Cocktail Kit right on Uber Eats at The Margarita Mobile, and have it delivered to your doorstep for $45.  It includes everything you need to make Cointreau's margarita right at home – Cointreau, tequila, limes, salt and bar tools and more (Use code eats-izc55 for $20 off your first $25 UberEats order.