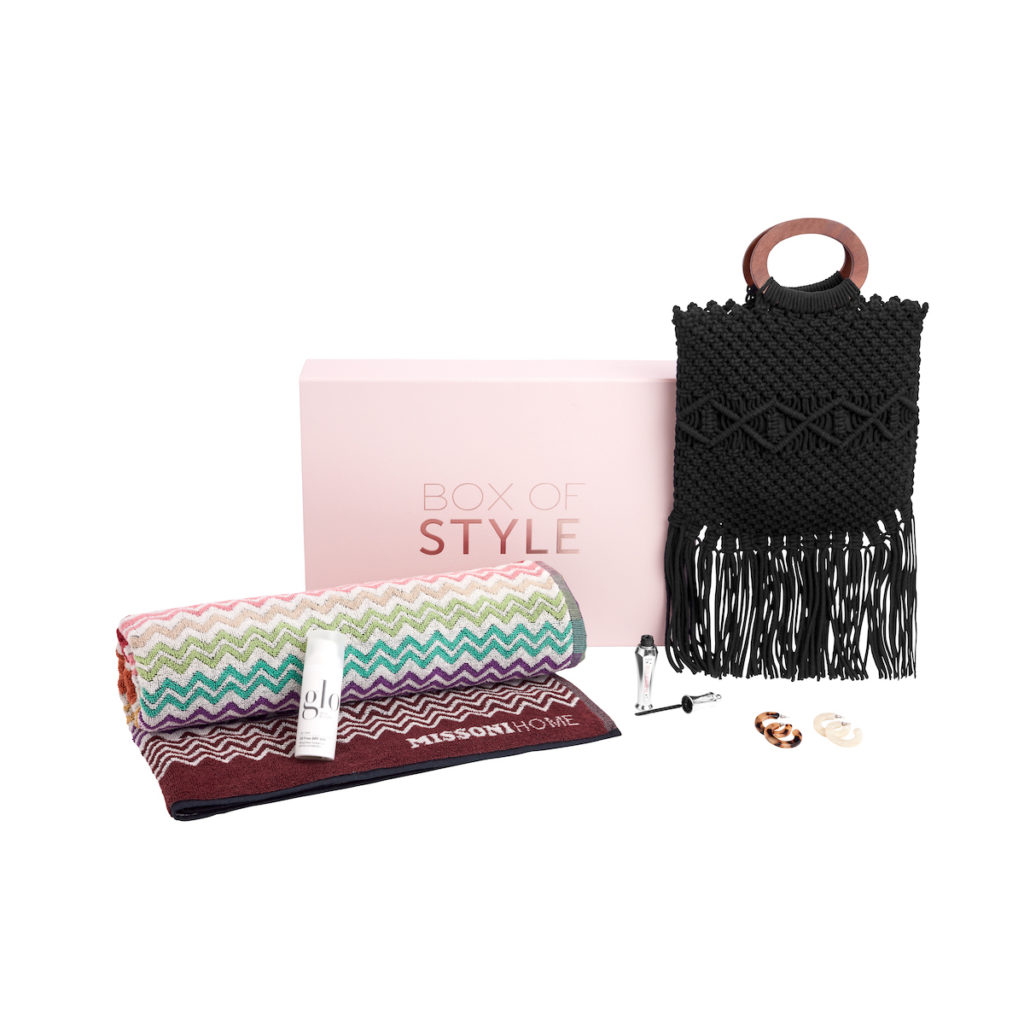 We live for a summer getaway and a clutch set of essentials to pack in our suitcases.
Which is why every time the Summer Box of Style is unveiled, we swoon, and take everything in it with us on our vacays to beach destinations and beyond. The curated box of goodies, hand picked by fashion mogul Rachel Zoe, is tailored for summer and this season's hottest trends in beauty and fashion.
This time around the luxe collection includes a Missoni Home Rufus Terry Beach Towel ($220 retail value), Danielle Nicole Macrame Handbag ($100 retail value), Machete Lucite Hoop Earrings ($44 retail value), Benefit Cosmetics 24-HR Brow Setting & Shaping Gel ($24 retail value), and Glo Skin Beauty Oil Free SPF 40+ ($38 retail value).
Take a peek at our breakdown of the luxe items in the Summer 2019 Box of Style(Top photo credit: Box of Style):
Missoni Home Rufus Terry Beach Towel
When we saw this multi-color Missoni Beach Towel in the box, we knew – yet again – that Zoe just gets us. We have a thing for Missoni and so does she. "My love for Missoni runs deep," Zoe said in a statement. "I never have a pool party without draping every piece of outdoor furniture with my extensive collection of Missoni Home towels. It's a dream come true to be able to share this obsession with you."
RELATED: Why W South Beach Is Our New Staycation Hot Spot
Machete Kate Hoops
Summer and vibrant statement-making earrings just go together, and these on-trend Machete Kate Hoops fit the bill. "Summer calls for playful earrings," Zoe said. "This of-the-moment lucite style comes in a choice of opal or tortoise and looks great with everything from a caftan to jeans and a tee." The earrings are stainless steel, hypoallergenic, and 1.5" in diameter.
Danielle Nicole Macramé Handbag
Per usual, Zoe included more than just one trending piece for the season in her box – this gorge crochet Danielle Nicole Macrame' Handbag. "Crochet is a huge trend for summer," Zoe continued. "The wooden handles on this lined bag are beyond chic, and we added a cross-body strap for versatility."
RELATED: The 8 Things You Can't Miss During Your Seminyak Vacay
24-Hr Brow Setter Shaping & Setting Gel
Not everyone was born with perfect brows (few people were), so it's always good to have a product on hand to enhance them like Benefit Cosmetics 24-Hour Brow Setter Shaping & Setting Gel, which works for all brow colors and has a strong, but flexible hold. "People underestimate the power of eyebrows, they literally transform your face," Zoe said. "This gel keeps them in place flawlessly."
Glo Skin Beauty Oil Free SPF 40+
Believe it or not, it's not the easiest thing to find an oil-free moisturizer for summer that has SPF and isn't super thick. This one, by Glo, is our new must have for summer travels. "SPF is a must year-round but particularly during the summer," Zoe said. "This hydrating moisturizer is oil-free, lightweight and boasts protection of SPF 40."
Per usual, the Summer 2019 Box of Style is worth $400, but you can snag it for only $99 with a Box of Style membership. If you're not familiar with Box of Style, It's a luxe seasonal subscription service that allows you to choose a seasonal membership at $99.99 per quarter or an annual membership of $349.99 per year. Each box has at least five full-size fashion and beauty products valued at over $400 (grab yours here).
If you've been hanging out with us for a while, you know how much we love the Box Of Style. We always write about it each time a new one drops, and we've even given it away to lucky Destination Fabbers.
Cheers to more fab summer travels with travel essentials like these in your arsenal!