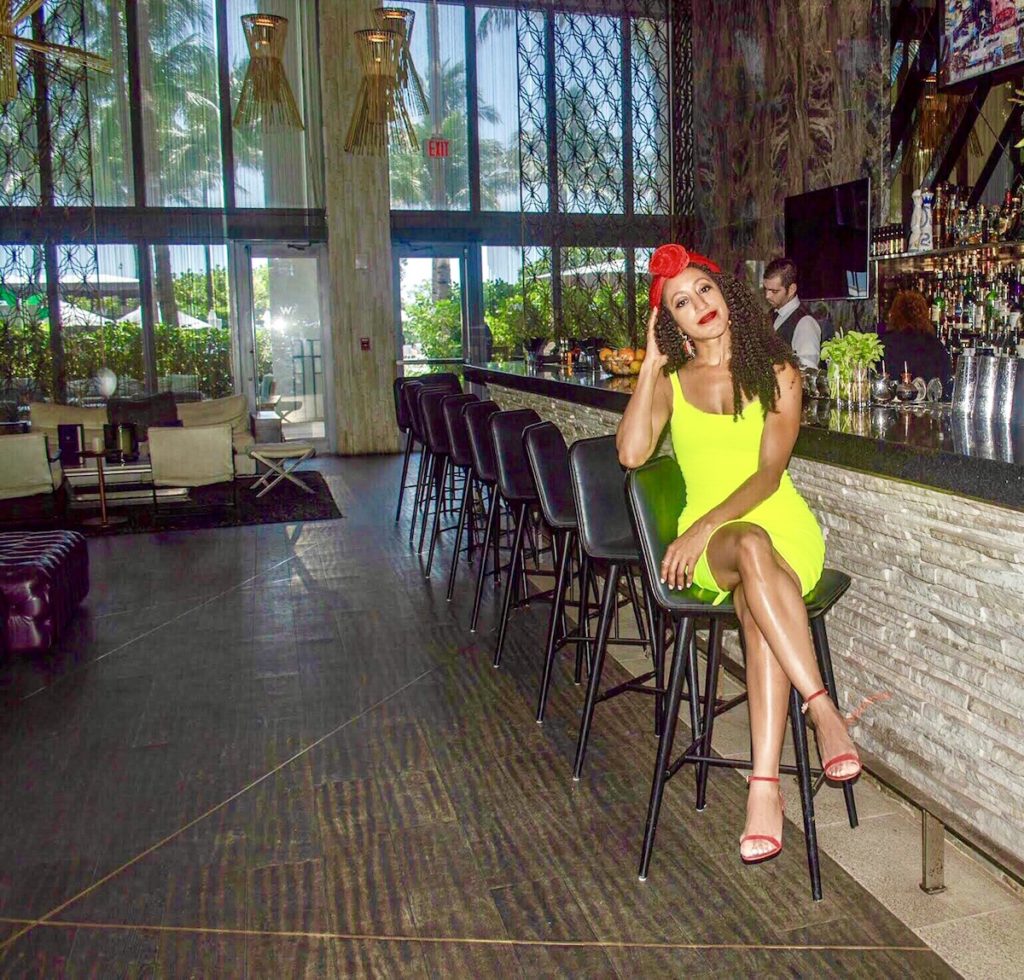 Miami hasn't always been my favorite city.
Before I discovered how to travel internationally on a budget, I took my first trip there while I was in grad school. We hit the South Beach strip on Ocean Drive, grabbed Call-a-Cab frozen cocktails at Wet Willie's, and partied, wined and dined on a major budget. It was fun, but it got old quickly.
I didn't return for years, until a friend who lived in Miami showed me a different side of it – new, chic restaurants, the Wynwood Arts District, and my first Cuban Coffee that was the ultimate pick me up. After that trip, I went back for my first Art Basel and loved it even more.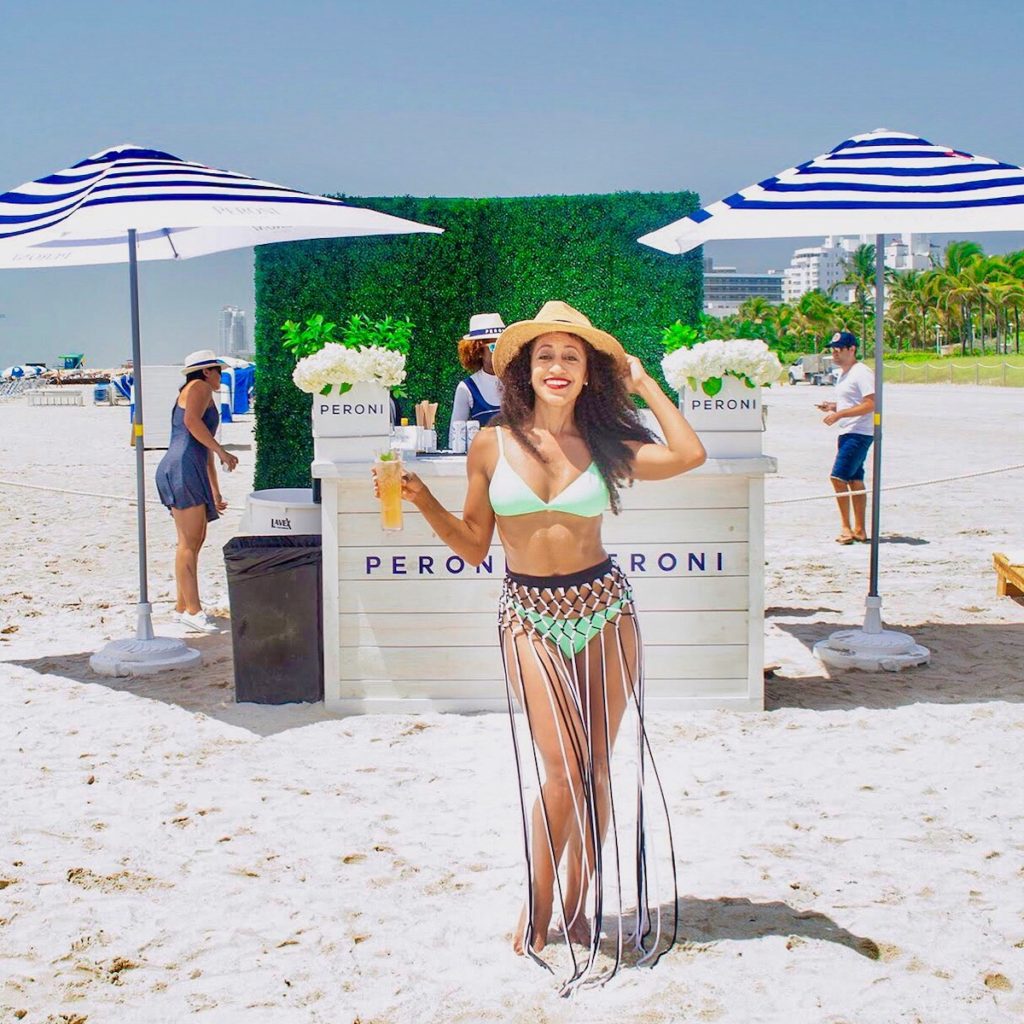 So, when I got the opportunity to attend Miami Swim Week for the first time, party with Sports Illustrated, and get major summer swimwear inspo at fashion shows during the weekend at W South Beach, I could not pass it up (especially not after staying at W Seminyak in Bali).
It was hands down the best place I've stayed in South Beach to date. While I wouldn't tell you to spend your coins on any domestic vacation before an international one, I would say that if there is a weekend that you need a getaway and you can't take off work and jet set, W South Beach is always a good idea (Hit this link to book a room there).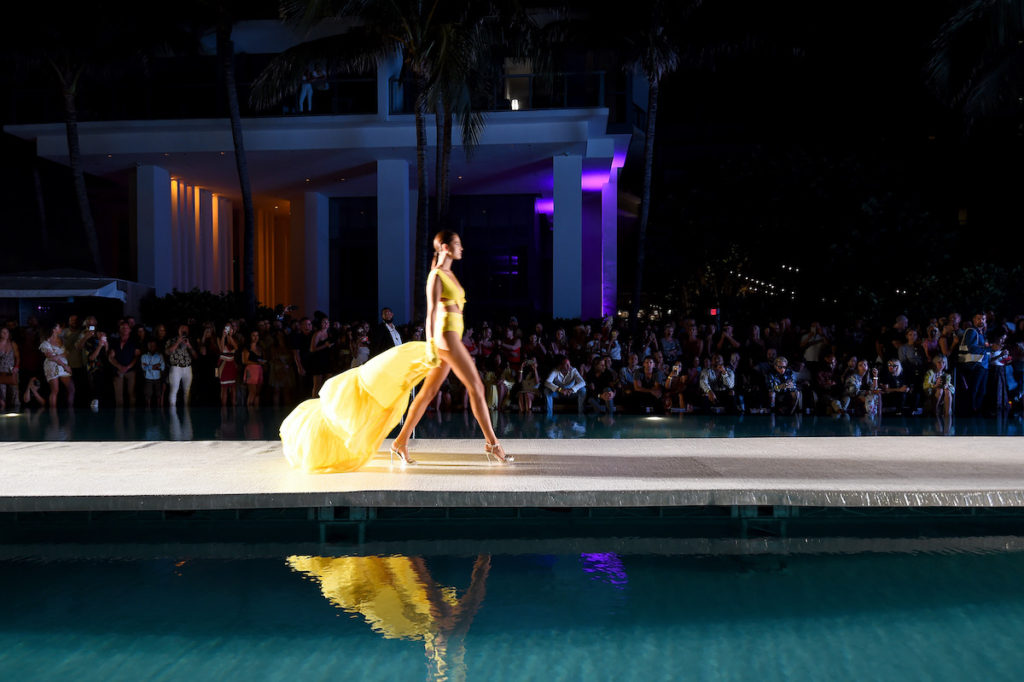 MIAMI, FLORIDA – JULY 13: A model walks the runway during Badgley Mischka Swimwear 2020 Collection Runway Show – Front Row – Paraiso Miami Beach at The W Hotel South Beach on July 13, 2019 in Miami, Florida. (Photo by Romain Maurice/Getty Images for Badgley Mishka)
Here are the five reasons I – and my Destination Fab squad – did not want to leave oceanfront W South Beach (and will be back again).
1. The Rooms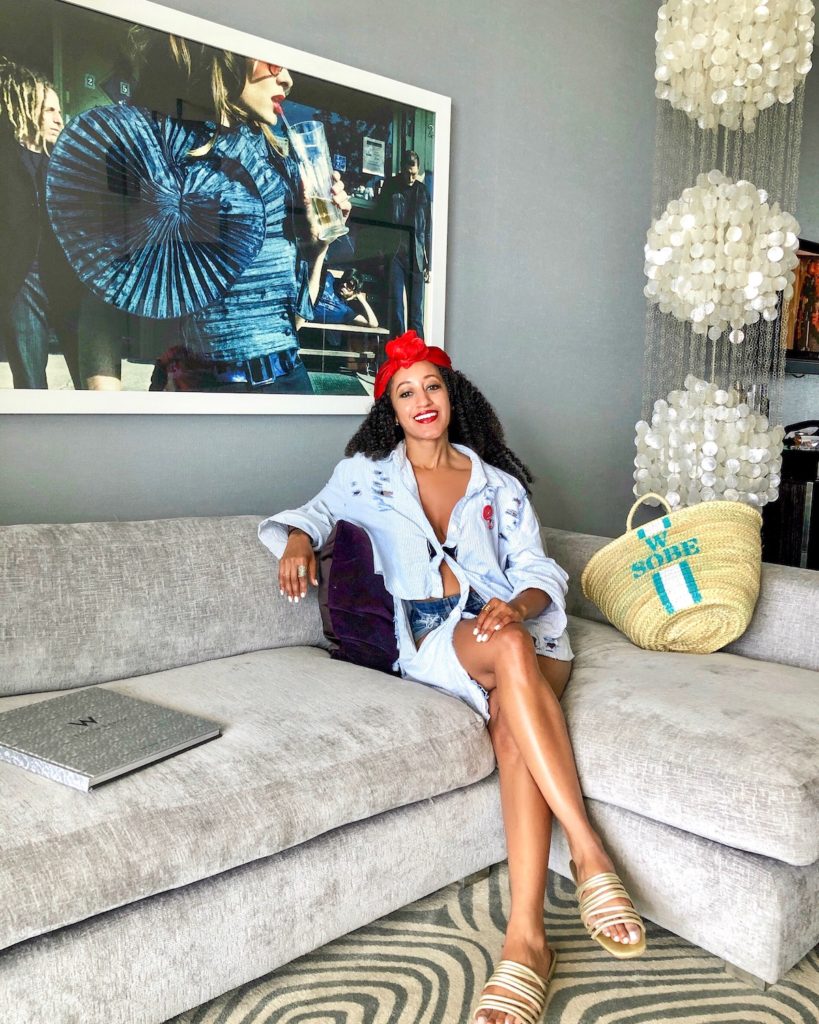 "Welcome to W South Beach," a hotel attendant said as he wheeled in a bottle of champagne and a box of chocolate courtesy of the hotel. This was just the start of our first day, and further proof that Miami Swim Week was going to be one very FAB adventure. We had just walked into our room – and couldn't stop beaming as we looked around.
The rooms at W South Beach are the epitome of Miami luxury. When we walked into our room – the Spectacular Studio Suite – we were beyond excited. The decor was chic and modern, with the glow of a soft shell tiered chandelier welcoming us inside. The king size bed was so comfy thanks to its 350-thread-count Egyptian cotton sheets and goose down comforter and pillows that it was tough to get out of it.
RELATED: Everything We Loved at Miami Swim Week 2019
The bathroom was lined with Cipollino marble floors and large mirrors perfect for getting ready for the day or night, and the shower, with its three showerheads designed to hit every part of the body, was just…bliss, especially after hot days in Miami that left us drenched. It also came complete with a full set of complementary Bliss body products.
Our private glass balcony sat right off the living room area, which came complete with a plush gray sectional, fashionable artwork, and a 37" flat screen TV. The balcony had two chairs perfect for kicking back and relaxing as we took in views of the ocean and the city on the horizon.
2. The Wet Pool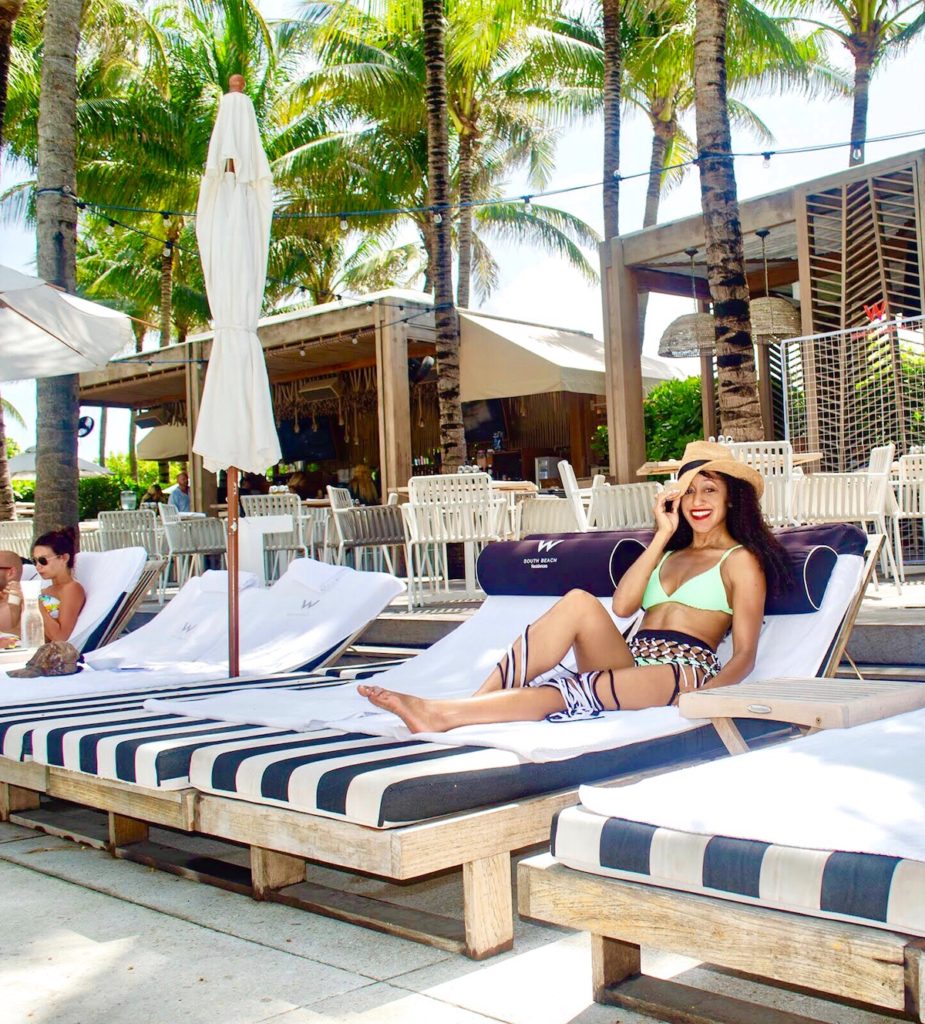 A stay in Miami without a pool like this one is no stay at all (we said what we said). The gorge pool is large, so even on a packed pool day, there is plenty of space to take a dip inside of it. It's also heated, so it feels refreshing when you need to escape the heat and humidity, but it's not too cold to where it's hard to get used to the temp of the water.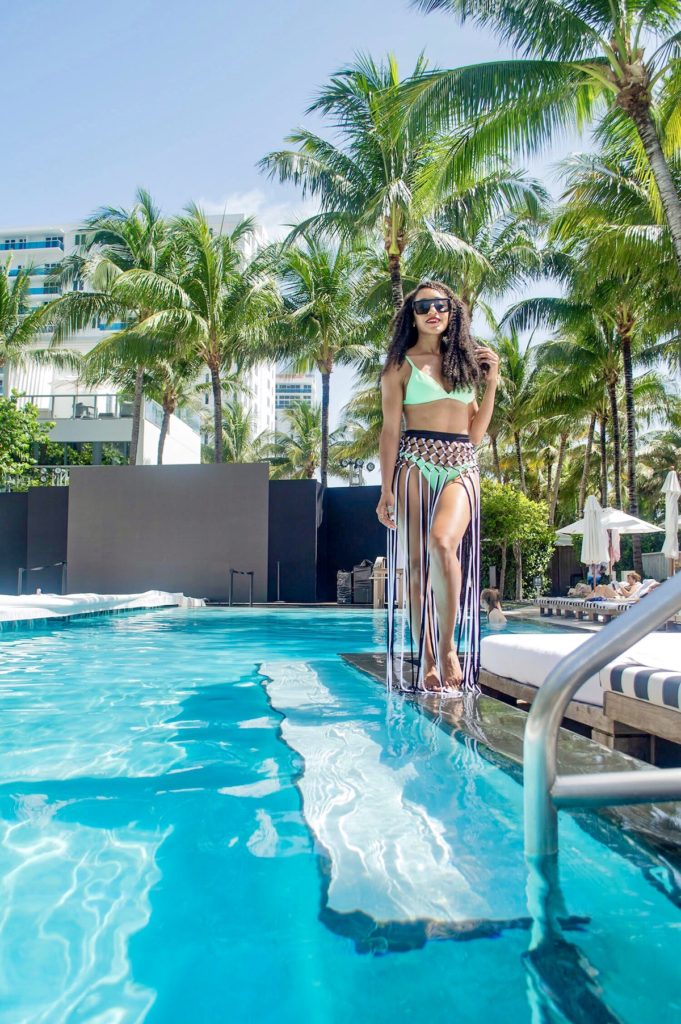 The pool is surrounded by palm trees, chaise lounges, and luxe private cabanas – and this is the part we loved most about hanging out at the pool. We were totally relaxed as we kicked back by the pool in our chaise lounges and ordered lobster rolls and cups of frose' from the poolside Wet Bar & Grill. Waiters come right to your seat to take your order, so if you don't want to get up and grab a table for lunch, you can get what you want right at your seat.
FAB Tip: Make sure to get to the pool early to reserve your chaise lounge. Those are free and go fast, but if you get there early, reserve one at the pool desk, and leave something non valuable on it to stake your claim, you can leave the pool and come back when you're ready for some poolside fun.
RELATED: The 10 Miami Week Swimsuits You Need For Your Next Vacay
3. The Beach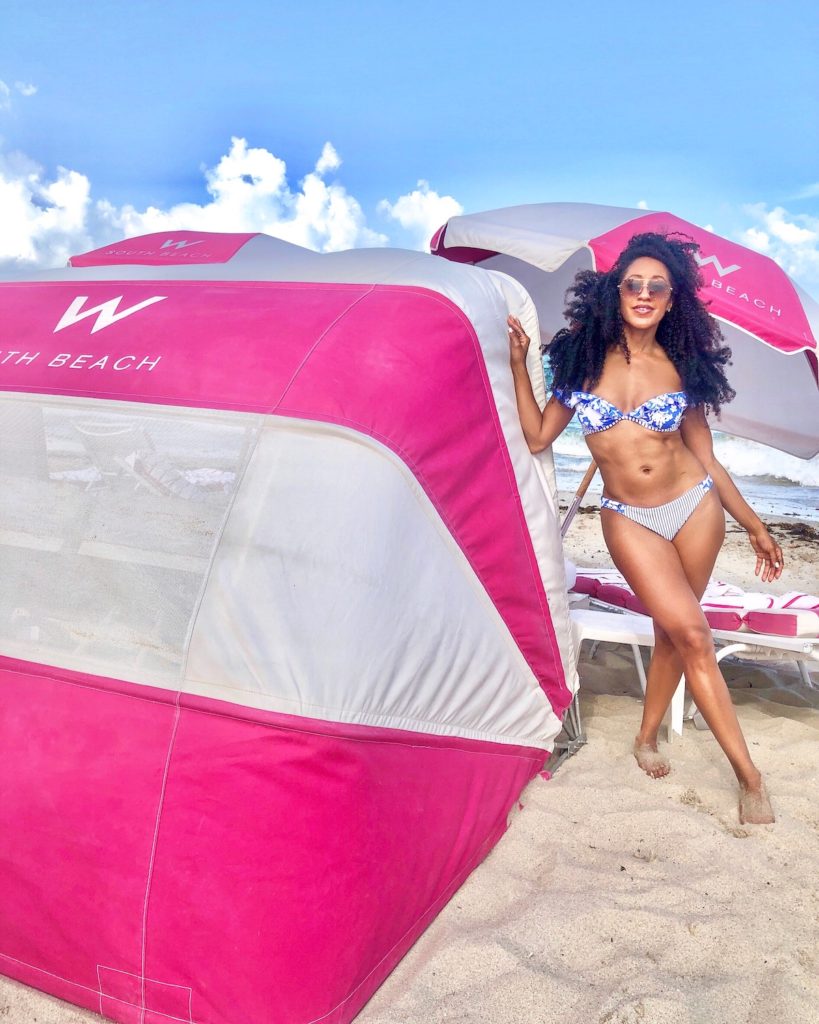 We were already swooning over our time at the pool, but the W's private beach area also gave us all the vibes. It's a quick walk from the pool (not even that many steps away), and guests are privy to two free beach loungers. You can also order food and drinks from the Wet Bar & Grill there too, and waiters will bring it directly to your chair.
FAB Tip: As a heads up, if you'd like an umbrella, which I highly recommend getting, it is not free. Umbrellas are $27 each before the resort's additional fees. If you need more than two chairs, those are $27 each too.
4. The Grub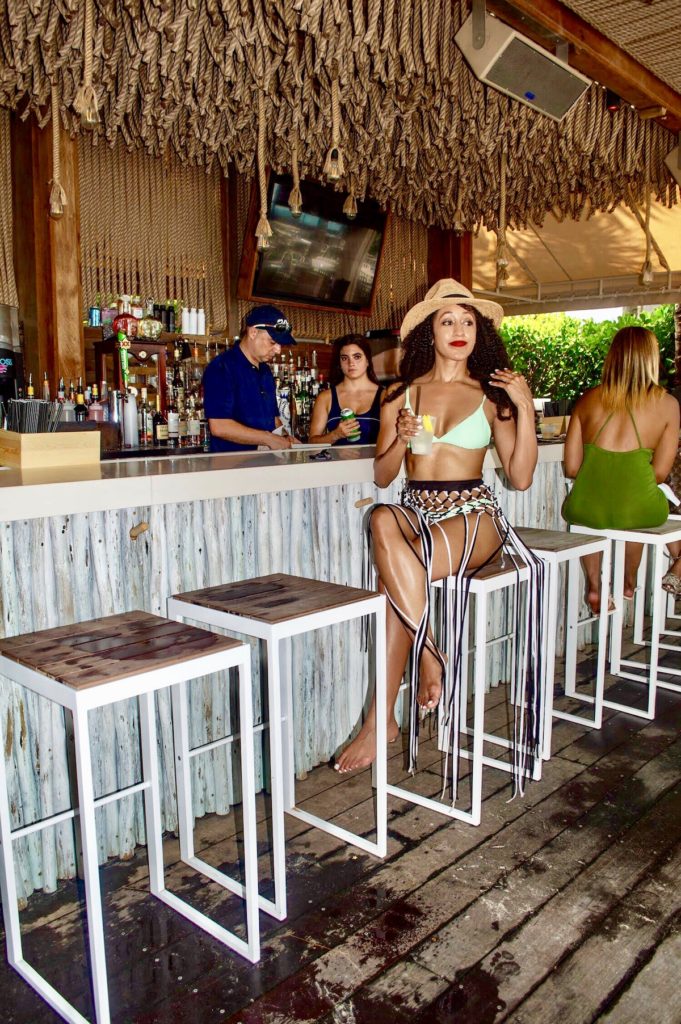 The food at W South Beach is really delicious, and we're not just talking about the Wet Bar and Grill (although you need to try the lobster roll there). The three restaurants on site – Mr. Chow, the Living Room Bar, and The Restaurant W South Beach – also are three great options for dining right at the hotel.
The new Restaurant at W South Beach (it just opened in May) is indoor and outdoor, so we grabbed plates of veal spaghetti bolognese, roasted chicken, and red snapper with crispy rice. It's also open for breakfast and brunch, when $25 unlimited cocktails are on the menu, and faves like kale frittatas, jerk chicken and waffles, and steak and egg burritos are served up too.
At the high-end Asian fusion Mr. Chow, which is on the pricier side, don't miss the Drunken Dungeness Crab, Fresh Live Lobster, and Ma Mignon.
The Living Room's bar is much like that of the American cuisine at the Wet Bar & Grill. But, if you like burgers absolutely don't leave your stay without trying the signature burger with crispy fries and a side of aioli for dipping. The cocktails here are also a fave but are pricey.
FAB Tip: Save some cash and hit the Living Room Bar during Happy Hour, which starts around 5 p.m. during the week.
5. Even More Amenities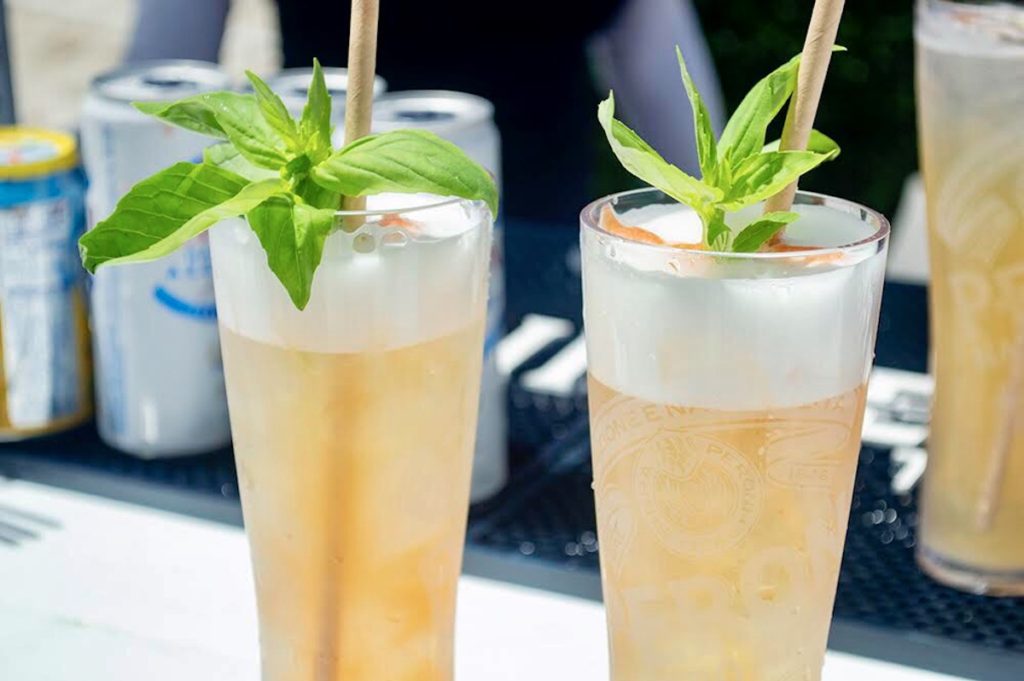 There is an onsite club – The Wall – where we hit the Sports Illustrated Swimsuit Runway Show's afterparty. We loved it. From the decor to the DJ who kept us on our feet, we loved every bit of it. Especially that we could walk right back up to our rooms after enjoying it.
In addition to the club, there are a ton of other amenities, like the onsite Oren Salon, Swing and Swish tennis and basketball courts, a 2500 square-foot gym, and more.
If you don't want to leave the W South Beach, it has everything you need. But, we highly recommend still getting out and exploring Miami's hidden gems when you can peel yourself away from the pool.
FAB Tip: It's important to take note that there are hefty resort fees when you wine and dine around W South Beach. So, make sure to ask about those specifics before your stay – and/or when you check in.
Have a blast in South Beach, Destination Fabbers!