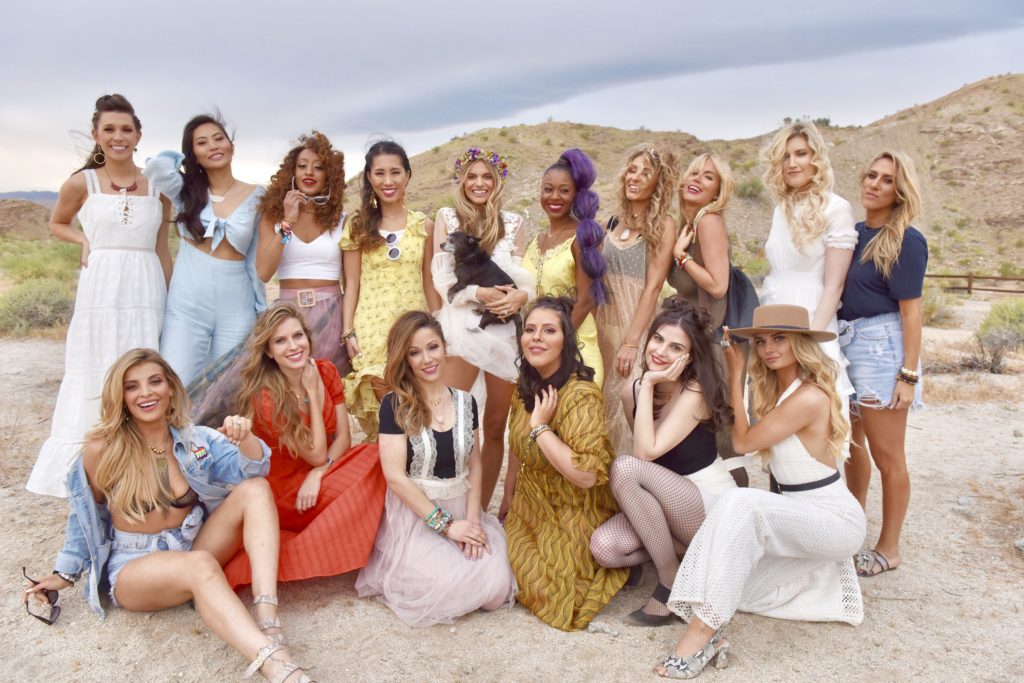 If you haven't noticed, we have a thing for Coachella road trips. After riding up to the fest with our good friends Feven and Helena Yohannes last year, we embarked on another adventure to Coachella Valley, this time with fashionista and entrepreneur Rachel McCord's The McCord List. We danced, partied, and some even hit splits up the aisle as we headed up to 'Chella in a massive party bus packed with fellow stylistas and influencers on a road trip we'll never forget.
We had one mission: Style festival looks from covetable brands Molly Bracken, Line + Dot, Seychelles, BC Footwear, and BelJoy, and shoot our way up to Palm Springs with photographers Malachi Banales and more snapping photos at scenic locations along the way. The trip highlighted emerging entrepreneurs like those McCord invests in with The McCord List Series and Empowerment Retreats, as featured on USA Network's hit show "Growing Up Chrisley,"  (airing May 8th). Kelleth Cuthbert, Hana Giraldo, and our friend Kinya Claiborne, were just a few of the style influencers on the trip.
Needless to say, I felt honored to be a part of the excursion.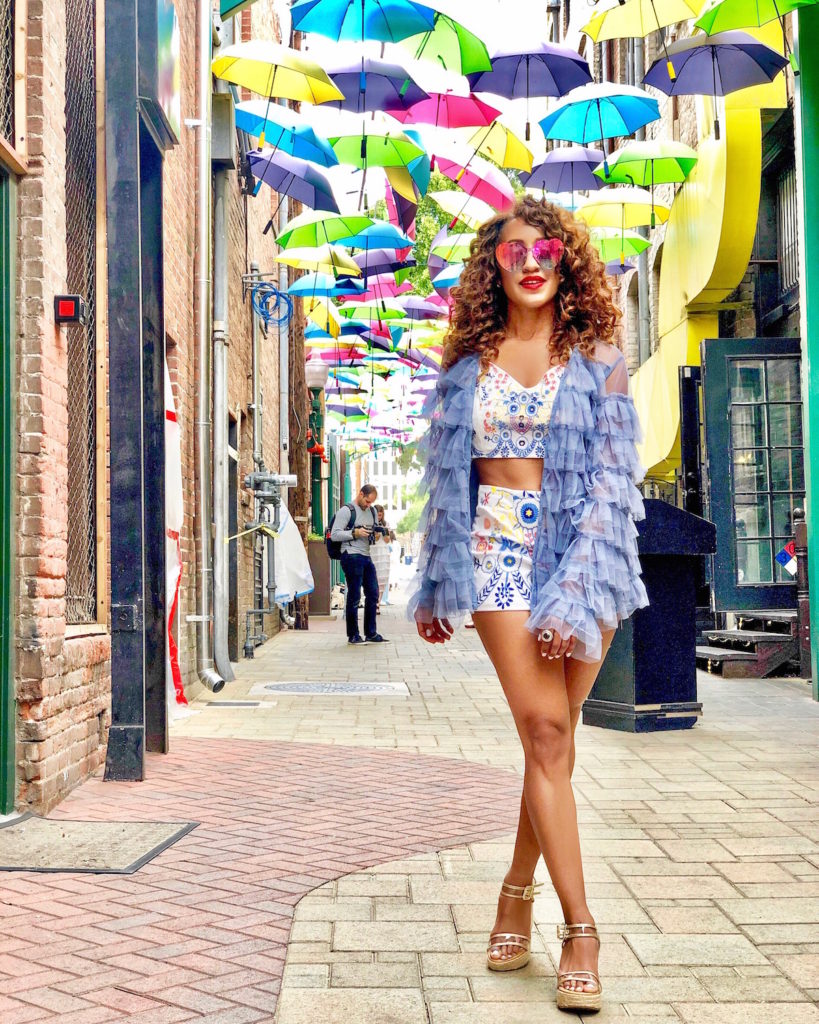 Before we boarded the bus in West Hollywood, we kicked things off with a champagne and tanning party Wednesday, where we mingled on the gorge mini-light bulb strewn rooftop patio at La Peer Hotel, sipped JNSQ Wines rose' and toasted to the start of Coachella weekend. The next morning, I got glammed up by Glam Squad, with make-up artist tk coming straight to my door and helping my apply my festival beauty look and Coachella-perfect Lilly Lashes (Btw, if you ever want to get glammed up by Glam Squad, use promo code McCordxGlam for 20% off until 5/30/2019).
Post-glam sesh, it was time for our fun to begin, and Rachel's assistants started handing us bags of goodies to wear on our trip as we stepped inside our party hub. As if we needed further confirmation, I knew even more that this was going to be my kind of trip when a tray full of chicken tenders and bottles of champagne appeared. It turned out that Rachel, from my hometown of Atlanta, new the key to my southern heart.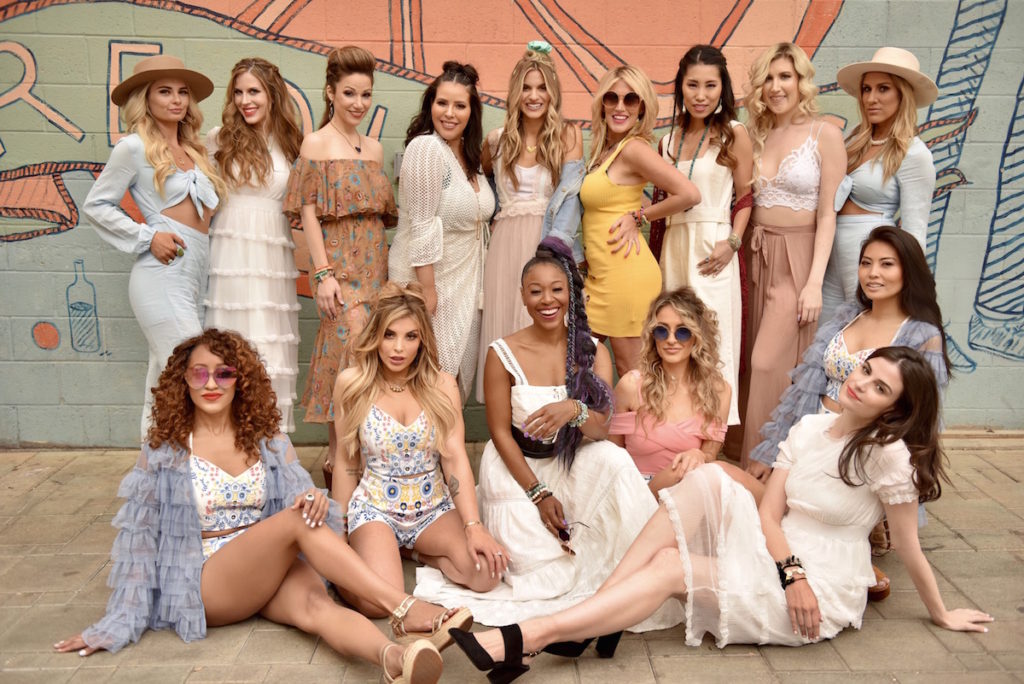 Photo Credit: Malachi Barnes/The McCord List
And so we began, road tripping our way, up to the fest, blasting music and bonding, with McCord's assistant Joseph Whipple, who we've dubbed the king of turn up, leading all of the entertainment and dance-offs. We also toasted to the upcoming launch of Rachel's new hair accessories line KnotBasic (www.knotbasic.com).
Our first stop was the picturesque Orange Street Alley in Redlands, Calif. It was topped with colorful umbrellas, making it such a cool place to grab photos on our way up to the fest (don't worry, we have an instagrammable Palm Springs road trip hot list on the way). For my first look, I rocked a Molly Bracken floral crop top and matching shorts, paired with a detailed lavender sheer jacket, clear/gold Be California wedges and colorful heart-shaped Diff Eyewear shades.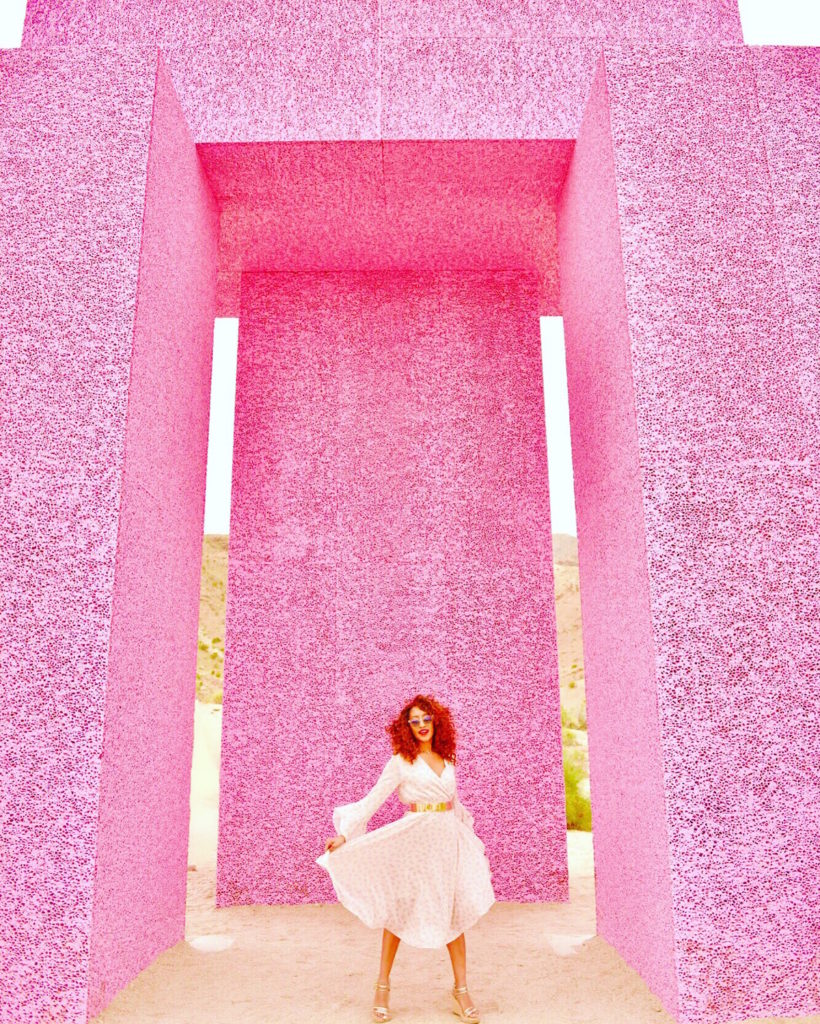 Photo Credit: Malachi Barnes/The McCord List
"Coachella road trip photo shoot!," Rachel exclaimed with a smile as we arrived. "The queens have arrived in Redlands!." Then it was time for our next – and final stop – another gorge location, this time in Palm Desert at Cap Homme and Ralph Adams Park. It was a stunning, massive hot pink Desert X structure – an archway with textured walls, giving us plenty of room to play with shots around it. For the second look, I went with a pastel pink, flowy floral Molly Bracken dress, clear/gold Be California wedges, my trusty AQ/AQ belt, and clear Ray Ban shades.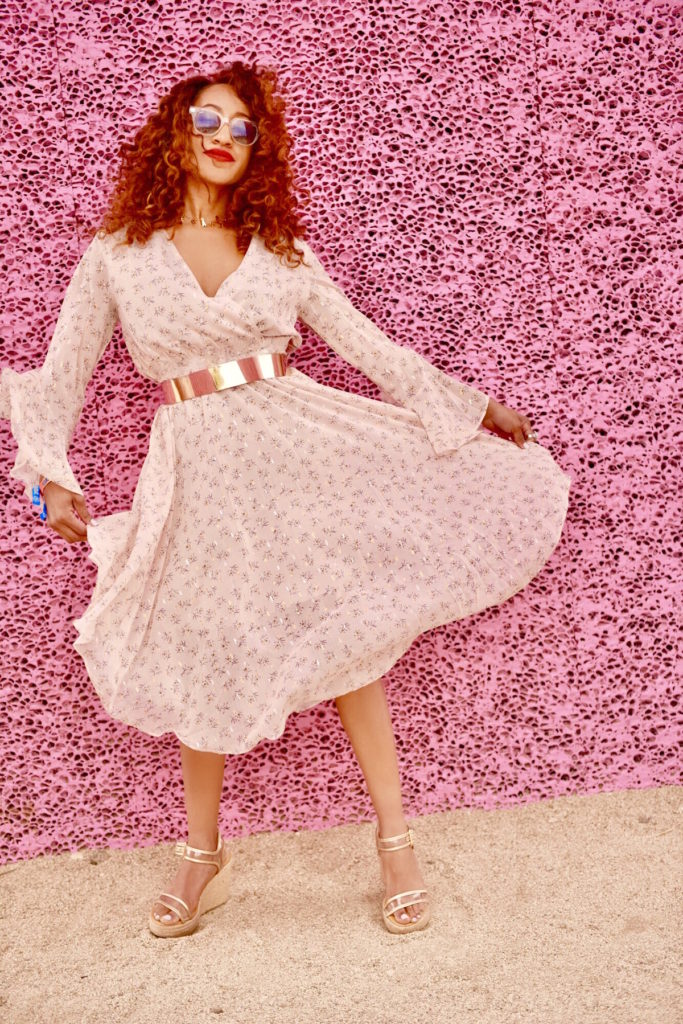 Photo Credit: Malachi Barnes/The McCord List
I couldn't resist squeezing in one more look before we ended the trip, so I changed into a sheer, printed Molly Bracken skirt, my Be California booties, clear wayfarer Ray Bans, and a white crop top, and headed into the desert to have some fun among the cacti.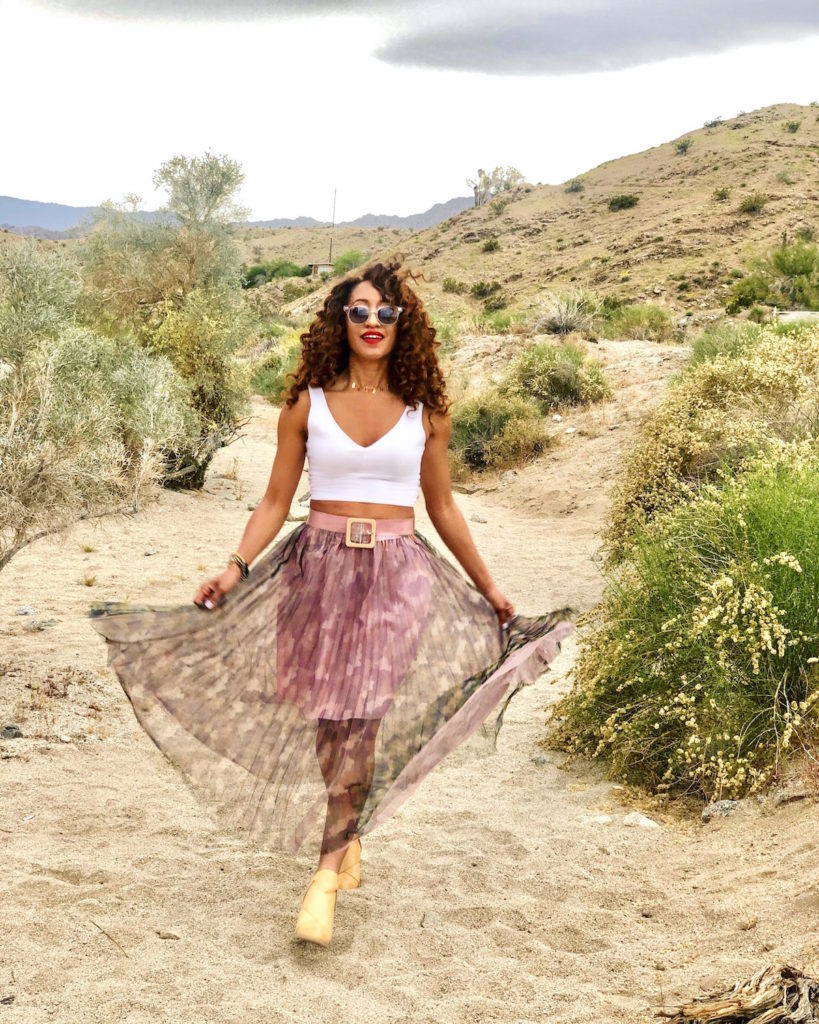 As golden hour approached, we gathered together for a group shot that ended up looking like a Coachella class of 2019 photo – a fitting end to an incredible journey up to the fest.
Cheers to more FAB Coachella adventures to come!