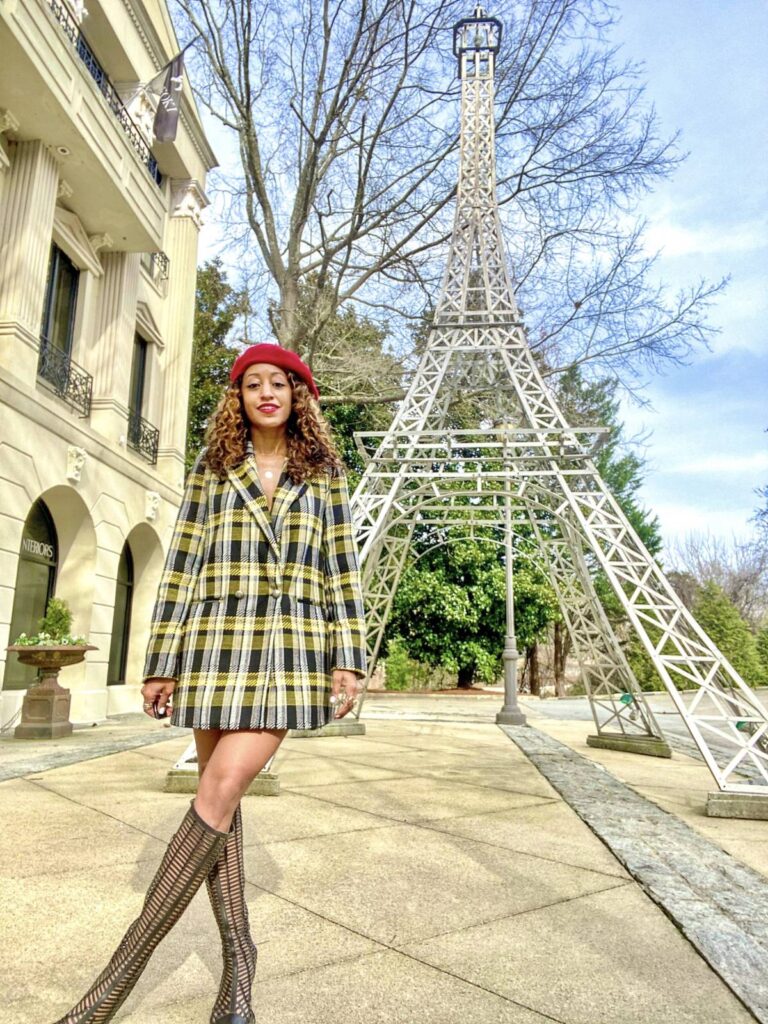 The faux mini Eiffel Tower in Atlanta
Nothing we do will ever take away our desire to jet set around the world pre-pandemic style, but one thing the pandemic has done is make us get way more creative with the outdoor adventures we embark on in our own backyards.
After taking on Georgia's mini wine country for the first time, hopping through a giant sunflower field, and skipping through a garden of holiday lights, we decided to bring a little international flavor to the mix – a quick, makeshift day trip to Paris without ever leaving the ATL.
We know what you're thinking…there's no way there's a mini Paris in Atlanta. But, yes, there is (if you use a little imagination). There's no little Paris district, per se, but you can experience a couple of faux monuments of the City of Lights, get a buttery, flaky croissant that will make you run back for more, pick up a box of colorful macarons, and grab a french dish or two from the top French restaurants in the A.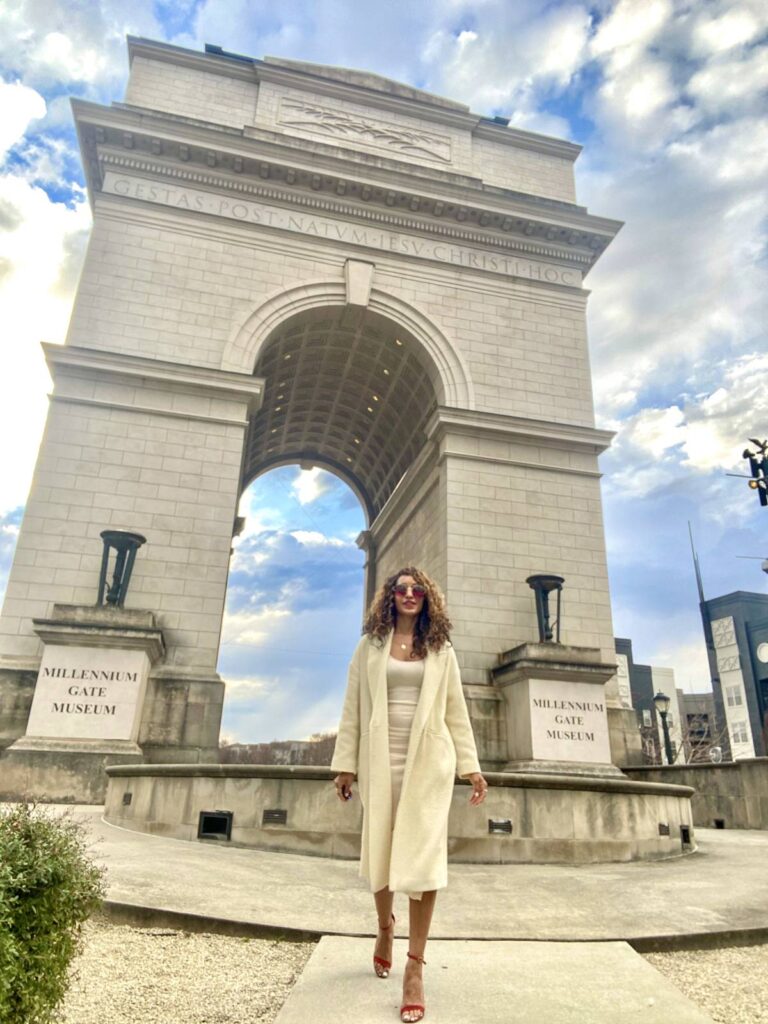 Strolling around Atlanta's faux Arc Du Triomphe
It's all about being innovative during this time – and having fun with things you never thought you would. For us, that's all about experiencing – and creating adventures – for you to enjoy too.
So, whether you binge-watched Emily in Paris on Netflix and are yearning for a Parisian trip, or just want to try something new, take a peek at the 5 ways to take in Paris in Atlanta:
Grab a photo at a mini Eiffel Tower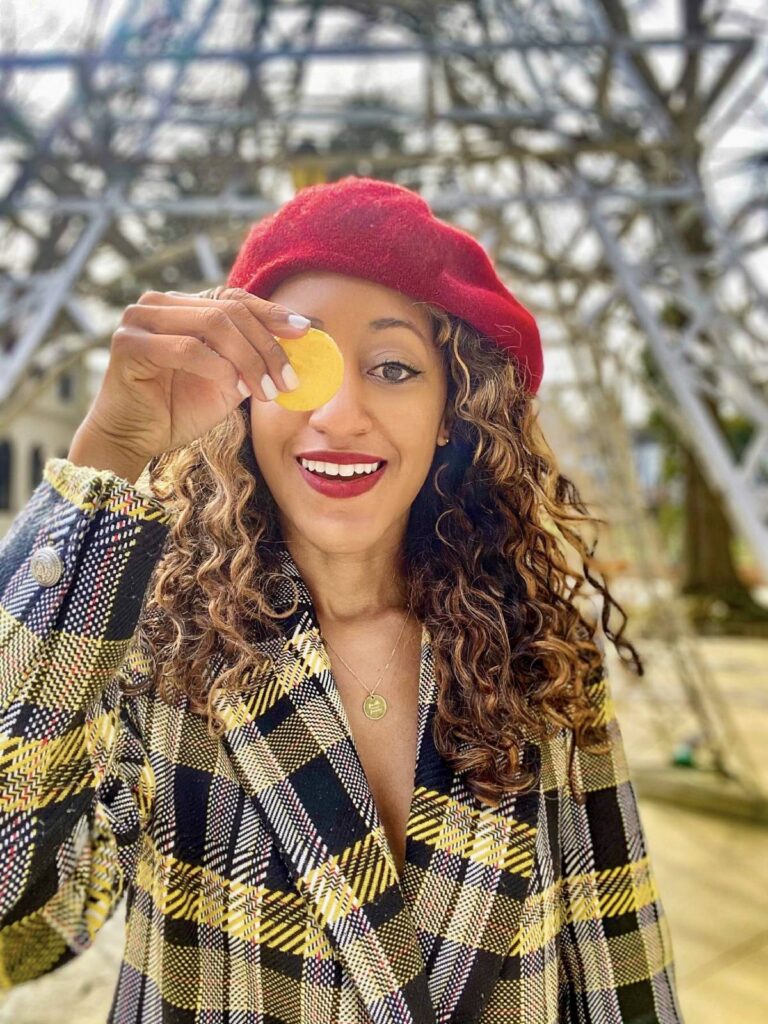 An ATL local who hadn't been to Paris yet showed me a photo he took standing next to an Eiffel Tower. I was intrigued. "Wait…there's a whole mini Eiffel tower in Atlanta?!," I said and asked for the address to go see it for myself. Sitting in the middle of a business center in between midtown and Buckhead is a mini version of the Eiffel Tower. If I could guess – I would say it is about 25 feet tall.
Fab Tip: The best time to go is on a Sunday. As of right now, all of the businesses are closed on Sunday, so there are few (if any) people around. Aim for Sunday morning.
The Faux Eiffel Tower: 2300 Peachtree Rd. NE, Atlanta, GA
Wander around the Faux Arc Du Triomphe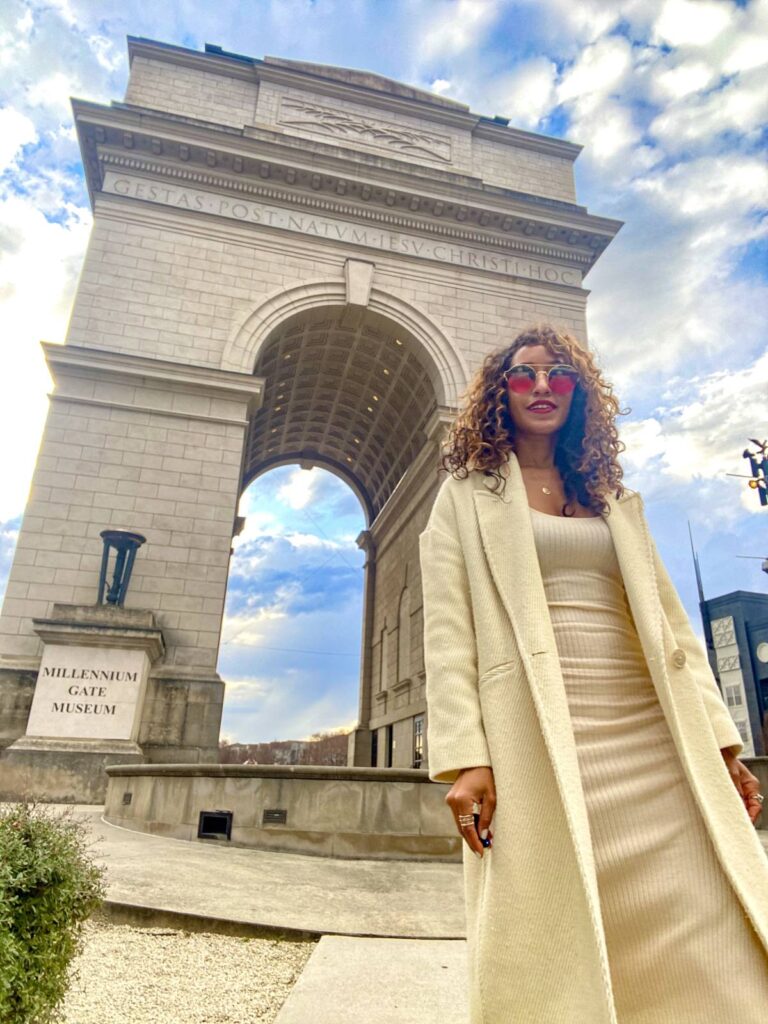 The massive faux Arc Du Triomphe sits right across from Atlantic Station – and there's no way you can miss it. It happens to be the Millennium Gate Museum, which is closed due to the pandemic. If you want to take a photo outside though, you can stand in front of it or inside of the archway. Everyone takes photos in different areas around the museum, so if you want to enjoy it to the fullest, go during the week before 5 p.m. or in the morning on the weekends, when there are usually only a few people around.
Fab Tip: When spring hits and/or temps warm up, bring a blanket, a picnic basket, and your favorite bottle of French wine or champagne. There is a grassy area with plenty of space to kick back and relax right behind it.
Millennium Gate Museum (aka the Faux Arc Du Triomphe), 395 17th St. NW, Atlanta
Take a Bite out of the Croissant That Made Us Melt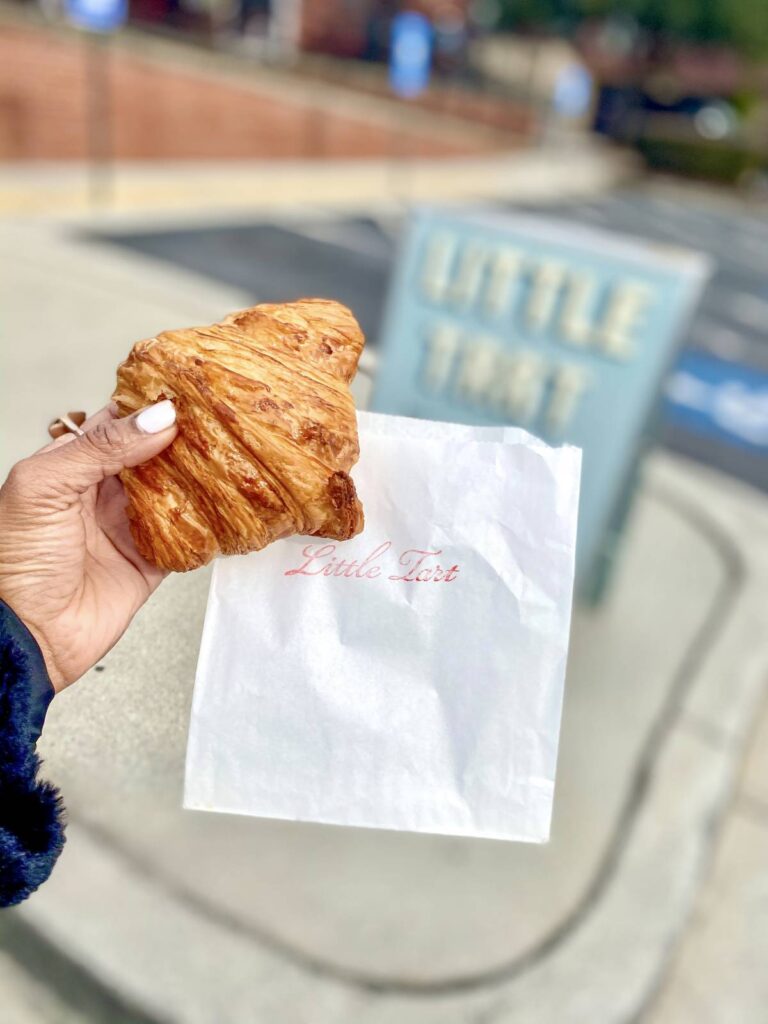 As cliche as it is, we love a good Parisian croissant moment.  The croissants and baked goods in Paris are simply next level. So, when we heard The Little Tart Bakeshop in Grant Park had one of the best croissants in the city, we had to check it out. Everyone was right. We picked up chocolate and regular croissants ($4.75 each), and espresso shots, and headed on our way. One bite of the regular – and chocolate – croissant made us a believer. Indulge and thank us later.
Fab Tip: We loved that Little Tart Bakeshop has covid-safe regulations. Everything is grab and go, masks are required to enter, and only two parties are allowed in at a time. There is also an outdoor seating area if you want to sit outside and enjoy your croissants.
The Little Tart Bakeshop, 437 Memorial Drive SE, Atlanta, GA
Pick Up Some Macarons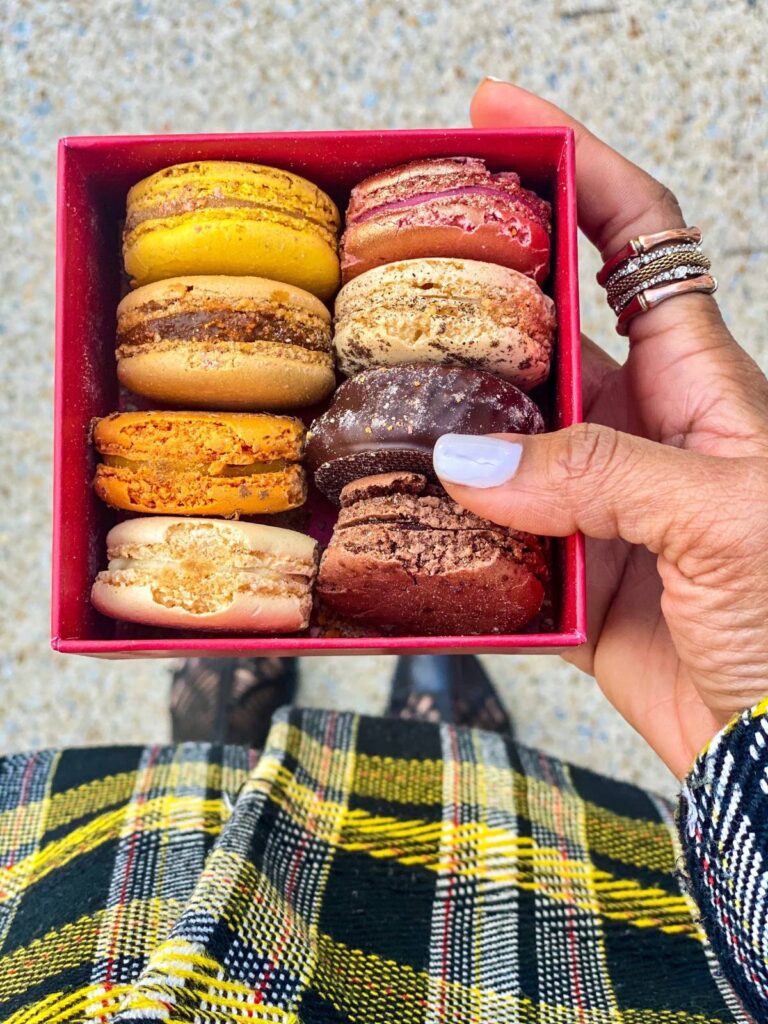 We brought our box of Laduree macarons (you can grab a box here) with us as we hit the Eiffel Tower, but, if you want to shop local, Mac Lab Bakery, is one of the best places to get them. The macaron bakery, which has landed in Cosmo and Glamour, offers a macaron pick-up and a creative – and custom – selection of macarons to choose from.
You can also head into Perimeter Mall and pick a few up at Macaron Queen, which has been seen on The Food Network and CNBC's show The Profit.
Mac Lab Bakery, Atlanta
Grab a French Meal to Go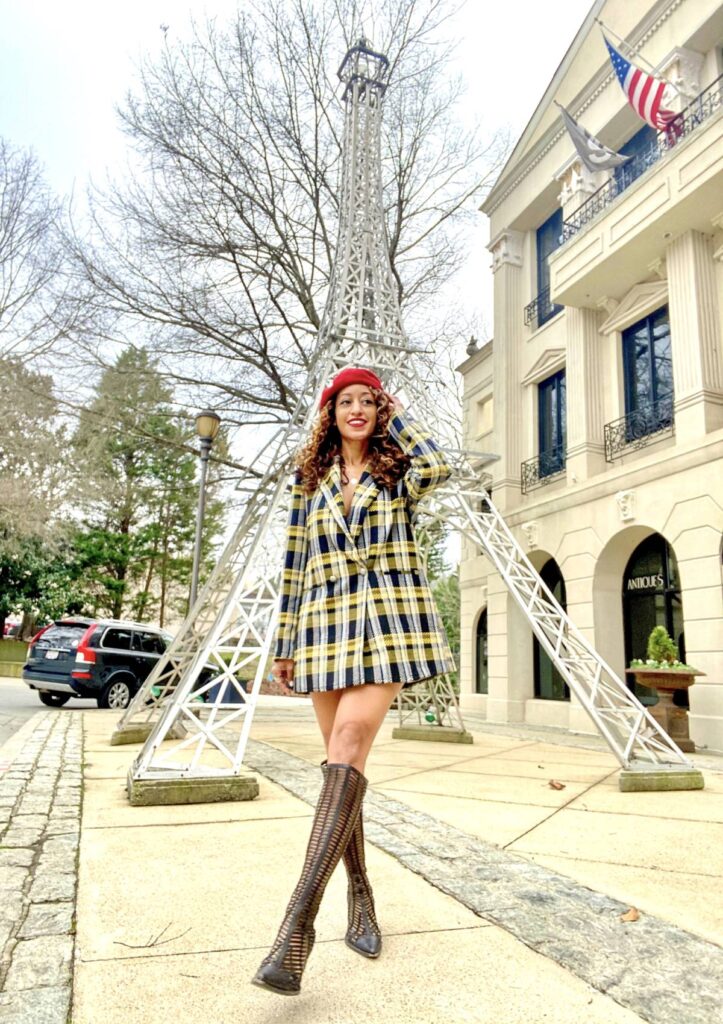 In the midst of the surge, we're only recommending restaurants where you can grab and go, but when it calms and there's a day or night that's a little less chilly, head to Le Bilboquet in Buckhead. They created a socially distanced outdoor seating area that makes dining there safer.
For now, you can order food ahead of time and pick it up at Le Bilboquet or have it delivered. The same is true for ATL fave Anis Cafe & Bistro, one of the most popular restaurants to grab French grub in the city.