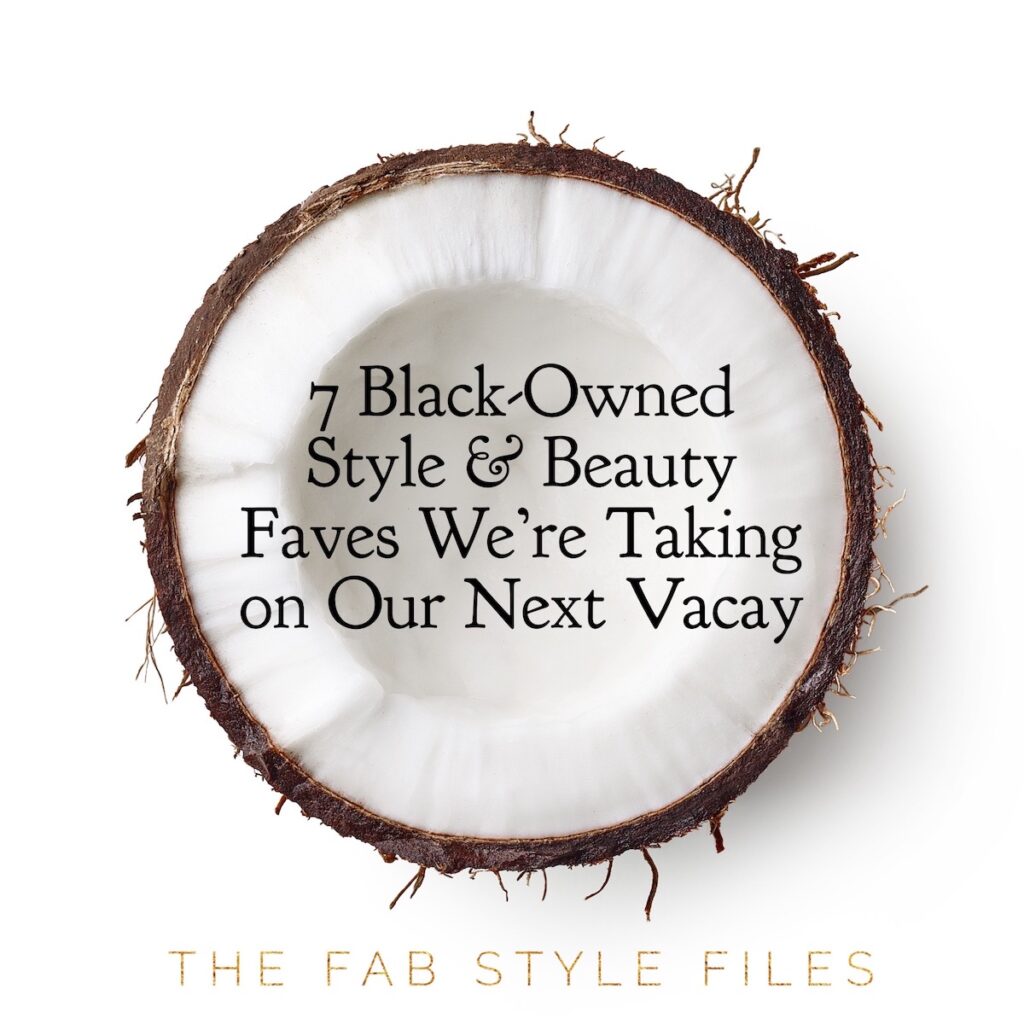 Anyone else dreaming of their next vacay? Shedding a tear as you look at old travel photos? That's definitely been us since March. Traveling right now can be tricky, so until things are safer and states/countries open all the way back up, we're prepping for our vacays right now so that we're more than ready when the time is right (no matter how long it takes).
Take a peek at our fave 7 black-owned beauty and style faves we'll be packing in our suitcases for our next vacay.
Uoma Beauty's Bright, Bold Lipsticks: I first fell in love with Uoma Beauty at a brand launch event the company had in Los Angeles last year. It was held at an estate near the famed Mulholland Drive, with stunning views of the city. I was so impressed by the decor and the execution of the event, and felt proud to see founder Sharon Chuter strutting out to celebrate the night in a statement-making dress that made me feel like the former LVMH exec and I were fashion soul sisters. It was the first time I tried Uoma Beauty's Beauty Badass Icon lipsticks, and I was sold instantly. I've been wearing the bright orange red Tina, pink-coral Whitney, and pink mauve Chaka ever since, and those are my three of my top picks for summer lipsticks. If you love a bold red, also don't miss poppy red Sade.
View this post on Instagram
Unsun Cosmetics Mineral Tinted Face Sunscreen: Founder Katonya Beaux created the brand in 2016 after she got frustrated by the lack of options in the world of clean sunscreen products for women of color. The result? A collection of sunscreen products for everyone that don't leave a residue. The face sunscreen is a must try. It's the brand's best seller, gives a major glow, minimizes pores, and moisturizes skin. Exhibit A below.
View this post on Instagram
241 Cosmetics Wing It!: I don't know about anyone else, but creating a fierce cat eye has always been a challenge for me. The first time I used 241 Cosmetics' Wing It eyeliner that changed. There's something about the pointed brush and smooth black paint that makes it so much easier, and I love rocking a good cat eye on a vacation. The brand was created by my good friends, Feven and Helena Yohannes, who refer to the products within their cosmetics company as "soul deep make-up." Their products, which include lipsticks, eyeshadows, eyeliners, and mascara, are designed to enhance and not conceal the beauty of women. Take a peek at my digital feature for InStyle to learn more about the brand.
View this post on Instagram
Andrea Iyamah Kari Swimsuit: Oh, how I love Andrea Iyamah's swimsuits, let me count the ways. Every collection she drops slays, and her latest SS20 collection of swimwear is no different. The whole collection is worth checking out as you choose your next vacation swimsuit, but the inventive, high-waisted, bright orange Kari is one of my faves. You can actually remove the monostrap leaf detail to give it a different look.
View this post on Instagram

Amina Abdul Jillil's Ballerina Flats: Aminah Abdul Jillil has a way with shoes – a way that makes me stare at her site or Instagram, wishing that I could have every single pair. Her leather Ballerina flats are one of my favorite things for summer. I'm obsessed with the thick adjustable ankle strap and the color varieties – blue, pink, purple, tan, and black.
View this post on Instagram

Pear Nova's Lemon Drop Logic: A splash of yellow (or any bright color) on your nails for vacations is always a good idea – even if it's a staycation. I love Pear Nova's Lemon Drop Logic for just that. Pear Nova has a wide variety of vegan, cruelty-free lacquers and gels to choose from. The brand was created by Rachel James, who started developing the idea for her company in 2012.
View this post on Instagram
Enitan London Sade Mask: If you're on Destination Fab looking for neutrals, you've come to the wrong place. Hence, why Enitan London's bold, patterned, chic masks are one of our faves on the market. We love the Sade print, but also the Dana print too. Until we're told otherwise (i.e. there's a covid vaccine or cure) by health officials, it is essential to wear a mask when you travel and when you're out and about. So, you might as well do it in style.
View this post on Instagram
Take a peek at the IG video we put together to celebrate these brands, and don't forget to drop your fave black-owned fashion and/or beauty brands in the comments here and on that post.
View this post on Instagram