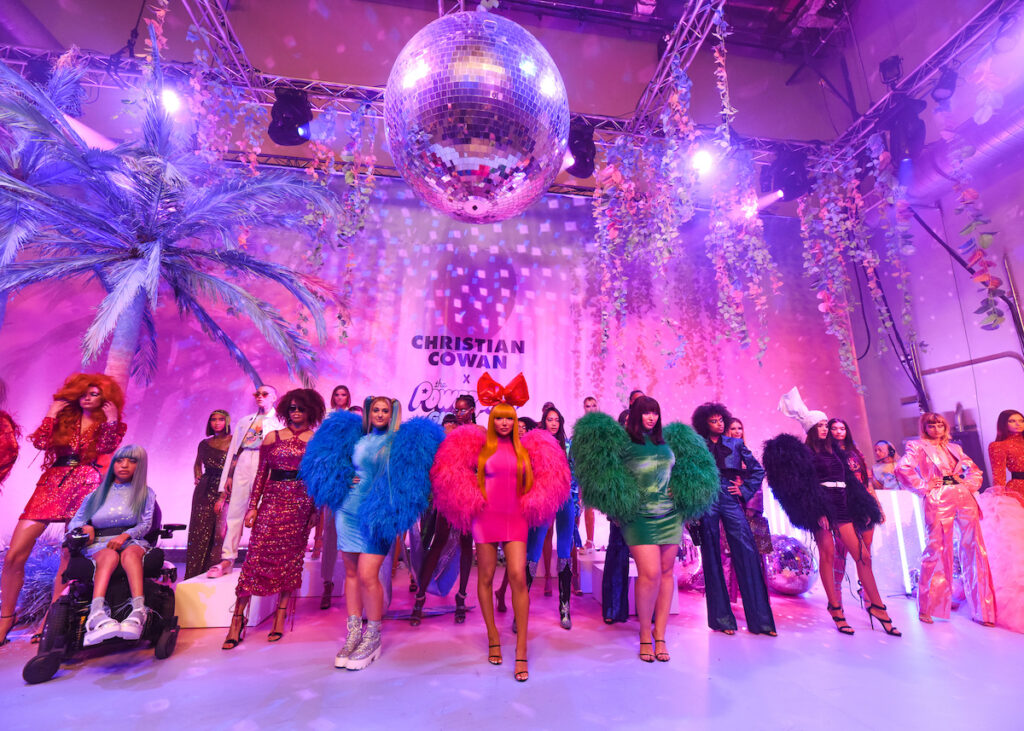 Christian Cowan is back with a new Cartoon Network Powerpuff Girls collection, and it has something for everyone (particularly, bold fashionistas, natch).
On the eve of the show, I spent the evening with the 25-year-old fashion guru and his team during an intimate dinner at Chateau Marmont. "Hi! These are fake," Cowan said with a laugh as he pointed out the tattoos that surrounded the chain on his neck. "At the time I didn't realize they would still be there for the show."
(Top Photo: Christian Cowan, Meghan Trainor, Nikita Dragun, Kellee Moran; Photo Credit: Owen Kolanski/BFA)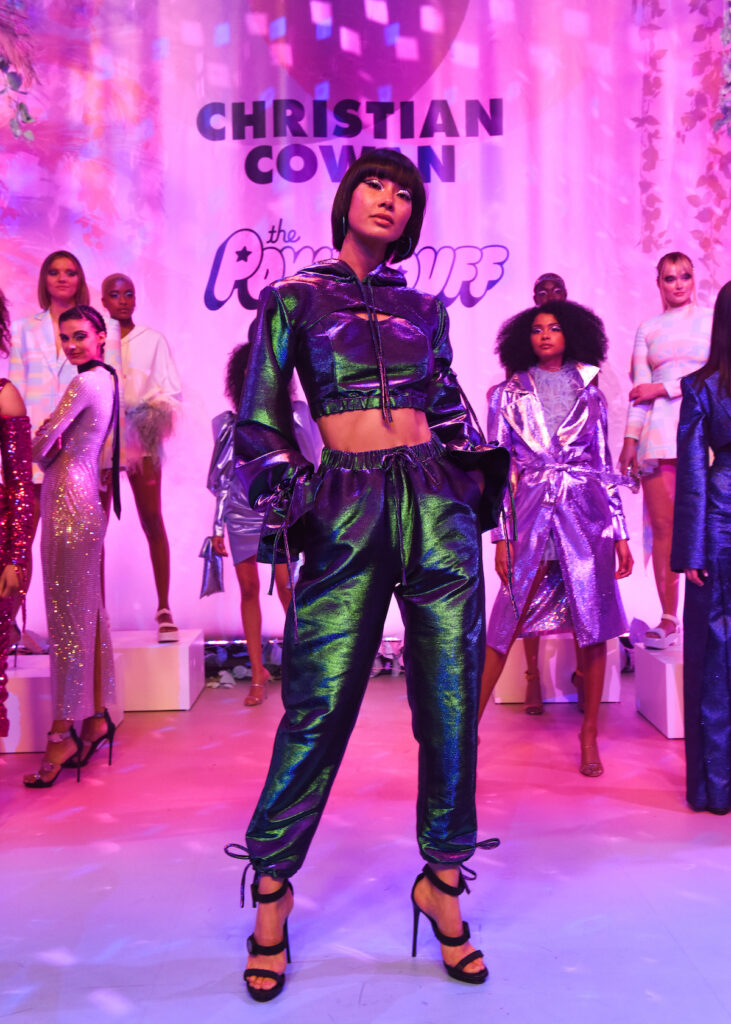 (Photo Credit: Owen Kolanski/BFA)
The meal made my inner foodie heart sing as we munched on roasted brussel sprouts, salmon, bolognese, and more, and sipped on white wine and cocktails. "This is so not an LA meal," Cowan said in his charming British lilt with a smile, as he spooned a helping of bolognese on to his plate.
I was starving and so glad it was not, but what filled me up more than the food was the company – Cowan, his team, and a few fashion journalists on hand. I couldn't believe how calm Cowan was less than 12 hours before the debut of his collection. We all hung out at Chateau for hours talking about fashion, his career, and his mom, whom everyone adores from the moment they meet her. "She's an icon," he said. Everyone at the table nodded in agreement.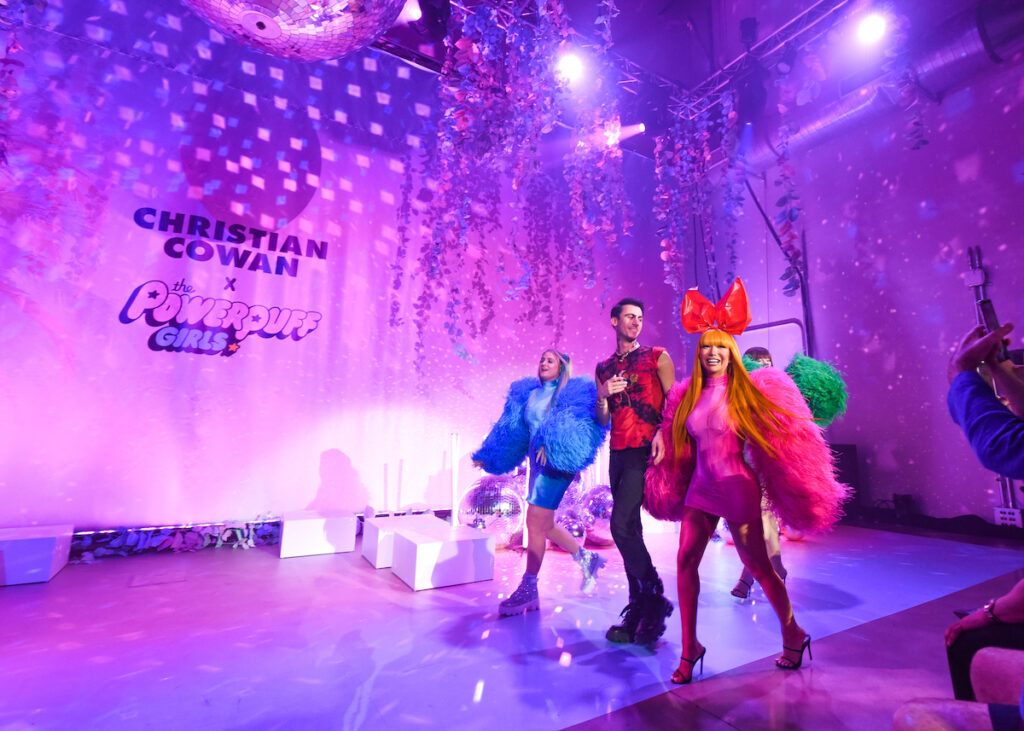 Christian Cowan, Meghan Trainor, Nikita Dragun, Kellee Moran; Photo Credit: Owen Kolanski/BFA
I first met Christian at the same pre-show dinner last year for his first Powerpuff Girls collection, and what struck me the most about him was how down to earth he is in the midst of his ascending success. He is incredibly talented and creative (his upcoming Le Specs collection, for example, is everything) and yet so cool, calm, and collected. It's hard to believe he's only 25.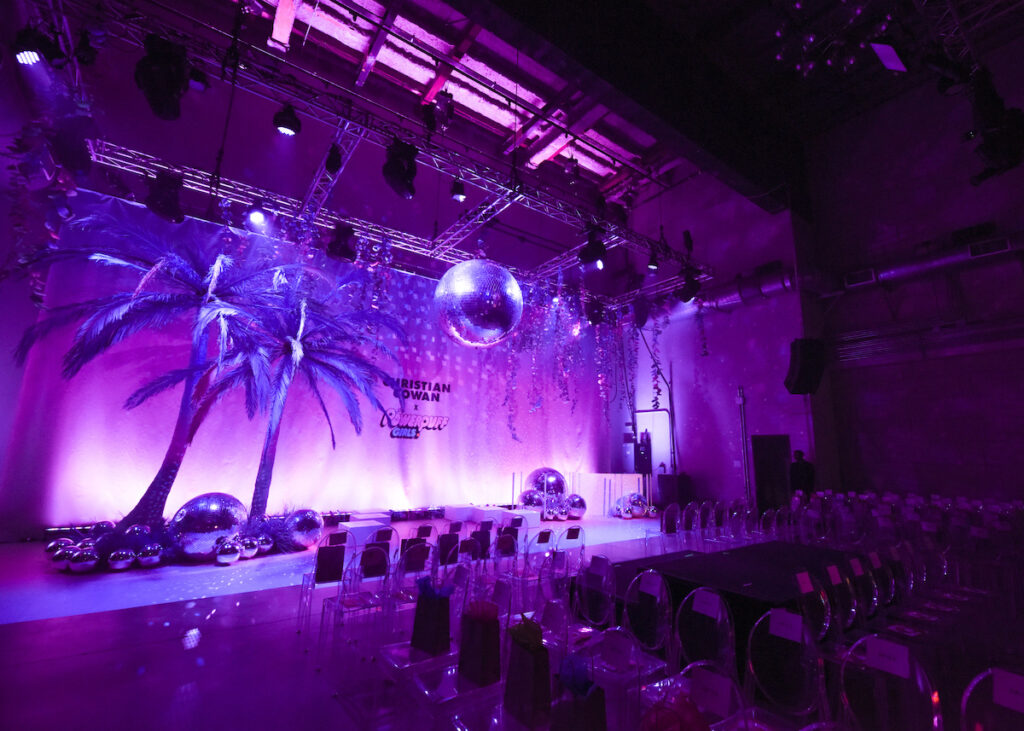 Interior, Milk Studios, Christian Cowan x Powerpuff Girls Show; Photo Credit: Owen Kolanski/BFA
The next day, it was time for the big show, and I headed to Milk Studios in Hollywood, Calif. Sunday to take it in, beyond excited for what was in store. It was International Women's Day and I was thrilled to cap off the day with Christian's show, especially because of what the collection stood for. "It's all about empowering women," he told us the night before, recounting how he used to watch The Powerpuff Girls growing up.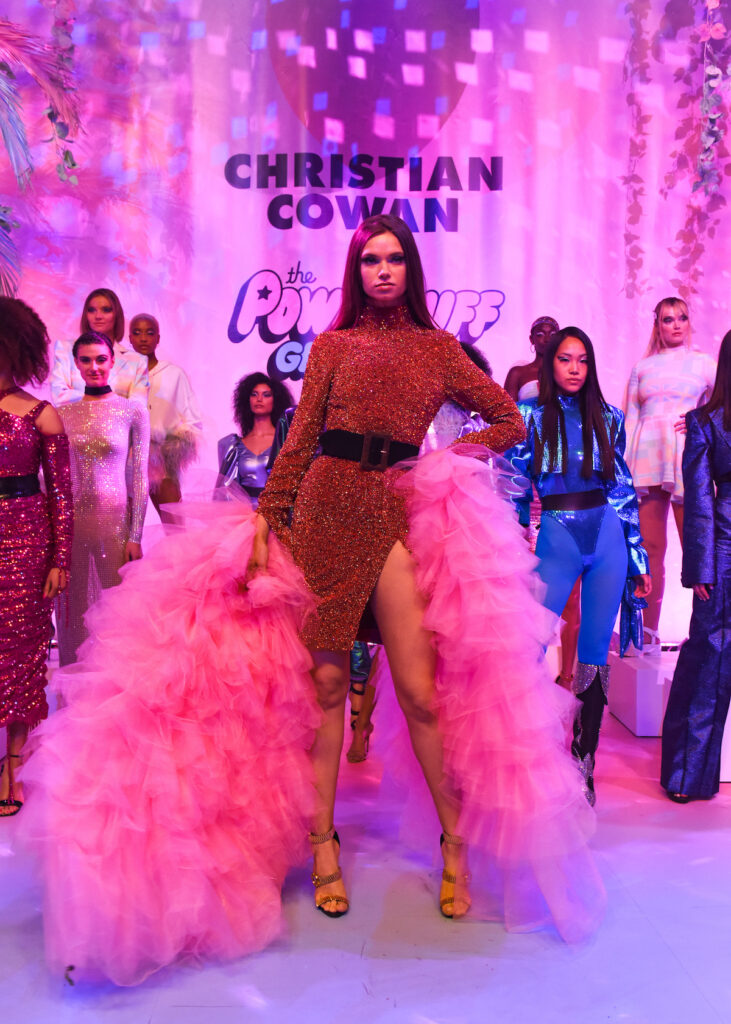 Photo Credit: Owen Kolanski/BFA
The room was drenched in soft purple light with "Christian Cowan x Powerpuff Girls" emblazoned at its center. A huge disco ball set the scene and cast glittery shadows around the room, which was stacked with clear chairs for the show. Before the show began, guests mixed and mingled, and took aura photographs (a very LA thing).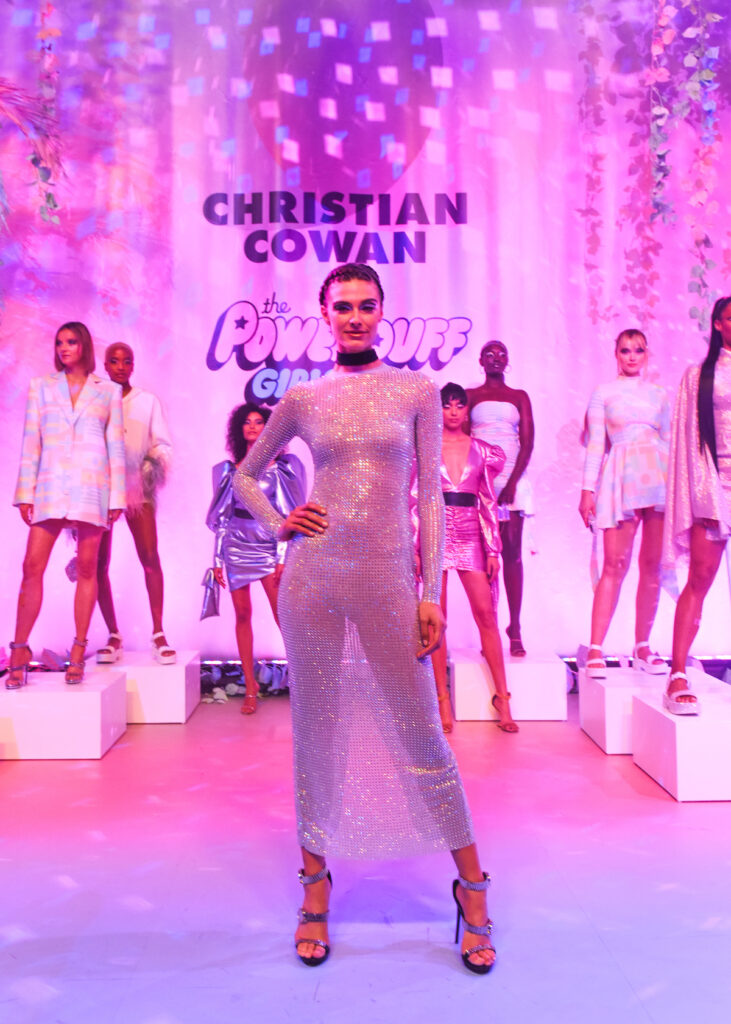 Photo Credit: Owen Kolanski/BFA
Soon, the DJ, decked out in a silver-sequin emblazoned Christian Cowan x Powerpuff Girls sweatshirt, dropped a dance track and the show began with model after model sauntering out in looks that embodied Cowan's bold signature style and female empowerment mantra.
Velvet body-hugging dresses in bright colors, metallic dresses and suits with structured, exaggerated shoulders, shimmering, crystal-encrusted dresses and feathered frocks ruled the show. My fave looks included a metallic puffer jacket, a sheer shimmery iridescent dress, and a hooded green gold crystal-covered dress.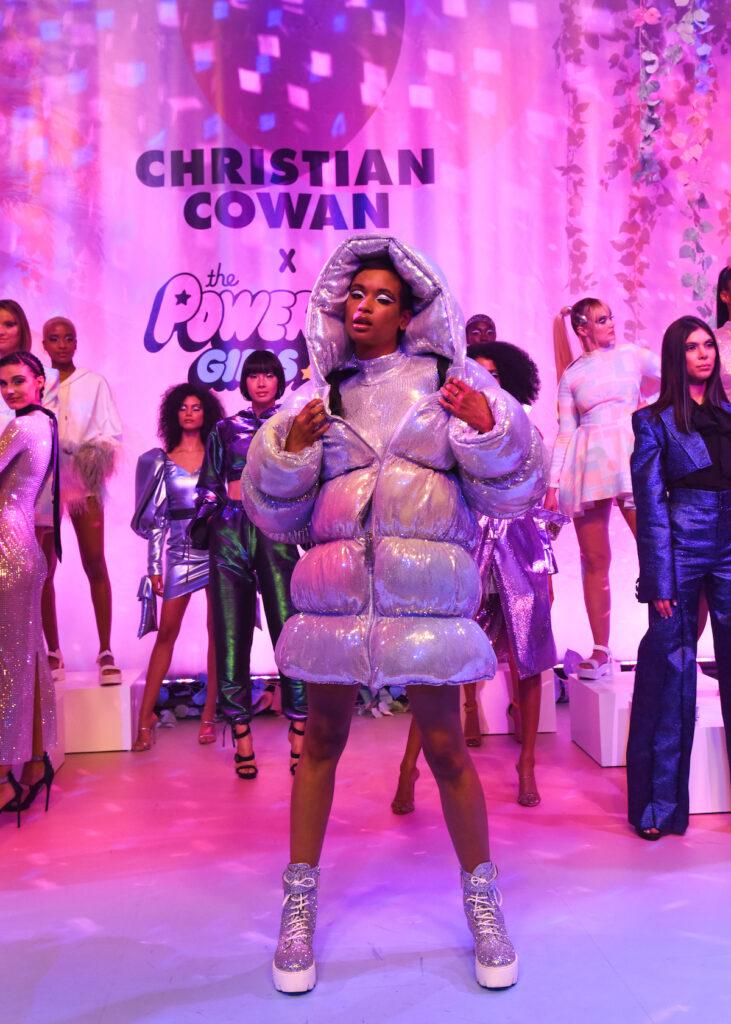 Photo Credit: Owen Kolanski/BFA
The models were diverse, and many didn't appear to be professionals. They were real women, with real bodies, a variety of shapes and sizes and ethnicities. And they slayed it. Actress and model Jillian Mercado was also on hand in her wheelchair, sporting a sparkling dress with a smize.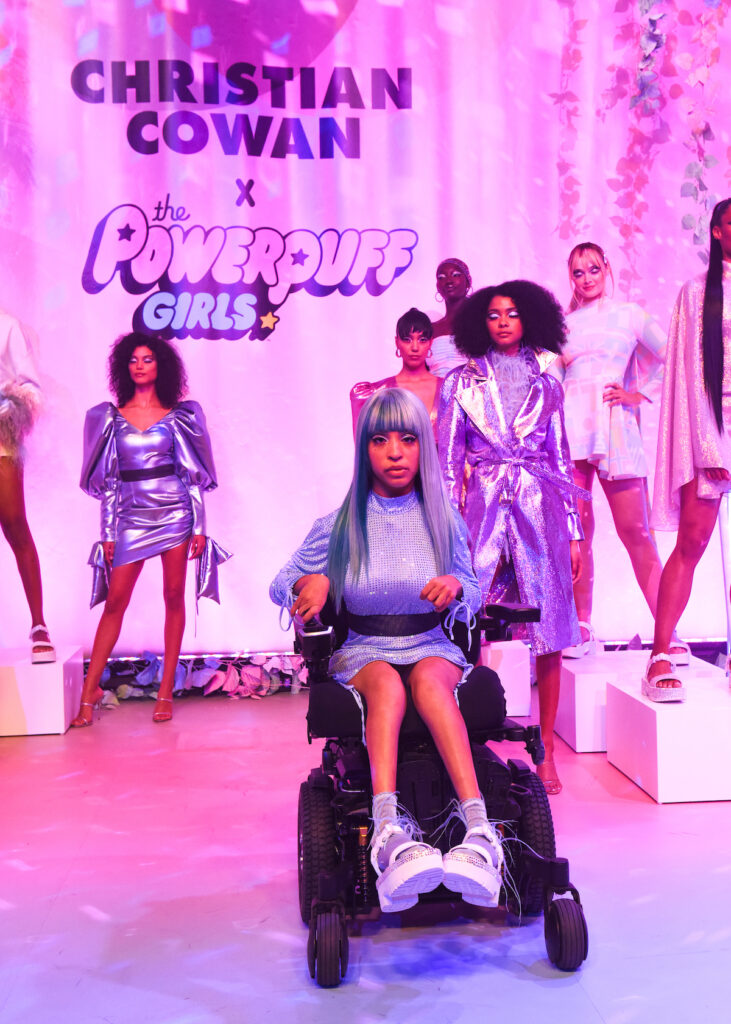 Jillian Mercado; Photo Credit: Owen Kolanski/BFA
Megan Trainor and Nikita Dragun also strutted down the spotlit runway, with Trainor wearing a body-hugging velvet blue dress and matching furry stole, and Dragun wearing the same in hot pink. Meanwhile, Lisa Rinna and Harry Hamlin's daughter Delilah Hamlin sported black feathers, a black velvet dress and an exaggerated hat. "I didn't even recognize her when she walked out," Rinna said to a friend backstage after the show.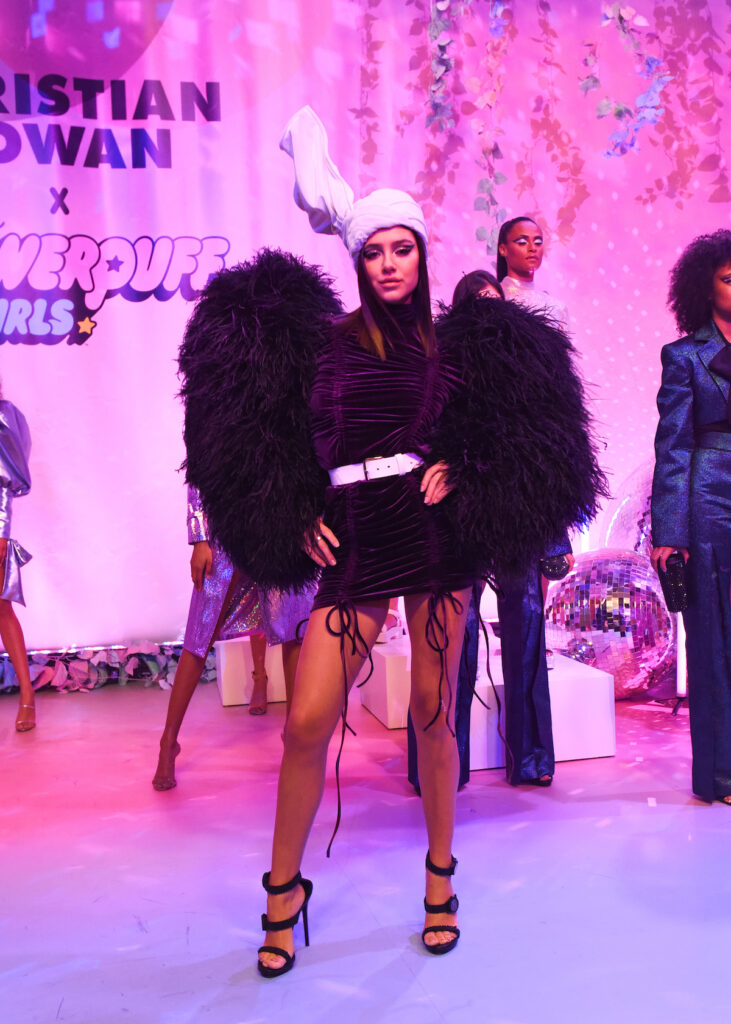 Delilah Belle Hamlin, Christian Cowan, Powerpuff Girls; Photo Credit: Owen Kolanski/BFA
It was an incredible celebration of women. We can't wait to see what else is in store for Cowan and what he sets his sights on next.
Hit our instastory on @destinationfab for live scenes from the show!