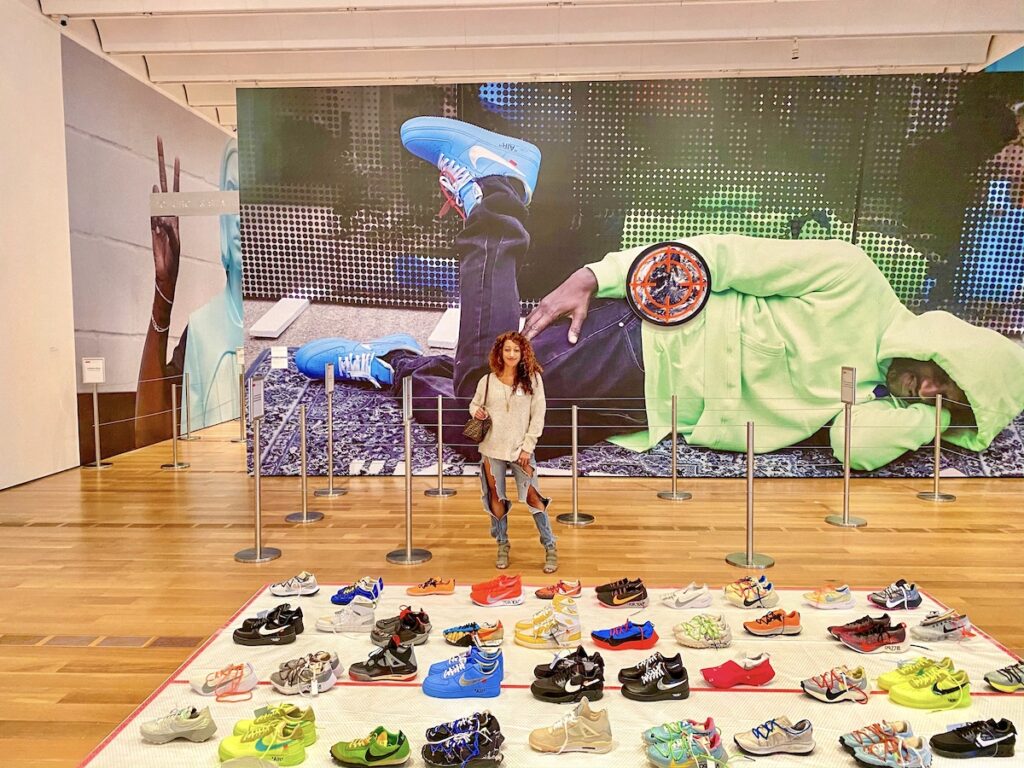 Virgil Abloh's famed Figures of Speech exhibit just hit Atlanta…and it's a visual feast of art and fashion you can't miss if you're in the city.
The exhibit is a tribute to the work of the Chicago-born architect turned fashion designer and artist, a multi-talented creative who took Louis Vuitton to new heights with his unique vision as artistic director of menswear, and makes us stop and stare any time we see one of his Off-White designs hit the runway or the streets. His talent is so effortless that he even dropped an Ikea home collection collab on a whim (and people were literally fighting to get it).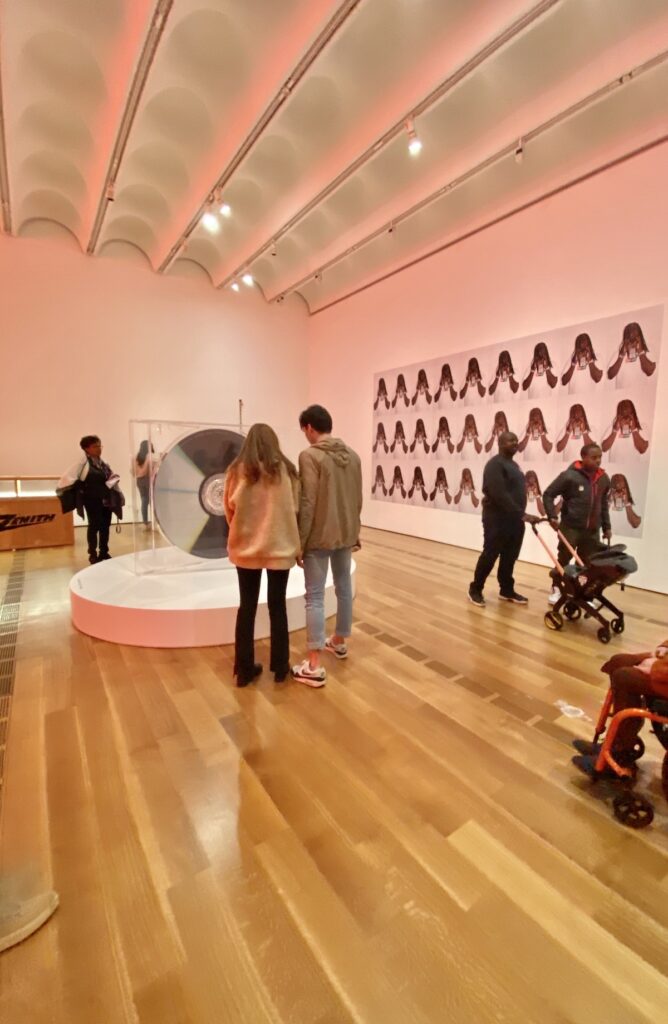 To us, he is the essence of art personified. So, it was only fitting that after attracting 180,000 museum visitors to the first Figures of Speech exhibit at  the Museum of Contemporary Art in Chicago earlier this year (one of the most popular exhibits ever at the museum), that the 39-year-old visionary kept the party going and made his next stop ATL.
Here are the five things to know about Abloh's Figures of Speech exhibit, which opened its doors to the public at the High Museum of Art today.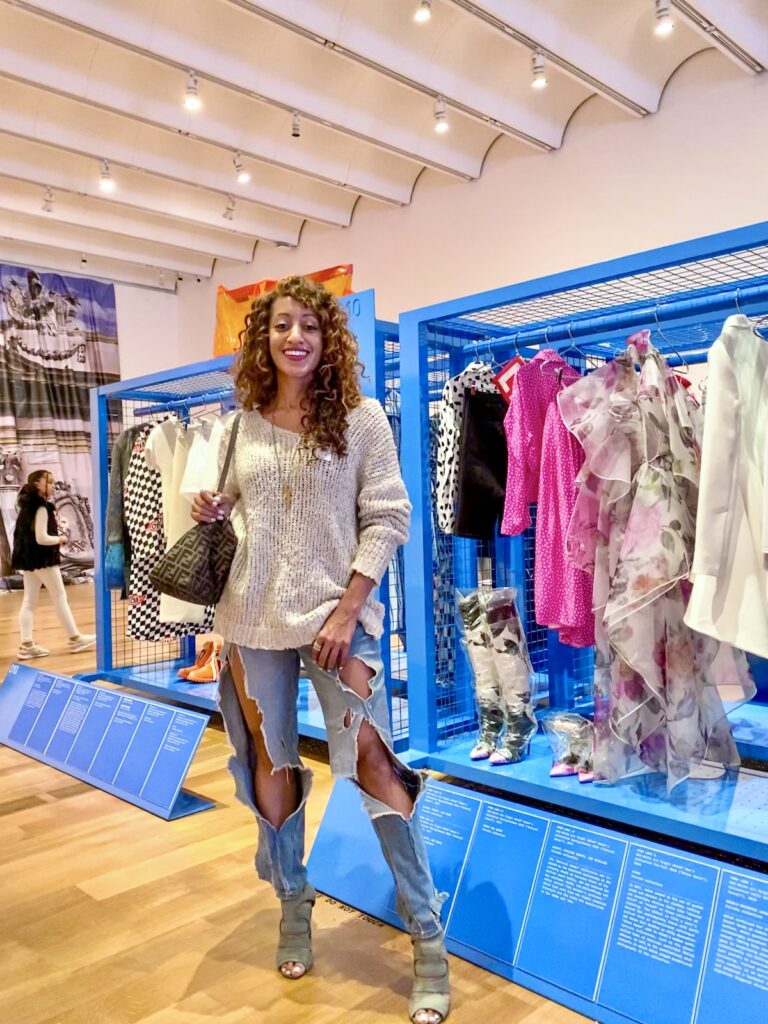 1. The Basics: To see the exhibit, you have to purchase a general admission ticket to the High Museum of Art. Those tickets are $14.50 for adults and free for kids five and under. The museum is open Tuesday – Saturday 10 a.m. – 5 p.m. and Sunday from 12 p.m. – 5 p.m. The exhibit runs until March 8, 2020.
2. What to Expect: Art meets fashion and a visual history of Abloh's talents over the last two decades. You'll see racks of Off White clothes and shoes (you can't touch them or try them on), and displays filled with Abloh's collabs, like his Off White x Nike sneaker collection, MAKERAD Ikea collection, and even the transparent carry-on from his Off White x Rimowa collection. To us, the exhibit isn't geared towards little ones, so we would advise leaving children at home.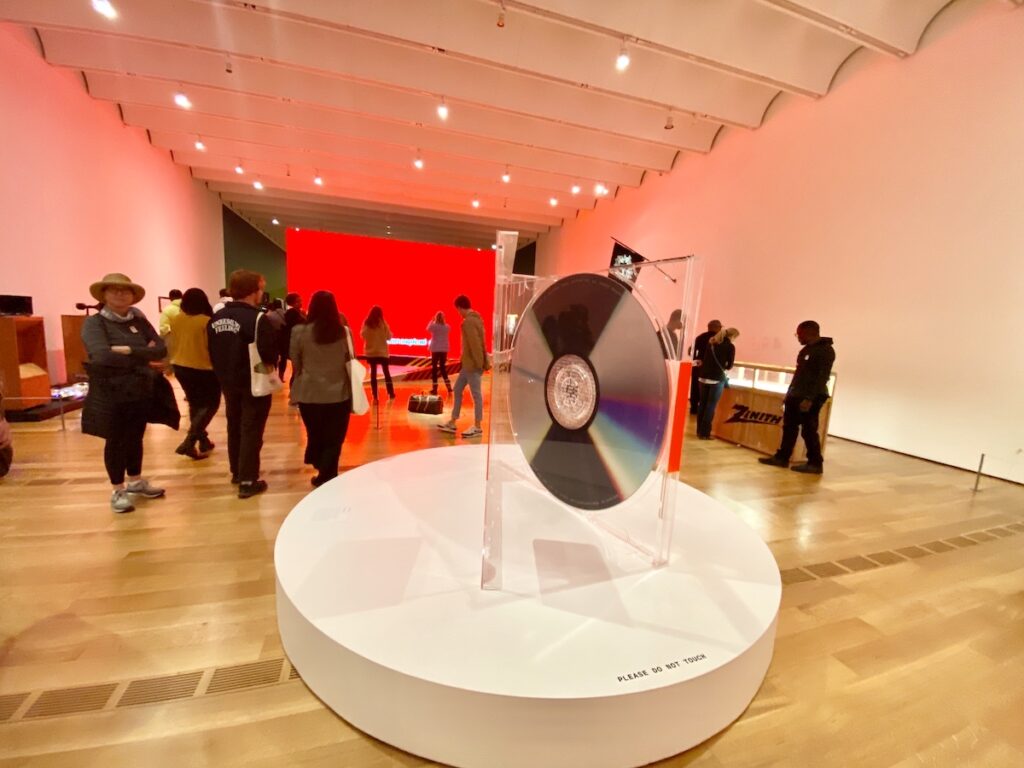 3. The Rooms: There are about six, and they seemed to be sectioned off by fashion, art, design, and music (with elements of each weaved into each one). Next to the fashion-filled room near the entrance of the exhibit sits a room filled with music and art, reflective of Abloh's DJ talents and artistic music collabs. Abloh designed the cover of Kanye West's Yeezus album, for example, so there's a giant replica of that at the room's center. On the wall, there's a collage of photos of Chief Keef rocking a new Supreme logo tee design with the Jamican flag colors of red, black, and green. Abloh first debuted the image and artwork at the Figures of Speech opening in Chicago.
There is also a blinged out display of Abloh's pave diamond paperclip necklaces and bracelets, his first eponymous jewelry line, which launched this year after a 3-year design process, according to WWD.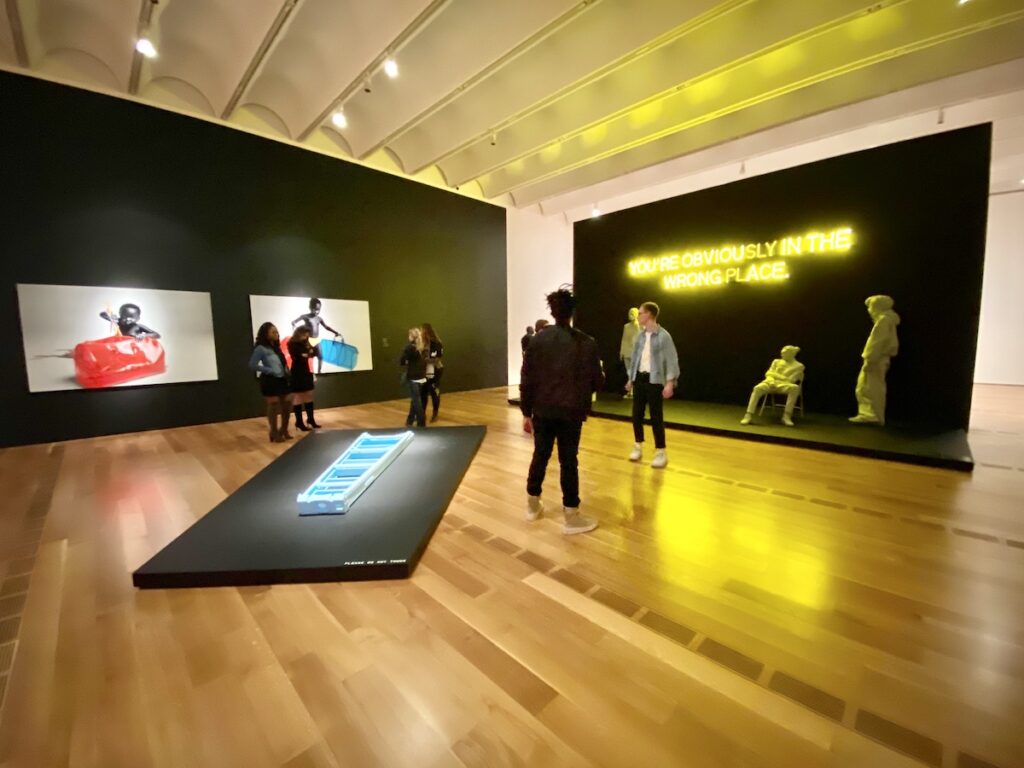 In the next room, a rack of "Lewis Vuitton" jackets leads the way to colorful ad photos from Abloh's Louis Vuitton Spring 2019 campaign that show a three-year-old black boy palming Louis Vuitton bags and rocking the Wizard of Oz sweater from the SS19 collection.
"With the campaign, I wanted to make something that is universal and human at the core. Inclusive and dense, something that has gravity," Abloh told WWD about the images in January. "I decided I was going to focus the campaign on boyhood, not men's wear. What makes men? The different stages in one's life, from infancy all the way through teenager, adolescent, young adult to adult," he added.
That room leads way to a peek at Abloh's Rimowa and Ikea collections, with a few structural design pieces thrown in as well.
If you love sneakers, you'll fall for the room geared towards sneaker heads, with dozens of Off White x Nike sneaker samples that Abloh designed on display.
4. The Bonus – The Gift Shop: After you've taken in Abloh's artistry, you can purchase merch Abloh designed specifically for the High Museum. There are shirts, sweatshirts, artbooks and more. It's perfect timing for Christmas shopping if you have creatives and fashion lovers on your list.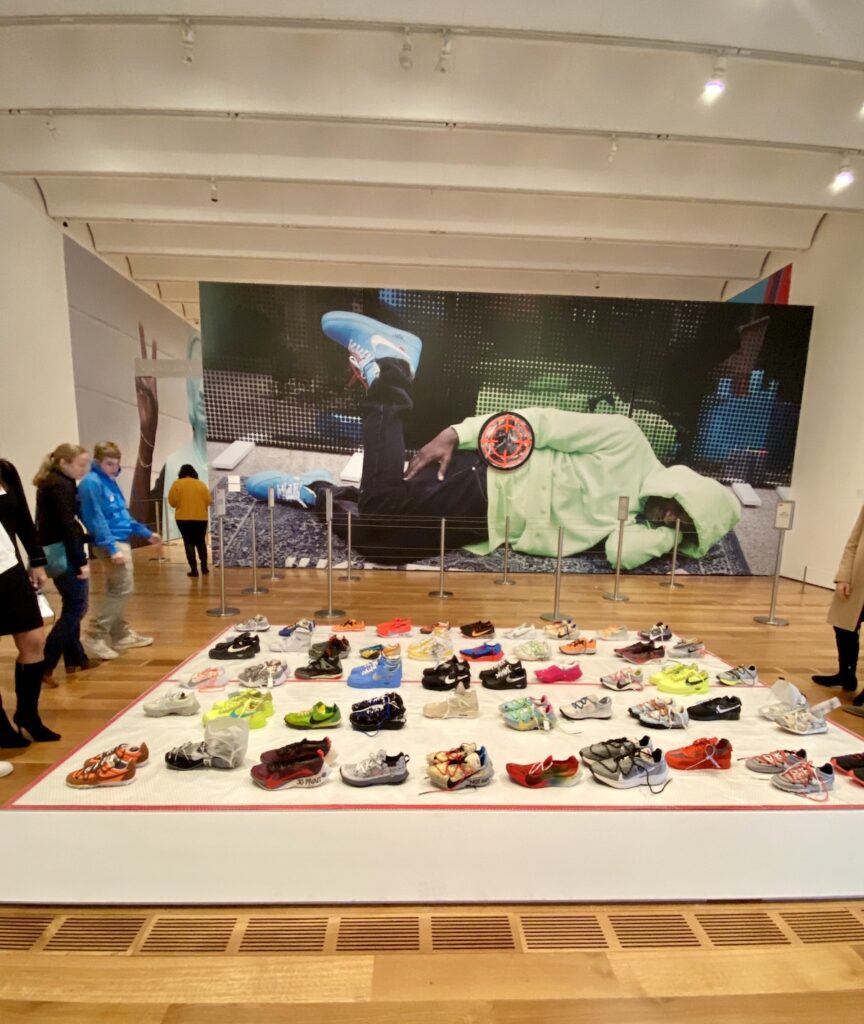 5. The Big Question: For us, at least. Will Abloh drop a sneaker collab with High Museum of Art? He created one for MCA Chicago with Cassius Hirst – 20 Limited edition baby blue Air Force One kicks topped with a white check, that retailed for $3,000 each, according to HypeBeast. We're waiting with baited breath to see if he'll do the same for the A.
Did you check out the exhibit? Have questions? Drop your thoughts and comments below!