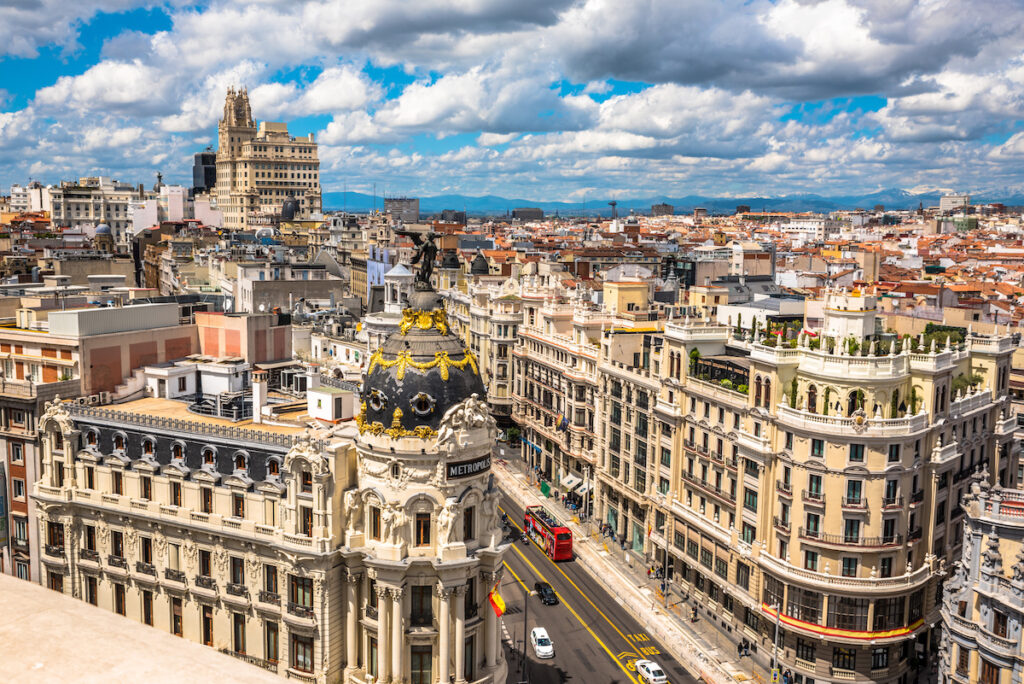 Before you visit Madrid, it's important to know where to stay and what the main districts are all about so you can tailor your trip to the adventure you're looking for in the city.
We're breaking down our top hotels in each of our fave districts in town – Gran Via, Las Letras, Chueca and Salesas, so that you know what to expect and have a quick reference on hand for where to stay when you're ready to book.
Gran Via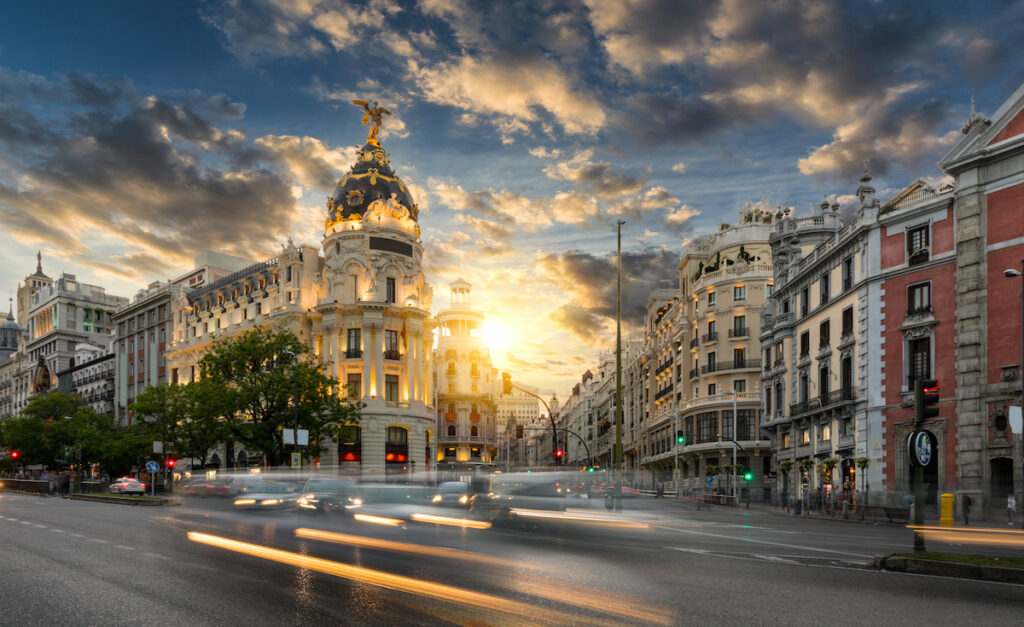 If you're visiting the city for the first time, we would steer you towards Gran Via. It's the main hub of Madrid and a great place to start when it comes to exploring the city on foot. Since it's one of the most central (if not the most) central areas in town, it's the hub of a number of restaurants, rooftop bars, historical monuments, and even clubs that are worth popping into. It also has hotels with some of the most sweeping views of the city.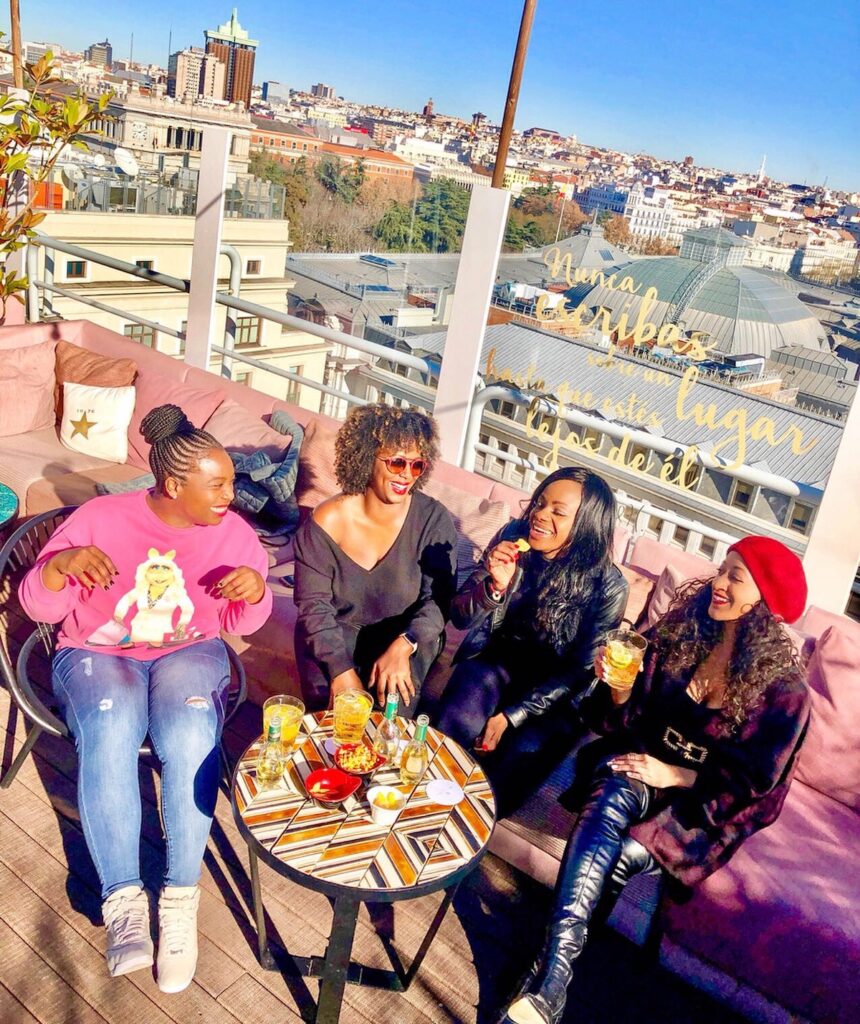 We stayed in a Junior Suite with Terrace at the NH Collection Madrid Suecia in Gran Via and loved it. It has a max guest limit of three people, but was roomy enough to fit four. The suite, which was decked out in modern decor, came complete with a king bed in the master bedroom, and a standalone shower and separate soaking tub in the bathroom. The suite also had a living room with a sofa bed and a wraparound terrace with views of the city. There are smaller rooms for two that are cheaper, but if you go for those, opt for a room with a view if it's within your budget. The Junior Suite with Terrace, the most expensive room at the hotel, averages about 250 Euros a night depending on the time of year. That's pricey, but not terrible if you split it with three people.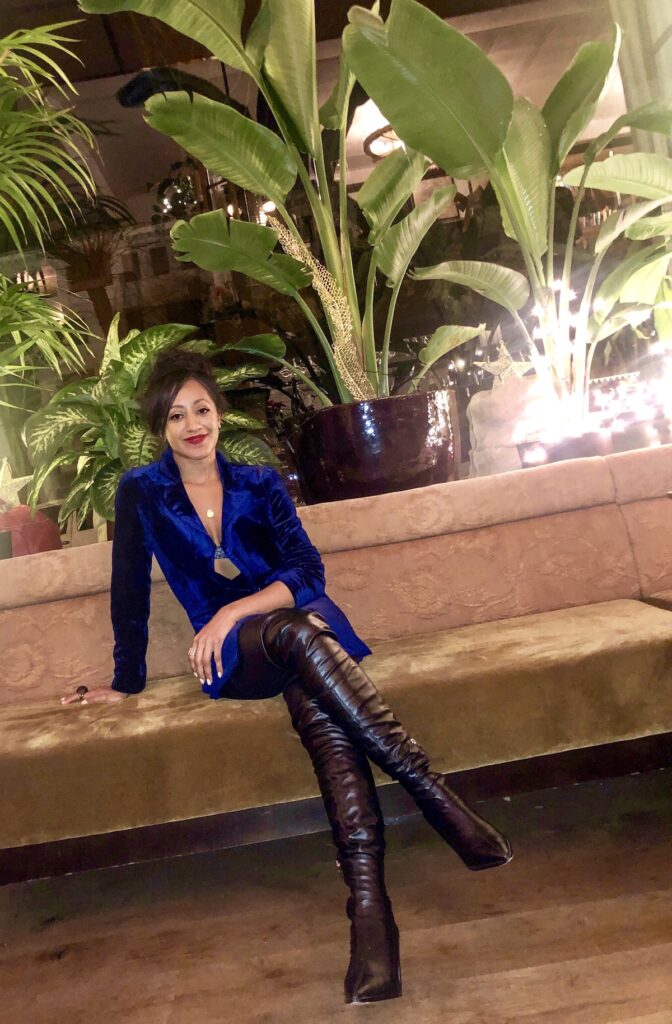 The hotel's amenities were also a plus. There is a breakfast buffet daily in the Casa Suecia restaurant, which also serves contemporary European grub at night. Before we kicked off our trip, we toasted the start to the day with cocktails (which were delish) at the main bar downstairs – Bar Hemingway. We also stopped by the rooftop bar, Ático Casa Suecia, for happy hour to kick off the evening, and there's also a secret, exclusive bar below the ground floor – a former stomping grounds of Ernest Hemingway.
As you might have noticed, we're suckers for a rooftop pool and panoramic views. This one has both – a plunging rooftop pool with views of the city and a chic Sky Lounge that has 360 views, contemporary grub, and DJs on the weekends (come on vibe!). If you go with one of their more affordable basic rooms, it will be small, but cozy, and comes with a bed with 300-thread count Egyptian cotton sheets, a flat screen TV, and a rainfall shower. This is great for those who plan to spend most of their time out of the hotel exploring (as you should), but also want a comfy bed to kick back in when it's time to sleep.
When we had drinks at the Oscar's white-drenched rooftop poolside bar, we couldn't help but wonder what a stay there would be like. The Roommate Oscar is where you stay when you want to be right in the middle of the action and also have luxe amenities just a few feet away, like it's rooftop pool and bar with over 30 bespoke cocktails and panoramic views of the city. The Oscar has standard rooms and suites, all with flat screen TVs, free wifi, and full bathrooms (showers or bath tubs).
Las Letras
Consider this the arts and literature cultural epicenter of Madrid.  Las Letras, the Literary Quarter, sits between the popular Plaza de Santa Ana (home to theaters, rooftop bars, jazz cafes and more) and Paseo del Prado, making it walking distance to museums, cafes, bars, and restaurants. Stay here if you crave cultural experiences and are looking for a vibe that's a little more laid back than Gran Via, but also has everything you need within walking distance.
The Top Digs: Roommate Alicia
Located on the Plaza de Santa Ana in Las Letras, this cozy and affordable boutique hotel sits right in the city's center in Las Letras. It's walking distance from a number of sidewalk cafes that are convenient when you want to grab tapas or a glass of sangria. Roommate Alicia is on the smaller side with 34 rooms, but each one is filled with light. For those who want to take their vacays up a notch and/or are celebrating a special occasion, there are three junior suites and two duplexes with private terraces.
Chueca and Salesas
Chueca: Known as one of the most gay-friendly districts in town, Chueca is home to music-bumping bars that stay open late night, transcendent grub, and even the Casino Gran Madrid – the first casino in Spain. Although nearby Salesas has more shopping to offer, don't miss shoppable street Mercado de Fuencarral, which is lined with stores perfect for alternative souvenir shopping.
Salesas: Close to Chueca, consider this neighborhood, one of the smallest and trendiest barrios in Madrid, a hidden find. So much so that it landed in one of Vogue's travel guides – and for good reason. Salesas is one of those rare, cozy parts of town where  you can stumble upon a one-of-a-kind fashion item and grab a bite at one of the off-the-beaten path tapas bars.
This boutique hotel is on the larger side, with 125 rooms. It was converted from a restored 19th century palace, has an air of understated elegance, and each sleek room is decked out in modern decor. Aside from the rooms, which range from the more affordable, standard deluxe to the luxe Royal Blue Suite (complete with a bottle of Veuve Clicquot, furnished terrace, and free mini bar and spa treatments), there is a Thai Wellness spa on site that has massages, spa treatments, and yoga, as well as a cocktail bar that features live performances, and a restaurant that serves up traditional Madrid cuisine.
Where have you stayed in Madrid that you've loved? Tell us in the comments!