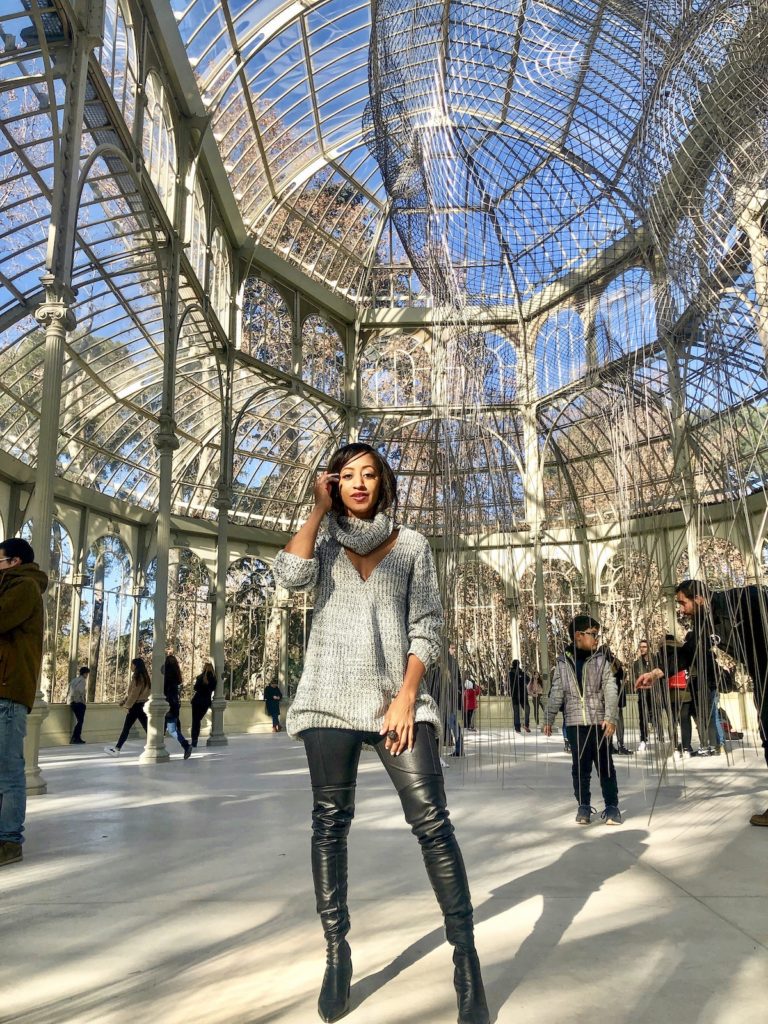 We ventured to Madrid on a whim. Since I'm all about adventure, even of the last-minute variety, I couldn't resist heading to Spain to meet up with friends when we decided to take an off-the-beaten path journey to one of Spain's most well-known, but not always traveled cities.
We weren't sure what to expect. We had heard about the raging parties and the dreamy paella, but we didn't know if it could live up to the hype. What we found was a city that didn't thrive on partying day to night, but rather had its roots in culture, historical monuments, and unforgettable tapas and paella. Aside from its mega night clubs, Madrid exuded laid back vibes, even when night fell.
As for the FAB Madrid verdict, If you're visiting Madrid for a week, I think a three or four-day trip is enough to see the top sights and sounds and experience the city, and that you should spend the rest of that trip in the more bustling city of Barcelona (only a 2.5 hour train ride away). Still, Madrid is a city that shouldn't be missed.
Take a peek at the things you need to do your first time in Madrid!
1. Palacio de Cristal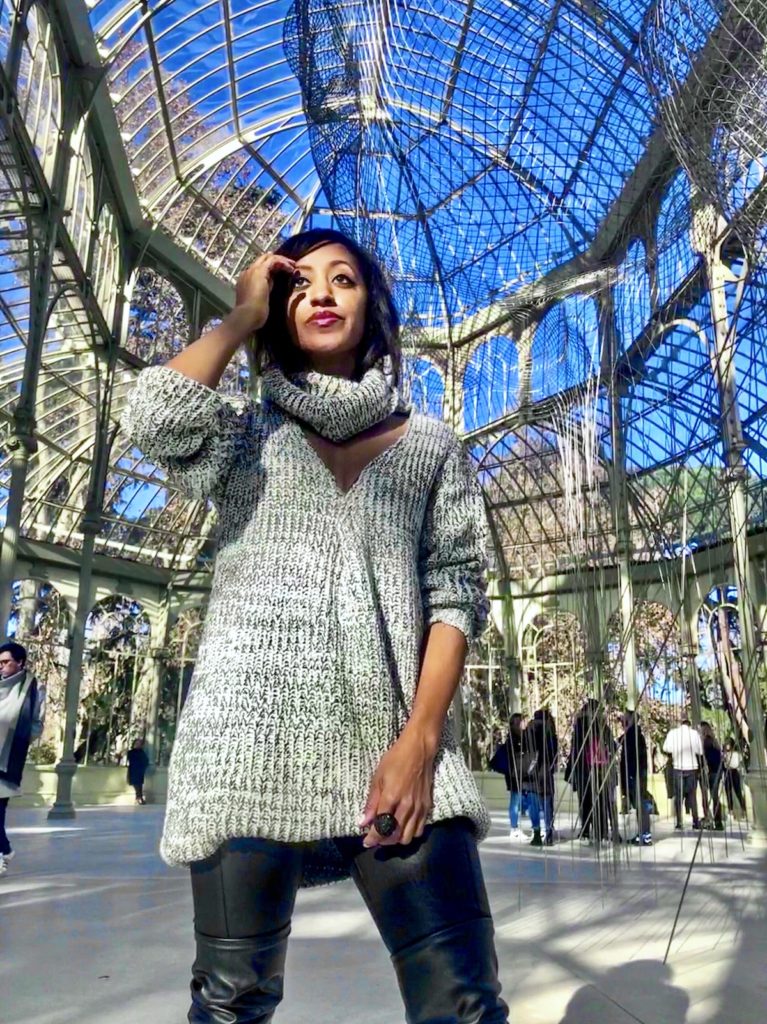 This tried-and-true Instagrammable hotspot tops our list for places you can't miss in Madrid. Located in the back of Retiro Park, this stunning structure, designed by architect Ricardo Velázquez Bosco, made us gasp when we walked inside. It's made nearly entirely of glass and was originally designed to house exotic floral and fauna. Now, it's home to wiry metal sculptures shaped like giant faces and other pop-up exhibits that will wow you whether you're an art buff or not.
FAB Tip: It is free to enter the palace. There is usually a long line to get in, but it moves fast, so don't let that deter you when you approach it. If you want to beat the line, try getting there right when the Palace opens. Also, add in an extra hour to explore the park. There are street performers and vendors.
2. Munching on Tapas and Paella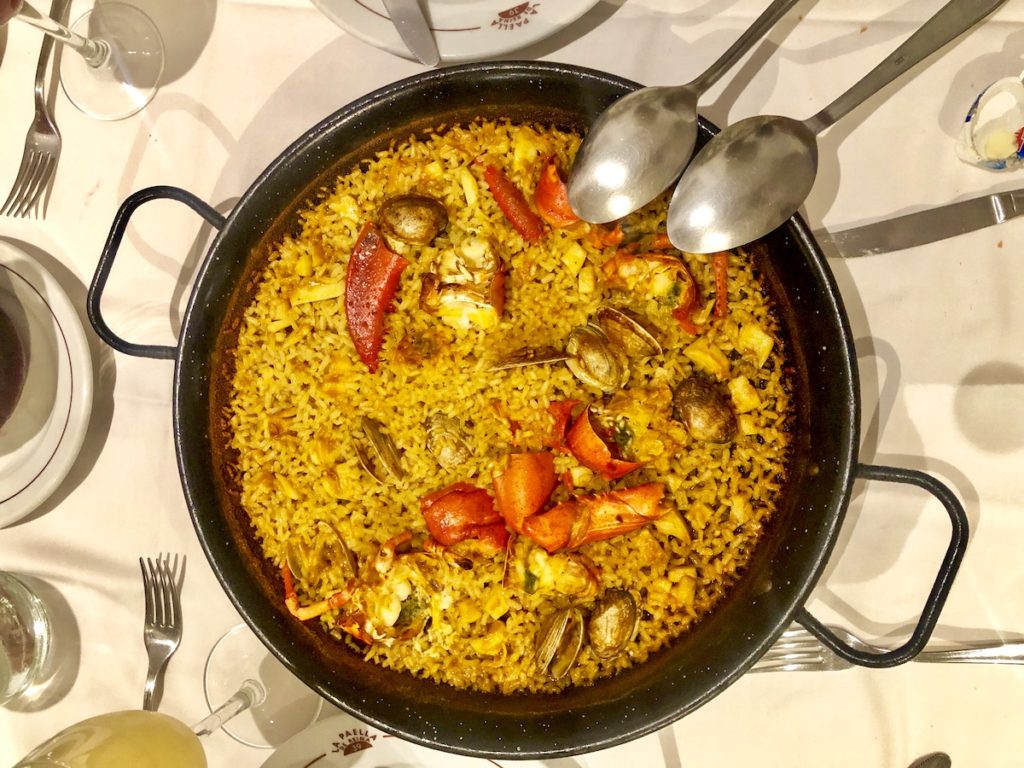 Lobster Seafood Paella at La Paella De La Reina 39
Whether you're a foodie or not, you should make munching on tapas and feasting on paella your top priority while you're in Madrid. While we didn't get the opportunity to take our own mini tour of the best paella spots in the city, you need to try the Lobster Seafood Paella at La Paella De La Reina 39 if you love seafood.
We weren't crazy about other paellas we tried there, but that one was next level. So much so, that we were scraping the pan and ordered another. Stay tuned for our Madrid FAB Dining Guide for more details on the tapas and paella hotspots that you can't miss.
3. Royal Palace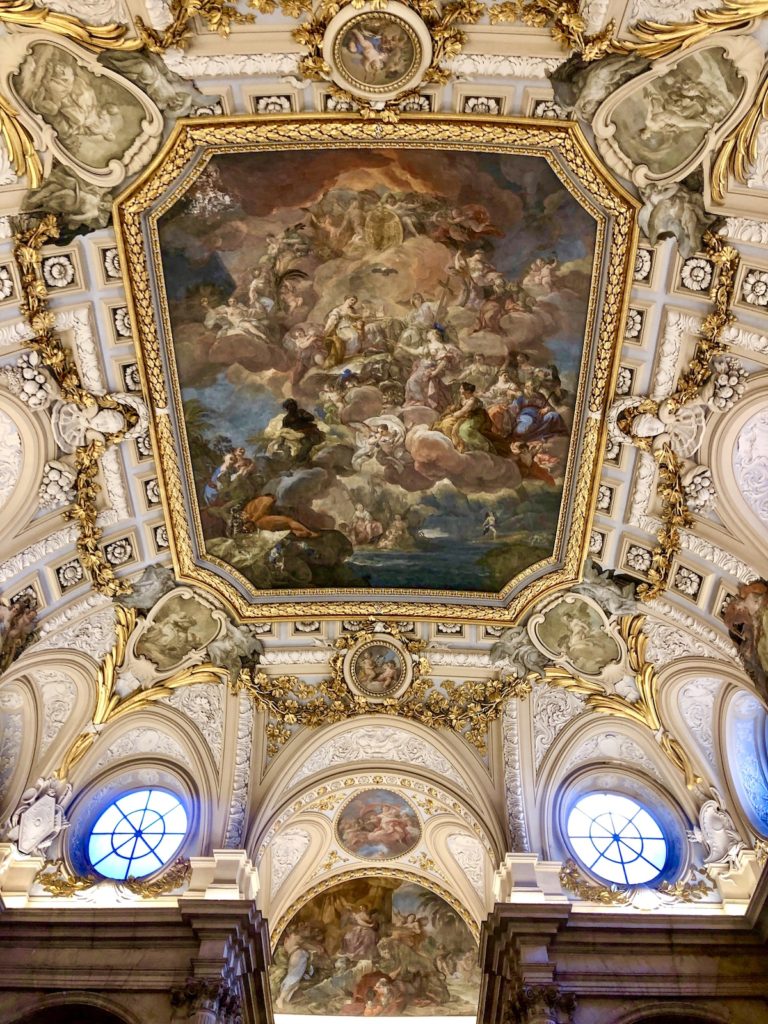 Interior of Royal Palace, Madrid
If you look at any 'must-see' lists in Madrid, you'll see the Royal Palace at the top, and one visit there will show you why. As I've mentioned many times before, I'm not a history-obsessed traveler, so we didn't spend a lot of time there, but it was a cultural experience we would recommend for your first time in town. The Palace is the official residence of the Spanish Royal Family and it is breathtaking with so much gold and opulence inside it's hard to imagine that people actually lived there. The courtyard – which sits right outside of the palace is an incredible sight to see too, particularly at sunset.
FAB Tip: You'll have to stand in line to get a ticket, which costs 13 euros per adult.  It took us about 15-20 minutes to do that on a busy day that had a long line.
4. Rooftops and (Slight) Raging:
We wouldn't describe Madrid as a place where you can party from day to night (it's just not the vibe there), but when night falls and you want to hit the town, you can absolutely dance the night away. Pre-club, pre-game and kick off the evening at a rooftop bar with views of the city. We loved the chic poolside rooftop at La Terraza de Óscar at Room Mate Óscar Hotel with its city views and innovative cocktails served in birdcages, and we had a blast toasting Moet champagne on the rooftop of our hotel – NH Collection Madrid Suecia – which also had incredible views of Madrid.
When you ready to hit the club, Teatro Kapital is a spot you can't miss. It's one of the most famous clubs in the city, and has seven floors with different types of music on each floor. The party starts late – at 12 a.m. and goes until 5:30 a.m. As for other options, Fabrik – which can hold 4,000 people – is also a megaclub hot spot, as well as Pancha, which has multiple levels that feature house, techno, Latin, and reggaeton hits.
FAB Tip: If you visit in warmer months, La Terreza de Oscar's rooftop pool is open between 10.30 – 19.00 in summer, free for hotel guests but also available for visitors at a fee of €40-60. This includes towel, a tequila and a glass of wine. The bar is on the pricey side, so if you're on a budget, indulge in a cocktail and then bar hop along the adjacent streets.
5. Flamenco Vibes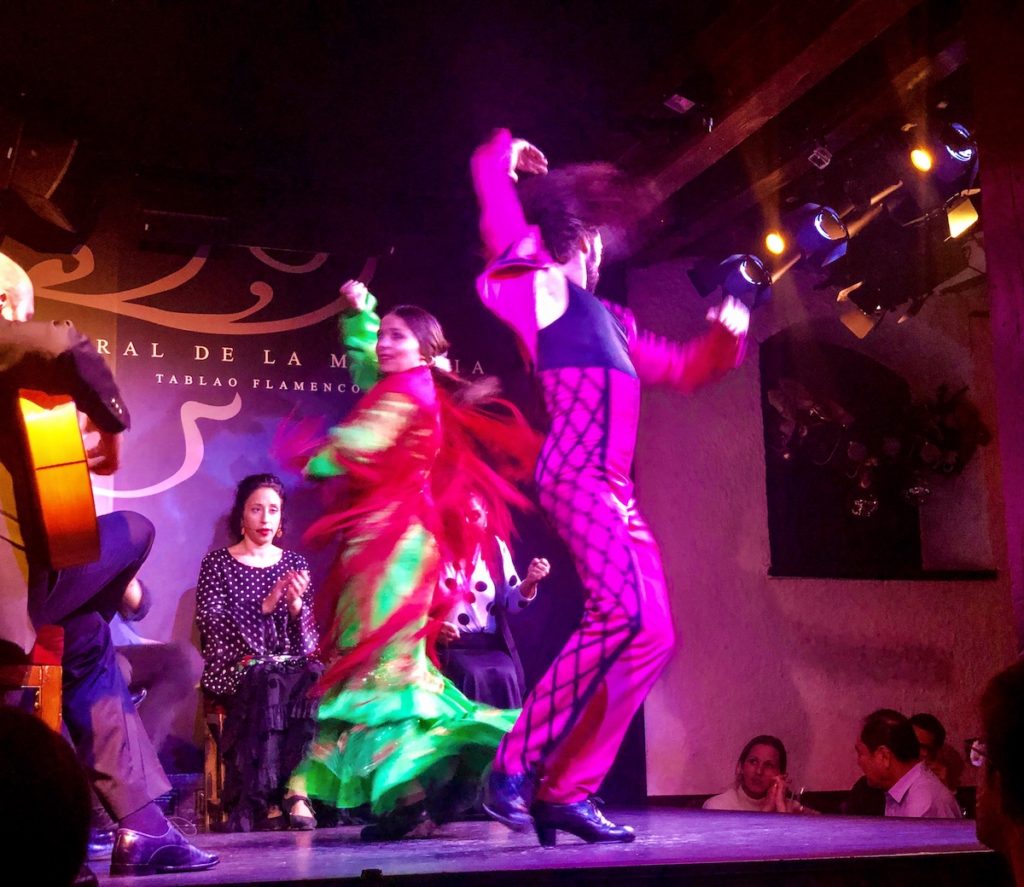 Flamenco Show, Corral De La Moreira
While in Madrid, go to a flamenco dinner, and if you have room in your budget, don't miss the one at Corral de la Morería. The performers put on a killer show, and the food is to die for. The flamenco show at Corral De La Moreira has been around for over fifty years and is known as one of the best in the city. It's also on the pricey side, but it was worth it. At about $50 a pop before we even touched a bite of bread (which also came at a price), we were totally skeptical walking into the low-lit flamenco hub at first, but by the end of the evening, the show and dinner had exceeded our expectations.
It's an all-immersive experience in an upscale, authentic Madrid restaurant with a traditional flamenco show that included a small group of dancers and singers, and a dinner that was beyond delicious. Expect to pay at least an additional $50 for dinner and a glass of wine though…even if you play it small. You have the option to choose just the show and drink option as well to cut costs, but that still is around $50.
FAB Tip: For a more budget-friendly authentic flamenco experience, head to Cafetin La Quimera, which offers a show and a drink for under fifteen euros.
6. Wining and Dining at Mercado De San Miguel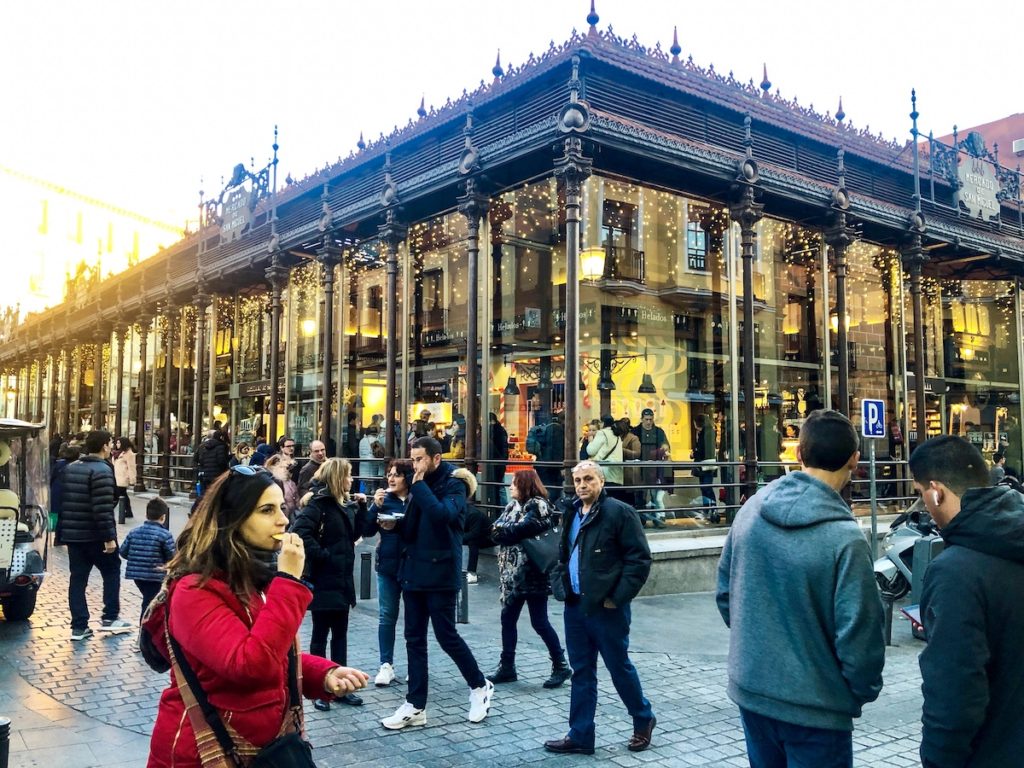 Mercado De San Miguel
This glass-encased market has plenty of hustle, bustle, energetic vibes, and good eats. Mercado De San Miguel was one of our faves while we were in Madrid. The food inside of Mercado is tapas style, so pop in during the afternoon to get your fix and then venture around for dinner (there are plenty of great spots within walking distance). There's something for everyone here, from empanadas to crispy calamari to pastries and tasty, flavored coffees.
FAB Tip: The market can get packed easily and there isn't much room to sit down and enjoy your bites, so if you're looking for a place to kick back with a glass of wine and a hearty meal, head across the street to one of the nearby restaurants. We popped into Taste Gallery, kicked back relax, enjoy the surprisingly stellar house wine (red and white) and munched on it Meating Point by Razanostra is also a great option.
7. Pop-Up Art Exhibits
Madrid has a thriving arts scene, so be on the lookout for art exhibits that are tough to find anywhere else. We stumbled on the unauthorized Banksy Exhibit, which unfortunately, closed in May. If it returns to Madrid – and you are a Banksy fan – you can't miss it. The exhibit was located a short Uber ride (about 20 mins) outside of Madrid and it was worth going off the beaten path to see it. A Banksy stan who was in our travel group actually teared up while she was walking through the exhibit because it was just that good and extensive.
The exhibit included some of Banksy's most famous works like Girl With Balloon, as well as several pieces and/or images of Banksy's artworks that are hard to find and/or have rarely been seen. The exhibit started with a video presentation about Banksy in a pitch black room, and then we entered the exhibit to view the famed artist's many works of art.
We want to know…what place blew you away in Madrid? Tell us in the comments!