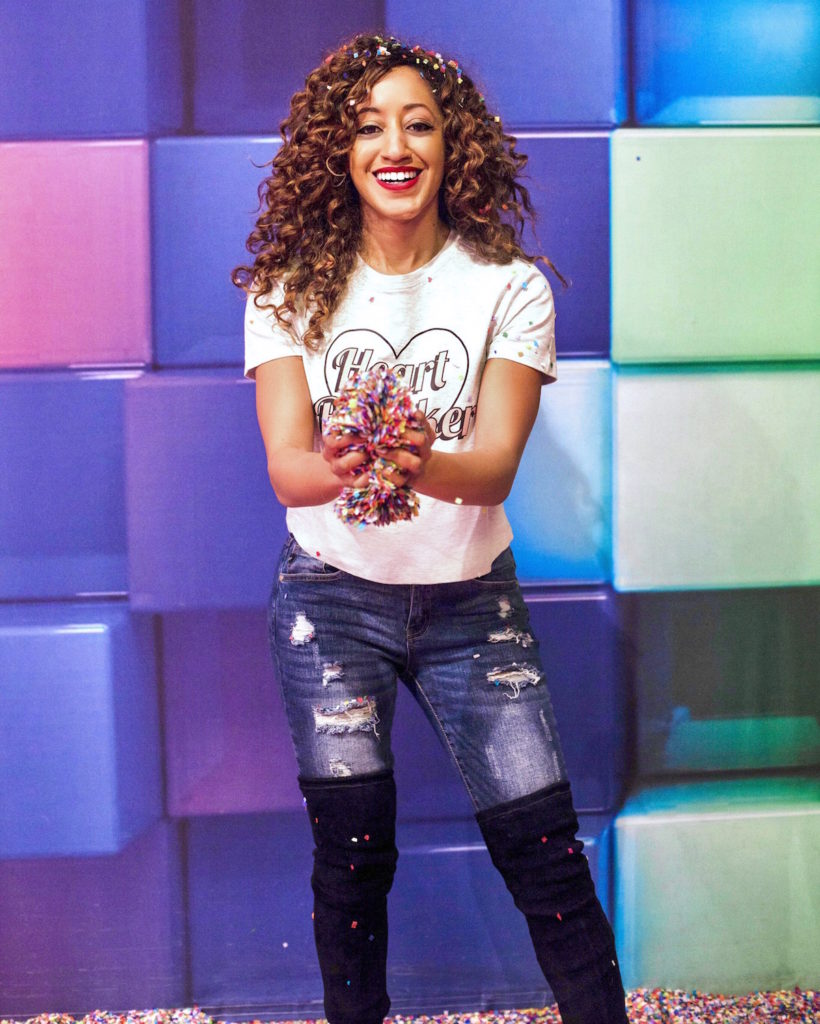 Consider this your real life Golden Ticket.
After stints in Los Angeles and beyond, Candytopia has officially opened the doors to its newest location –  in Atlanta – and it's the perfect experience for anyone who has a bit of a candy obsession (like us), has ever dreamed of snagging Willy Wonka's golden ticket, and/or has always wanted to take a stroll through a life-size Candyland.
We were right there to take it all in opening week inside Edens Lenox Marketplace in Buckhead, where a Candytopia attendant gave us the lowdown on what to expect as  we strolled into a magical room filled with gigantic clocks. "Stand under your favorite clock," a smiley attendee said as we huddled inside of the room after giving us the instructions for the pop-up. As we did, one of the clocks lowered and was topped with dozens of Lindt dark chocolate and milk chocolate candies – all up for the taking. It was right then that we knew for sure that this was going to be a magical day.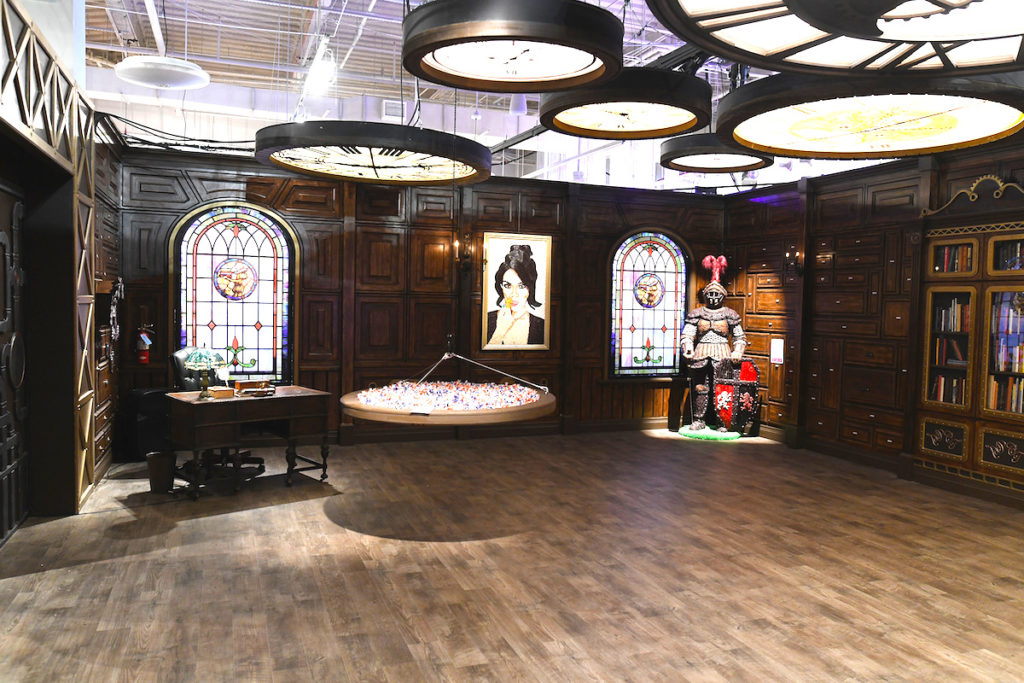 Photo Credit: Marcus Ingram/Getty Images for Candytopia
It was the first of over a dozen rooms inside Candytopia, and our sweet tooth had already been satiated. We couldn't wait to see what else was in store. The first door opened and we entered Candytopia's lair, which came complete with a neon frame-lit walkway.
So, what's it like to spend a day or night at Candytopia? How much candy do you really get? Is it really worth the ticket cost? We've got all the details for you in our Fab Candytopia Rundown.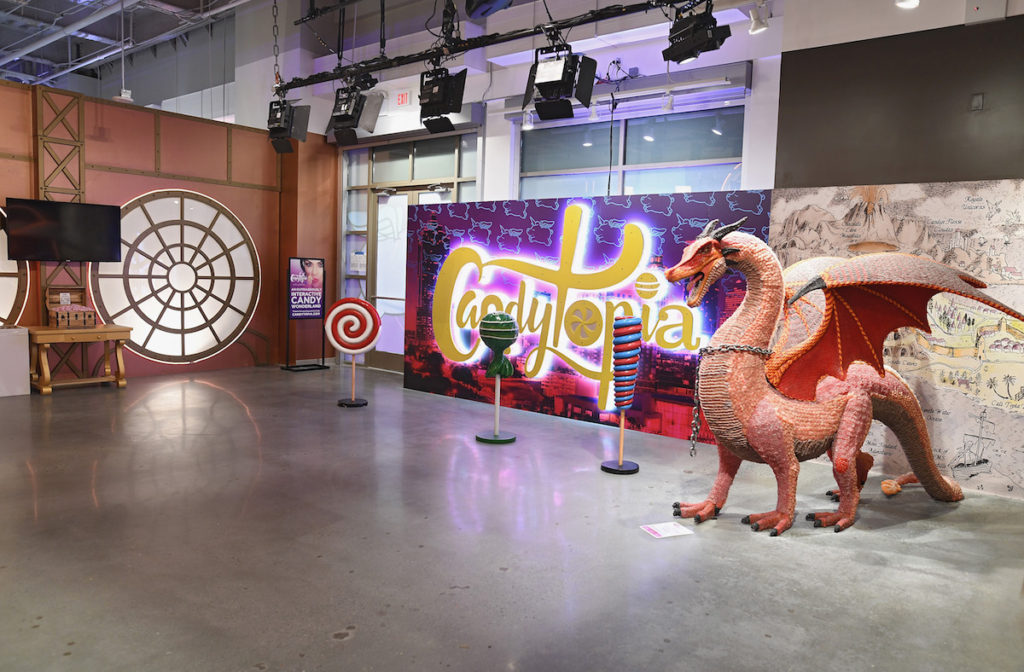 Photo Credit: Marcus Ingram/Getty Images for Candytopia
1. The Lowdown: If you love a good Instagram photo opp and your eyes light up at the sight of bowls of free Laffy Taffys (ours do), this is the place for you. Candytopia had already built a cult following before it hit The A, with Drew Barrymore, Gwyneth Paltrow, Wiz Khalifa, and more all singing its praises. As for the Atlanta location, there are more than one dozen rooms, and each one has an interactive art installation.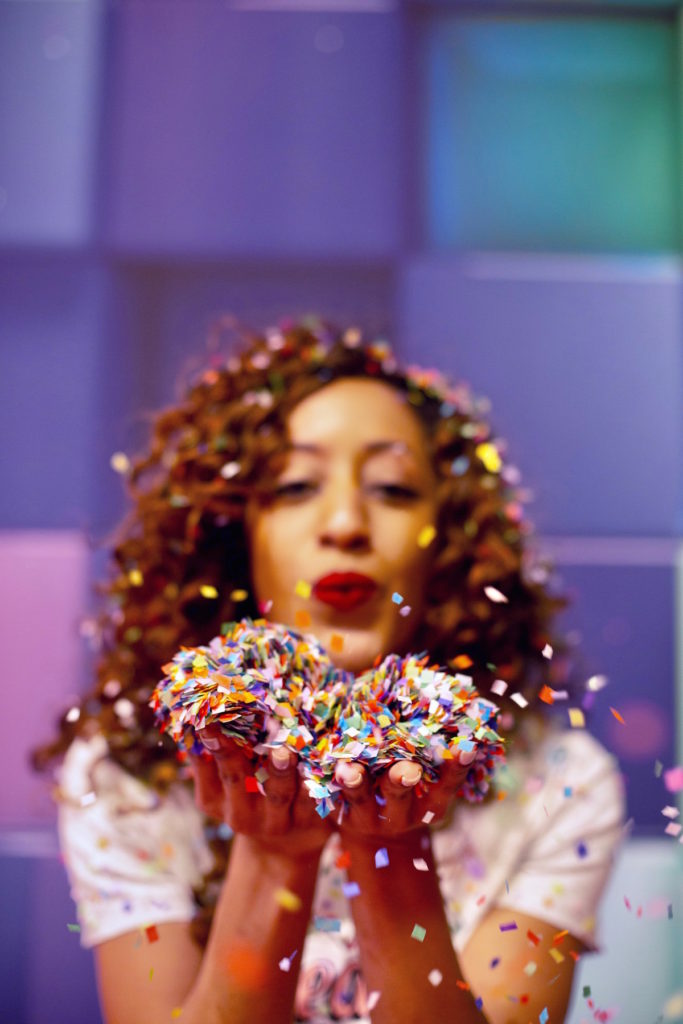 Photo Credit: Crystal Byrd, Love Byrd Photo
There are no organized lines to take photos in most of the rooms, so when you find a photo opp that you like, you can walk up and take your snaps where you would like. This is really what Candytopia is about – taking in the candy art, munching on candy, and slaying the 'gram while you're at it.
2. The Rooms: With so many rooms, it's tough to know where to spend most of your time and where and how to grab the best photo. So, it's best to go in with a strategy. See every room, but spend your time wisely. Our favorite rooms – and top photo opps in Candyland are:
The neon hallway: As you walk to the candy art portraits room, snap a shot in the neon frames that lead the way to it.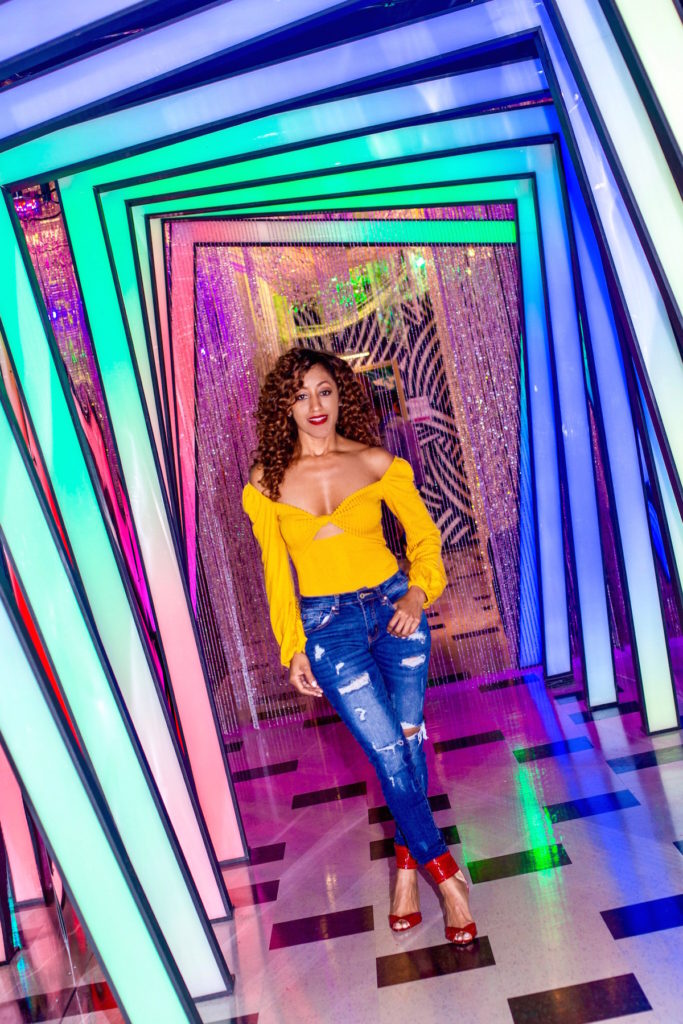 Photo Credit: Crystal Byrd, Love Byrd Photo
The candy art portraits room: The portraits in this room of Cardi B, Snoop Dogg, emojis, and more are made entirely out of candy, and there are details about how long it took to construct each one. Grab a photo near one of the portraits, but don't miss the faux ice throne at the front of the room.
Photo Credit: Crystal Byrd, Love Byrd Photo
The sky room: There are giant "Candytopia" bouncing balls here that you can bounce around or strike a pose next to. It sits right across from the optical illusion room, which comes complete with a photo station. Strike a pose in that room as if you're falling into one of the "holes" and an attendant will snap your shot.Photo Credit: Crystal Byrd, Love Byrd Photo
The confetti room: "Welcome to the confetti room," an attendee yelled as we walked in, throwing confetti all over us. This room was really messy, but really fun. There is a confetti blasting machine, and a photo station where you can lay down while confetti blasts all around you.Photo Credit: Crystal Byrd, Love Byrd Photo
The marshmallow pool: There will probably be a little bit of a line heading to the pool, because everyone wants to go to this one. It's a pool full of faux marshmallows, and there's a marshmallow blaster that blows more in. Before you dive in, have an attendant take a shot of you falling inside backwards in slow motion or with a boomerang shot.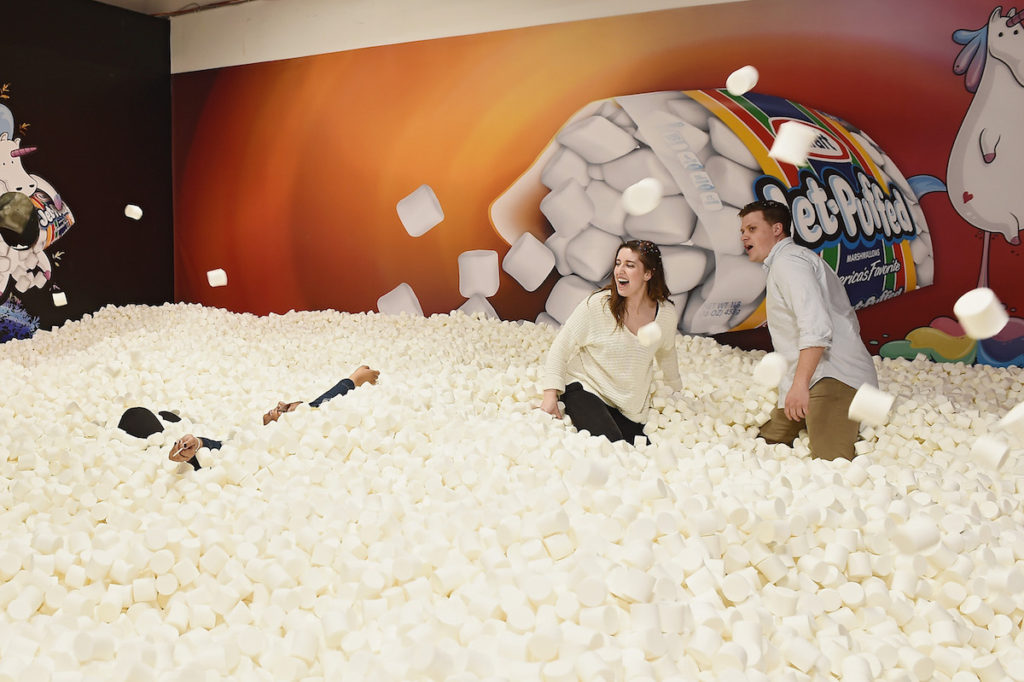 Photo by Marcus Ingram/Getty Images for Candytopia
*If you have kids they'll have the most fun in the marshmallow pool, the confetti room and the sky room, thanks to the life-size bouncing balls.
3. The Candy: Yes, you get to take home a lot of candy – which is awesome. There are bowls of free Laffy Taffys, green apple lollipops, bags of Trolli candies, and much more. You can't throw a whole bowl of candy in your purse, though. There are rules for how much of each one you can take. If you find that you don't have enough candy at the end though, there is a store full of it available for purchase at the end of the experience.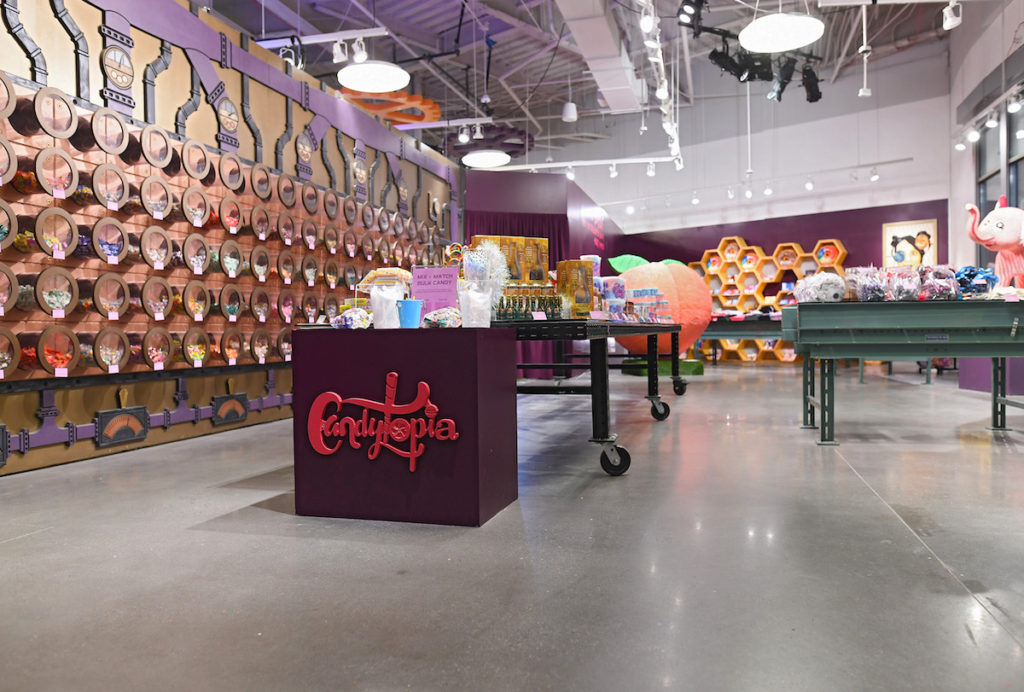 Photo by Marcus Ingram/Getty Images for Candytopia
4. The App & More Big Tips: Download the Candytopia app before you arrive. There will be photo stations inside where Candytopia attendants can take your photo, and you'll need to download the app in order to access your snaps. More things to know? You can spend as much time as you want in each room, but once you leave one room you can't go back into it. Also, it's important to be on time for your time slot. An attendant actually walks each time slot group into the first room to start the experience, so you will miss it if you're not there.
5. The Basics (Cost, Hours & Location): Ticket prices are $28 for adults and $20 for kids (4-12). Kids 3 and under are free. Hours are Monday – Saturday: 10AM to 8:30PM and Sunday: 11AM to 8:30PM. The address is 3535 Peachtree Rd. Atlanta, 30326, unit 100. It is in a shopping center and may be tough to find at first. Park in the lot and head to level B. You'll have to walk around to the front of the building after you get there to access it.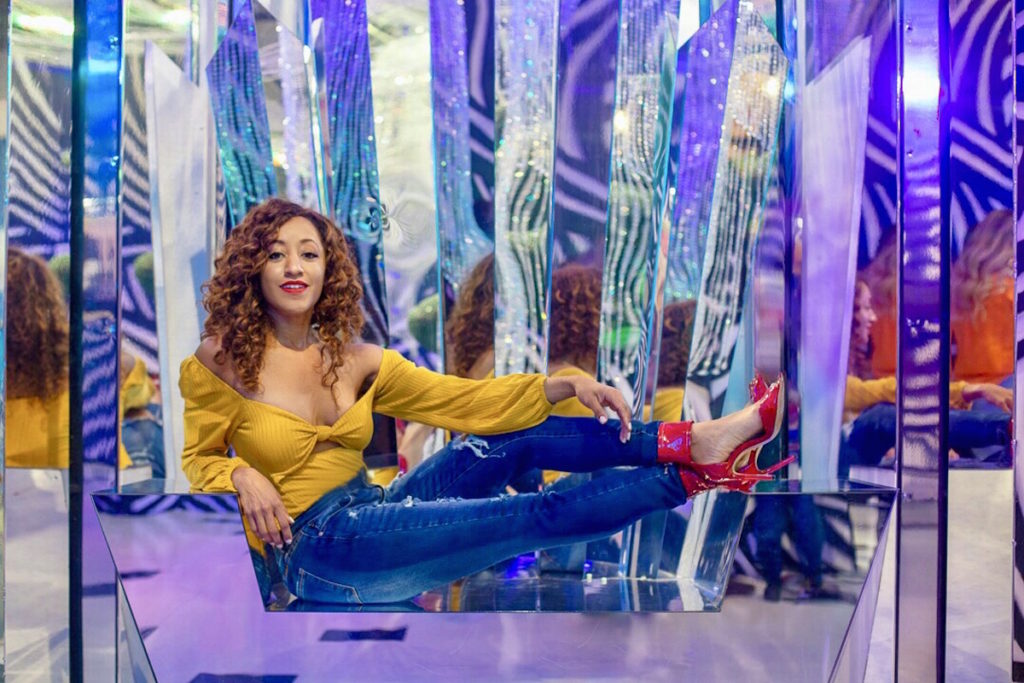 Have a blast inside Candytopia ATL! Did you visit the pop-up? Tell us what you thought about it in the comments.