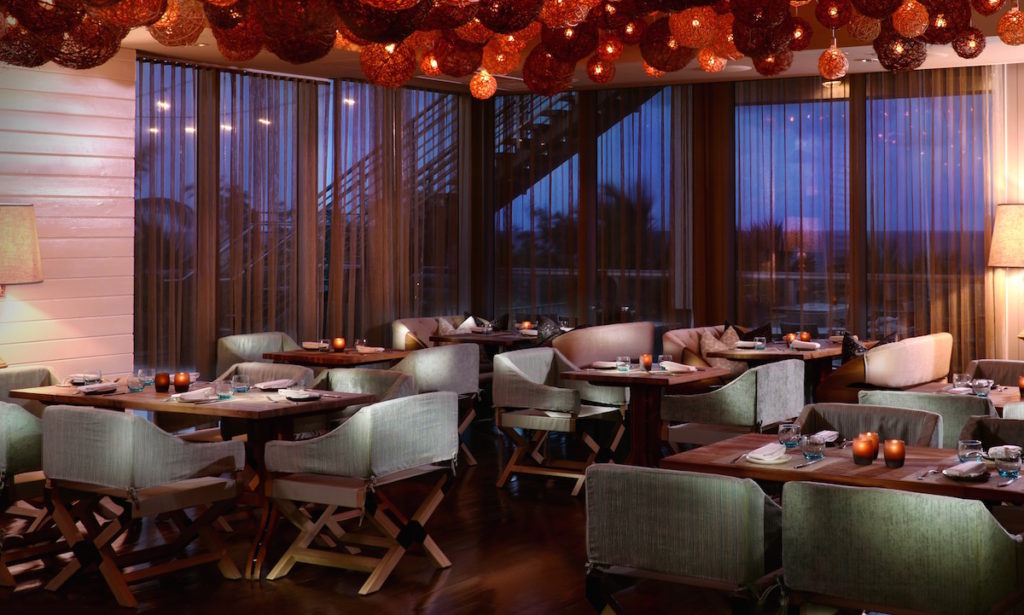 A trip to Art Basel takes some prep work. Since most of the fashion and art events take place around South Beach and Wynwood Ar tDistrict, those hotels book up fast once dates are announced.  So, it's best to plan ahead.
If you've had major FOMO as you've seen dozens of photos pop up on the 'gram from Art Basel weekend in Miami, start getting your game plan together now and keep these hotels in mind for your trip to the event next year- or any other time you're heading to Miami getaway.
From a hotel off the beaten path to our new go-to for luxe celebrations in poolside cabanas, here are the five spots we fell in love with during Art Basel weekend.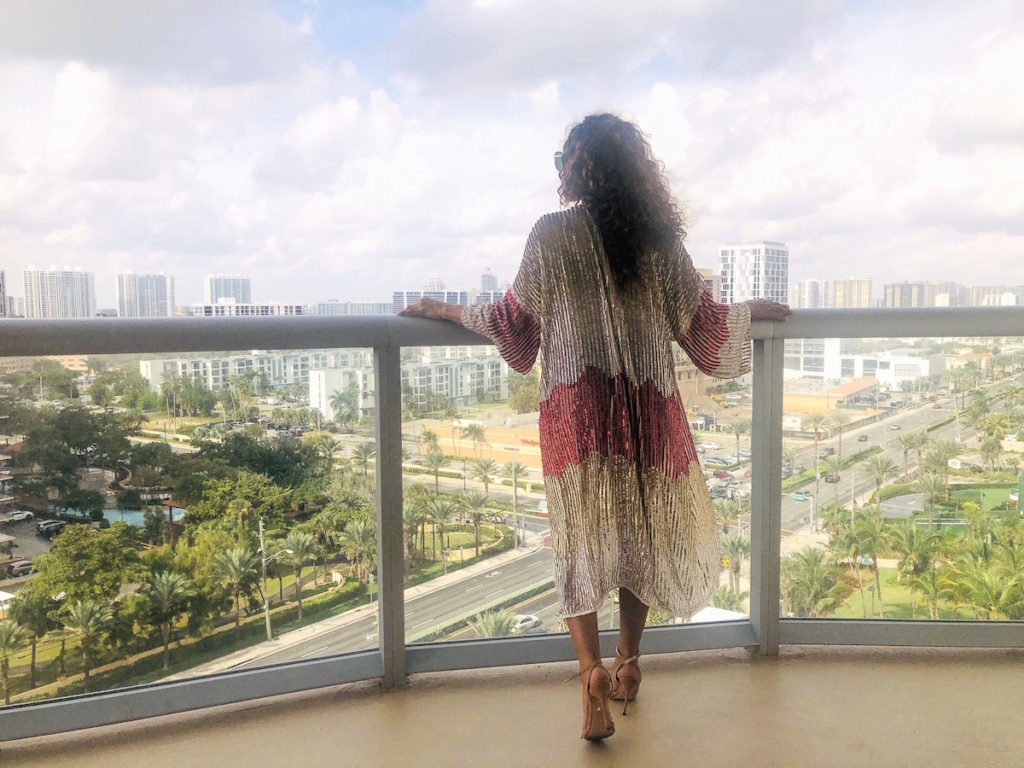 While we were Art Baseling for the first time, we ventured off the beaten path to get a different taste of Miami and found one of our fave hidden finds in the city.  Most South Beach rooms get booked up quickly for Art Basel, so if you wait until the last minute to book a hotel, consider this swanky spot that sits about eight miles away from South Beach in Sunny Isles, Florida. It's just far enough away from the hustle and bustle of South Beach if you're looking for a calmer Miami getaway,but it's also still close enough to Uber/Lyft to and from South Beach andWynwood and not break the bank.  
What we love about it: Sole on the Beach is a hidden find. We stayed in a modern, chic oceanfront room that came complete with a stainless steel kitchen, living room with a flat screen TV, plush bedding in the bedroom (which also had a flat screen TV), a bathroom with a rainfall shower and a separate soaking tub. It also had a wraparound balcony with incredible panoramic views of the city at sunrise and sunset.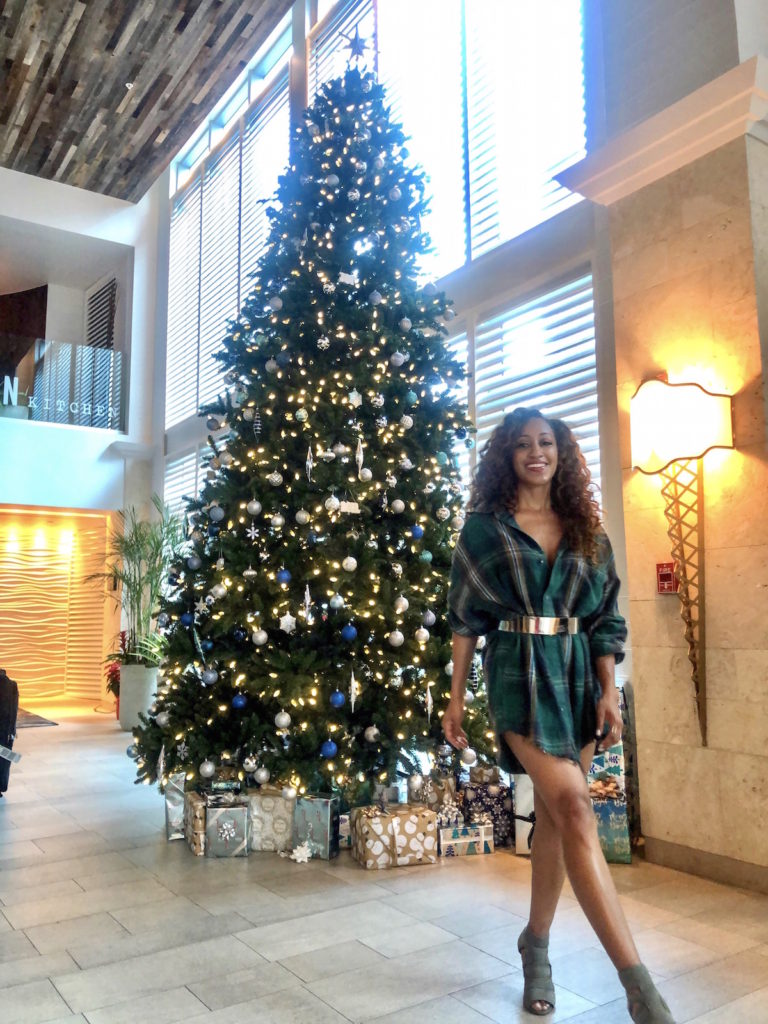 The hotel's restaurant, Baleen Kitchen, was one of the things we loved the most about the hotel. As the sun set, we dined under the glow ofred and orange wired lanterns, noshing on fried calamari, plates of roastedchicken and bowls of cioppino, and sipped Hot and Humid cocktails (one of thesignature cocktails on the menu). Other guests sat on the patio, taking in views of the ocean at sunset. The hotel also has a pool, but we loved kicking back on the loungers on the beach instead.
Shore Club is synonymous with South Beach luxury.You'll find plenty of art deco designs at this resort and luxe perks like the hotel's infinity edge pool.
What we love about it: Pool moment aside, Shore Club is in the perfect spot for convenient Art Basel party hopping. The hotel also has a brand new signature Mexican restaurant, Diez y Seis, which overlooks the pool, is home to award winning salon, Glam + Go, and also an 8,000 square foot spa.
We headed here to check out the American Express Platinum House during Art Basel, and were wowed as soon as we walked into the marble-coated lobby. 
What we love about it: The rooms are so plush that they come with organic bedding and yoga mats, but the rooftop infinity pool here is everything. Guests kick back in cabanas with cocktails after wading around in the water there or at the two other infinity pools. There are also seven eateries on the grounds. Don't miss the plum sake glazed bone-in short ribs at rooftop restaurant Watr and the Florida Red Snapper served up with parmesan crusted plantains at Habitat.
This hotel is so popular that Jay-Z is just one of many rappers who have mentioned it in their lyrics. It's not only a hotspot, but a key place to stay during Art Basel because of its clutch location right on Ocean Drive.
What We Love About It : Wine, dine, and party. This hotel has everything you need in one spot for Basel weekend and beyond. There are five upscale restaurants on site (Hakkasan is our fave) and five other eateries where you can grab bites on the go, including Fresh, which serves up 17 flavors of Gelato. The pools, particularly Arkadia Day Club, have made it one of the premier destinations for any Miami vacation for adults, as well as the onsite nightclub Liv, known for its hot parties on Sundays. Fontainebleau also has a spa on site.
5. The Over the Top Romantic Hotel: The Setai Hotel
Stacked with Asian-inspired design elements and mood-lit lighting, The Setai screams romance and it doesn't come cheap. It's rare that you'll find rooms here for less than $500/night, but if you can afford to splurge on a room here, do it. It's located in the Art District, is close to South Beach, and will take your Art Basel trip to the next level. 
What we love about it: Each of the Setai's three infinity pools is set at a different temperature, and guests can get their grub on at the three Mediterranean and Asian restaurants on the grounds. When they've tired out, guests retreat to spacious rooms that come complete with Frette Linens, and when they're ready for a day of self care, they visit the in-house spa, which has a private bath.