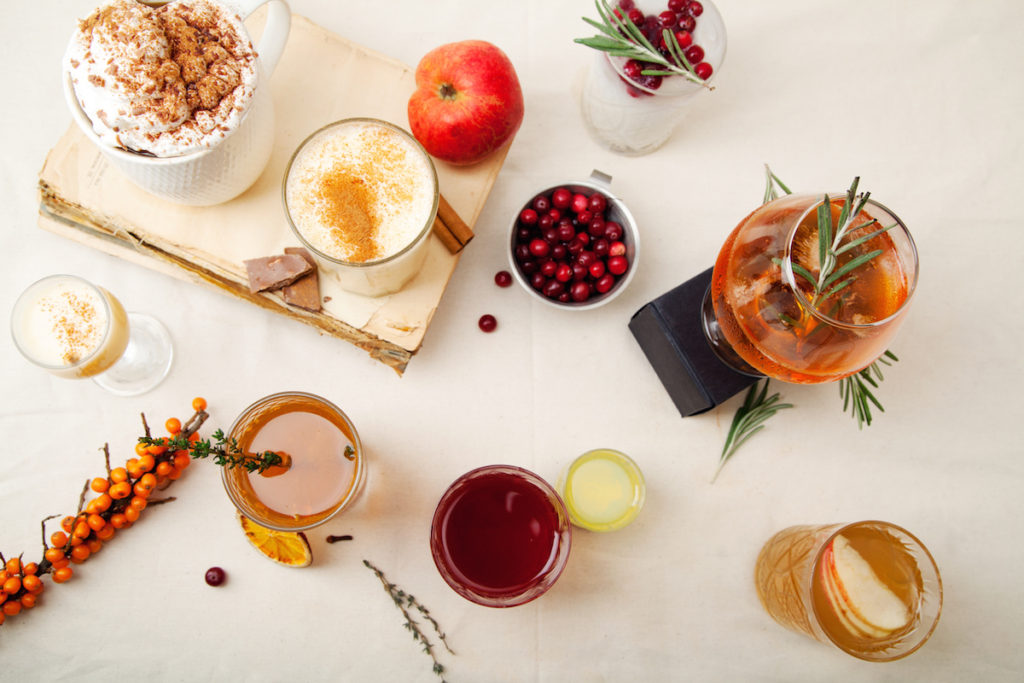 'Tis the season for toasting, and we've got you covered when it comes to the festive cocktails that will take your holiday celebrations to the next level.
From smoky mezcal tequila concoctions topped with rosemary sprigs to an irresistible Christmas sangria full of winter flavors, here are our 10 top picks for cocktails to ring in the season (with a big holiday cheers, natch).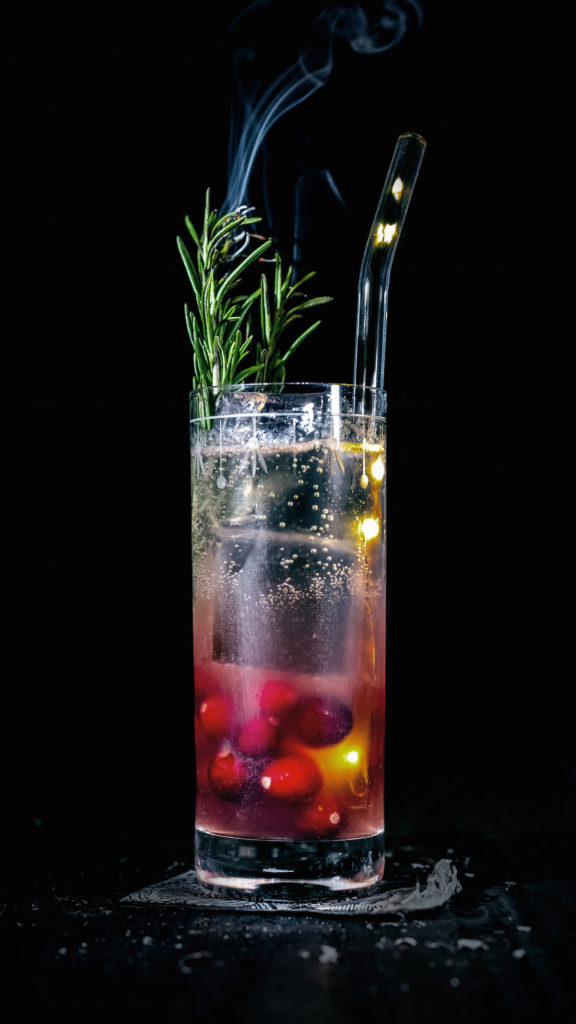 1.Mezcal El Silencio's Holiday in Oaxaca:
We love a good Mezcal cocktail – so much that we included two on our list. The first, the Holiday in Oaxaca, melds the smokey libation with a splash of cranberry syrup and a little bit of tartness thanks to a few ounces of fresh lime juice. The second, the Cafe Noir, is the perfect pick me up on cold winter evenings. It combines a double shot espresso with mezcal stirred with a cinnamon stick and vanilla bean.
Ingredients:
1.5 oz. Espadin (mezcal)
1 oz. Cranberry Syrup (1 part unsweetened Cranberry Juice to 1 part sugar)
0.5 oz. Fresh Lime Juice
Soda Water
Rosemary Sprig
Method: Shake and strain into a Collins glass. Top off with soda water and garnish with a rosemary sprig.
Photo Credit: Mezcal El Silencio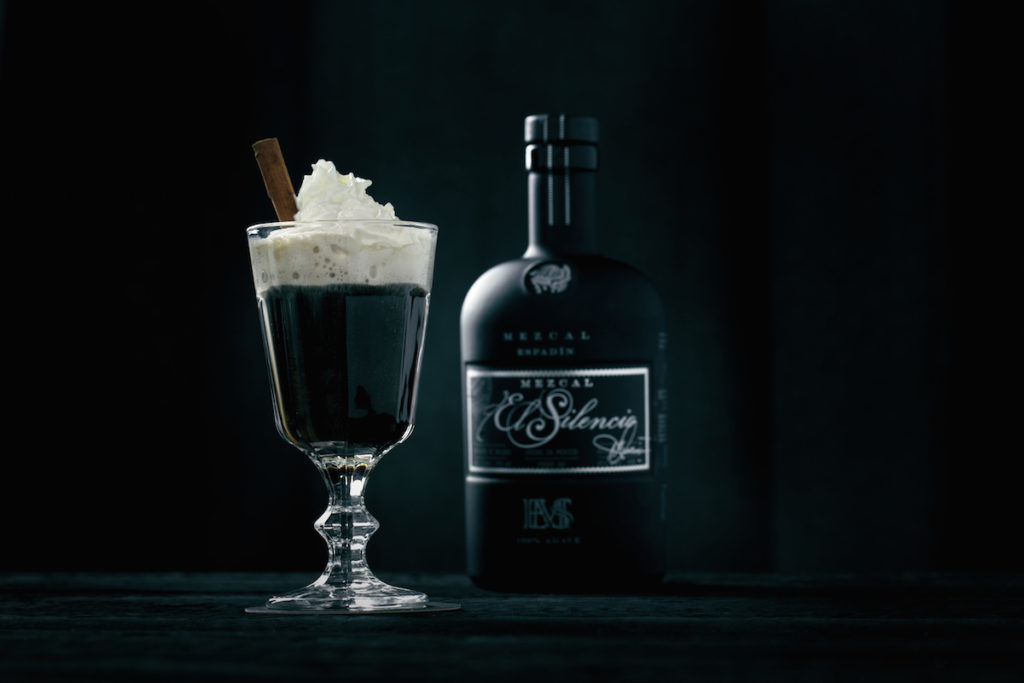 2. Mezcal El Silencio's Cafe Noir:
Ingredients:
2 oz. El Silencio Espadin
1 oz. Galliano Ristretto
1 Double Shot Espresso (2 oz.)
Cinnamon Stick
Vanilla Bean
Method: Stir with Cinnamon Stick & Vanilla Bean and serve in a latte cup or your favorite coffee mug.
Photo Credit: Mezcal El Silencio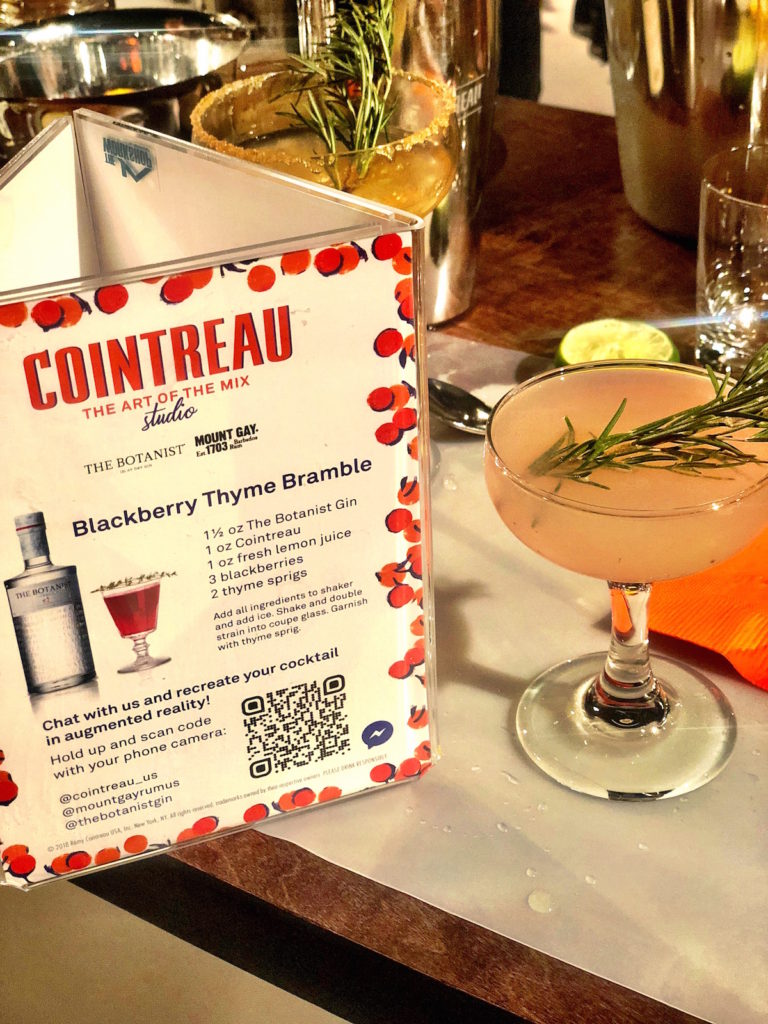 3. Blackberry Thyme Bramble
We first whipped up the Blackberry Thyme Bramble during a Cointreau holiday cocktail making class earlier this fall in Los Angeles, and loved it. The blackberries give this gin drink a hint of sweetness, so add a few more if you want to mellow out the taste of the alcohol.
Ingredients:
1 ½ oz The Botanist Gin
1 oz Cointreau
1 oz Fresh lemon juice
3 blackberries
2 thyme sprigs
Method: Add all ingredients to a shaker and add ice. Shake and double strain into a coupe glass. Garnish with thyme sprigs.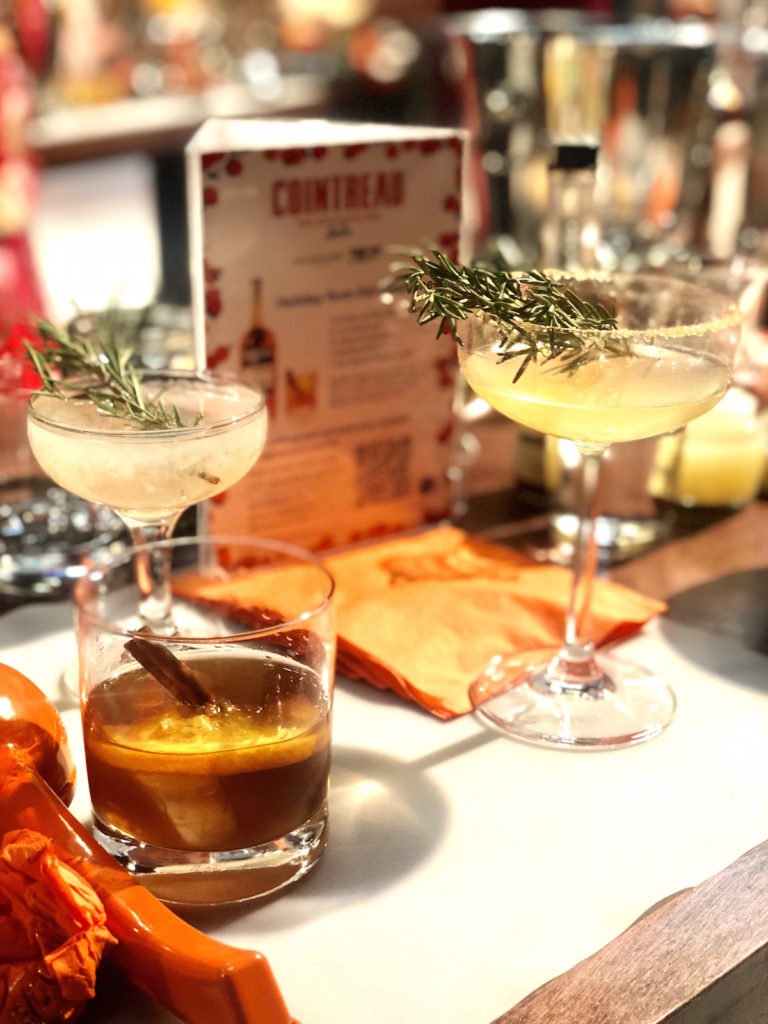 4. Holiday Rum Old-Fashioned
For fans of rum cocktails that don't drown out the taste of rum, this one's for you. The orange and bitters give this old-fashioned a sweet/tart flavor profile. We also made this ourselves during the same Cointreau event and loved it. It's a strong cocktail, so keep that in mind before you go back for the second round.
Ingredients:
2 Oz. Mount Gay Black Barrel
¼ oz Cointreau
½ slice of orange
4 dashes bitters
1 bar spoon brown sugar
Method: Muddle orange, brown sugar, and bitters in glass. Add Mount Gay Black Barrel, Cointreau, and ice and stir. Garnish with cinnamon stick.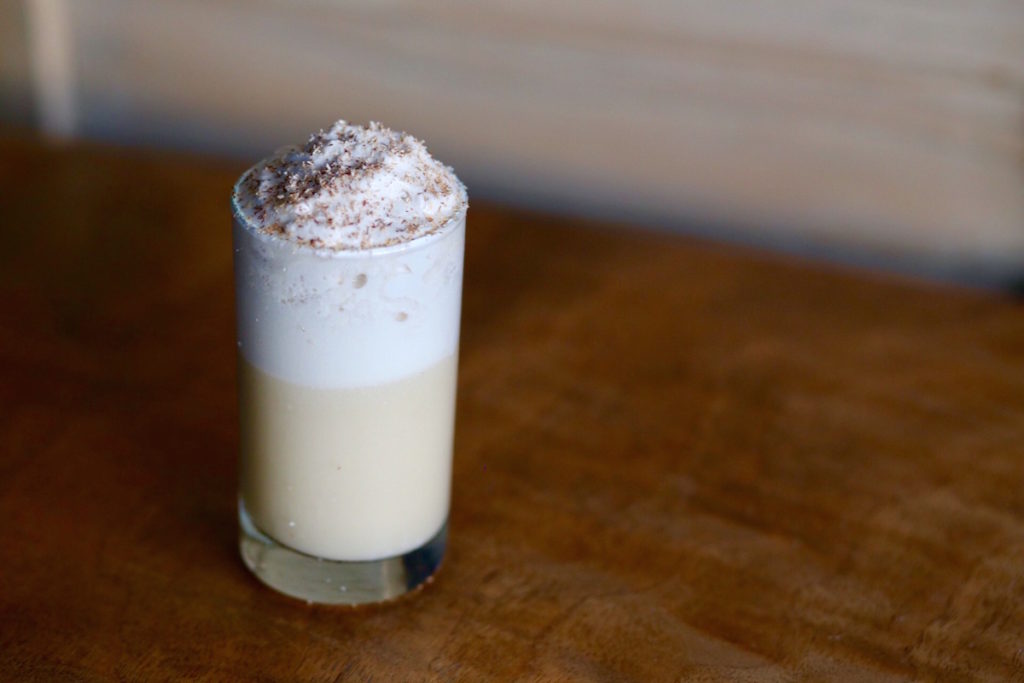 5. Norah's Winter Eggnog:
The eggnog starts flowing at our holiday parties when the holidays hit, so we fell head over heels for Norah's Winter Eggnog cocktail. If you're not around LA to take a sip of it (Norah is one of our fave places to grab dinner and drinks in West Hollywood), this tasty drink is worth making at home.
Ingredients:
Locally Made Spiced Rum
Cognac
Egg
Coconut Cream
Winter Spice Syrup
Topped With a Winter Spiced Whipped Cream and Freshly Grated Nutmeg
*Photo courtesy of IBH Hospitality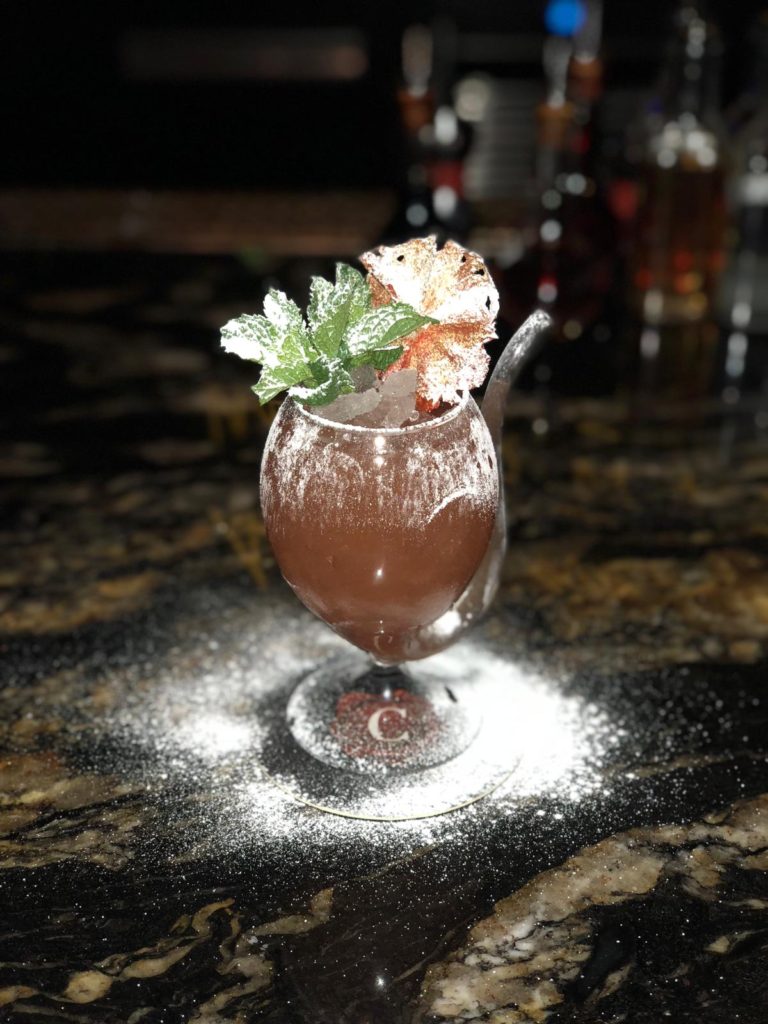 6. Camden Cocktail Lounge's A Berry White Christmas 
If you're a sucker for presentation, this cranberry-infused holiday cocktail is one that you can't miss serving at your holiday parties. It has a spiced rum at its base, and is garnished with powdered sugar and a candied pineapple flower.
Ingredients:
2 oz Spiced Rum
2 Bar Spoons Cranberry Preserve
1 oz Lime Juice
½ oz Vanilla Orgeat
Garnish: Mint With Powdered Sugar And A Candied Pineapple Flower
Photo courtesy of Clique Hospitality
Created by Master Intoxicologist Eric Hobbie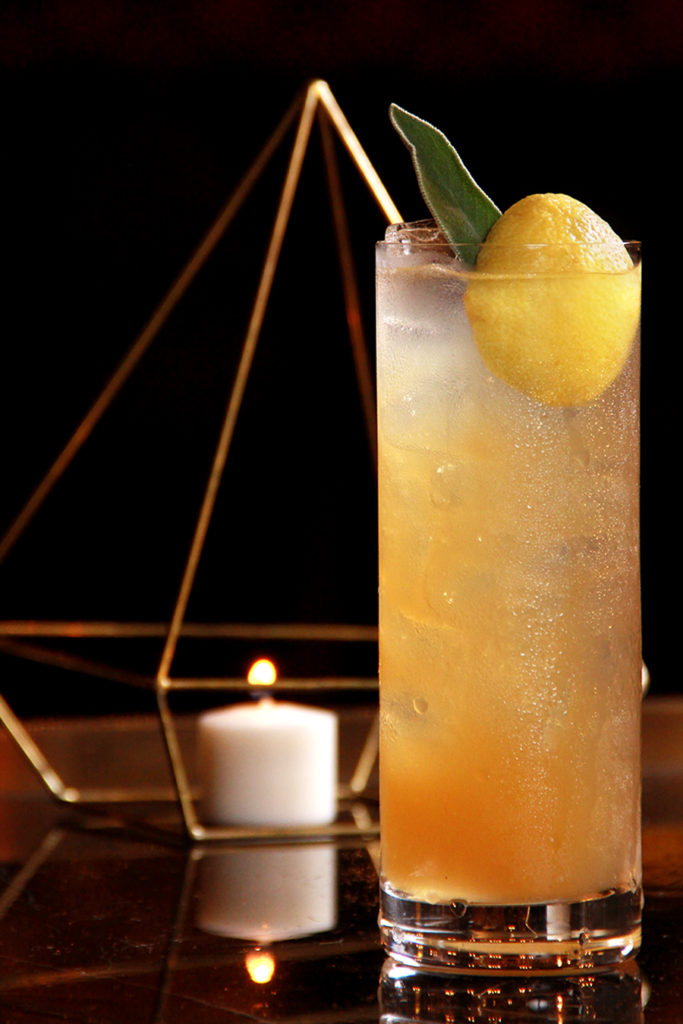 7. Hyde Sunset's Cuban Winter 
Winter in Cuba sounds like a good move to us. This seasonal cocktail can be found at one of our fave places to grab a drink in Los Angeles – Hyde Sunset Lounge. Rum serves as the base, with apricot liqueur, maple syrup and sage leaves all in the mix.
Ingredients:
1.5oz Bacardi 8
.5 oz apricot liqueur
.75oz lemon
.75oz maple syrup
3 leaves of sage
Top With Lemon Disc and Sage Leaf
Method:
*Photo by Richard Harlow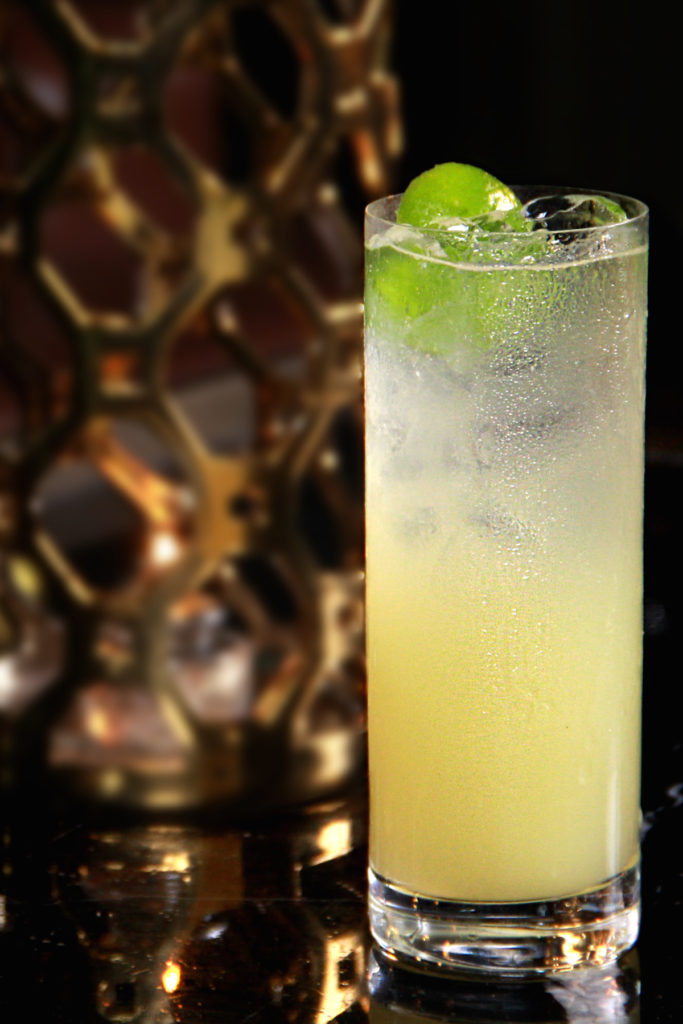 8. Nightingale's Ginger Elyxir
Any cocktail infused with ginger usually gets our vote, so we couldn't help but swoon over this Elyxir from West Hollywood hotspot Nightingale, which combines ginger syrup, vodka, and vanilla liqueur. As a bonus, it's garnished with candied ginger. Yum!
Ingredients:
Absolut Elyx 1.5 oz
.75 oz Ginger Syrup
.5 oz Lime Juice
.5 oz Vanilla Liqueur
-Top with Soda Water
Garnish with lime disc or candied ginger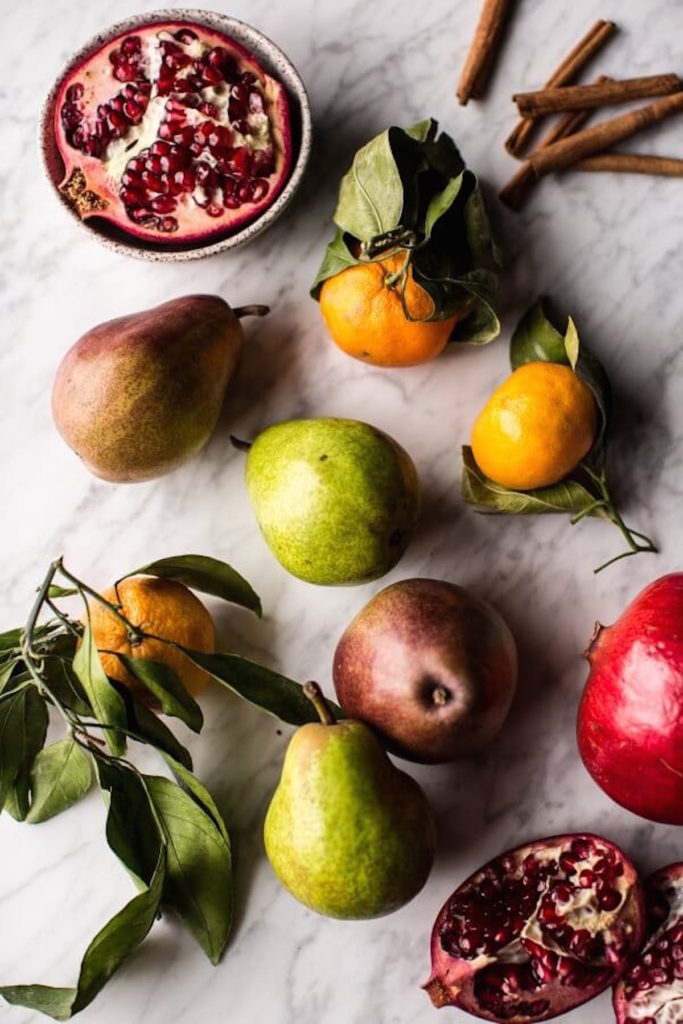 9. Christmas Sangria
Who says sangria is the best during the summer? This Christmas Sangria puts a spin on the traditional variety with ginger beer, cinnamon sticks, pomegranate seeds, and a cinnamon sugar rim. The recipe comes from the cocktail and grub gurus at Half Baked Harvest.
Ingredients:
1 (750ml) bottle white wine
1 (12 ounce) ginger beer plus more for topping if desired
1 1/2 cups apple cider
1/2 cup brandy
3 pears sliced
3 oranges sliced
arils from 1 pomegranate
3 cinnamon sticks
cinnamon sugar for the rims of your glasses (optional)
Method:
In a large pitcher, combine all the ingredients. Stir and then place in the fridge until chilled. Don't chill for longer than a few hours or the ginger beer will lose its fizz.
Before serving, rim your glasses with cinnamon sugar. Fill each glass with ice and pour the sangria over the ice. If desired top with more ginger beer. Garnish with sliced of pears, oranges and pomegranate arils. Drink up!
FAB Tip: If you want to make the sangria more than a few hours in advance, save the ginger beer for later. Add it in right before you serve it.
Cheers to a FAB holiday season!