If you haven't noticed by now, we love Santorini, but it wasn't the place where we fell in love with the food immediately. It's a place where you need to have a game plan when it comes to grub options.
After popping into a restaurant with gorgeous views on the caldera with only okay food, we asked locals where they loved to eat, checked with friends who had traveled to Santorini, and started having way better luck.
We want you to go to Santorini armed with the best info on where to eat, so we put together a guide of our fave places on the island!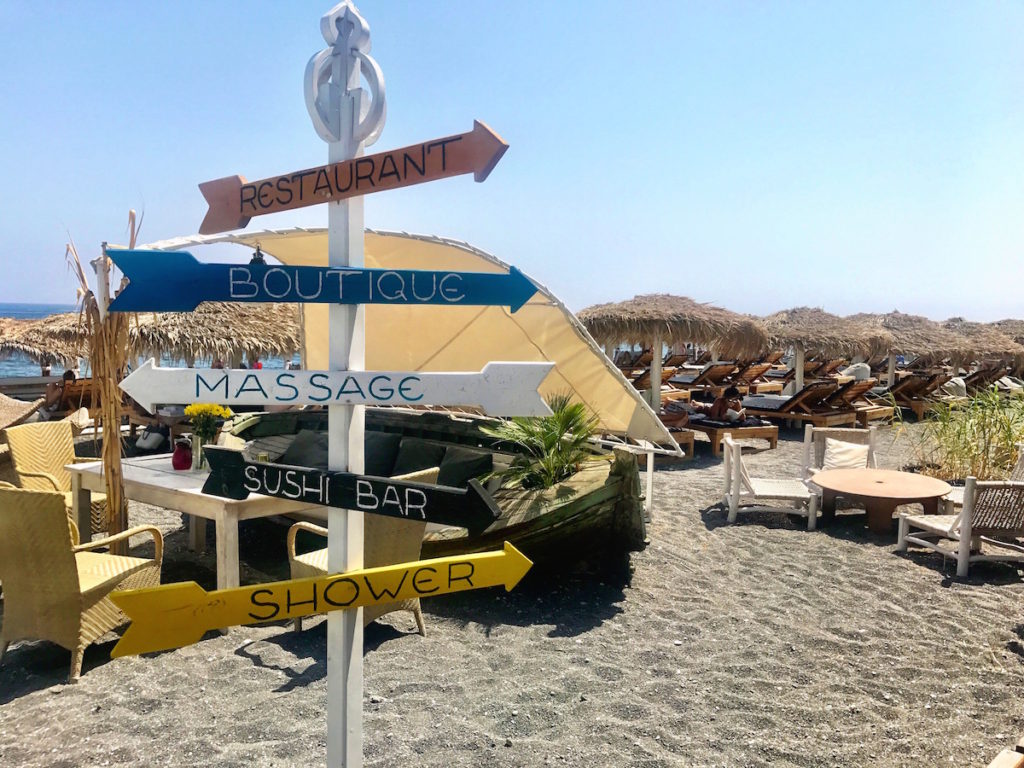 RELATED: Where to Stay in Santorini – Our Complete Guide
1. The Affordable Hidden Find: Taverna Glaros.: Sometimes, the best restaurants are the ones that you stumble upon. That happened as we were leaving Red Beach – starving – and looking for somewhere, anywhere to grab a quick bite. We lucked up on this family-run restaurant that had the best fresh fish we had anywhere on the island. After noshing on crispy grilled fish and fries, our waiter brought us each a scoop of Greek yogurt topped with homemade marmalade on the house. I'm not a huge Greek yogurt fan, but that…was some of the best Greek yogurt I've ever had in my life.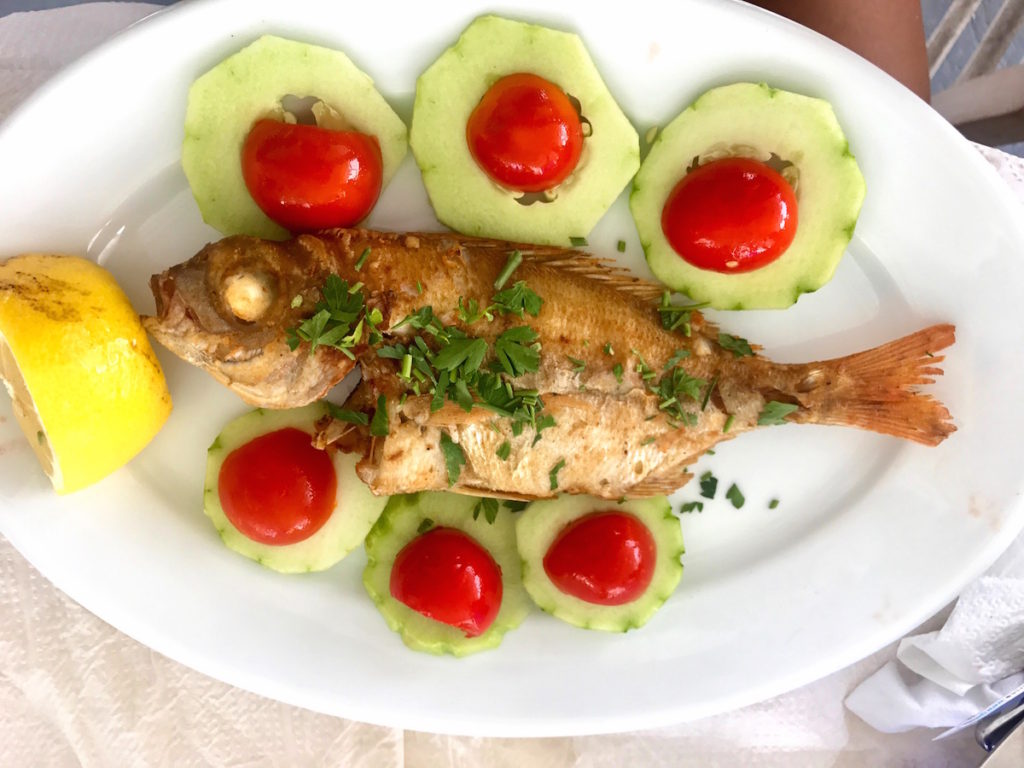 2. The Romance Enhancer: Ambrosia: When you want to wine and dine in Oia with caldera views in plain view, do it here. This intimate restaurant, which looks out onto the caldera's edge, is known for its romantic vibe, and tasty grub like braised lamb shanks and shrimp risotto with truffle oil. With its white clothed tables topped with roses and candles, Ambrosia is a top spot for couples, particularly those celebrating a special occasion. Book this in advance.
Big Tip: Head to its sister restaurant Ambrosia & Nectar for a more casual vibe.
3. The Grub/Views Queen: Mezzo: Santorini vacationers have called the food here the best meal they've had on the island. The lamb shank and sea bass are two of the top dishes for dinner at this Imerovigli hotspot, and the baklava reigns supreme for dessert. To make things even better, the restaurant has awesome views of the caldera.
4. The Seafood Staple: Sunset Ammoudi Tavern: Fresh fish, chill vibes, and sunset views by the sea for the win. When you stop by Ammoudi Bay for a swim, head to Sunset Ammoudi Tavern for delicious grilled fish and wine. Tucked under the red cliffs in Oia, the tavern sits right on the water and has incredible views of the sunset. Go for the fried tomato balls, calamari, and/or halloumi (I live for a good grilled halloumi moment) for appetizers, and don't miss the wide variety of fresh fish up for grabs. As for which fish to get, diners have raved about the red snapper, sea bass, and red mullet.
5. The Adventurous Fine Dining Experience: Koukoumavlos –There's nothing like enjoying  traditional Greek cuisine, but if you're a foodie up for a gastronomical adventure, go here. It's pricey, but a full dining experience in Fira, with new twists on traditional Greek faves.
RELATED: The 7 Best Things to Do in Santorini
6. The Black Beach Must: Sea Side By Notos — Black Beach was one of my favorite beaches to kick back on in Santorini. If you take a trip there, stop by this restaurant on the quieter end of Perivolos. You can spend the whole day here if you'd like. Kick back in a cabana for 80 euros and order your food to it with a press of a button or dine inside the restaurant (without the added cost of the cabana) and feast on sushi, the spicy cheese, and the moussaka burger — a few of the faves among diners.
Bonus: There's nightly jazz music.
7. Amazing Traditional Eats: Roka –This one is tucked away in the back of an alley in Oia and tough to find, but it's worth the trip. If you have trouble getting to it, follow the signs and ask locals to help show you the way. Once you make it into the restaurant, try to grab a seat in the courtyard, which has the best seats in the house. Don't miss the Greek salad, meatballs, fresh fish (like the dorado), and the lemon mousse.
8. Gyros on the Cheap: Lucky's –Located in the middle of Fira, Locals and in-the-know tourists swear by this gyro hub for cheap eats for lunch. Gyros (pork, chicken, or lamb) will only cost you about 3 Euros and come stuffed with french fries. Lucky's fans love the souvlaki too.