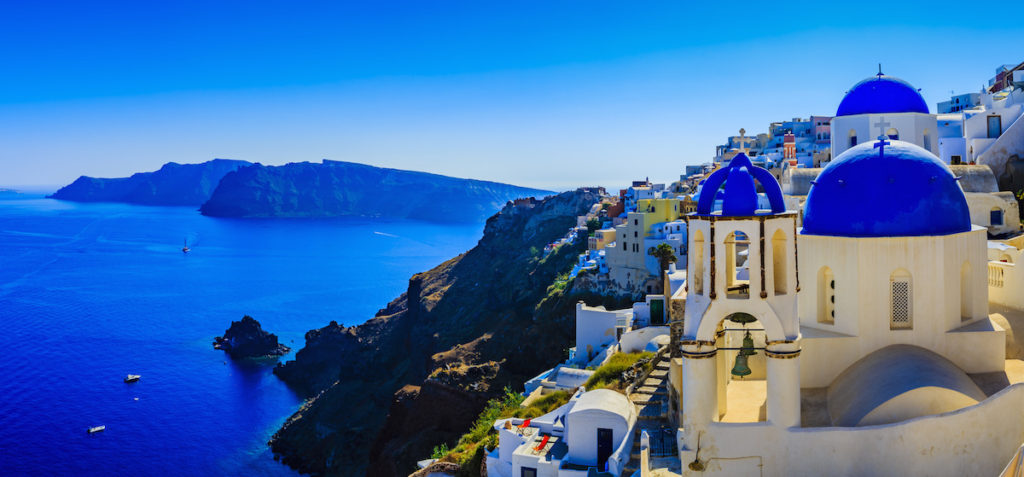 Santorini will leave you breathless.
An island infused with undeniable magic, this Greek hotspot is like a dream incarnate. Just one glimpse of its caldera views at any time of the day will transfix you, but at sunset, it will serve as a reminder of just how magnificent and beautiful our world truly is.
So, what should you do while you're visiting Santorini? It's somewhat like the antithesis of Mykonos with its boho, laid back vibes, but it's still packed with things to do. From watching the sunset on the Caldera to hopping on an ATV to Red Beach and Black Beach, here is our guide on the seven things you shouldn't miss while you're on the romantic island.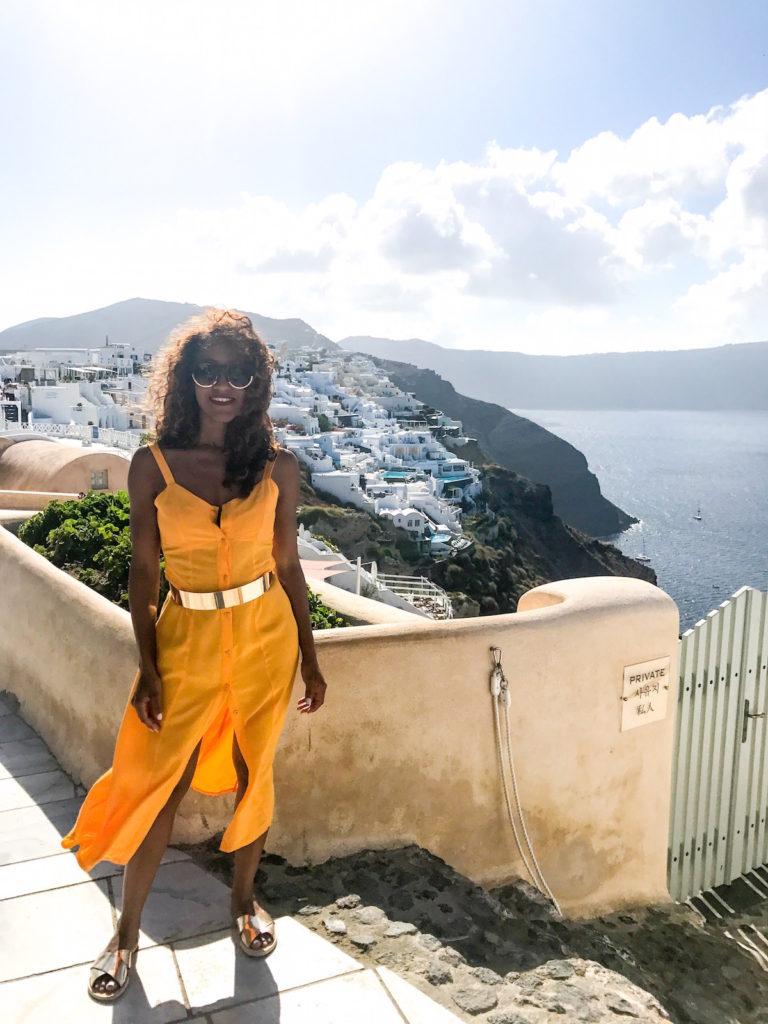 1. Wine and Dine along the Caldera at sunset: You cannot beat the caldera views in Oia, particularly at sunset. Head to Oia's main street a few hours before sunset, hang out, and shop along the boutiques there, where you'll find trendy stores, jewelry shops, and hidden gems. About an hour before sunset, pop into a restaurant or bar along the Caldera to grab one of the best sunset views. Mezzo and Ambrosia are two of the top restaurants to see it and sip a cocktail or glass of wine.
RELATED: Where to Stay in Mykonos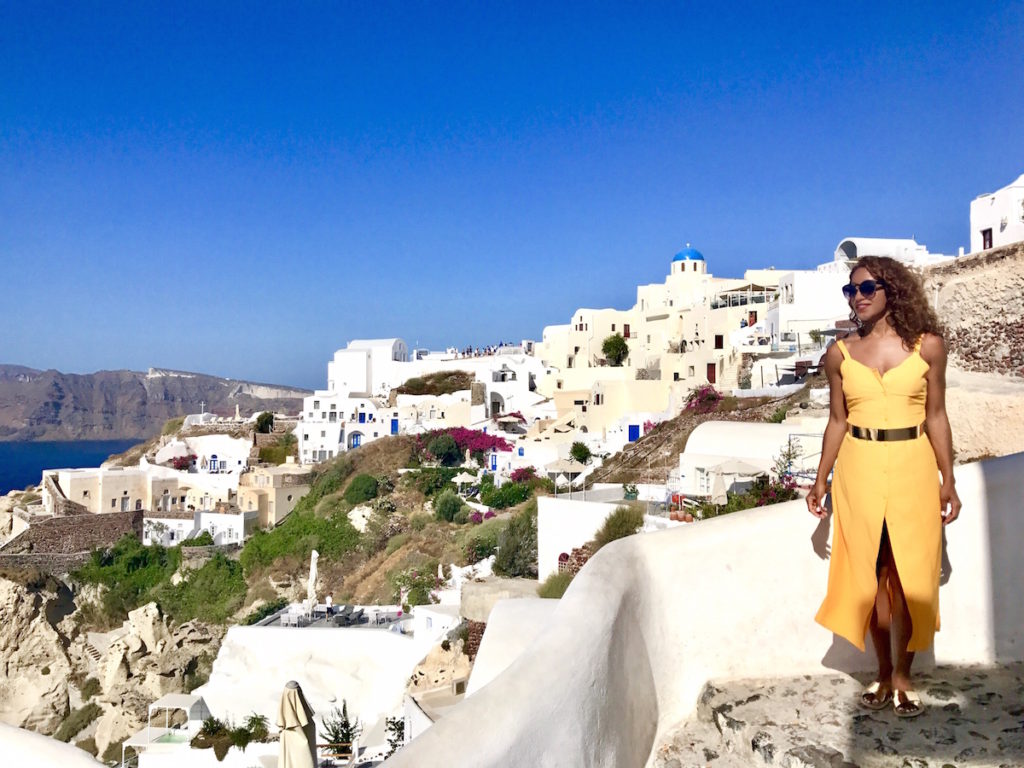 2. Do it for the 'Gram in Oia: The white buildings topped with blue domes and splashes of color along the walkways that line the Caldera make the perfect backdrop for photos. Head to the main street in Oia for photo opps at daytime and at sunset, when you'll be able to capture the views of the Aegean Sea in the background with ease on a cellphone (if you haven't stepped your camera game up just yet). Even if you're not a social media person, don't miss taking a photo here for the memories, whether you're on a solo trip, a girls' trip, or a getaway with your significant other.
*Big Tip: If you head to main street in the morning, before or at 10 a.m., you'll miss the crowds that pack the streets during high season (June-August).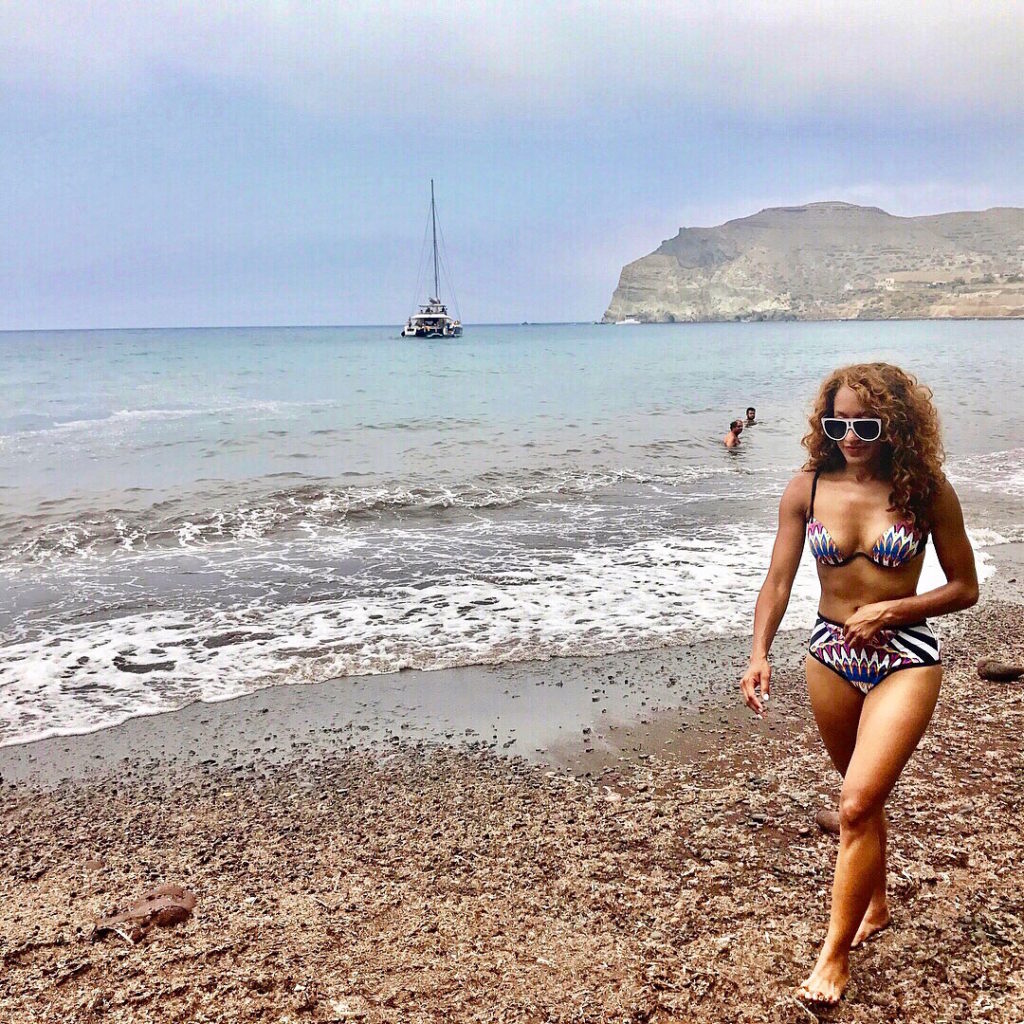 3. Take a day trip to Black Beach, Red Beach, and White Beach: Go out on an adventure! Black Beach, Red Beach, and White Beach are three of Santorini's beaches that should not be missed, and the two best ways to see them are by boat or ATV. As their names suggest, the shore of Black Beach (Perissa Beach) is covered in black sand and black pebbles, Red Beach is surrounded by red cliffs and has a shore coated in red pebbles, and White Beach is surrounded by white cliffs.
RELATED: Where to Eat in Mykonos – the 8 Best Restaurants and More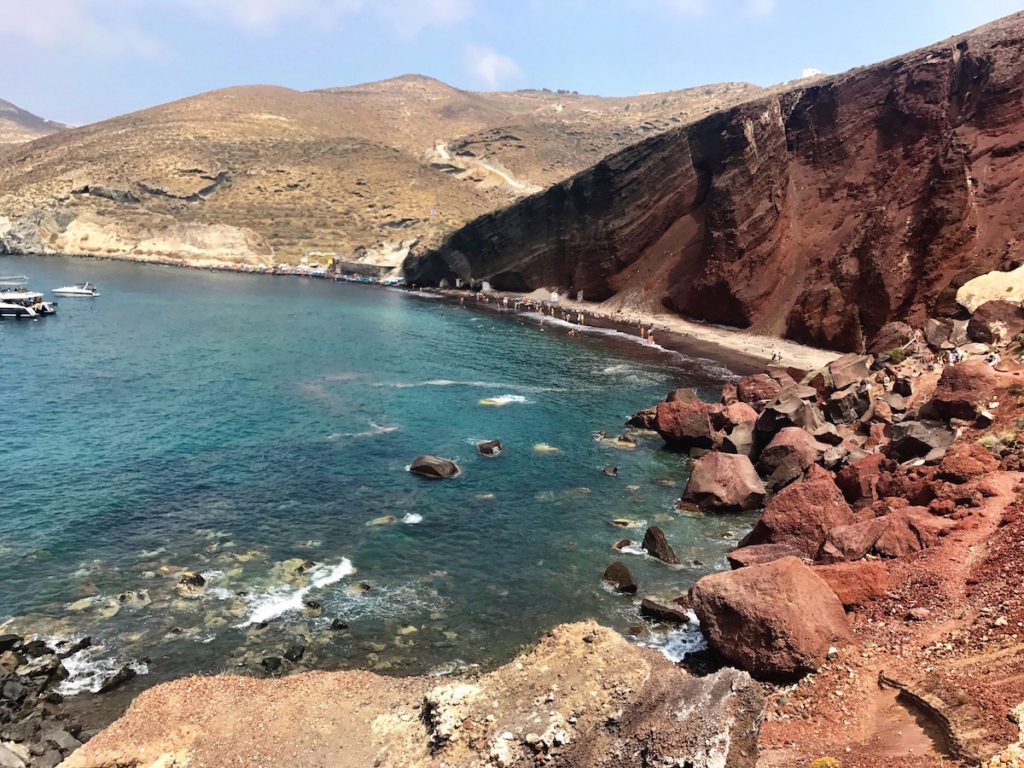 Red Beach: If you are ATV-ing it to the beaches, make your first stop Red Beach (about a 20 minute drive from Fira) and make sure to bring sneakers with you. Park in the adjacent lot, throw on your trainers, and walk down the cliff to the beach. Since it is a rocky cliff and there is no man made path, it can be tricky to get down there (and there have been reports of rocks falling on the path), so be careful if you do. If you decide to walk down though, it's worth it. I made the mistake of not bringing sneakers to Red Beach and had to climb down the cliff in gold slides. It was tough, but thankfully, I lived to tell the tale (my slides, however, were never the same).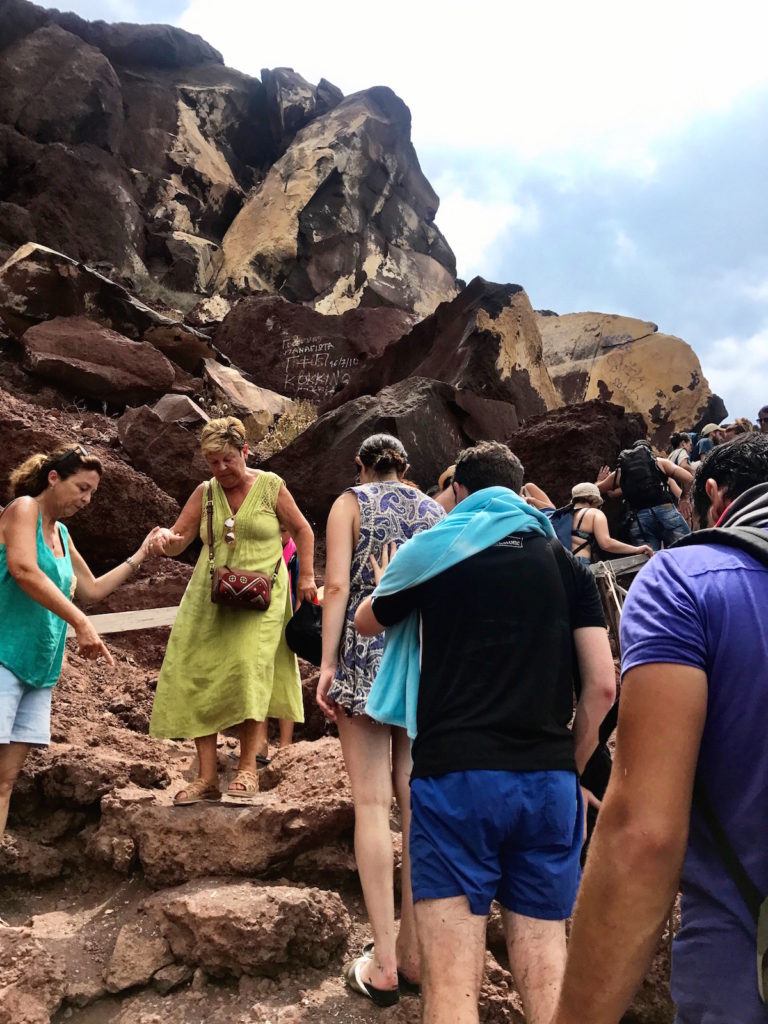 Aside from getting an up close view of the red cliffs, you can walk along the red pebbled shore (created by volcanic lava red rocks) and along the beach. There's not much to do there and it's tough to sunbathe on the pebbled shore, so make this a quick stop to see the beach, then take a boat or walk to White Beach.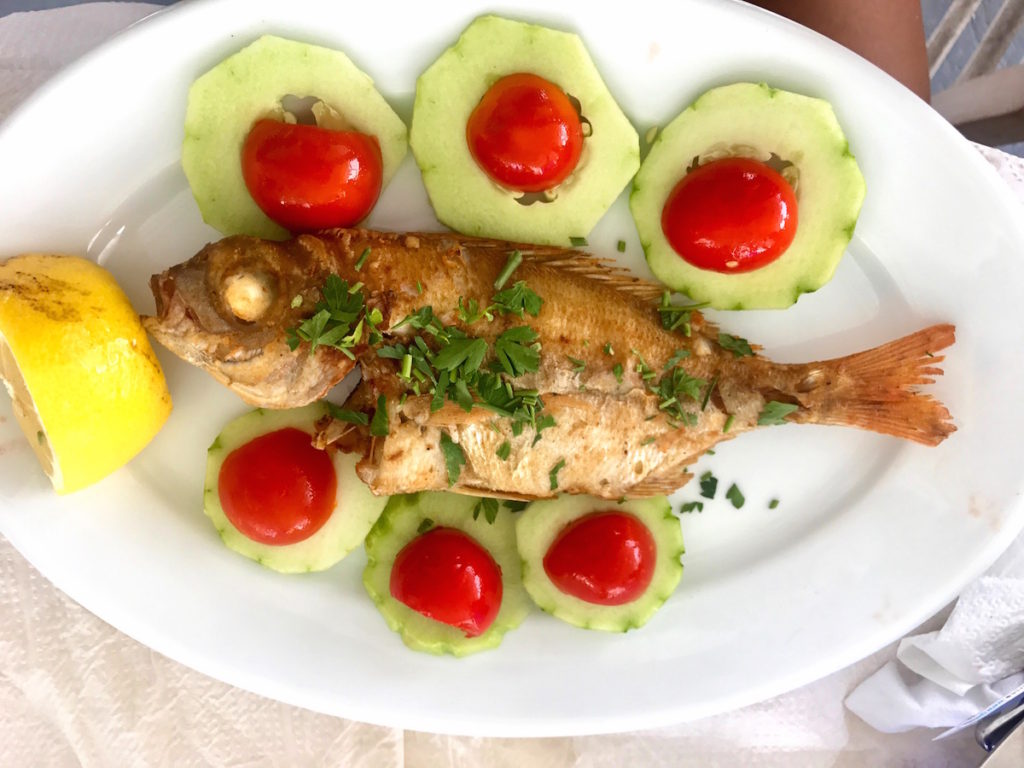 *Big Tip: When you leave Red Beach, drive to the nearby Taverna Glaros for lunch. We had some of the best fresh fish there on the island.
RELATED: The 7 Things You Need to Know Before Your Mykonos Trip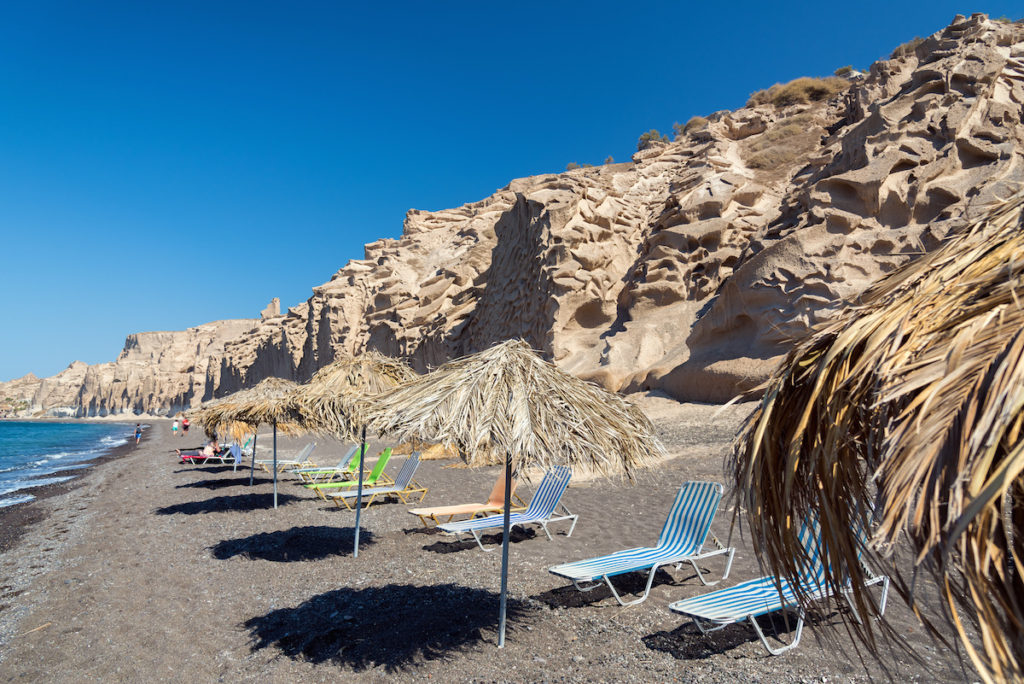 White Beach: The cove right next to Red Beach is White Beach, and this should be another quick stop. On a clear day, you should be able to hop on a boat for five Euros on Red Beach to get there. While White Beach caters to relaxation more than Red Beach, there's not much to do aside from kick back under an umbrella on a day bed (that you'll have to pay for). Wait and spend that money on a daybed/cabana at Black Beach.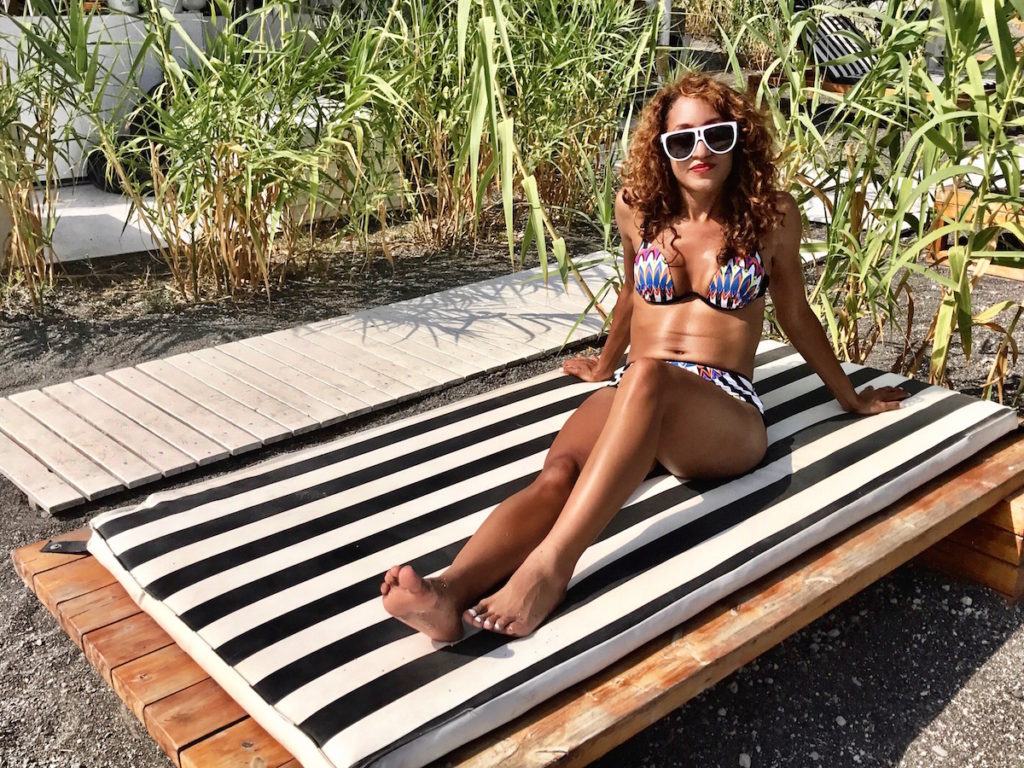 Black Beach: Make Black Beach your last stop on this 3-beach tour and spend some time there. It was our favorite of the three. It's about a 4-mile stretch and is comprised of Perissa and Perivolos Beach. It was there that we stumbled upon Black Sandy Beach – an oasis right across the street from Black Sandy Beach Hotel in Perissa that was lined with Moët surfboards and personal daybeds topped with palm-lined umbrellas for the cheap (around 20 Euros for each daybed).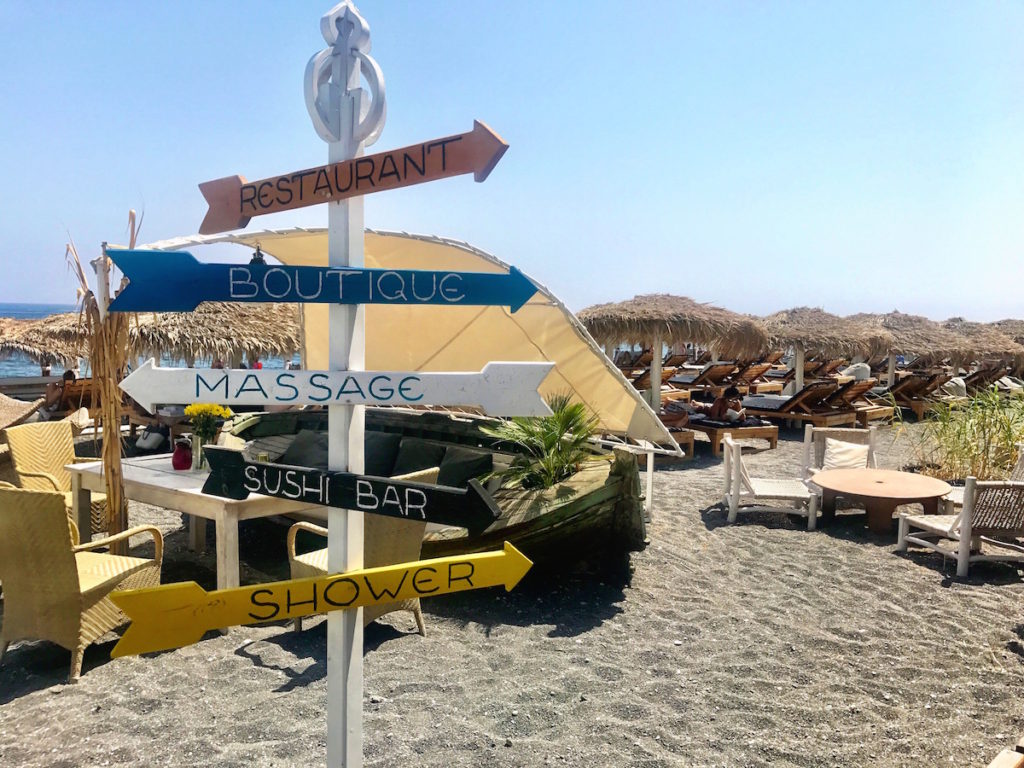 As a bonus, each umbrella had an electronic butler service of sorts. After taking a peek at the menu, we kicked back, pressed a button, and a waiter came straight over to take our orders. We sipped mint lemonade (so good) and champagne, ordered a couple of bites while we were there, and relaxed.
Big Tip: The sand on Black Beach is scorching hot, so bring swim shoes or wear your sandals on it as often as possible.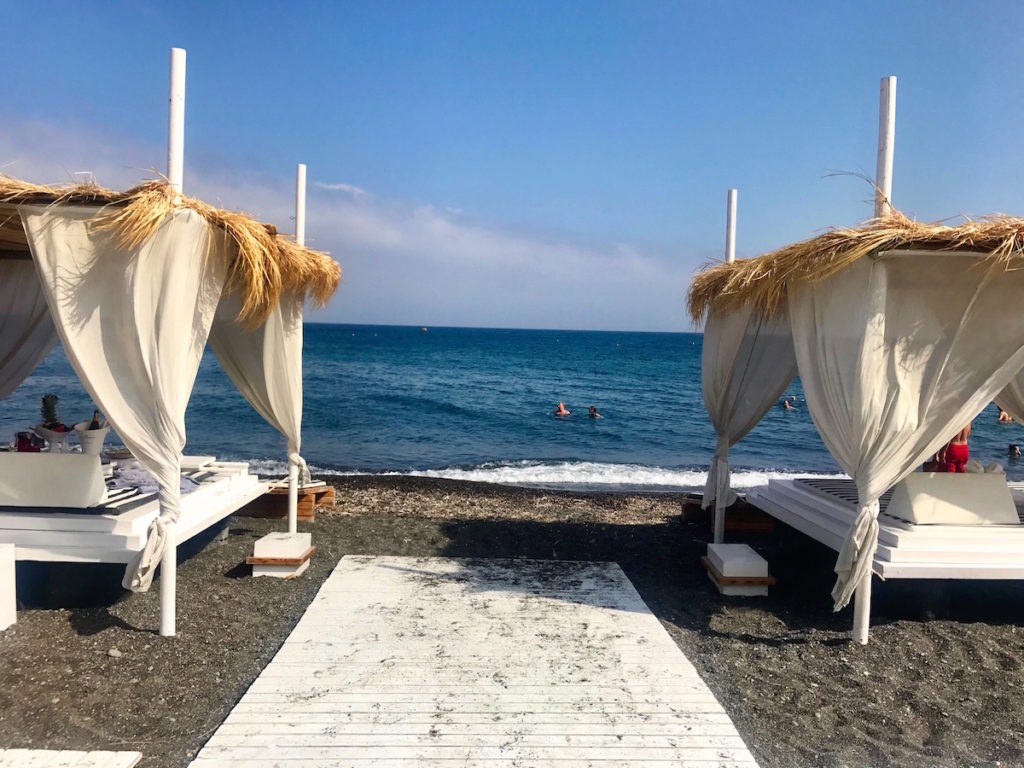 4. Cruise around the Caldera: It depends on what floats your, ahem, boat, for which Caldera Tour you should experience. If you want to see and snorkel in Red Beach and White Beach, and swim in the hot springs, try this 5-hour catamaran caldera tour. Or, for a more luxe experience, hop on this luxury semi-private catamaran small group cruise, which will take you on a tour of the volcanic caldera with stops at caves and beaches. You'll also be treated to a barbecue seafood and meat buffet meal, and plenty of beer and wine.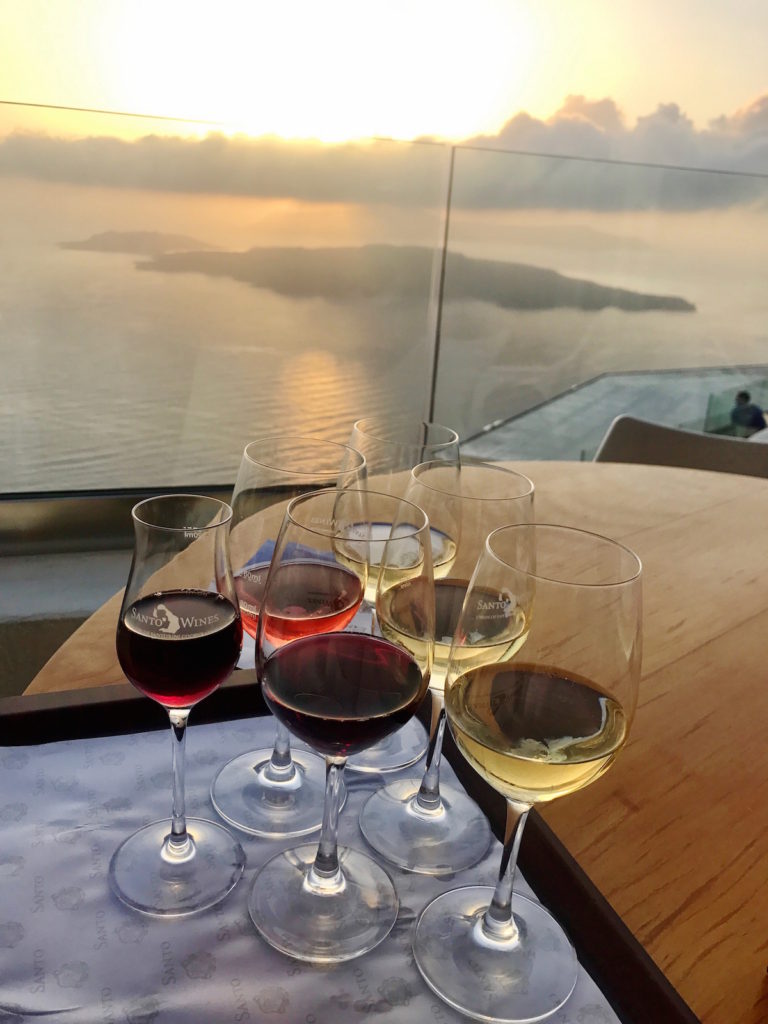 5. Go to a Winery: If time allows, go on a wine tour to visit and wine taste at the wineries around Santorini. The wine is awesome in Santorini, so you shouldn't miss it. The Santorini Wine Tour is known as one of the best and features 12 wine tastings at three different wineries and complimentary hotel pick up and drop off services. The tour is 4.5 hours, and has two wine tour times – 10 a.m. or 4 p.m. to catch the sunset.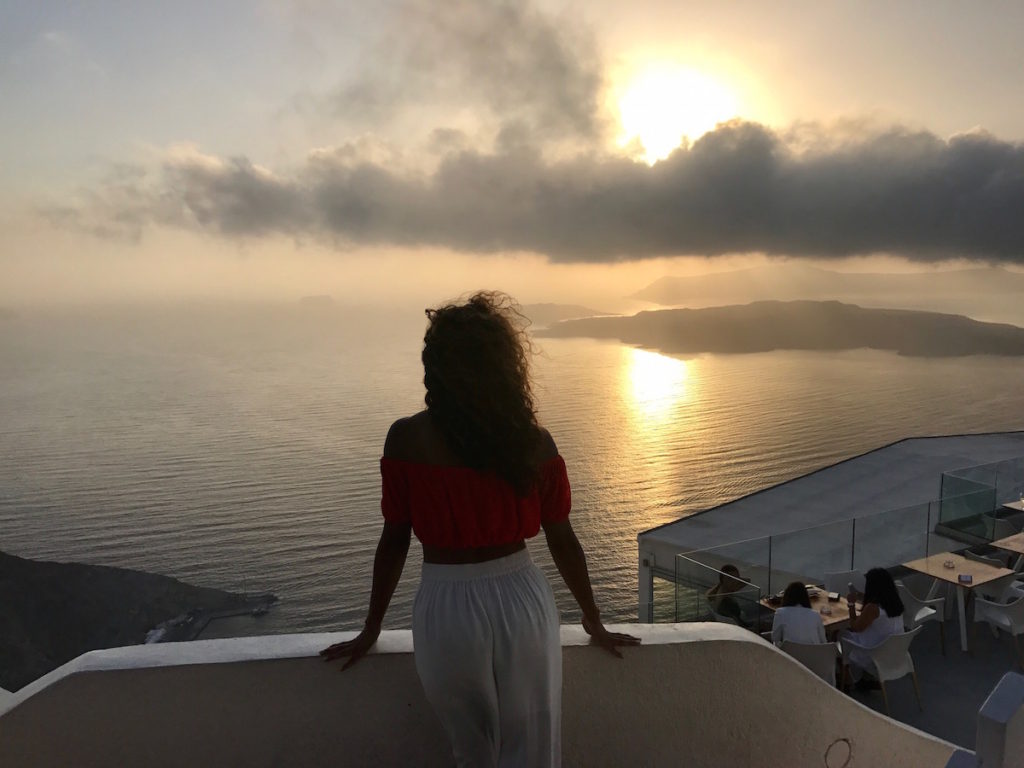 If you'd rather visit one winery for a quicker experience, go to Santo Wines in Thira (Pyrgos) at sunset. The wine flights are affordable, they have tasty small bites, and the caldera view at sunset is incredible. Big Tip: Pick up a couple of half bottles in the wine shop for yourself or souvenirs for family/friends. The wine is really good.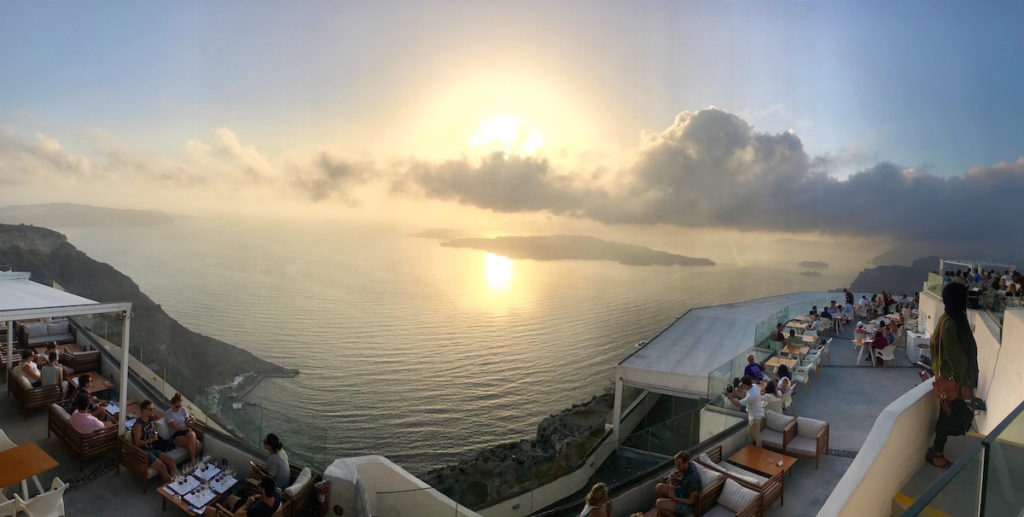 Domaine Sigalas in Oia also another great option for a one-stop winery. You won't get the caldera views there, but you will be privy to one of the best food and wine tastings on the island when you go.
6. Party the Night Away in Fira and Shop During the Day: If you're looking for Santorini's nightlife scene, head to Fira. There are plenty of bars and a few nightclubs in the area. On the club side, Koo Club and Enigma are two of the most notable. For Fira bars, Tropical Bar has great cocktails and an awesome view of the caldera, and Murphy's has more of a lively party scene.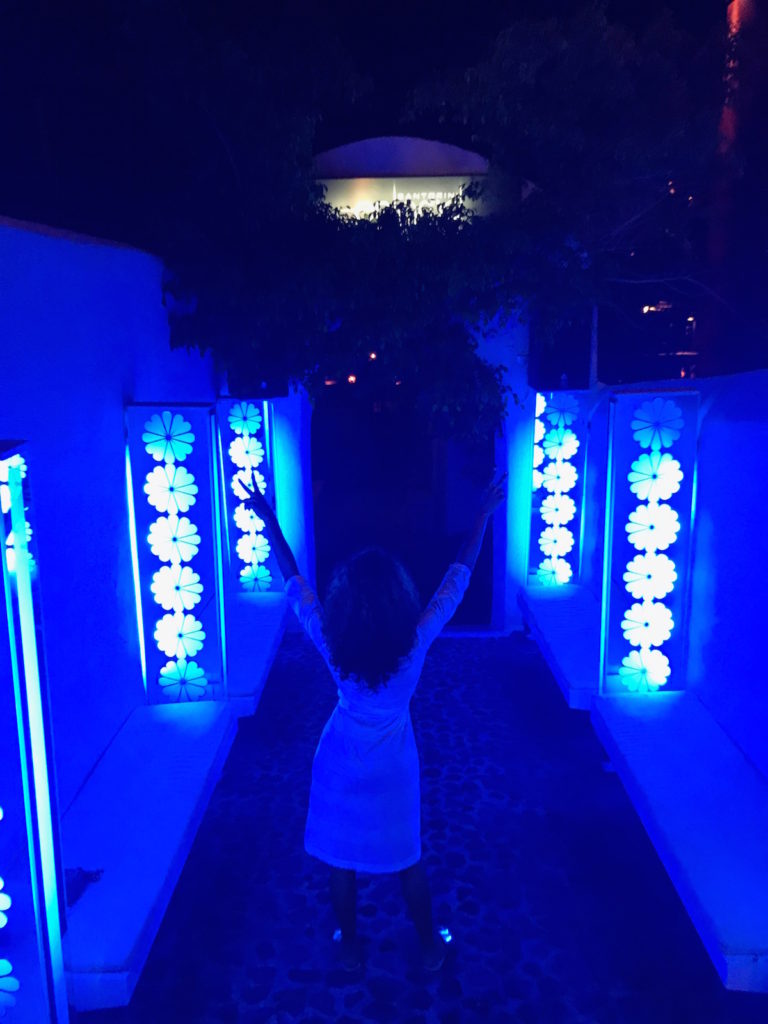 Big Tip: As a heads up, we noticed that the Fira party scene isn't that lively during the week, so kick the party off there during the weekend. It also had a college party atmosphere vibe, so plan to grab a cocktail at a bar there (you should go while you're in Santorini to experience it) and head out if that's not your thing.
The nightlife aside, you'll also find the best – and the most shopping spots in Fira. It has one of the biggest gold markets in Greece, according to USA Today, and you'll find everything from jewelry to clothes to shoes along its streets.
7. Embrace your adventurous spirit: When you want to work off some of the feta you've grubbed on, go on a hike from Fira to Oia. There is an actual trail that takes a few hours to complete, but it will take you along the caldera and through Fira, Firostefani, Imerovigli, and Oia. You can do this alone with your group on the cheap or hop on a guided tour like this one that features sunset Caldera views.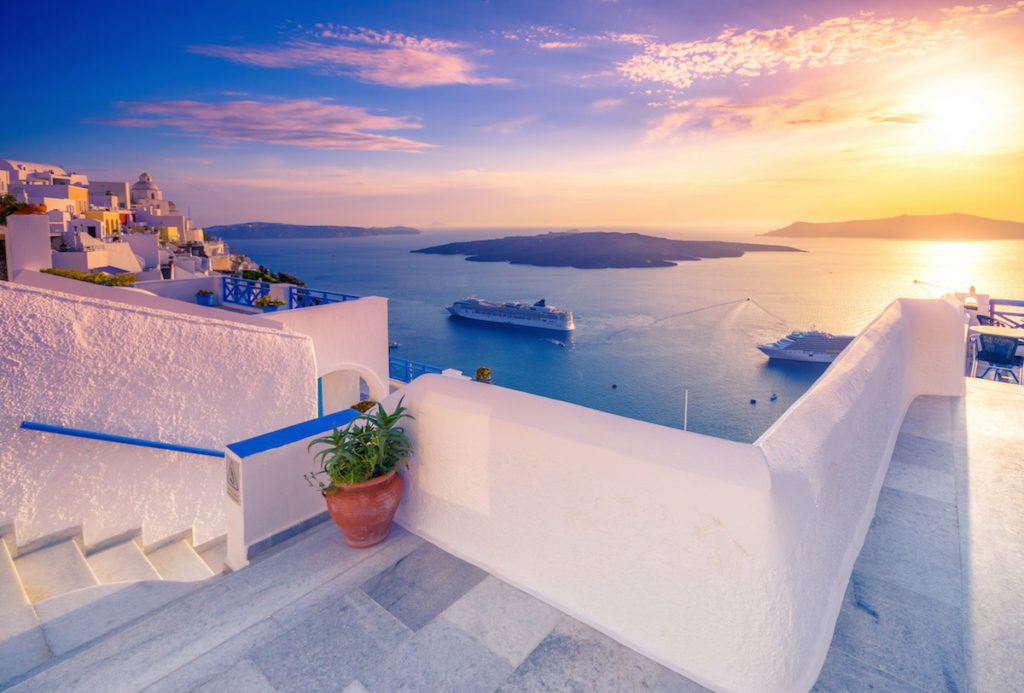 Once you reach Oia, if you'd rather swim than sunbathe, take the path down to Ammoudi port to Ammoudi Bay and take a dip. It's not a beach, but it is one of the best swimming spots on the island (only do this during the day).