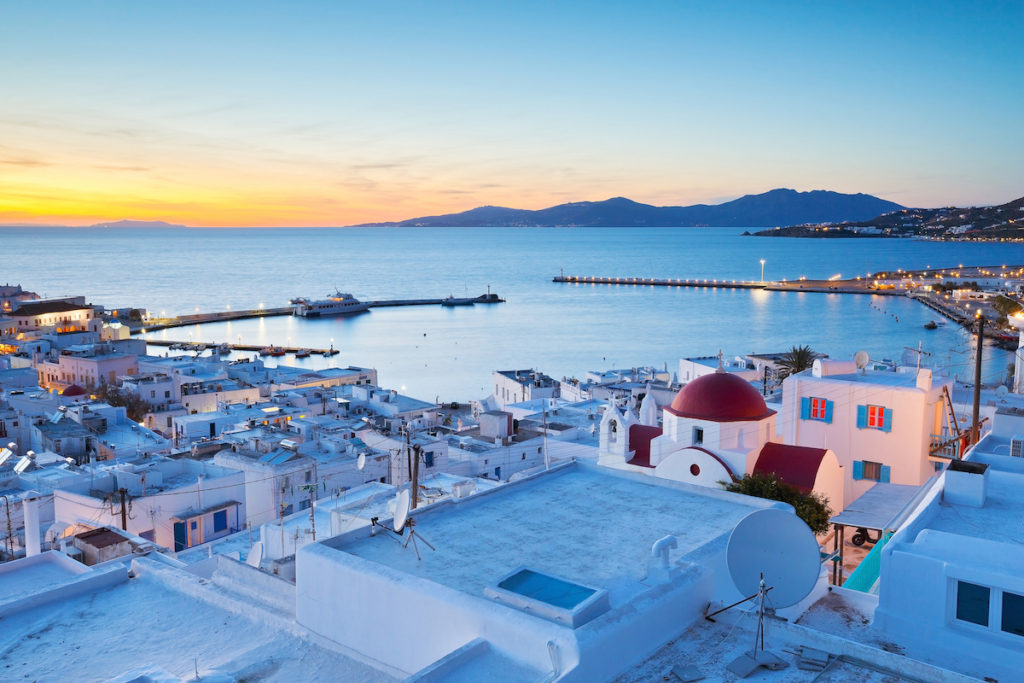 Mykonos is simply enchanting, and as soon as we touched down on the island, we fell under its spell. But a visit to the hedonistic island isn't just about the day-to-night parties (which did give us life), it's also about the stellar dining experiences. Cocktails with scenic views at sunset, party vibes creeping into seaside restaurants at dusk, unforgettable seafood pastas, and crave-worthy cones of gelato were just a few of the things we loved during our trip.
Although Mykonos was the most expensive island we visited during our Grecian vacay, we found that there were at least a few relatively budget-friendly items to choose from at each place that we dined, and there were grab-and-go cheap staple spots around the island as well for budgets on the tighter side.
RELATED: Where to Stay in Mykonos
Take a peek at our breakdown of the restaurants you can't miss when you visit Mykonos:
1. Nosh on gelato at Gelarte: We popped into a few places for gelato, but Gelarte reigned supreme. This sweet shop, tucked away in Mykonos Town in Little Venice, doles out crepes, homemade waffle cones, and over 30 gelato flavors, including Baklava, a fruit packed strawberry, cookies and cream, and dolce latte. It was some of the best gelato we had in Greece.
2. Grab Gyros at Jimmy's Gyros: There are few places in Mykonos where you can grab grub for €5 or less, so it's not a surprise that Mykonos visitors rave about this casual comfort food haven. Jimmy's Gyros is a staple for good, cheap eats on the island. It's in Mykonos Town and you can either order gyros on the go, or sit down in the restaurant's cafe that is covered with photos of patrons. It's a very casual, relaxed vibe and caters to Instagrammers looking for an obligatory selfie opp with is large red mirror.
3. Have dinner at Nammos: Whether you want to kick off a girls' night out with a bang or enjoy a romantic dinner date, Nammos restaurant is the place to go. Located on Psarou Beach, this chic, trendy restaurant sits right on the sea, is stunning, and has an upscale vibe. There are butterfly hand-painted walls inside, and outside a terrace surrounded by palms. It's not just about the often star-studded scene here though, the food is awesome too. We swooned over the tempura prawns and seafood pasta.
Big Tip: While Nammos is on the pricier side (there are bottles of wine that are more than €1,000 on the menu), there is a way to dine at Nammos in a budget-friendly way. Simply choose a dish that fits in your budget (there are filling plates of pasta for about €20). An entree and a glass of wine cost each person that we dined with about 35 euros, for example. Also, you'll need a reservation ahead of time to guarantee seating.
RELATED: The 7 Things You Need to Know Before Your Mykonos Trip
Nammos also has one of the top beach clubs on the island – don't miss that during the day. We'll talk about that more in our top things to do in Mykonos post, but here's a preview in the meantime:
(Psarou Beach, Psarou 846 00, Greece, Phone: +30 2289 022440)
4. Grab dinner and drinks at Interni : The vibe alone made this one of our favorite places to dine in Mykonos. As we strolled down the stairs of this scene-y hotspot, we were seated at a table with black and white menus emblazoned with "Every summer has its own story." That was just the beginning of the mantras placed around the restaurant, with even the placemats covered in romanticized quotes about escaping the norm.
As we noshed on the spicy king crab tagliolini, lobster risotto, and the more budget-friendly prawn tempura and mozzarella di bufala, some of the restaurant's waiters and bartenders danced out carrying small torches and hopped on the bar to show off more of their moves.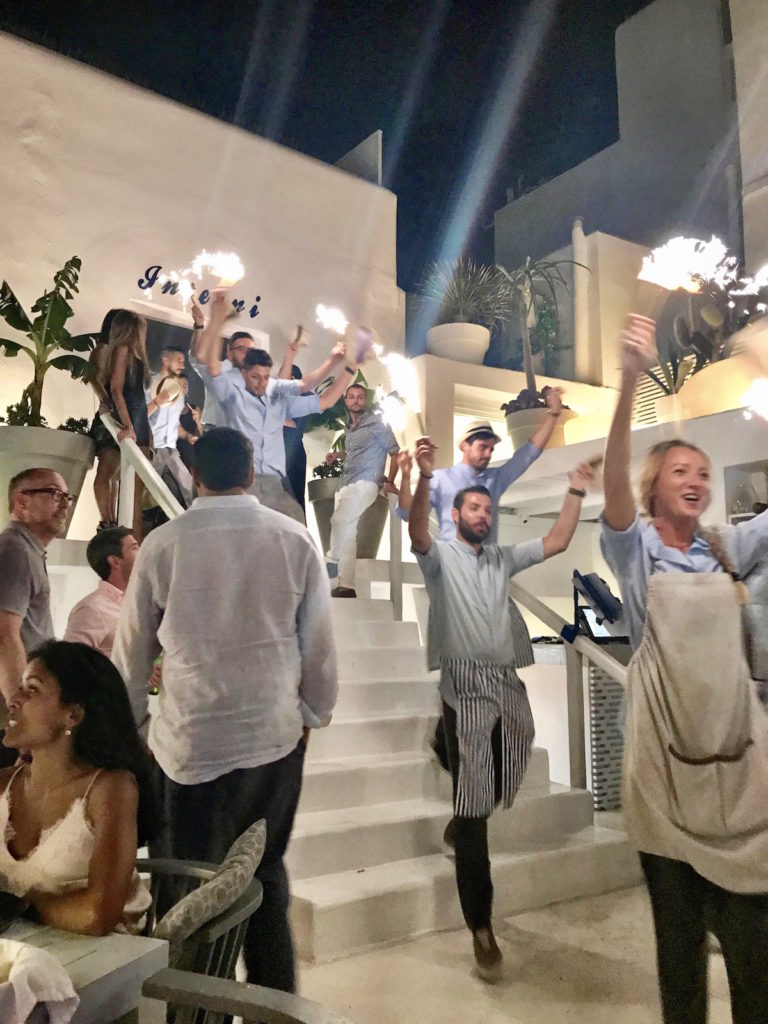 Big Tip: This is another restaurant where you have to make reservations ahead of time or risk a lengthy wait time. (Matoyiannia, Mikonos 846 00, Greece, Phone: +30 2289 026333)
5. Grab lunch or an early dinner at Kiki's Tavern: Just about any guide to Mykonos you'll find will have Kiki's Tavern on it, and for good reason. It's one of those places you just can't miss when you visit Mykonos, although it's a little tough to find. It's traditional greek dining, no frills, and there are beachside views if you're lucky enough to snag one of those coveted tables.
Kiki's is known for their pork chops cooked over an open barbeque, but any of the grilled meats (chicken breasts, fresh fish, octopus, etc.) served with a baked potato side will wow you. There are also grilled vegetarian options if you don't eat meat, and an extensive salad bar that should be taken advantage of too. Be warned though, portions are huge and should be shared.
Big Tip: Try to get there early – before the noon opening time. The restaurant doesn't take reservations, so keep that in mind as well if you're pressed for time. There is usually a wait – diners sit in a queue of sorts, but there will be free wine flowing until your name is called. Also, the restaurant doesn't run on electricity, so Kiki's closes up shop when the sun goes down. (Southern Aegean, 84600 Greece Phone: +33 (0)450 230790)
6. Have dinner at sunset at Sea Satin Market : The soft glow of candlelight, views of the Aegean Sea and a festive vibe – this is another one of those spots that can double as a start to a night out with friends or a romantic date. Tucked away under the famed Windmills near a rocky cliff, the tables in Sea Satin's courtyard are so close to the water that you could probably reach down and touch it.  We heard shouts of "Opa!" and plates dropping as guests hopped out of their seats and on to their table tops, dancing with glasses of champagne in hand.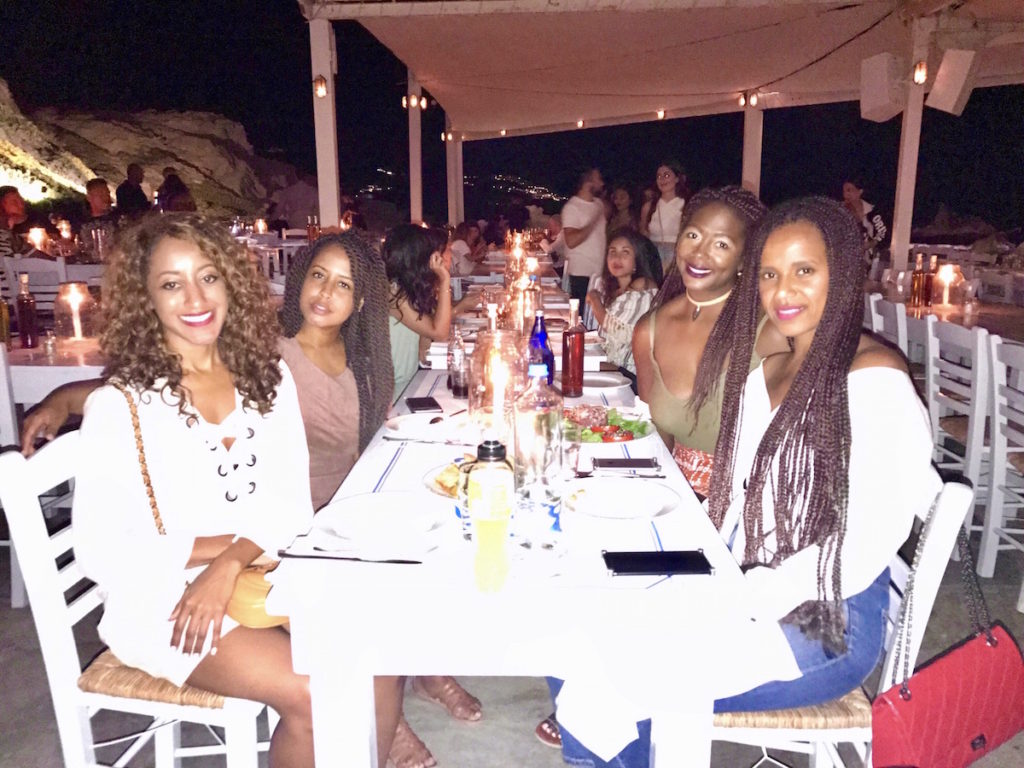 Sea Satin is known for its fresh caught grilled fish, but the pasta dishes are on the more budget-friendly side. For dessert, don't miss their famed loukoumades, small donuts topped with Greek honey and vanilla ice cream.
Big Tip: If you grab dinner on the late end, the scene turns into a party every night (around 11 p.m.), with a DJ spinning and guests dancing to Greek music and more into the wee hours of the morning. (Windmills, Mikonos 846 00, Greece, Phone: +30 2289 024676)
7. Spilia: It's hard to get enough of the seaside views at Spilia. After you've walked past the fresh octopus topping a line near the entrance, you'll find this stunning restaurant, dripping with exotic decor, nestled on Agia Anna Kalafatis beach in a cave. Customers are treated to seafood caught fresh daily from the sea, and rave about the lobster and sea urchin pasta that it's famed for. (Agia Anna Beach, Kalafatis, Ano Mera, 84600 Mykonos island; Phone: (+30)6949-449729)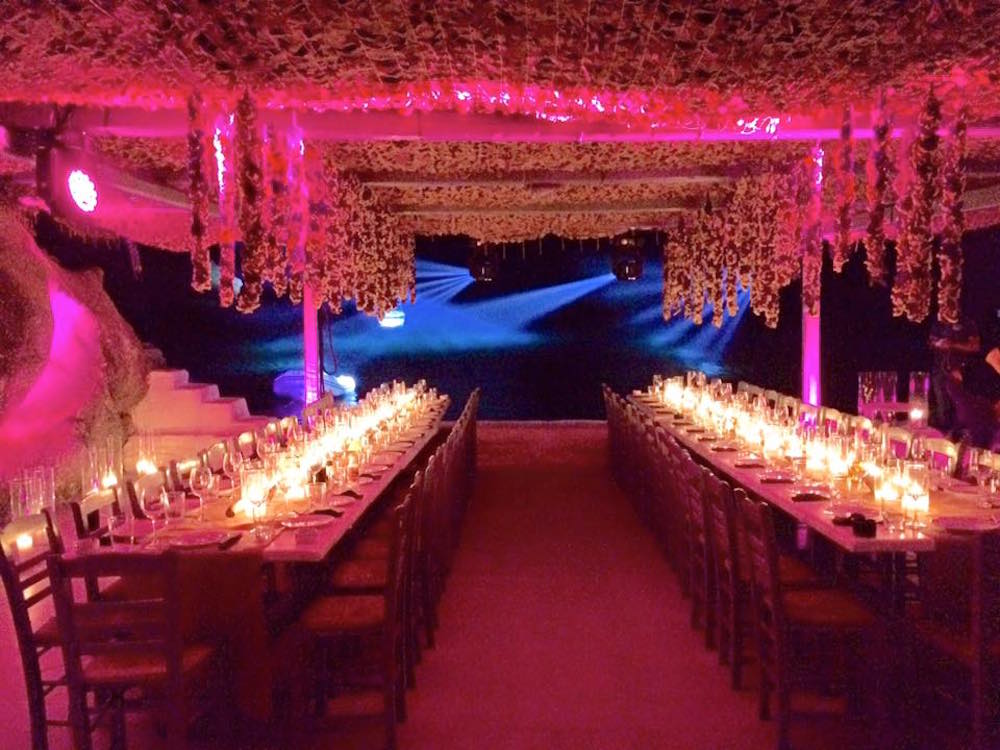 (Photo courtesy of Facebook, Spilia)
8. Bill and Coo: This one is for serious foodies who want a splurge-worthy gastronomic treat in a luxe atmosphere. Located just a short walk from the center of Mykonos Town, this upscale hotspot, touted as one of the best restaurants on the island, is best taken in at sunset because of the incredible views of the Aegean sea.
The signature cocktails, like the caramel passionfruit variety, are just as creative as the grub, which includes inventive dishes whipped up with mussels, chilean sea bass, lamb chop, and more and the Snowball stuffed with sorbet, chocolate and cherries for dessert. Signature dishes include the rack of lamb served with potato gnocchi.
Big Tip: Book your table in advance to guarantee a seat. (Megali Ammos, Mykonos 84600, Greece; Phone: +30 22890 26292-3)