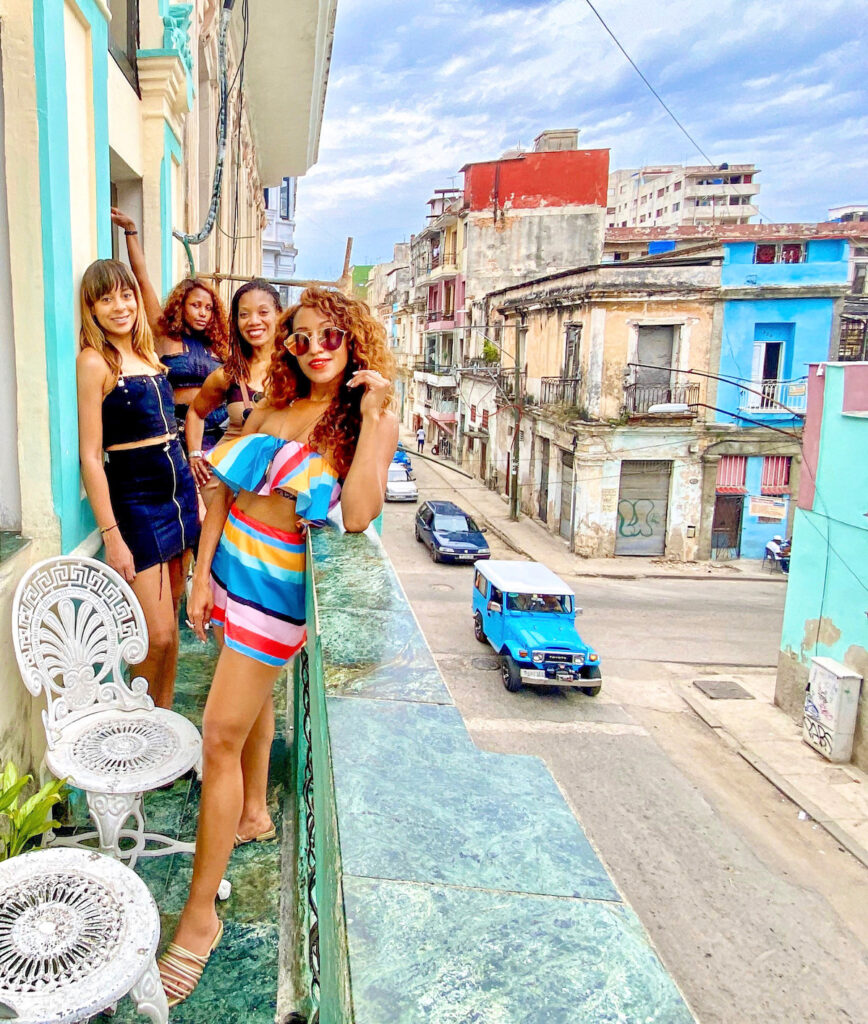 It's tough for photos to do Havana justice (but we tried!). It's beautiful, with scenic beaches, colorful buildings everywhere along streets filled with so much character, lovely and kind locals, and dirt cheap mojitos that are so good, you'll want to sip one every day.
When you visit Havana, there are a few things we think you absolutely must do. From day tripping to Varadero Beach to cigar rolling in cigar country Vinales, and more, take a peek at the 7 things you can't miss on your first trip to Cuba!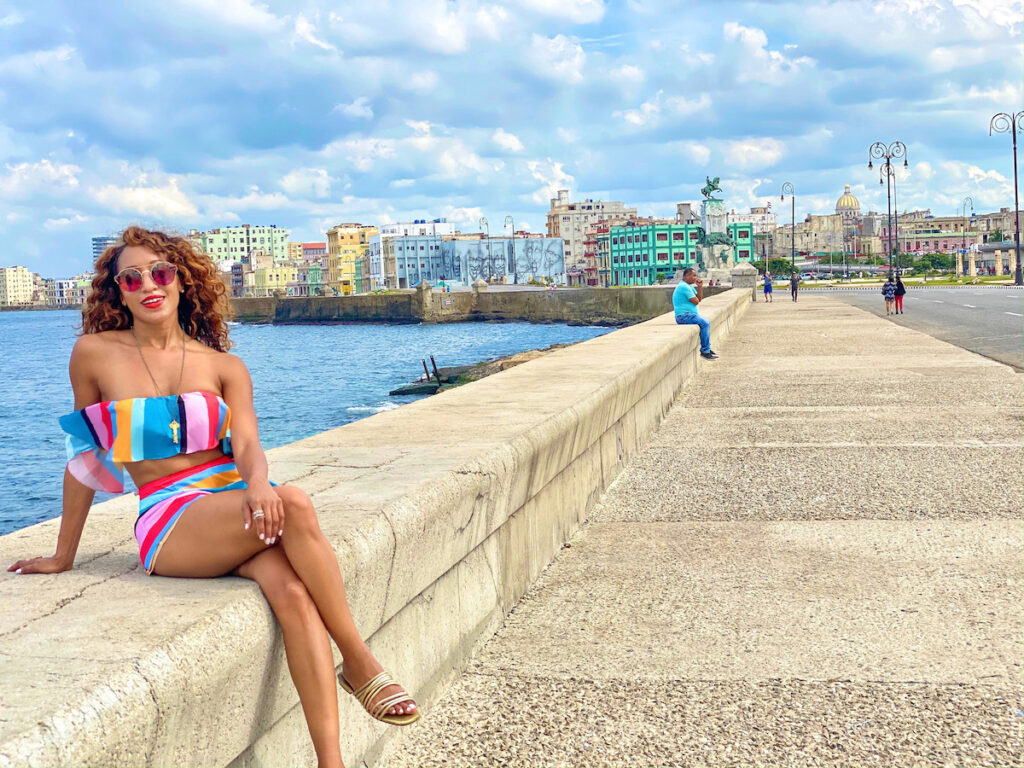 1. Walking Along the Malecon and Streets of Old Havana: There were so many things I loved about Cuba, but taking a walk along the Malecon from Vedado to Havana Vieja (old Havana) was one of my faves. As we walked along the seaway (it takes about 45 minutes), we took a detour and drifted through colorful streets, posed with classic cars, ran into beautiful wall art, and stumbled upon hidden finds, thanks to the bars and restaurants tucked away along the streets, sometimes up a staircase like the bar we found here.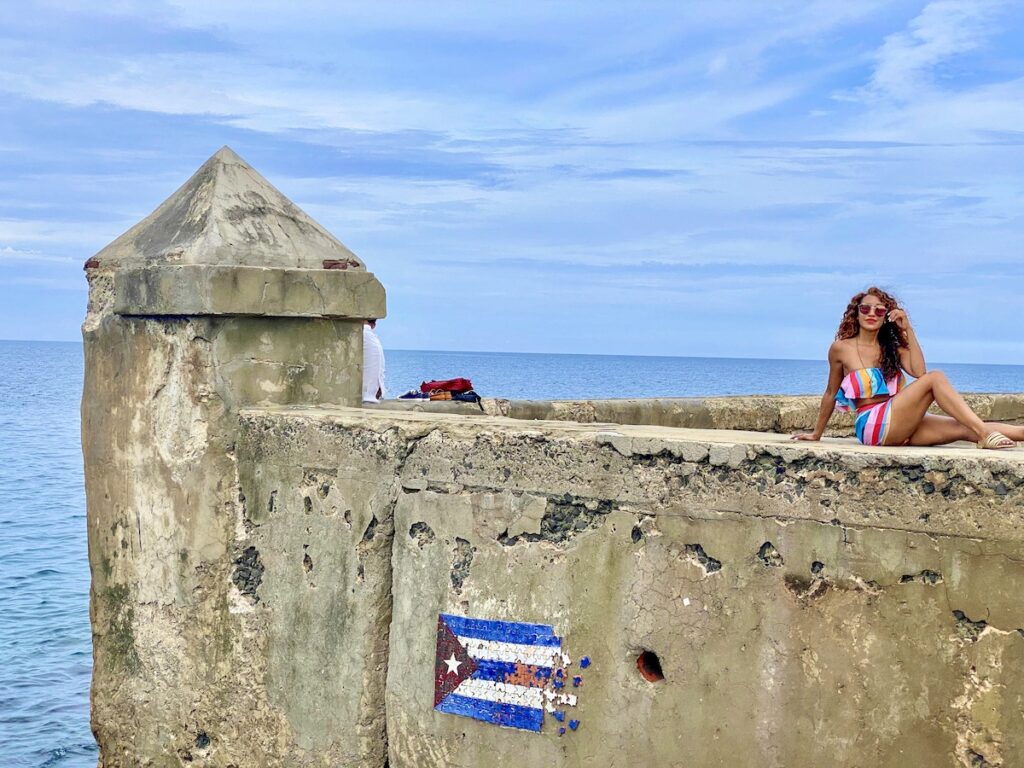 Once we got to the main part of Old Havana that was also a dream. The buildings are colorful, beautiful, and there are rooftop bars, restaurants, and there's even an art marketplace on Sunday afternoons that you can't miss – especially if you love art and collecting unique pieces. Spend a day at least exploring Old Havana.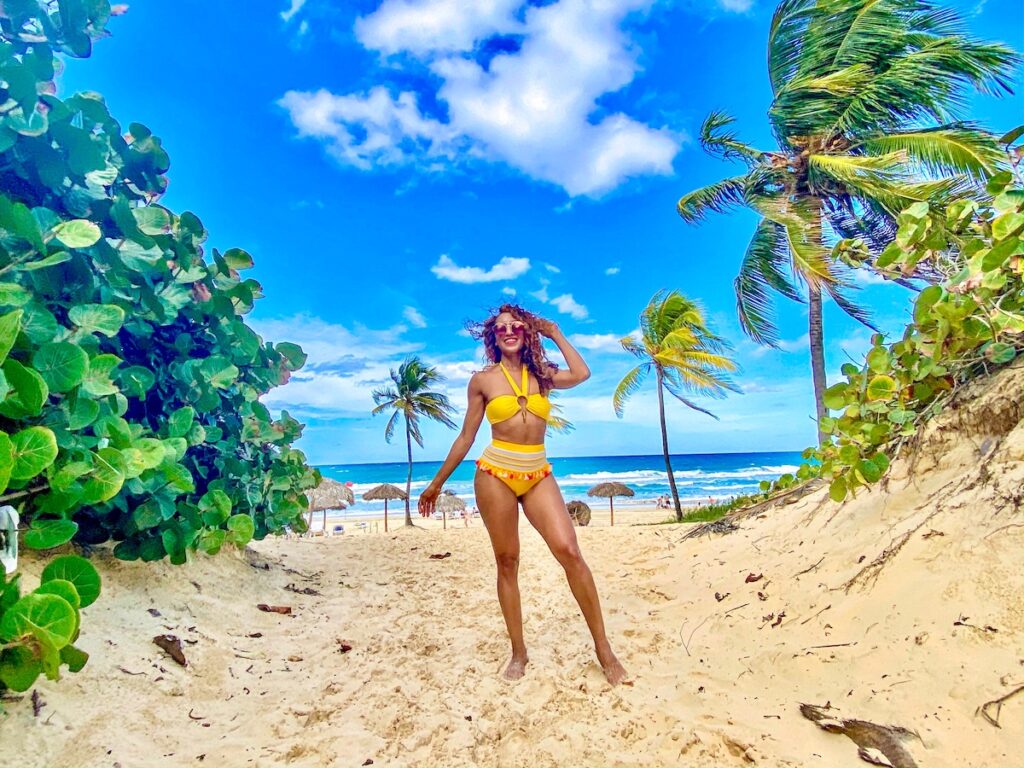 2. Spend the Day at Santa Maria Beach: There's something about Santa Maria Beaches. We fell in love with the one in Paros, Greece, and our feelings for Santa Maria Beach in Cuba were no different. It's about a 30-minute drive from Havana and makes for the perfect day trip for some fun in the sun. Hop in a classic car to get there to take your ride up a notch. You can hail them on the streets of Havana like you would a cab anywhere else or rent one ahead of time, and it shouldn't cost more than 40-60 CUC for the whole group if you take a classic car.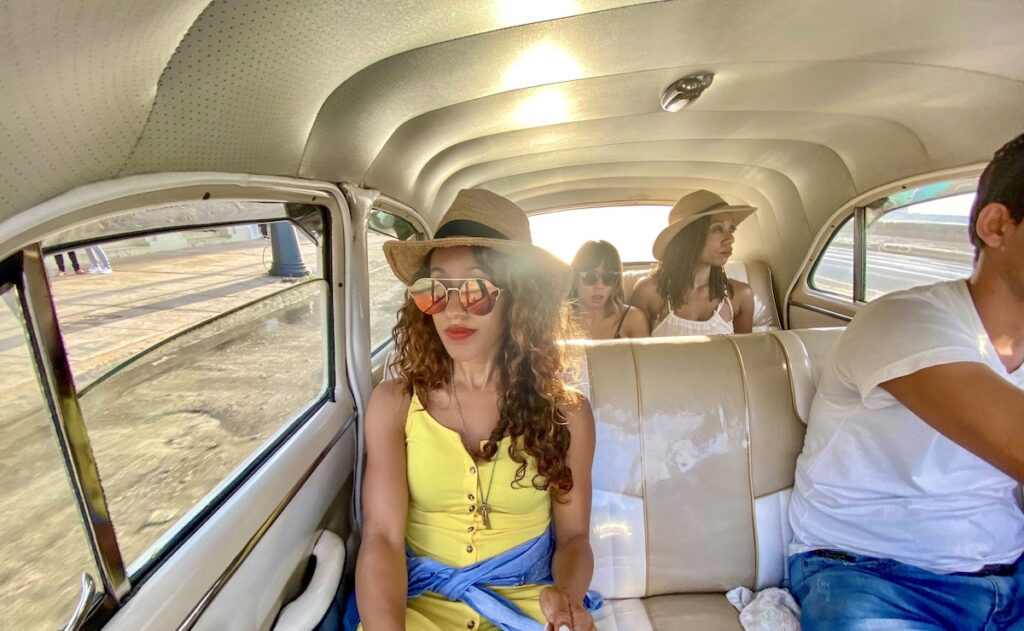 When we arrived, we walked up a sandy pathway surrounded by foliage to get to the beach, and strolled right into an oasis. Palm trees and white sand set the vibe, as did a picturesque nook covered in tree branches and trees that was right by the beach and made us feel like we were in a mini jungle. Since it was overcast when we first arrived and we were starving and tired from a night of partying at Fabrico de Arte the night before, we walked to the restaurant right at the base of the beach – Don Pepe – and sat down and ordered espressos, mojitos (weird combo I know), and whole roasted fish.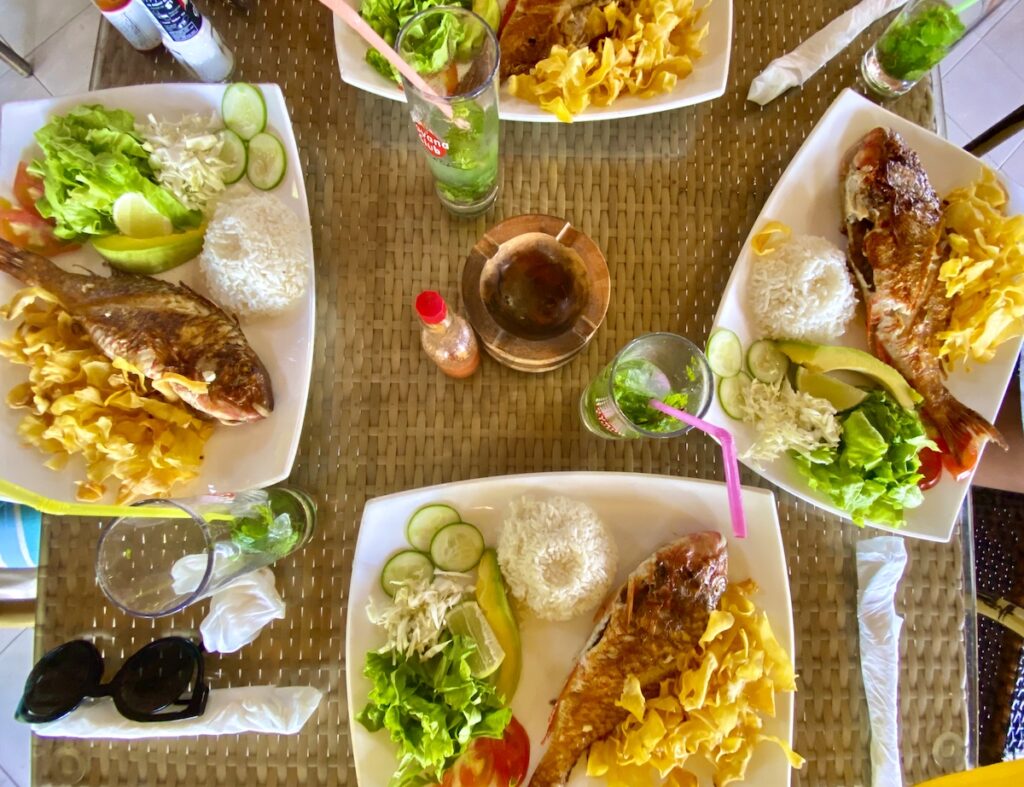 The espressos were 2 CUC, the mojitos were 2 CUC, and our medium-sized roasted fish served with a plate of rice, sweet potato crisps, and a small salad, were only 9 CUC. It was one of the best meals we had on the cheap, and the fish was so good that we ate it to the bone. We also ordered up another round of mojitos because those were great too.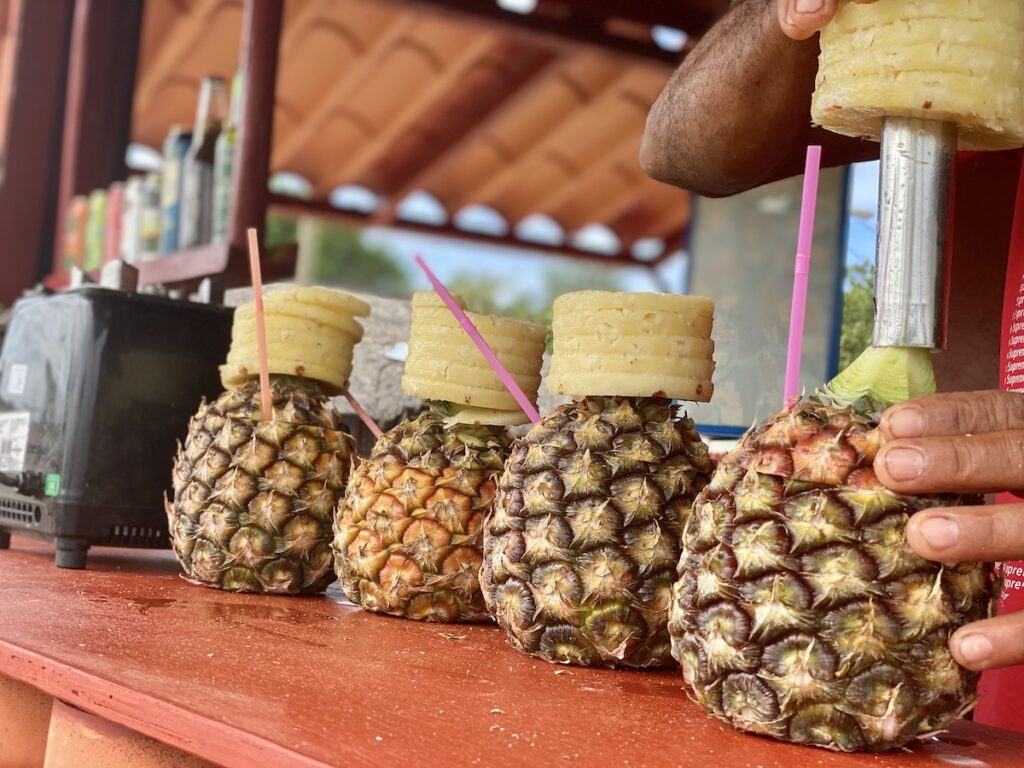 Don't miss Don Pepe when you go to Santa Maria Beach, and if you're up to it, grab a pina colada at the pina colada stand next door. The large size is 5 CUC and made with fresh pineapple juice, coconut, and rum. It's served in a whole pineapple, with slices of pineapple placed on top. They were delish and you can take them right to the beach.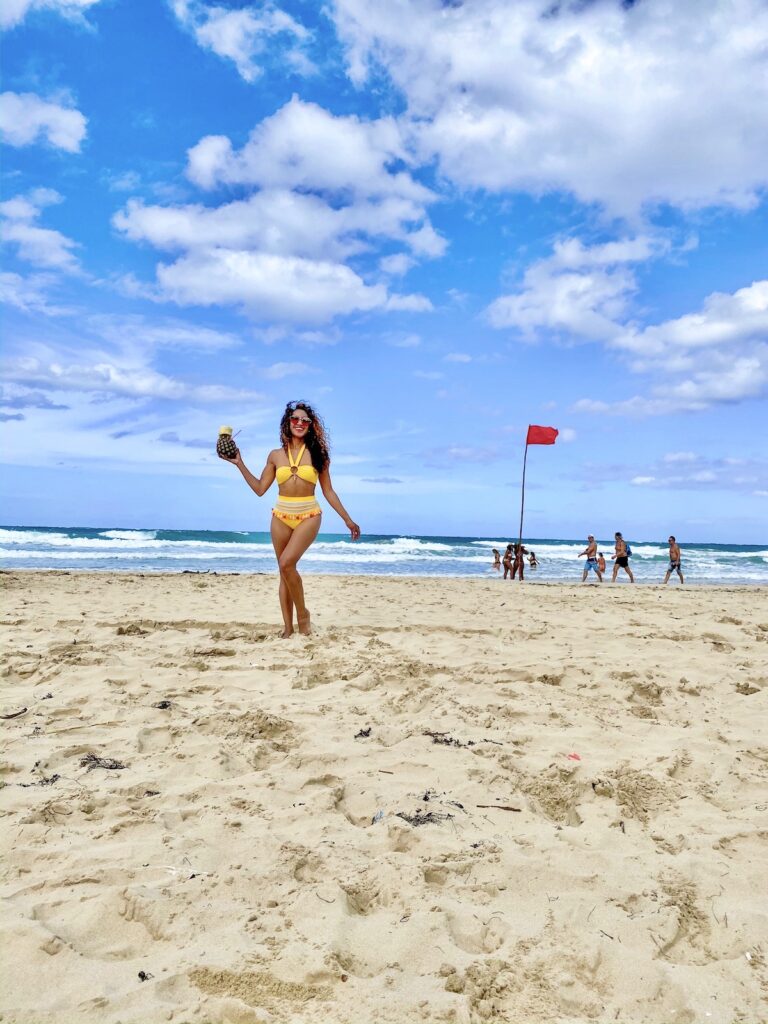 There are guys on the beach that will set up chairs and umbrellas for you for 2 CUC (for each person), but make sure to bring your own beach towels, sunscreen, mosquito repellent and bottled water with you. It wouldn't be a bad idea to pack snacks and other refreshments too. You can also bring a portable speakers to play on the beach, although the vibe is chill and peaceful (as a heads up). There's nothing wrong with getting the party started there though – or anywhere. Okurr.
With bellies full and pina coladas  in our hand, we kicked back. The sun came back out and we relaxed and soaked up the sun.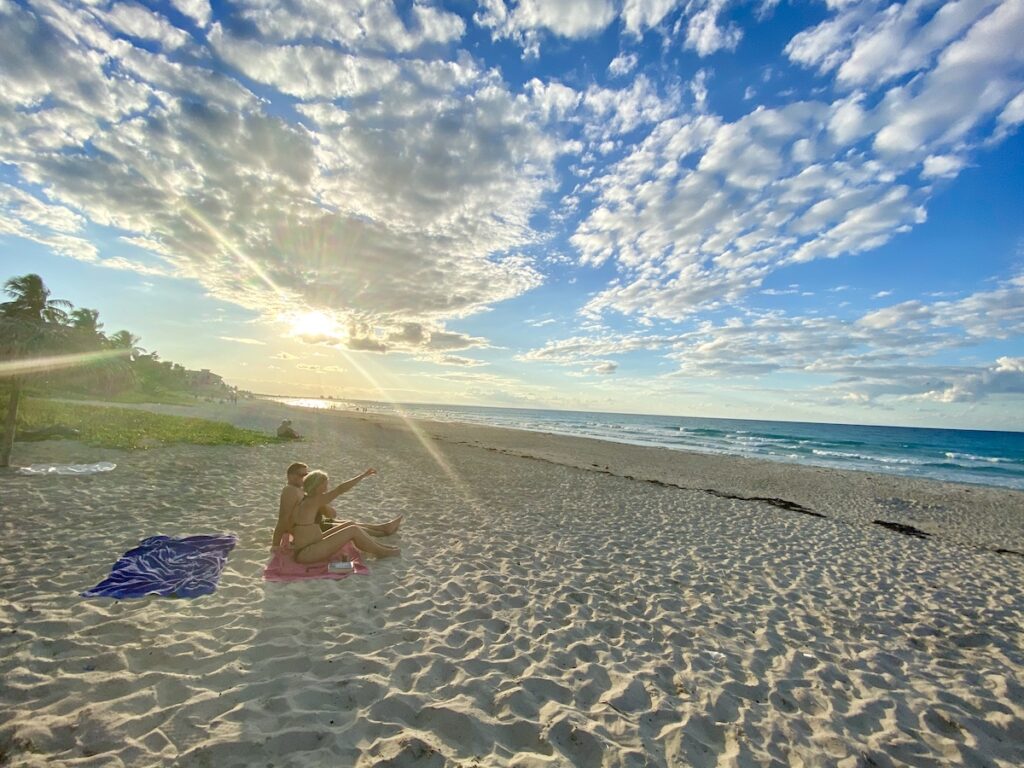 3. Day Trip to Varadero Beach: Is a 2-hour drive to Varadero Beach worth it when Santa Maria beach only takes about 30 minutes? Yes. Make it a day trip and thank us later. Varadero Beach was absolutely beautiful and the sunsets were unreal – vibrant blues, oranges and yellows, scattered across the skies, white fluffy sand at our feet, and plenty of room to stretch out on our towels. It was incredible.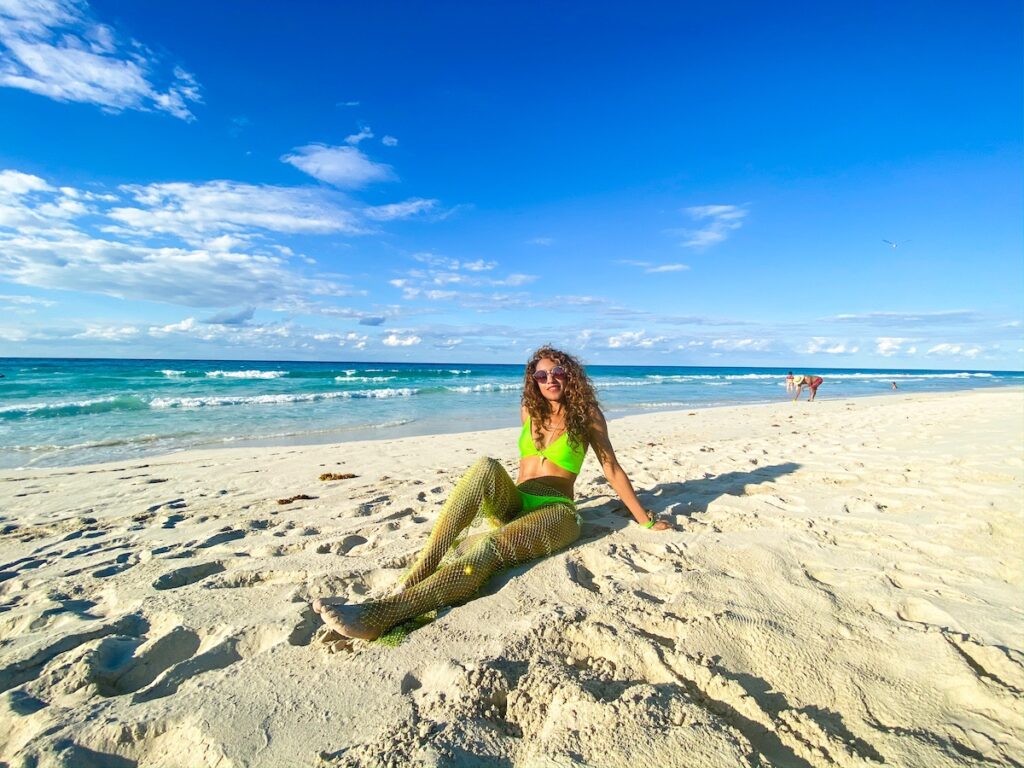 It's safe to swim in Varadero, so feel free to take a dip, but there is one thing you shouldn't miss while you're there before luxuriating by the shore (we'll go into more details in a separate post): Saturno Cave. It's a cenote filled with stalactites and stalagmites, and you can swim in the pool's azure blue fresh water. You'll need to make extra time for this, since it's about a 40-minute drive from the main beach. We thought it was closer and missed our opportunity to go.
On your way to Varadero Beach, make sure to stop at the overlook Mirador de Bocadeyuna. Grab a mojito or pina colada served in a pineapple for 5 CUCs, listen to live music, and take in the beautiful panoramic views around you.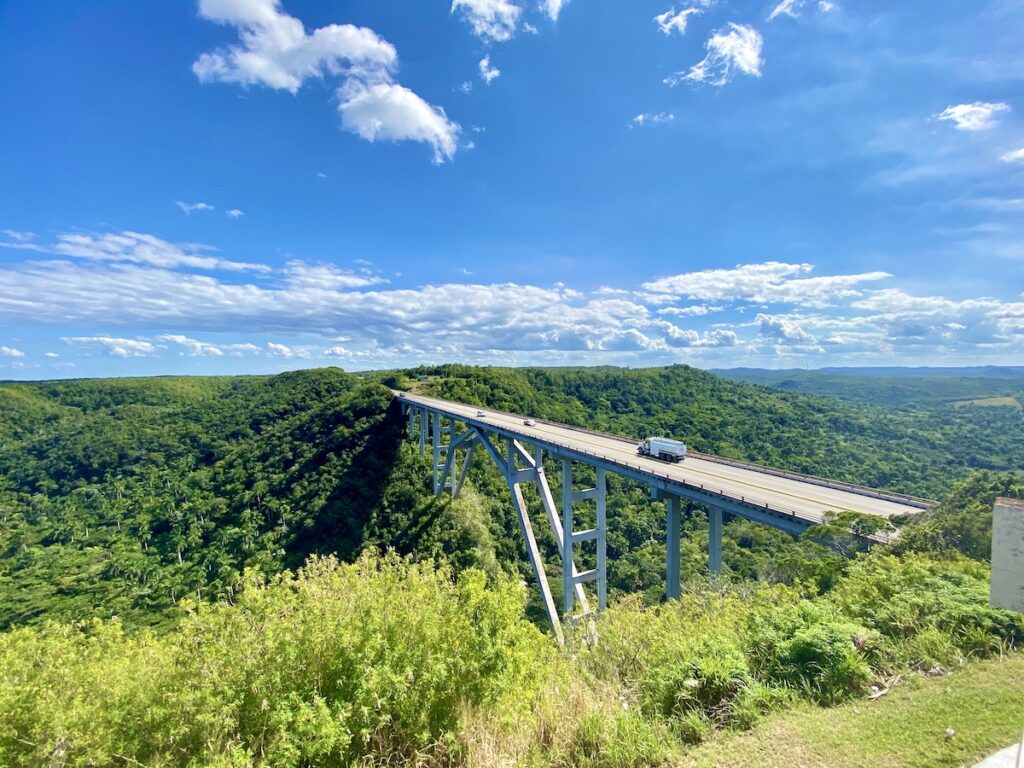 FAB TIPS: There are a ton of streets, but use Calle 43 and 44 as your markers to get you to the best part of it. If you're hungry, try the fresh whole grilled fish that a couple of locals make nearby and bring right to the shore. They'll usually approach you while you're on the beach to see if you want it. It's 15 pesos. Get it.
Also, make sure to bring your own towels with you. There weren't any chairs available for set-up like there were at Santa Maria beach and there definitely weren't towels on any beach we went to.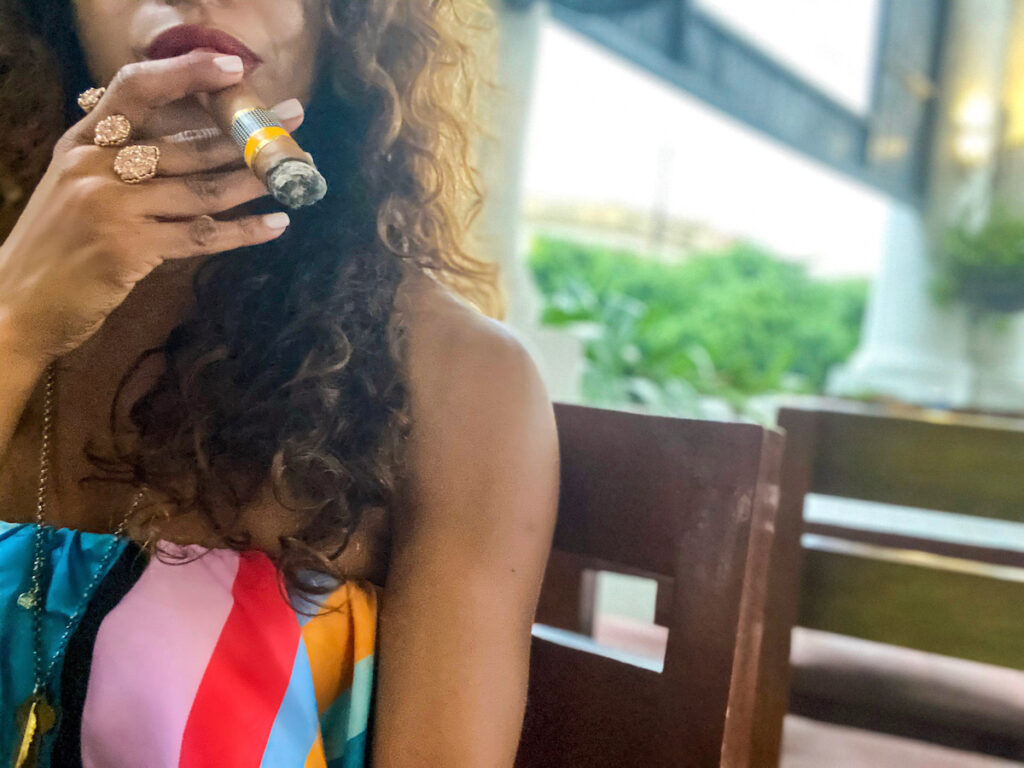 4. Go Cigar Rolling and Smoking in Vinales: Vinales is a 2 hour, 30 minute drive from Havana, but it's worth seeing, especially since smoking a cigar (even if it's one puff) and sipping Cuban rum with it is a must when you're in Cuba. If you want to only do a day trip there, that is completely doable, or you can spend the night if you don't want to make the trek back on the same day. It should cost you about 30-40 CUC per person in a taxi to get there, so make sure to negotiate. Or, you can hop in a classic car. Negotiate that price too.
One of my friends who spent the day in Vinales, loved the cigar making and horseback riding tour she booked through Discover Vinales.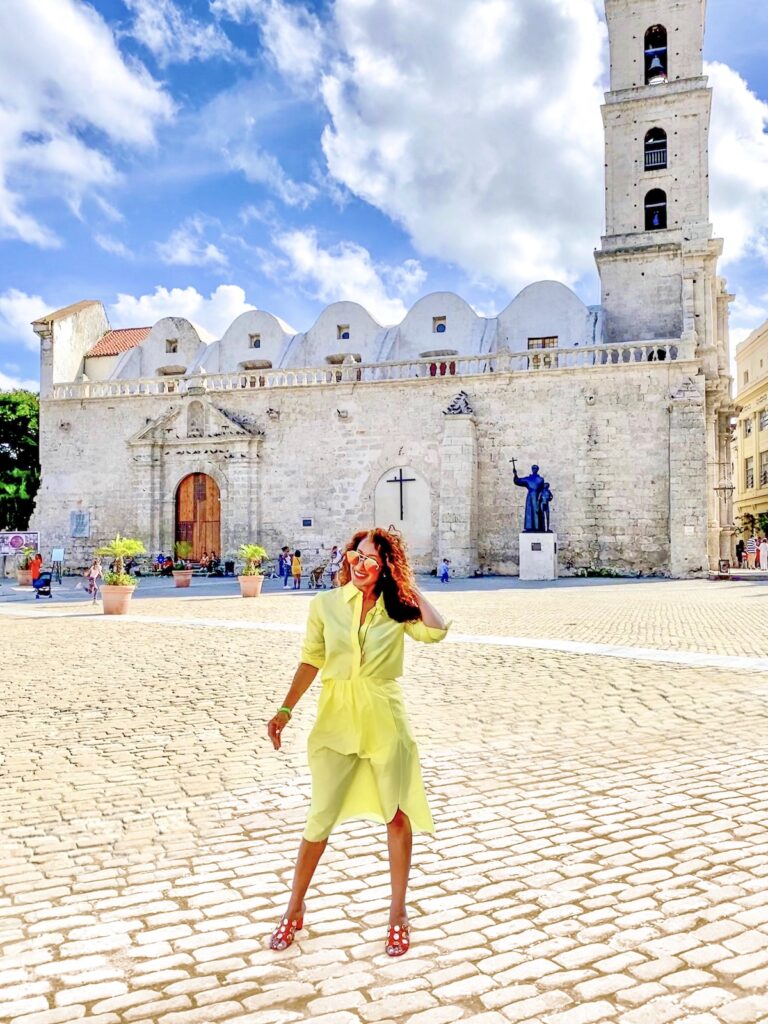 5. Dance The Night Away – and Eating – at Fabrico de Arte: Everyone we talked to before we went to Cuba told us this was their fave place to party in Havana, so we had to try it out. But no one told us how good the restaurant was inside the club that's tucked away at the top of the restaurant, Tierra. I can't vouch for everything on the menu, but the fried fish was so good that we kept ordering it – the first night – and the second when we returned. Definitely order that when you go – and mojitos too.
As for the club, you have to pay 2 CUC to get in – There are several rooms to party in – each with its own vibe. We loved the hip hop room that was drenched in black in the top left corner of the club. Small mojitos are 2 CUC and large mojitos are 10 CUC. You won't need anything else if you drink the latter.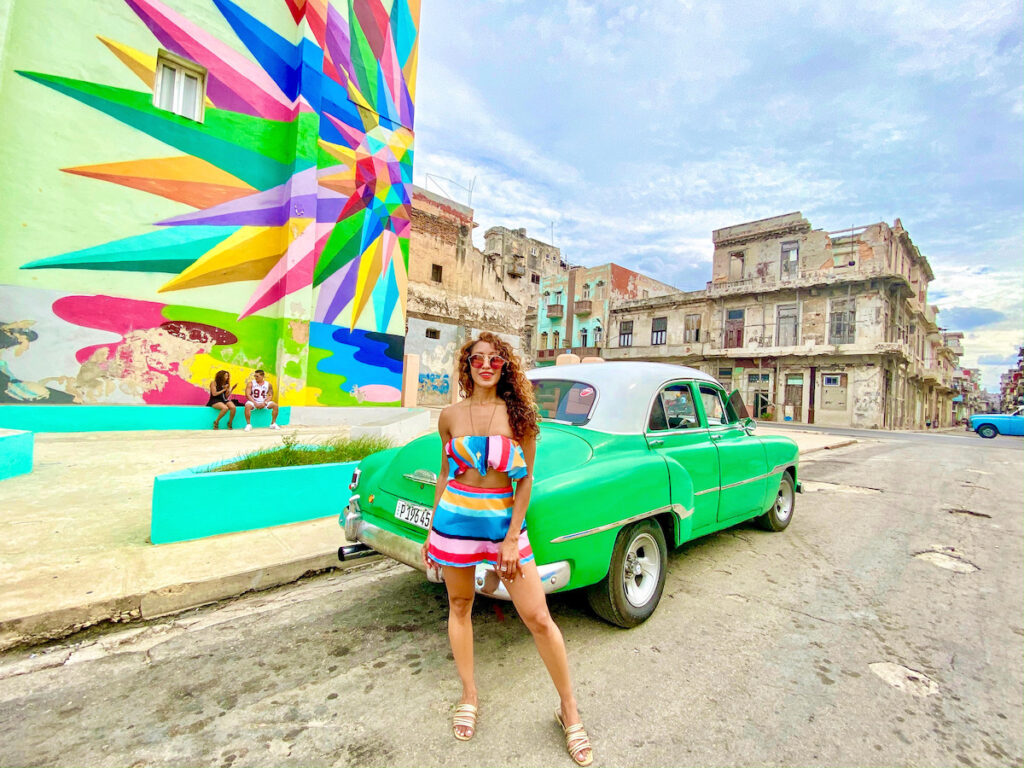 6. Riding Around in Classic Cars: This is something that you absolutely must do while you're in Cuba, whether cliche or not. The cars are beautiful, and every one that we hopped in was clean, comfy, and air conditioned. One of our drivers even became our guide, and pointed out places he thought would make good photo opps and his fave secret local spots. We ended up riding in classic cars almost everywhere we went, and skipped taxis.
To get one, you can hail a classic car like you can a taxi on the streets of Havana. Or, you can book ahead of time with a local tour company.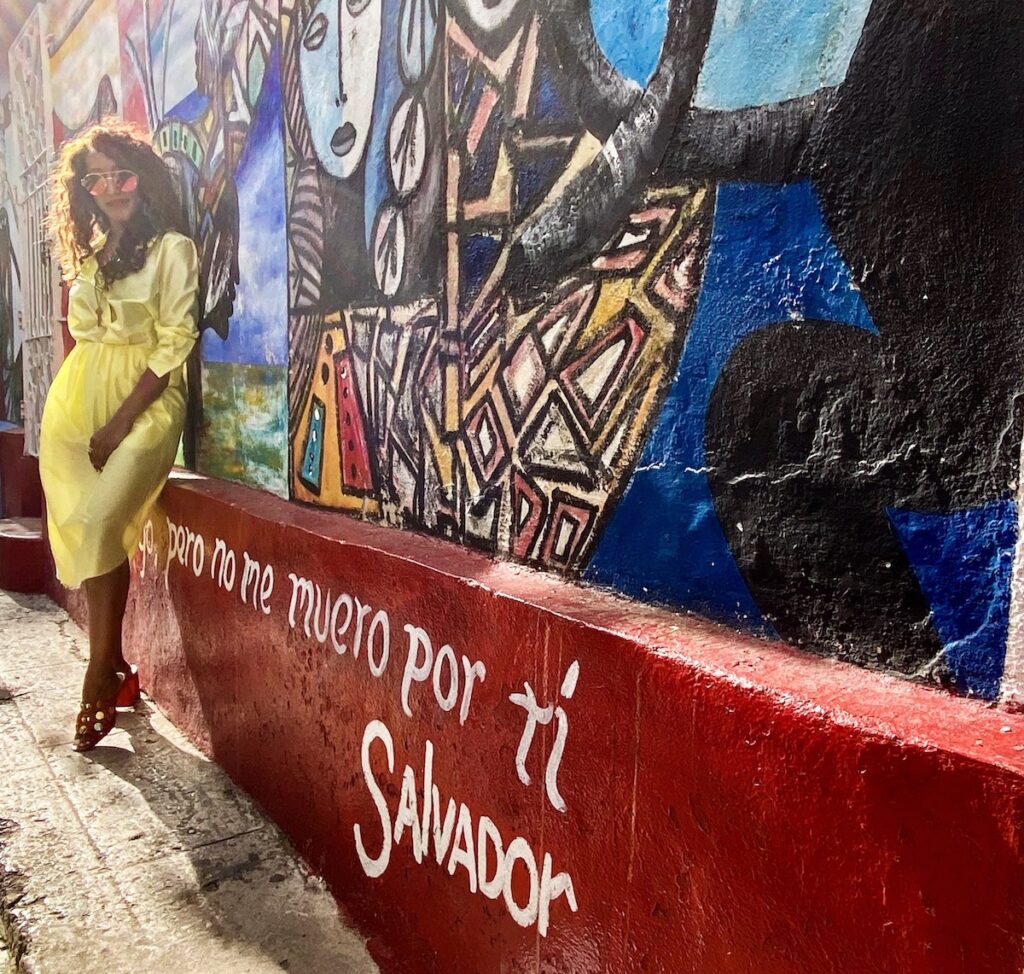 7. Hanging Out on Callejon De Hamel on a Sunday Afternoon: Go to Callejon De Hamel on a Sunday afternoon and get ready for an epic cultural experience. We stumbled upon it after our driver asked us if we wanted to go, as we were on our way home from Old Havana heading to Vedado, and it was filled with mostly locals, who filled the alleyway, sipping rum, dancing, and looking on as a group of musicians sang and danced for the crowd.
As we got closer to the front and the sound of the drum beat got louder and more intense, we realized we were watching a Santeria ceremony (religious ceremony). The crowd had formed a circle around them to watch. It was electric. It was magical.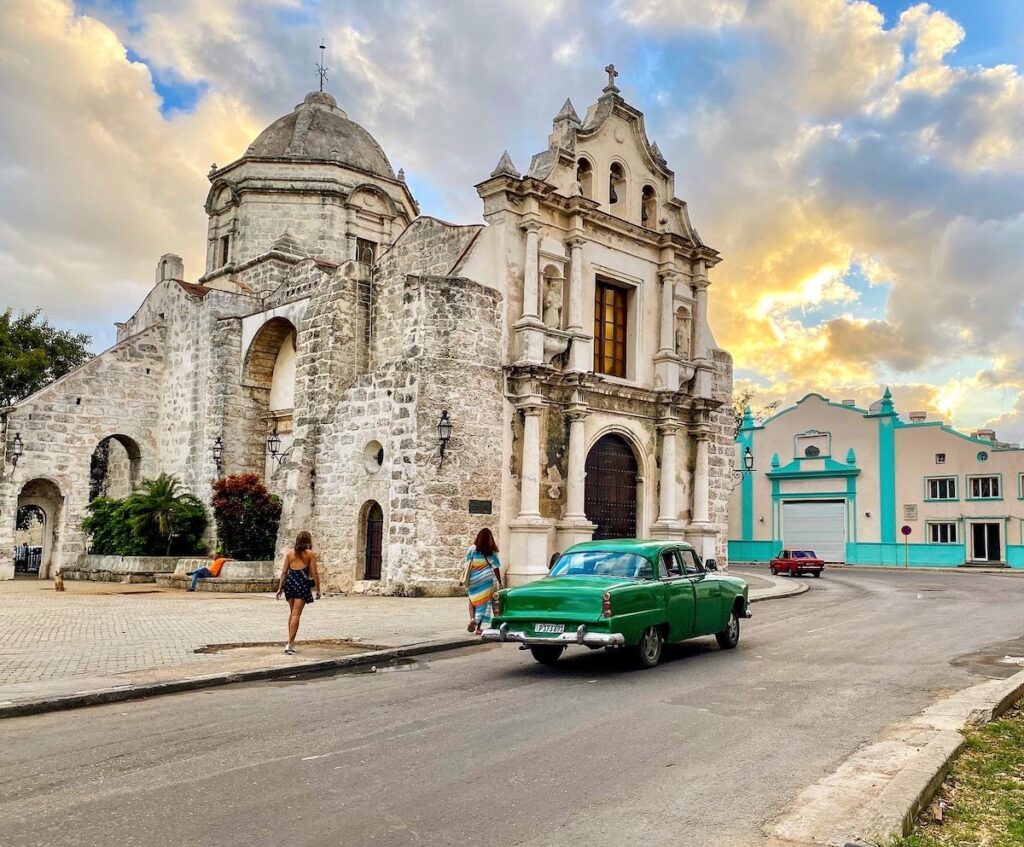 8. Sipping Mojitos and Munching on Whole Roasted Fish: You can't not go to Havana and sip mojitos. They're so cheap (usually about 2 or 3 CUC and packed with fresh mint still on the stem) that if you're a mojito fan, it wouldn't hurt to try them wherever you dine out.  As for the fish, always go for the whole roasted, fried, or grilled fish and skip the fillets. We never had great luck with fillets of fish anywhere, but we always had good luck with the whole fish. We'll get into the best places to go to sip mojitos and grub on whole roasted fish  in our Havana dining guide.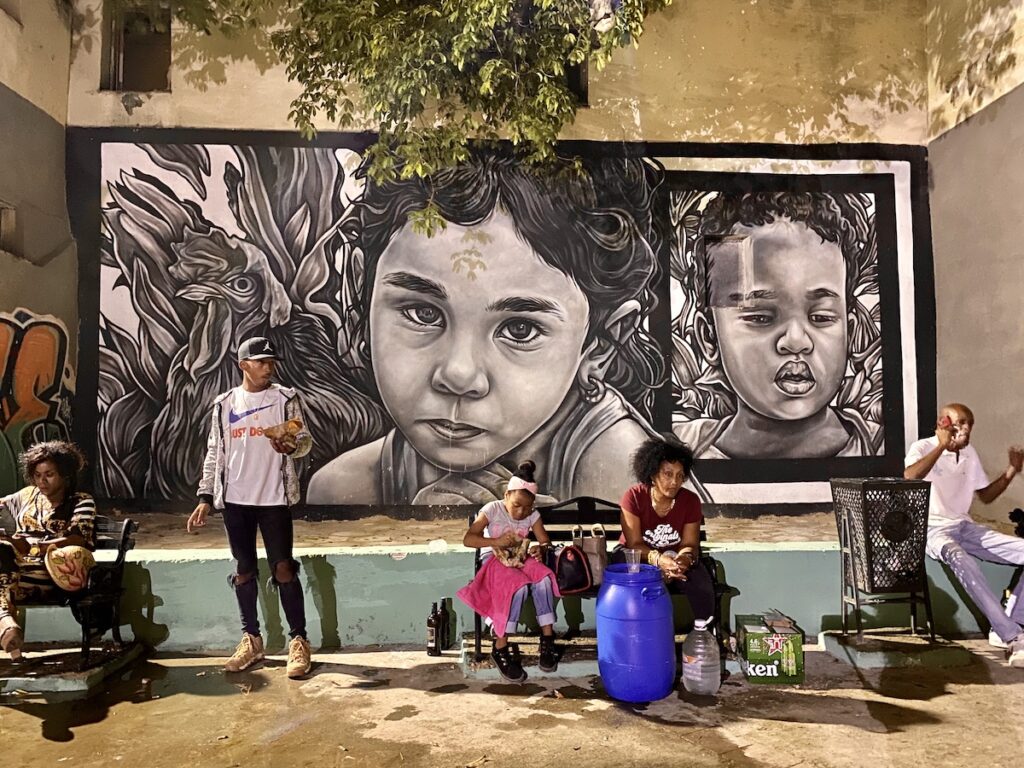 9. Taking in the Art Scene in Cuba: I'm not an art buff, but I found a new appreciation for art when I was in Cuba. We took an Art Walk Tour via Air B n B Experiences, where our guide took us around Old Havana and showed us a ton of wall art. She also took us to a gallery that became our fave – Galeria Cuba 822 – where we racked up on stunning portraits and other artwork.
What's on your 'can't miss' list in Cuba? Tell us in the comments!