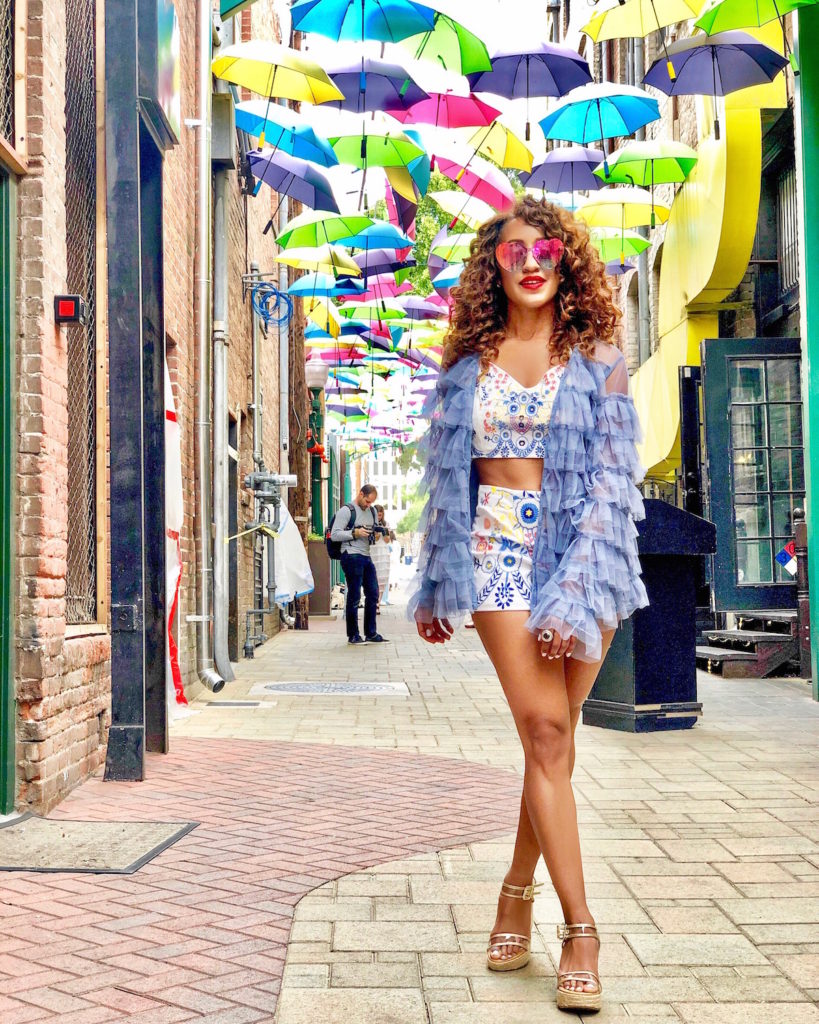 Coachella style isn't for the faint at heart. It's bold, eye-catching, sparkling, and full of fringe…and we can't get enough of it. This time around during weekend one, cowboy boots and lace up booties ruled, netted and fringe dresses reigned supreme, and shades – big and colorful and small and cat-eyed shielded the eyes of festival goers everywhere.
If you're trying to figure out what to wear to the fest this weekend, keep two things in mind: Go big or go home, and make sure your feet are comfortable. Block-heeled boots and booties and low wedges and block heels generally do the trick.
Take a peek at the trends you need to pack in your suitcase if you're heading to Coachella this weekend – and all festival season long.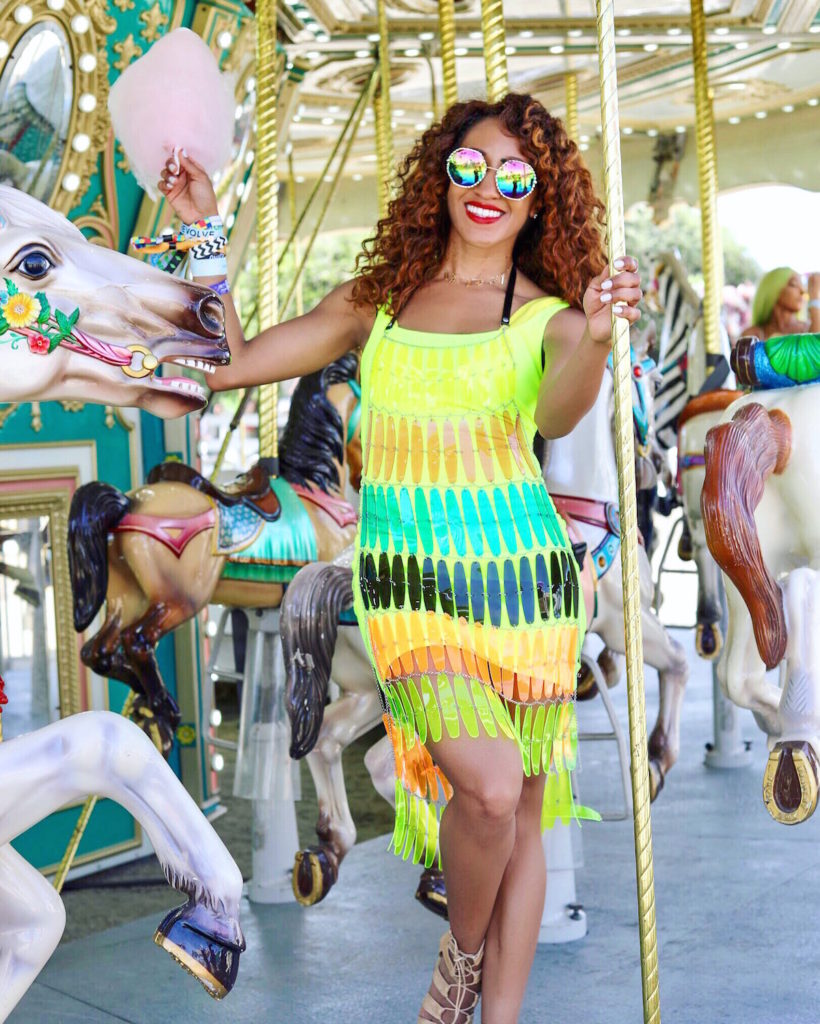 Photo By: Shelly Fleming
Neon: We were already smitten with neon for spring in general, but we saw it everywhere at Coachella too. Neon yellow was one of the top colors, as was hot pink and orange. I rocked a neon yellow Zara dress under a neon, multi-colored Top Shop acrylic dress to Revolve Festival, Bootsy Bellow McDonald's bash, Lucky Brand's Desert Jam and more.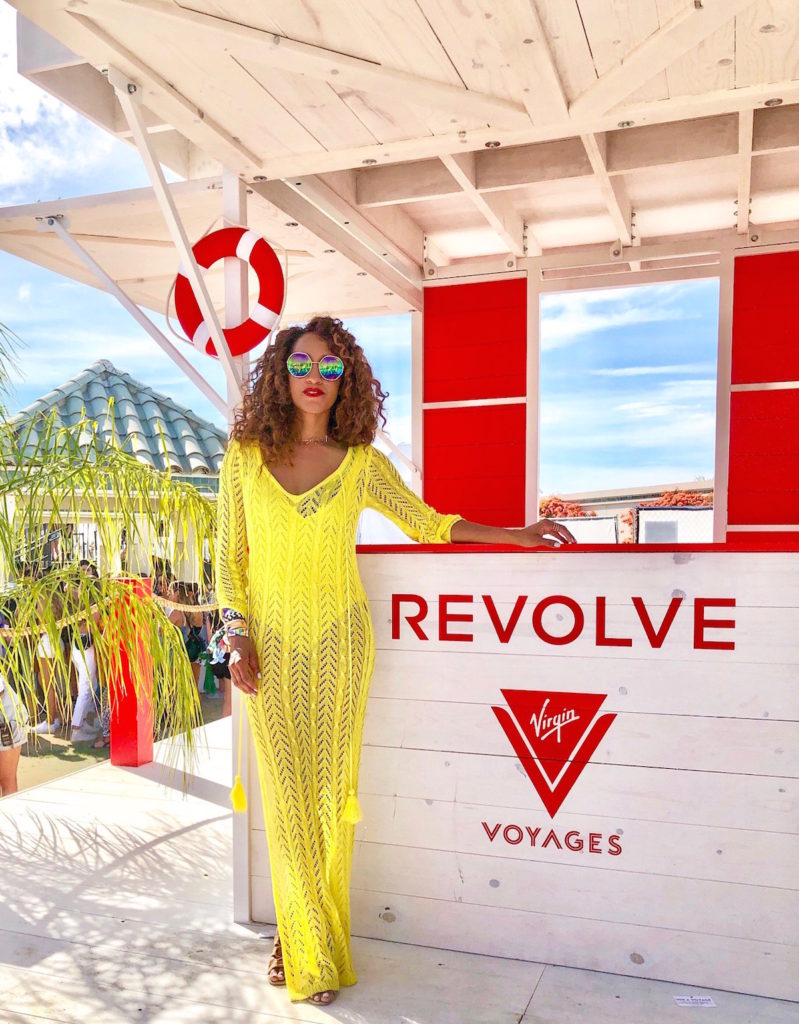 I also wore a neon yellow crochet Fashion Nova cover up over a yellow bodysuit to the Revolve Fest (on its second day – Sunday).  It's a great staple color to have in your suitcase (as is that acrylic dress), so make sure to pack neon crop tops and bodysuits, and funky plastic and acrylic looks you can throw over those items to spice up your outfits.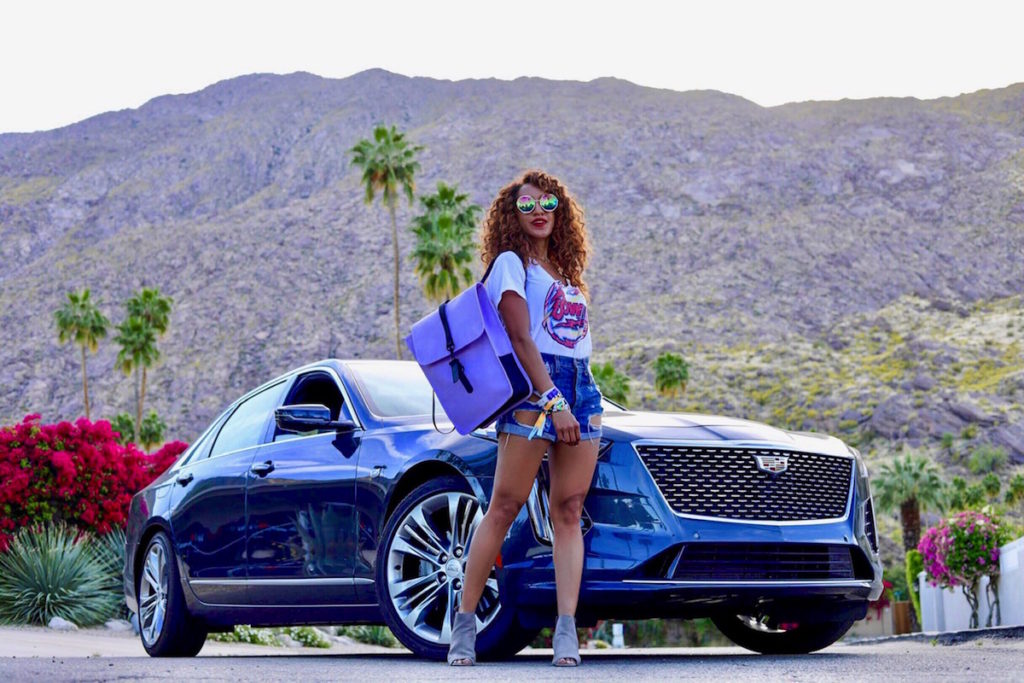 Photo By: Shelly Fleming
2. Denim: You can't go wrong with denim – and packing denim cutoff shorts in your bag is a must. We prefer cutoffs and distressed denim shorts with festival-ready embellishments like buckles and patterns, but don't leave home without at least one staple pair of distressed denim cutoffs with no designs at all. You'll be surprised how often it will come in handy.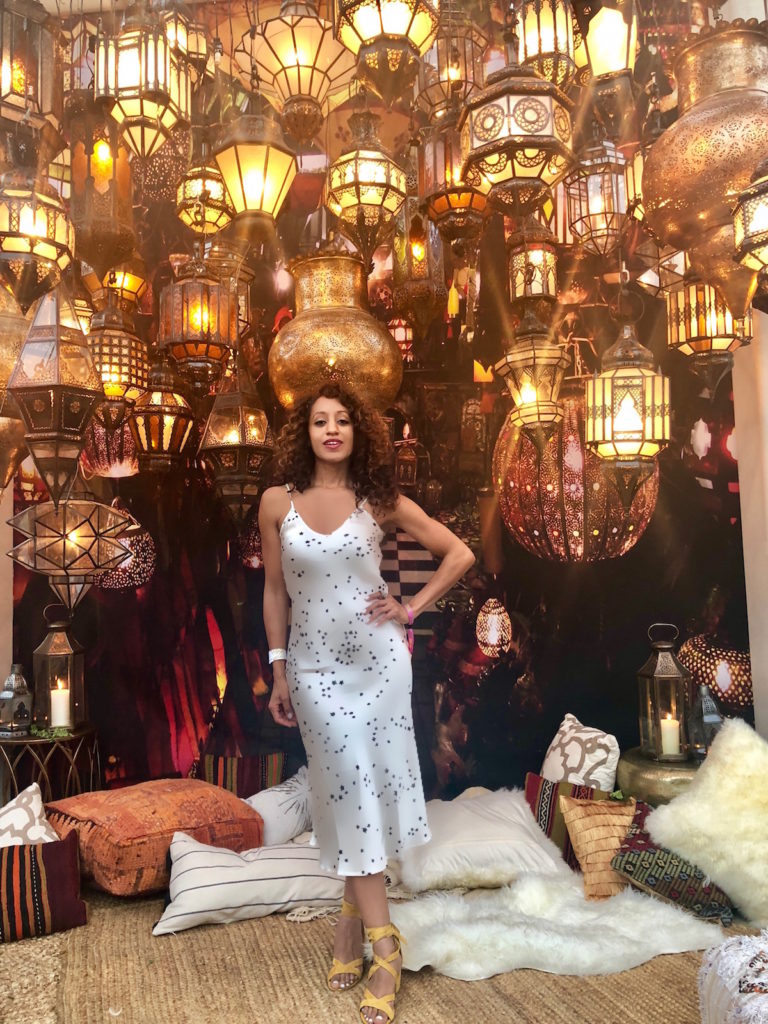 3. Silky Slip Dresses and Sundresses: The silky slip dress is one of our tried and true Coachella faves, and perfect to take from day to night. Go with slip dresses in bright and bold colors like yellow, orange, blue, purple and pink, and rock them with booties on and off the grounds of the fest, and with black heeled sandals to events. One of the dresses we wore last year to Zoeasis, for example, still works for this year's festival season too – an ivory star-covered Silk Laundry dress.
For sundresses, opt for floral and neon looks. We loved the off-the-shoulder Majorelle Collection dress Jasmine Tookes wore to Revolve Festival, for example.
4. Sequins: We'll admit that we love a good sequin moment, but sequins were everywhere around the fest this year. We couldn't resist packing Topshop's sparkly cape in our bags (we wore it to Zoeasis, and parties that followed including Tao x Revolve and Nylon's party).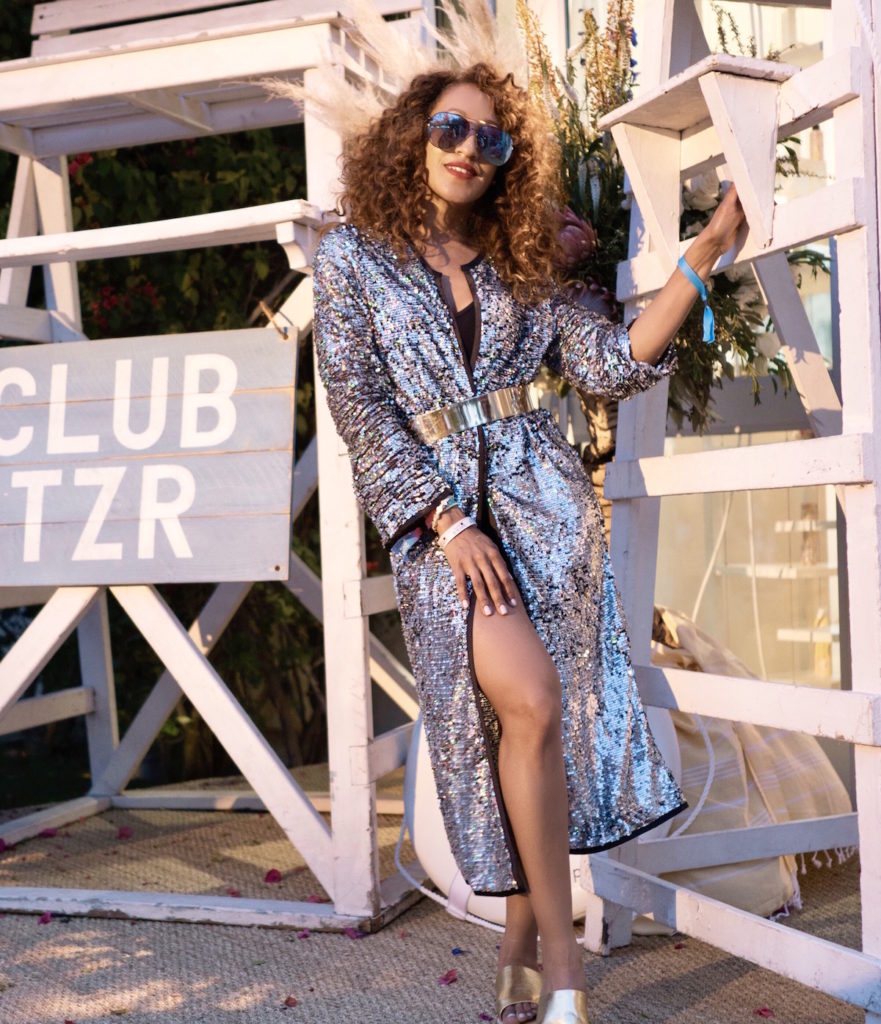 Photo By: Shelly Fleming
Get creative with this trend and rock a sequin pouch over cutoffs with a neon bodysuit and booties, or throw a sequin cape over a bodysuit or a slinky slip dress for nighttime bashes. We also loved the bright gold sequined Molly Bracken fringed bag we rocked during the McCord List x WWD Magic road trip, and this hot pink sequin Pretty Little Thing outfit Mariama Diallo wore to the fest.
5. Western Vibes, Suede, and Fringe: There were a ton of western style festival vibes around the events of the fest with festival goers rocking cowboy hats, ankle and tall cowboy boots, fringe suede dresses, and fringe faux leather waist belts paired with black crop tops and black distressed shorts. Two of our fave boots for festival season? The Schutz Maryana boot. We. die. And also Old Gringo Pandora fringe booties.
6. Florals: Florals were a big trend that we saw around some of the most stylish and whimsical events at the bash, like Rachel Zoe's Zoeasis and Revolve Festival. Short candy-colored flowy floral dresses, as well as crop tops paired with matching pants and shorts were all the rage. I wore the trend during the McCord List and WWD Magic Road Trip, rocking a matching Molly Bracken floral crop top with shorts and a Molly Bracken tiered lavender jacket over it with gold and clear BC Footwear wedges.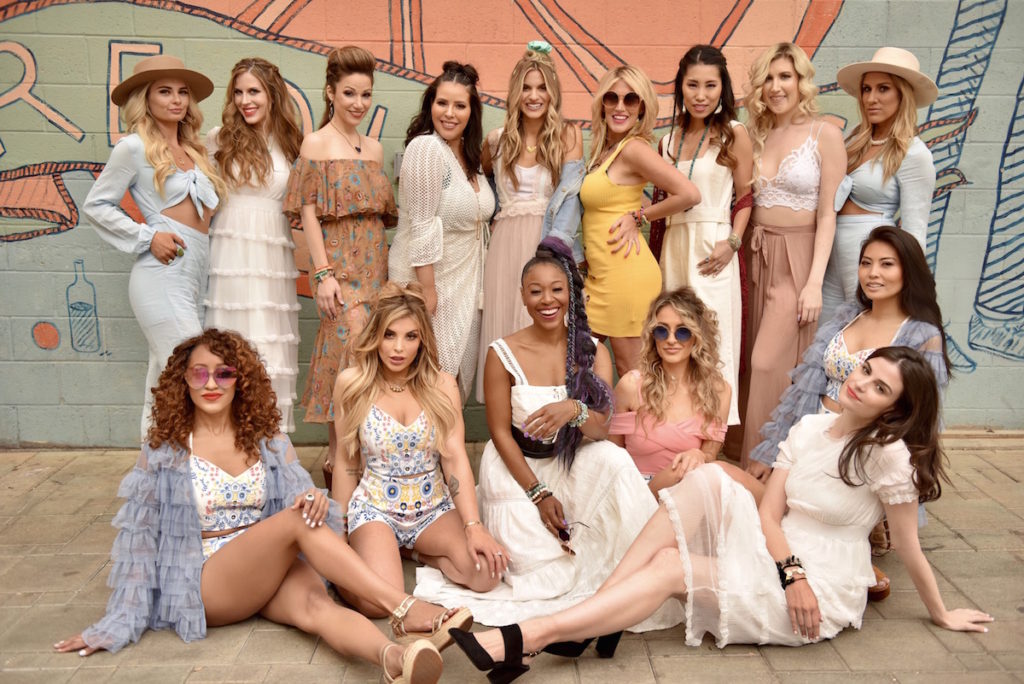 Photo Credit: Malachi Barnes/The McCord List
7. Matchy, Matchy: Matching sets also was one of the top things we saw – and loved – around the events of the festival. Crop tops with front ties and matching shorts or light pants were some of our faves, as well as neon matching set like this LPA set Camila Coelho wore to the Revolve Festival.
8. Netted Dresses and Skirts: This was huge at the fest too. We kept seeing ladies rocking black netted skirts covered in rhinestones over boy shorts and swimsuit bottoms, and netted dresses of all colors paired with matching biker shorts and crop top combos. Take a look at Madison Grace and Victoria Justice's netted looks for inspo.
9. Metallic, Sequined Pouches & Bags, and Totes: Throw a pouch in your bag for the fest, which makes it easy to carry around your essentials and not worry about your bag while you're partying the day and night away. We loved these festival-ready pouches, which event hoppers wore either around their waist or strapped across their chests (a trend we've been seeing for months). For our road trip back, we rocked the Rains lavender drawstring backpack (pictured above) and toted our Rains olive backpack mini around the fest too.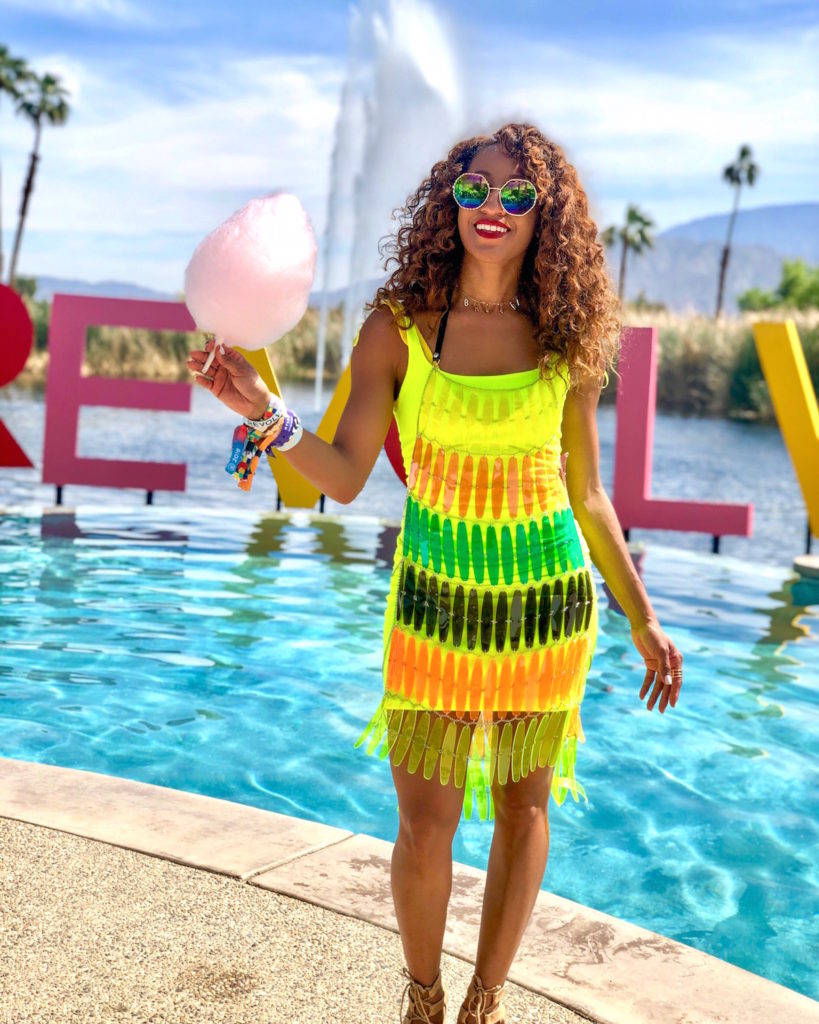 10. Festival-Ready Statement Shades: There were so many statement-making shades that we fell in love with this year. When you're choosing shades for the fest, go big and bold with festival-ready looks like DIFF eyewear's  heart-shaped Rio shades or Quay's round multi-colored sunglasses, or go small and sultry with cat-eyed looks like these Prive Reveaux white shades we picked up at Interscope's Sunday Coachella party in Palm Springs.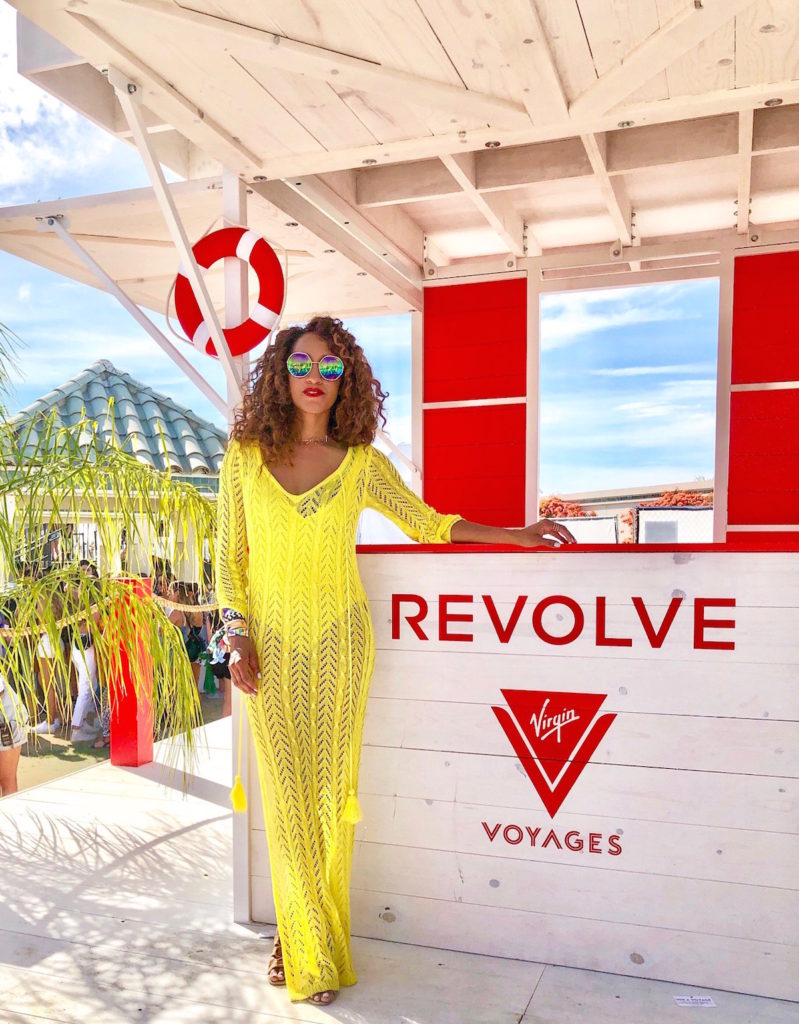 11. Cut-Out Swimsuits: It's burning hot and it's the desert, so packing a swimsuit during festival season is a must. Cutout one-piece swimsuits were one of the top trends – and the most versatile. You can throw it on under netted looks or distressed denim shorts, and take it off when you're ready to jump into the pool. Still, the sky is the limit with swimsuits for the fest. If you want to stay on trend though, go with animal print and neon bikinis or cut-out one-piece suits.
Happy stylish festival hopping, Destination Fabbers! Shop some of our favorite looks below.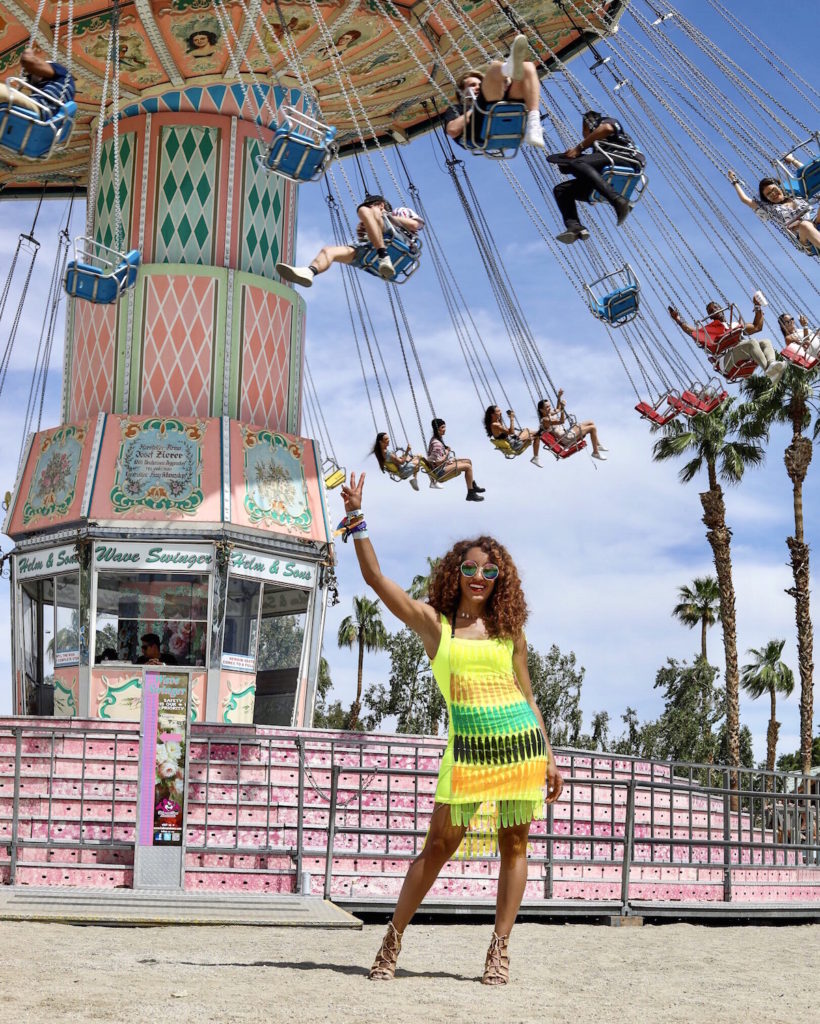 Photo by: Shelly Fleming