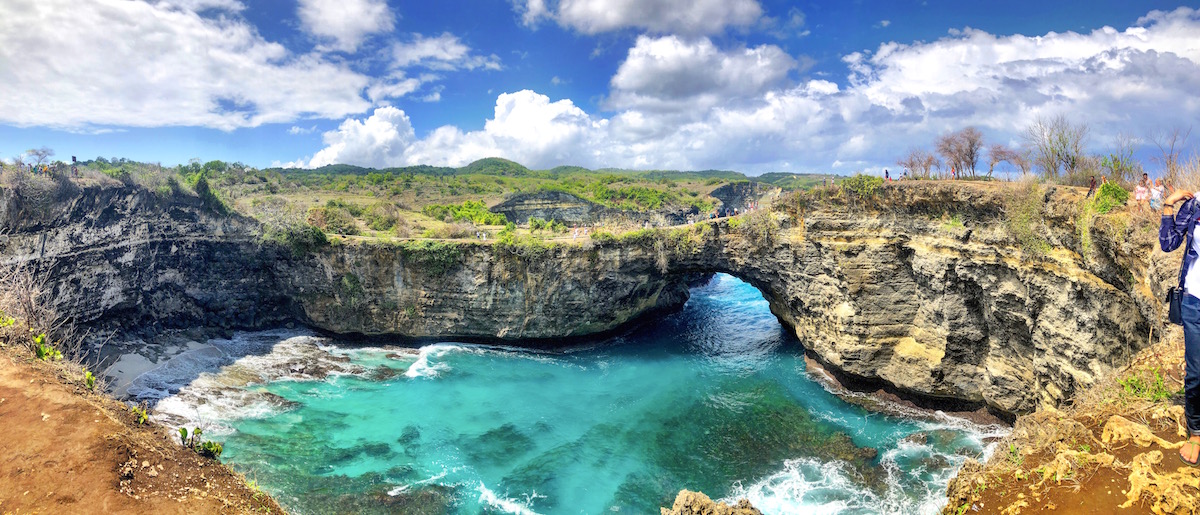 It appeared like an oasis as we rode under rows of palm trees…Crystal Bay Beach. The water sparkled, food huts were sprinkled on the shore…we skipped along the sand and soaked up the sun before it cascaded in the sky and transformed our snaps into silhouettes.
Nusa Penida Island is a magical place, and just about every part of it will leave you awestruck. It's just that breathtaking. So, when you visit Ubud, don't miss the island that's just a 30-minute boat ride away from Sanur Harbor and geared toward the adventurous traveler. Crystal Bay is only one part of it.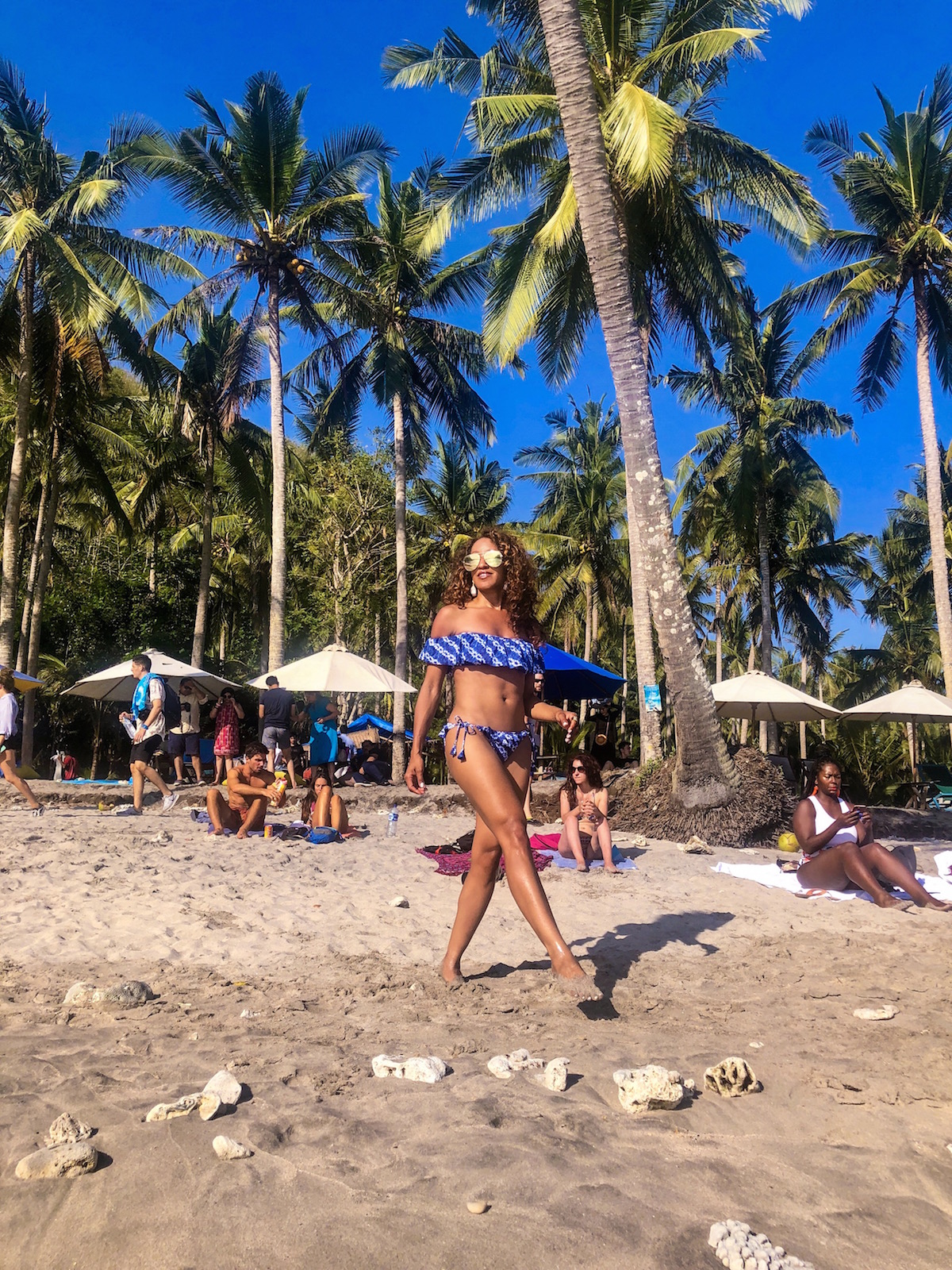 So, how do you get there – and What should you do when you arrive? We're breaking down everything you need to know about Nusa Penida to make the most of your time on the island during a day trip.
How to get there: You'll have to take a boat from Sanur Harbor (about a 20 minute drive from Ubud) – and there's no getting around it. Unless you are very adventurous, take a tour there (it's about $50 -$120 USD per person for a 1-day tour depending on the tour) and make sure that tour includes a driver to take you around. Why? It's a bit overwhelming to get around on your own. The roads are narrow and full of potholes – so narrow that our driver's car was hit a couple of times and drivers had to pull near the sides of the road so that others could get by. it's easy to get hurt if you ride around the area yourself on a scooter or ATV.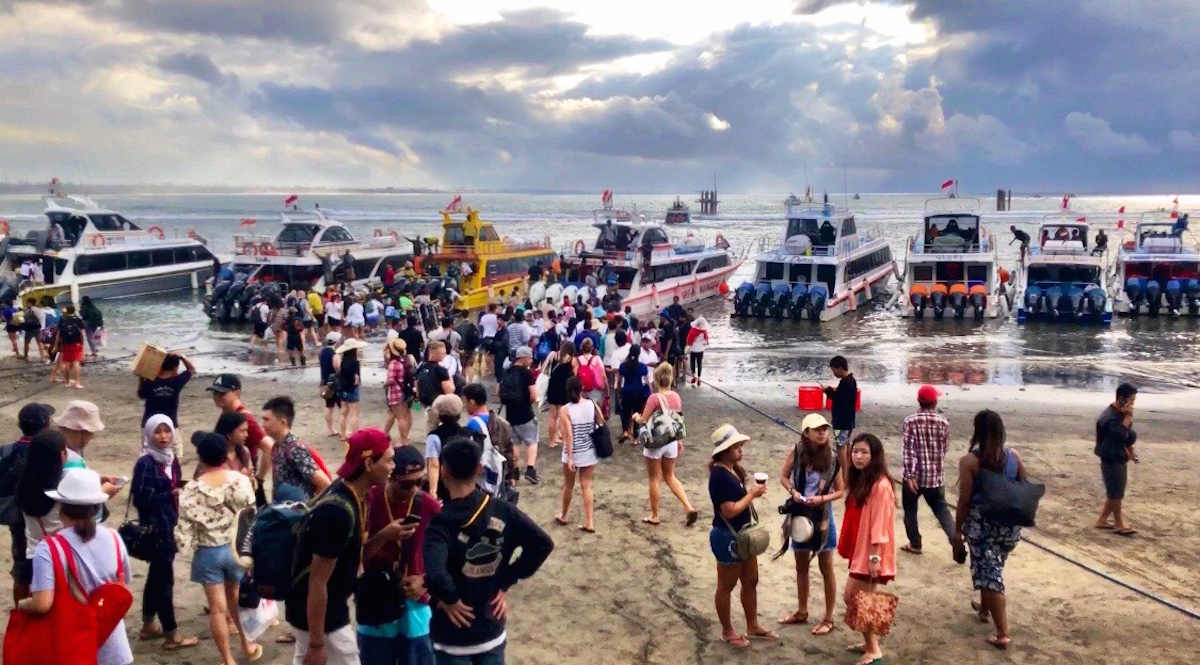 We recommend taking this Nusa Penida Day Tour, which you can book, here. For $95 pp, you'll spend the day on Nusa Penida Beach like we did. It's 10 hours long, and offers hotel pick up and drop off. You'll take a fast boat from Sanur Harbor (we did the same) and your guide will meet you at the harbor when you arrive. The person will be holding up a sign with your name on it – but there are a lot of guides doing the same. Take your time and scan the signs to find your name.
From there, you'll visit Kelingking Beach, Broken Beach, Angel's Billabong, and Crystal Bay (details about all those beaches are below). You'll take a boat back at sunset to Sanur, and whatever you do – try not to sit on the top dock of the boat. We made that mistake as we tried to fully enjoy the stunning sunset…and got soaked with freezing cold water from waves crashing on the boat the whole way back. It was not fun.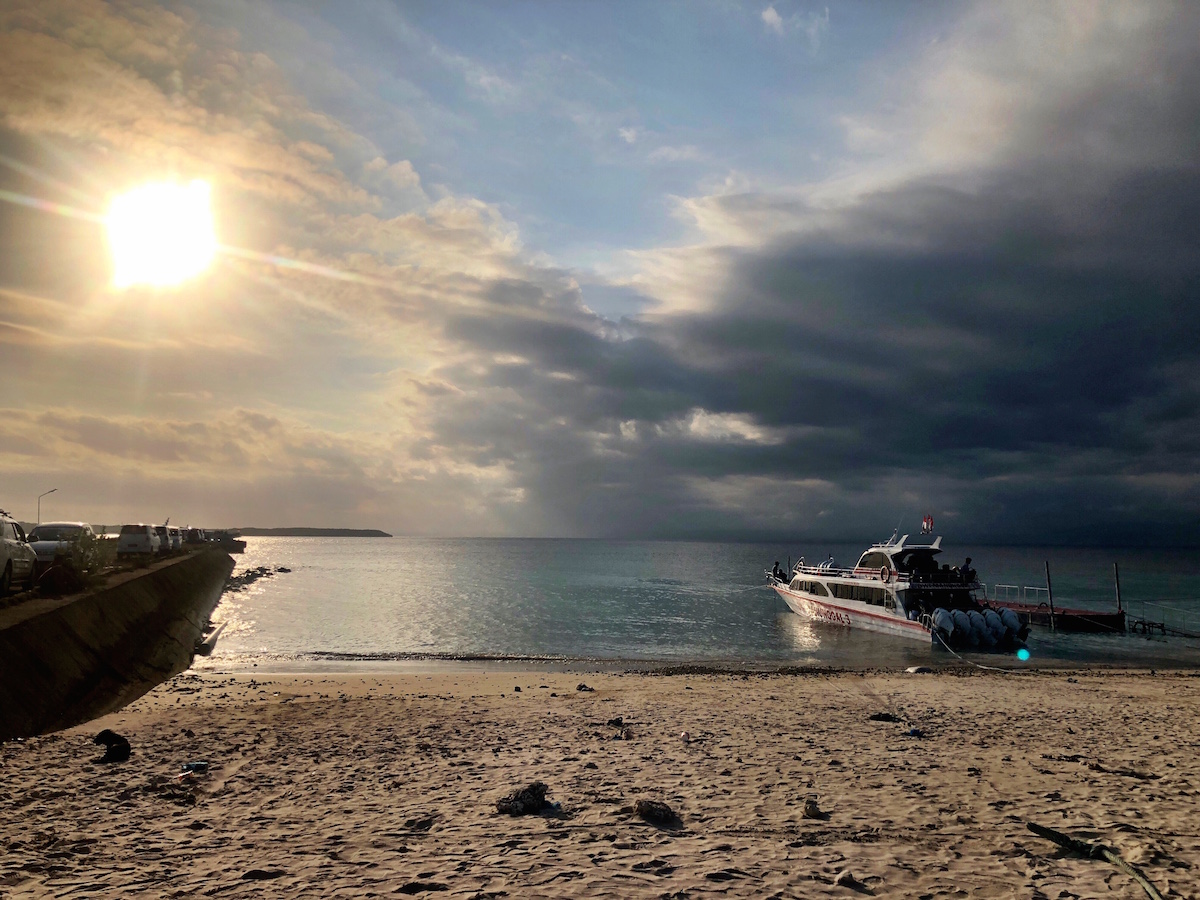 FAB Tip: You have to walk into the ocean to get into the boat and it's not ankle-deep water. We trudged through murky, chilly waters that came up past our knees as we were walking to it, so it's easy for your clothes got wet. Because of that, it's a good idea to wear your bathing suit under your clothes and a lightweight cover-up or shorts that you can hike up as you go into the water. Also, bring swim shoes. The sand is rocky and your feet can get cut or bruised walking along the ocean floor. Those swim shoes will also come in handy as you make your way around the island.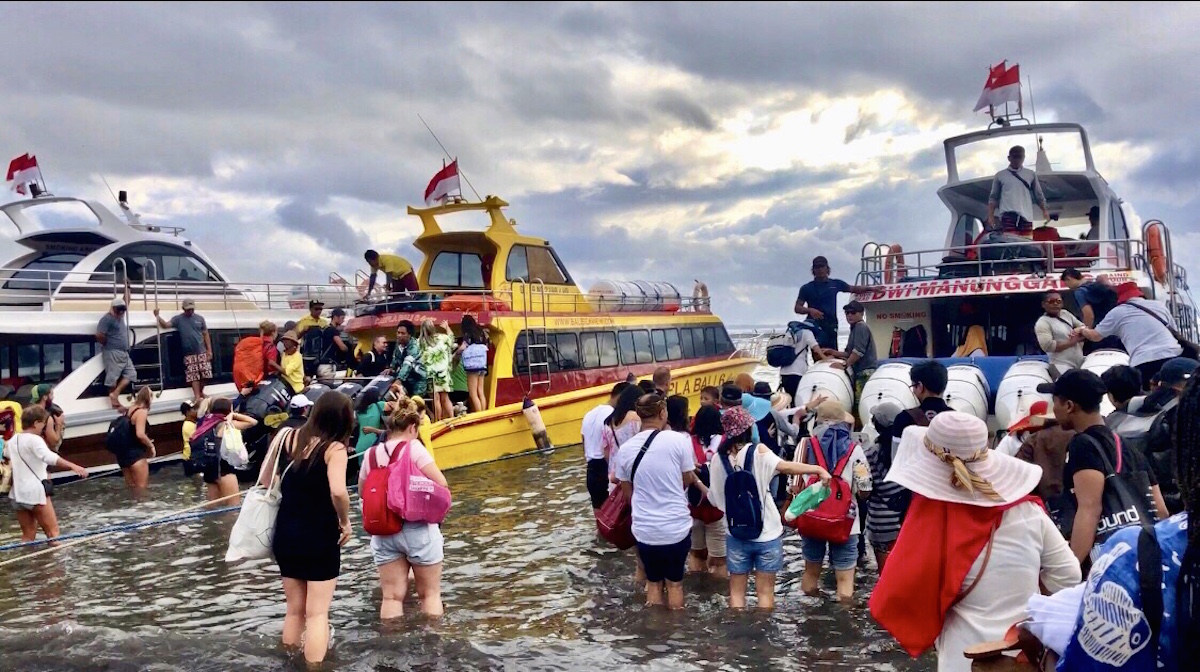 The tour above doesn't include snorkeling, so if you'd like to embark on an adventurous day of snorkeling instead, take this day trip snorkeling tour to Nusa Penida, where you'll swim with Manta Rays at the famous Manta Bay, and also snorkel in Crystal Bay and Mangrove Point. It also comes with a beachside lunch. You can book the tour for $80 here.
The Nusa Penida Spots You Can't Miss:
1. Kelingking Beach: This is a hidden beach in the village of Karang Dawa, Bunga Mekar, on the southwestern coast of the island (about 30 minutes from the harbor). It's famous for its cliffs, which sit in the Indian Ocean, and mirror the image of a the head of a Tyrannosaurus Rex. It is stunning – and if you can make it down the narrow path to its white sandy beach and turquoise waters, you're in for a treat.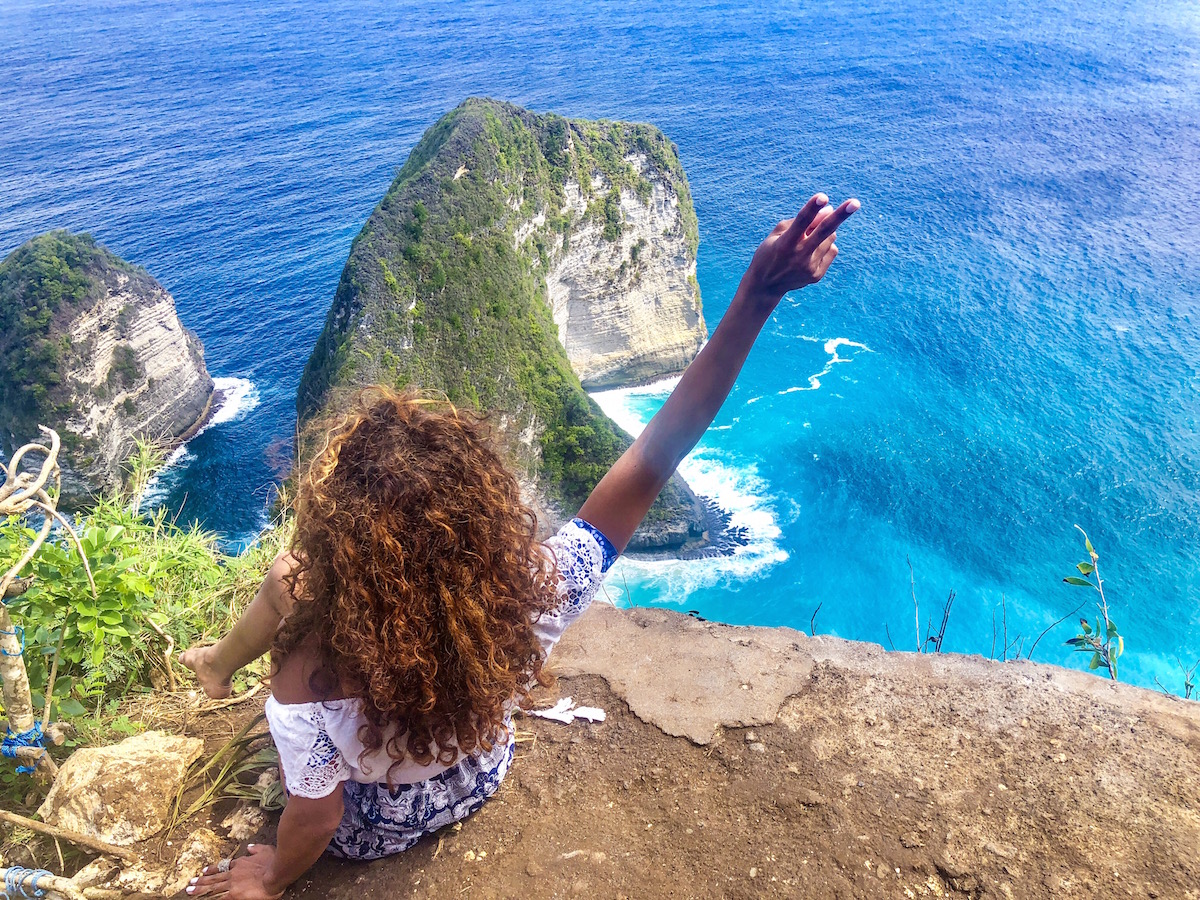 FAB TIPS: There is one main photo opp point at the beach that best captures the cliffs and the beach, and it's near the top of the hill as you walk down. It's important to be careful if you dangle your legs over the cliff for a snap here because there is no railing. One missed step could send you right over the edge. It's not hard to do. Just be careful.
If you want to walk down to the beach, you have to be even more careful. It's a long hike down a narrow path and the bamboo railing that serves as a barrier between you and the edge of the cliff, disappears at times. This is doable, but be very careful. Taking in the view and not watching where you're going can have you walking right off the edge and down hundreds of feet onto the rocks.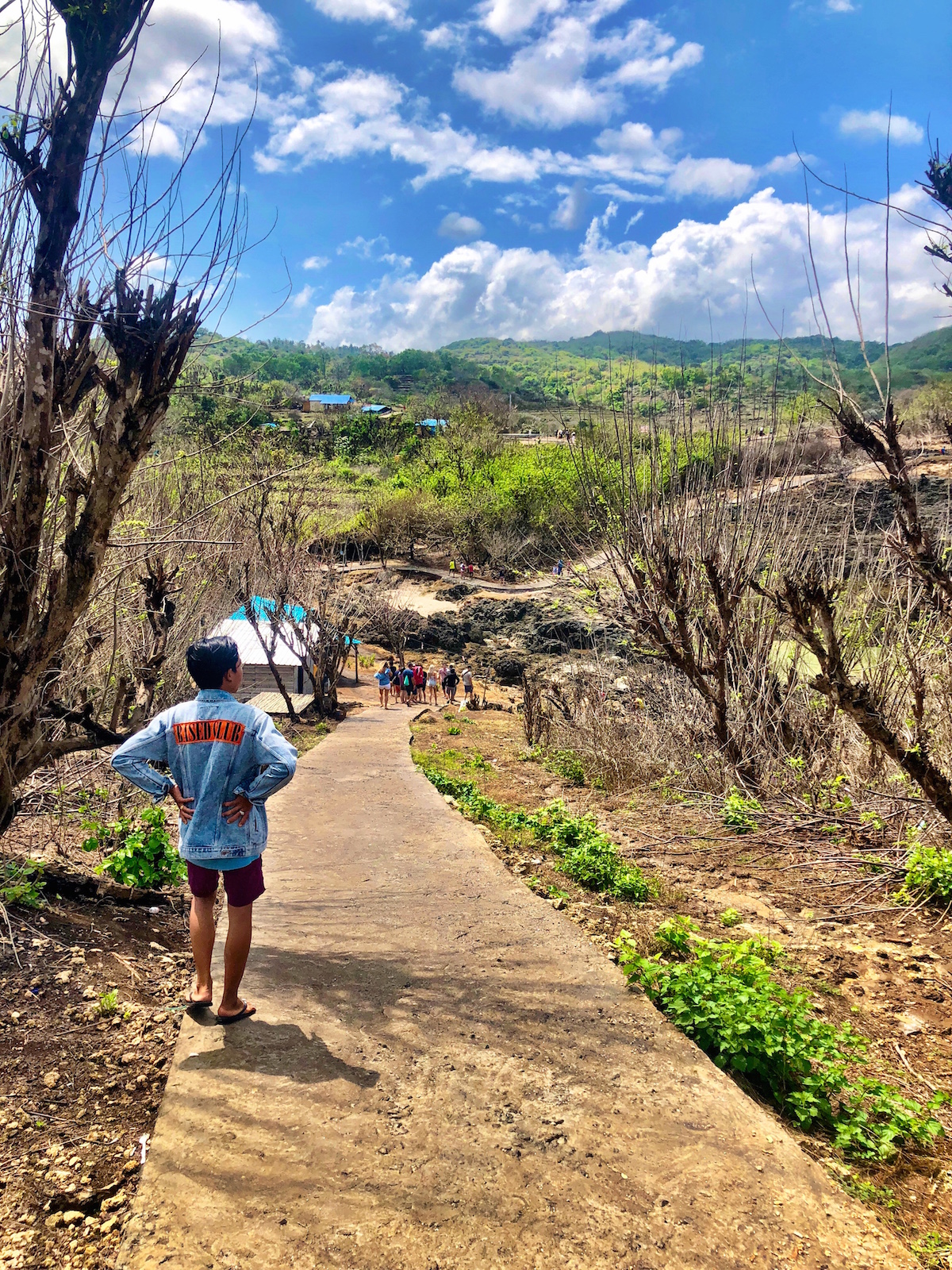 2. Angel's Billabong:  After you walk down a hill from the parking area, you'll reach Angel's Billabong – limestone cliffs that provide picturesque panoramic views of the ocean and have a natural infinity pool in the middle of it. There are signs that will guide (and warn) you to watch your step, but be careful not to go to close to the edges of the cliffs. The rocks are wet and slippery and it's easy to fall.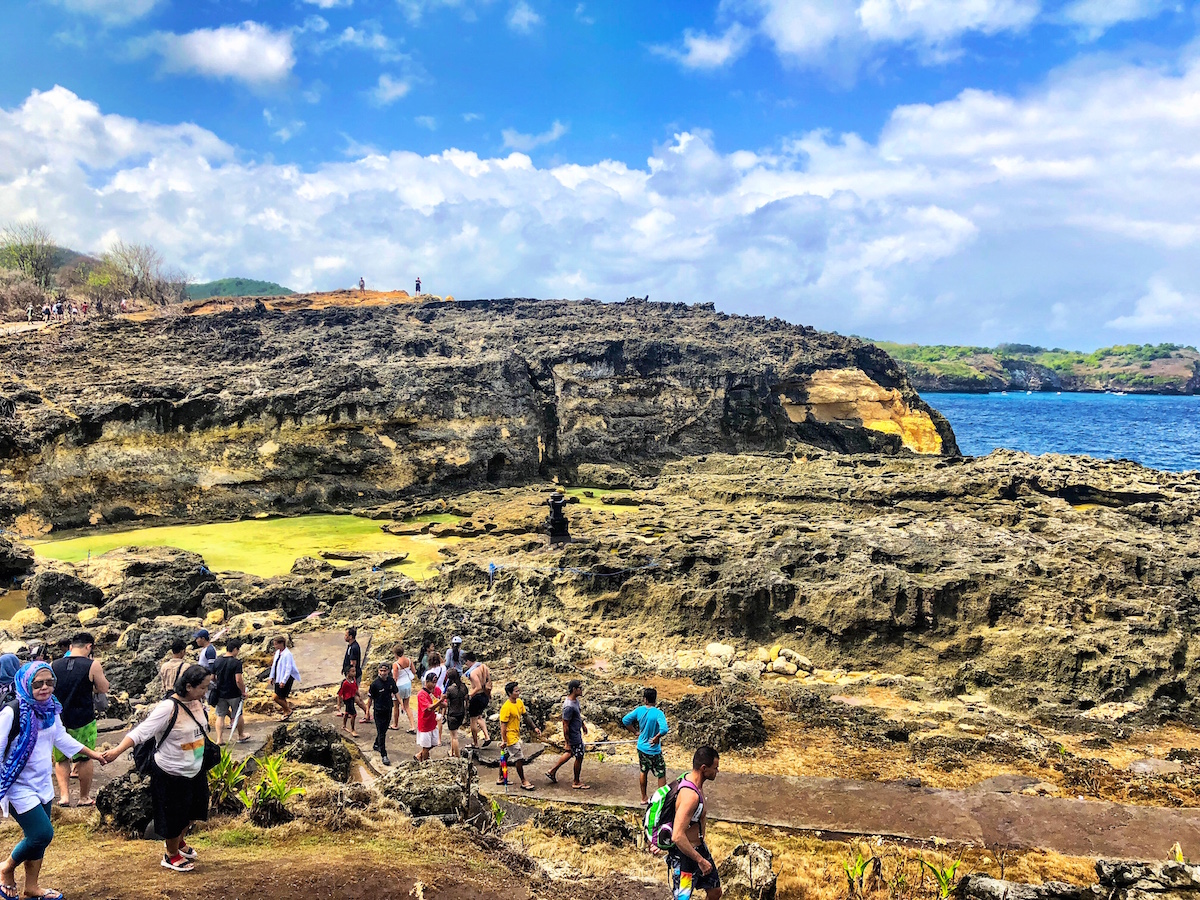 There were signs that warned not to get into the tide pool the day that we visited it, but there are daring visitors that do on other days. If you do, be very careful and don't go near the edge. A rogue wave can rush up and suck swimmers away or throw them onto the rocks. It is easy to get very hurt if you dare to try it.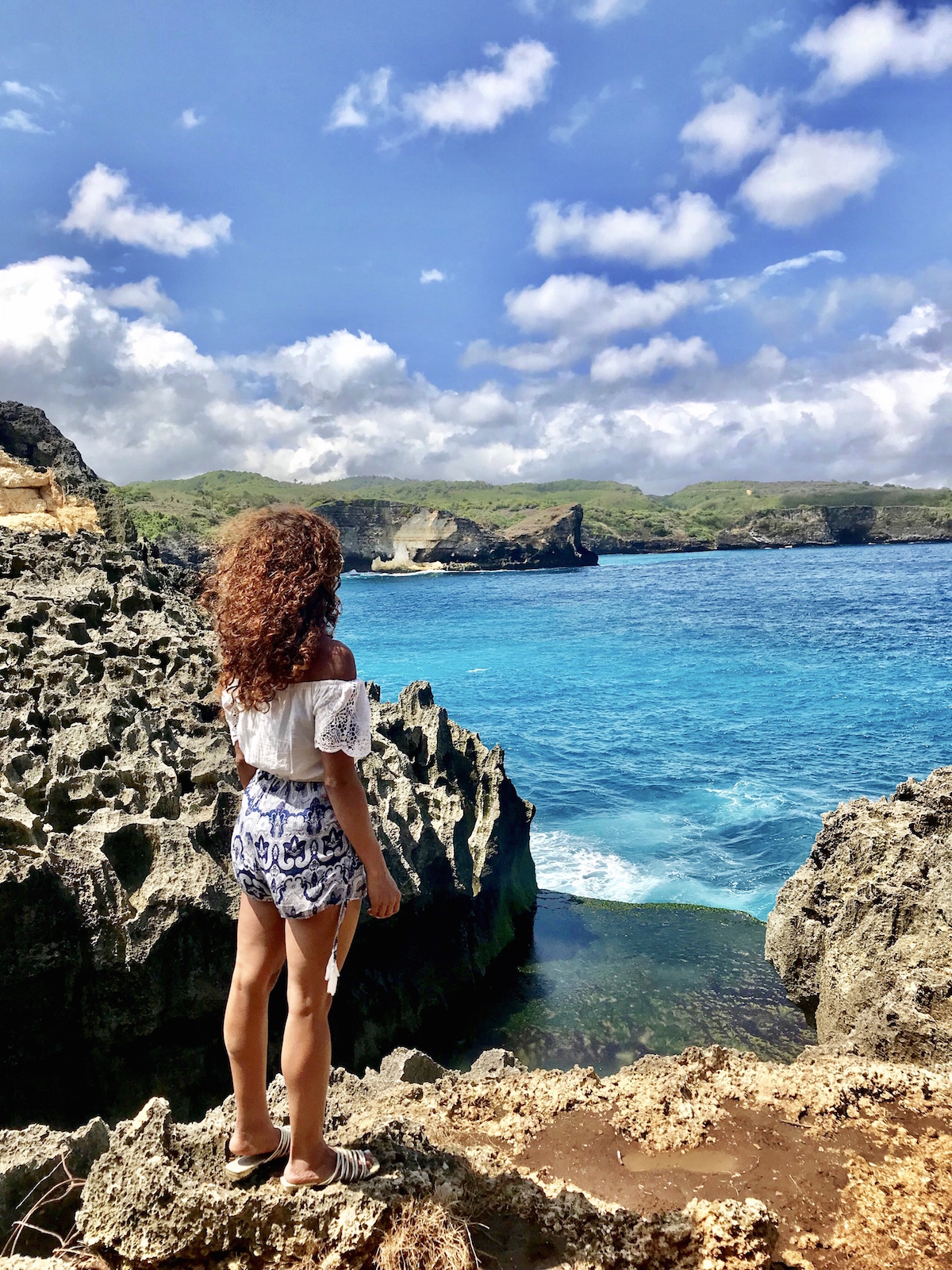 3. Broken Beach: First things first, Broken Beach is not an actual beach, but it is breathtaking. It was the second stop on our Nusa Penida beach tour, and an amazing way to kick things off. It's a short walk up a hill from Broken Beach and is a spectacular sight.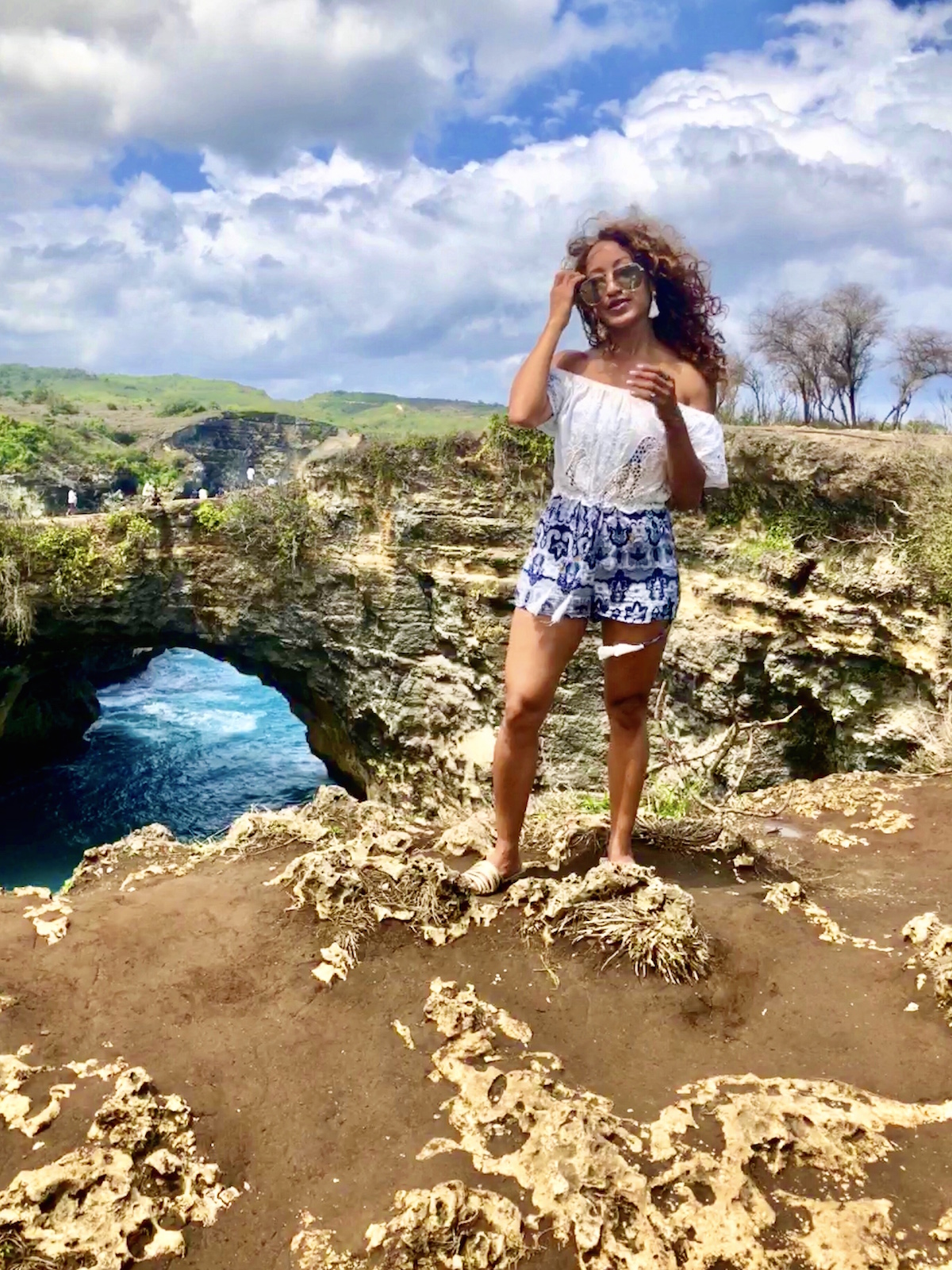 Cliffs form a giant archway and there is a pool of water flowing underneath it. While you're not allowed to venture down to the beach, the views from the top are unforgettable. If you're lucky, you might even be able to see the giant manta rays that swim below.
4. Crystal Bay: If you are going to spend the most time at any beach on Nusa Penida, make it this one. After going to beach after beach where we couldn't get into the water on a hot day, it felt like bliss as we approached the palm tree-lined Crystal Bay and we could actually take a dip. It's truly like an oasis – and a totally different vibe than the other beaches we went to. This was also the last stop on our tour.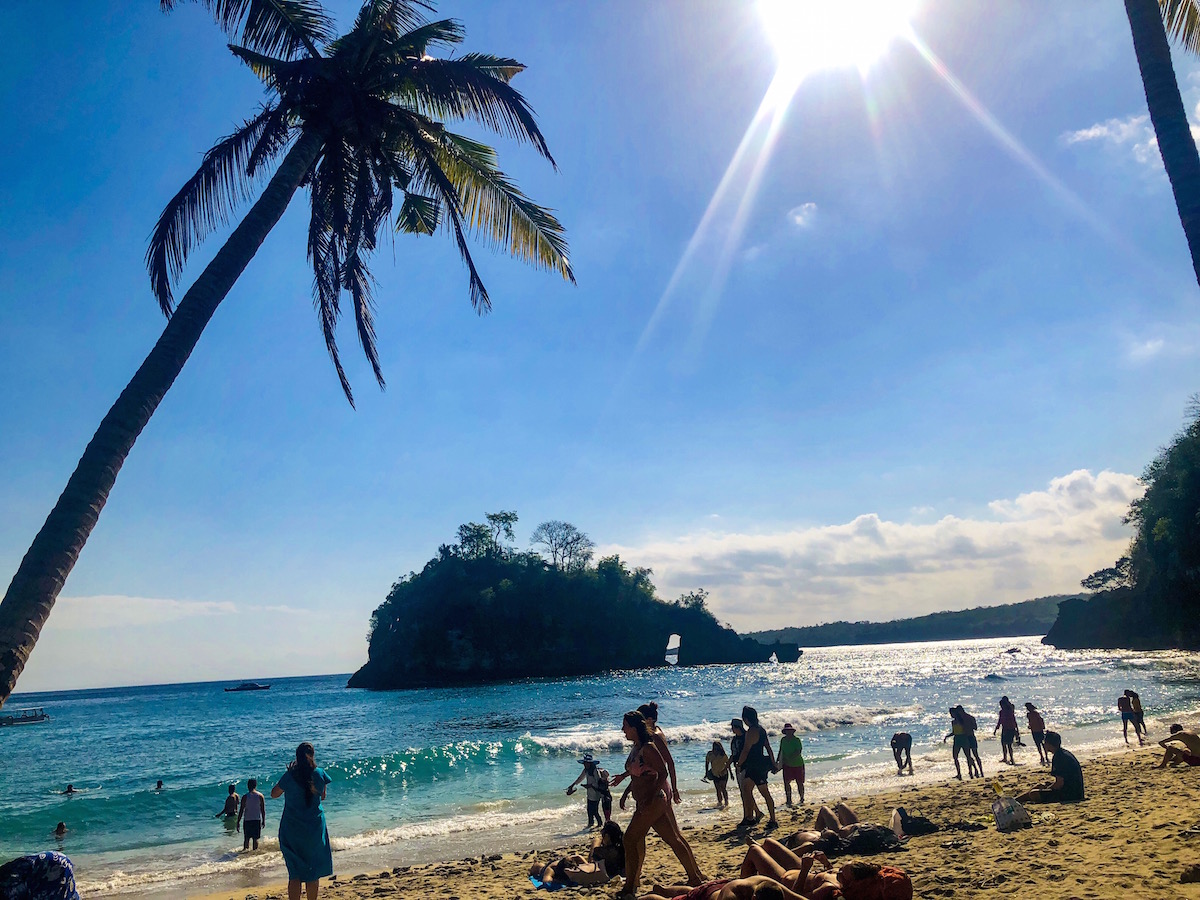 You can grab a cocktail or some grub from the food huts that are sprinkled along the shore, take it to your blanket, kick back, and relax under palm trees. The water was chilly, but it was so hot outside that it felt good.
FAB TIP: Wear swim shoes in the water. There are rocks along the ocean floor and it can be painful if you step on them in the wrong way.