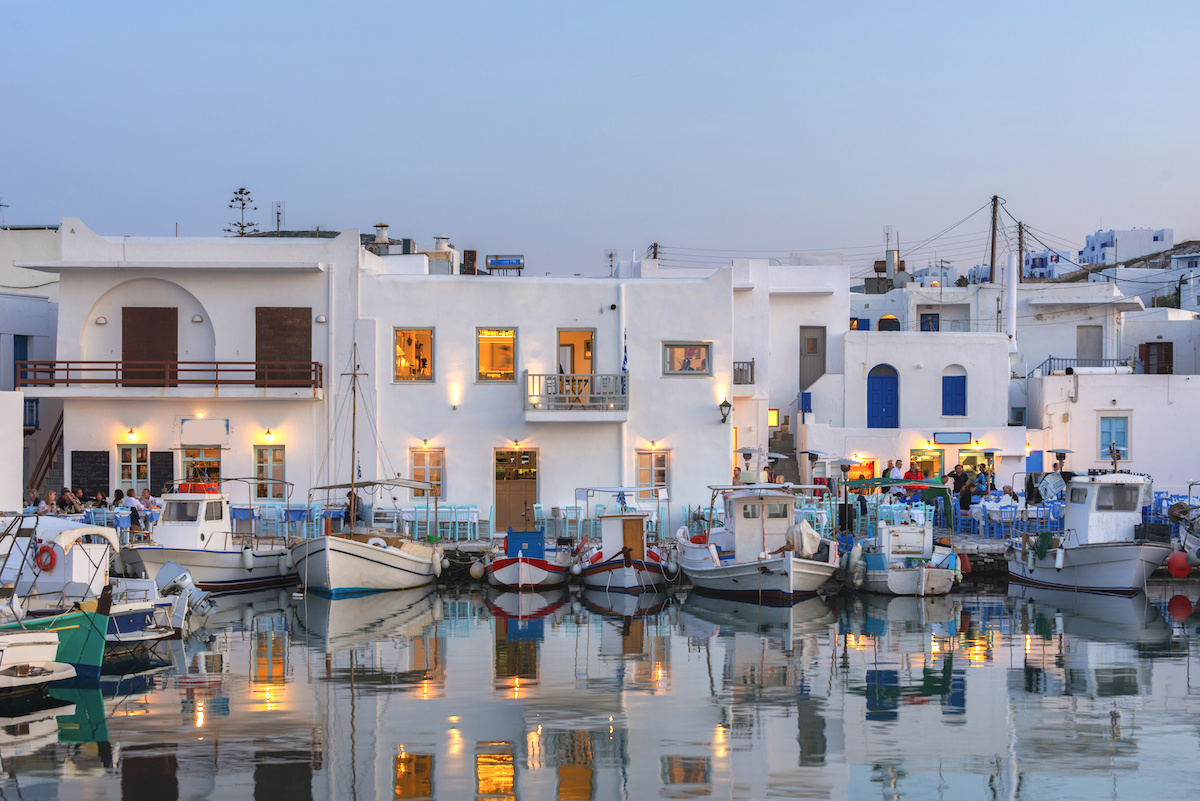 There are so many beautiful islands in Greece that it can be tough to know which ones to visit, unless you are spending a couple of months in the country. If you have a couple of days to spare after taking in Santorini and Mykonos though, we recommend checking out Paros.
Located in the Cyclades, Paros is easy to get to from Santorini or Mykonos (it's about a 2-hour ferry ride from both islands) and offered a more rustic, untouched side of Greece that we hadn't experienced during our trip.
From shopping and grabbing cocktails in Parikia to bar hopping in Naousa and spending the day at Santa Maria Beach, here's our breakdown of the 5 hotspots you can't miss while you're on the island.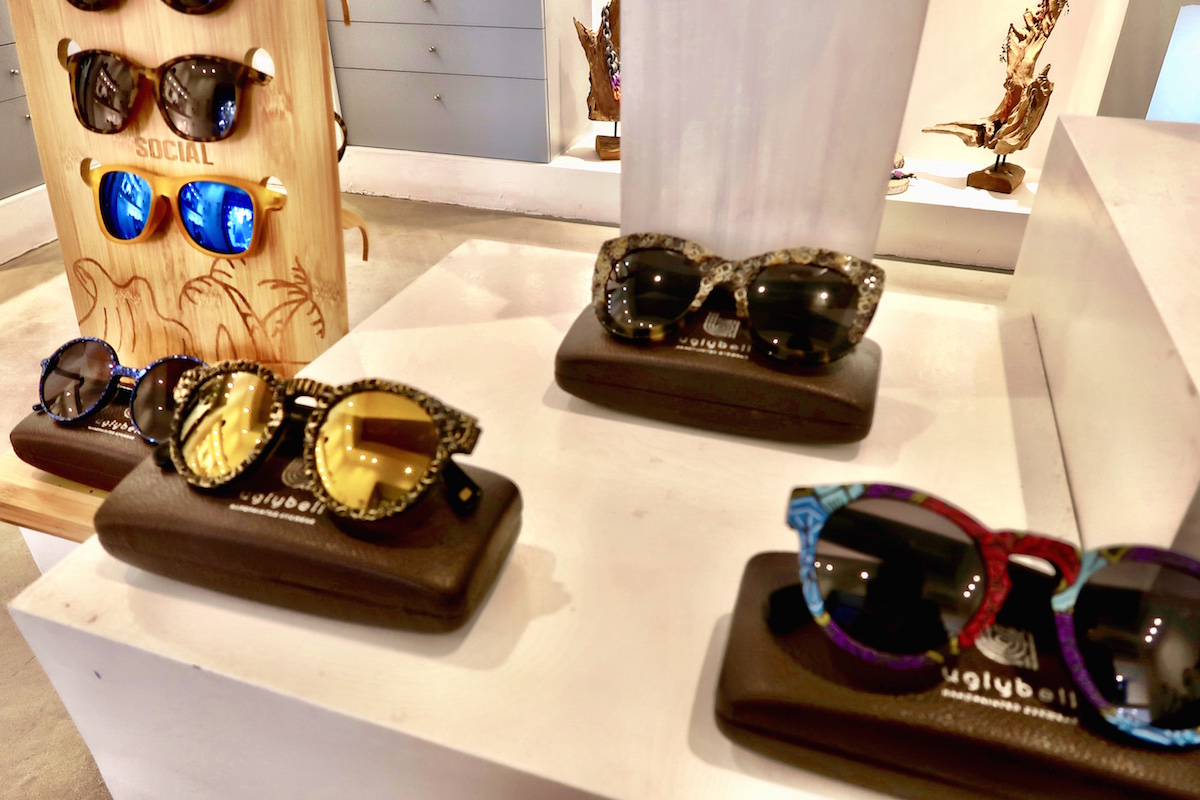 1. Hang out in Parikia:
Shop 'til you drop: Parikia had what we couldn't find while we were shopping around Mykonos – trendy, affordable pieces that we couldn't resist scooping up. As we popped into the boutiques that line the alleys of Parikia, I found the best pair of unique staple denim shades at Actus Contemporary Jewellry (they had so many amazing accessories) and a white sheer swimsuit cover up in another boutique right across from it.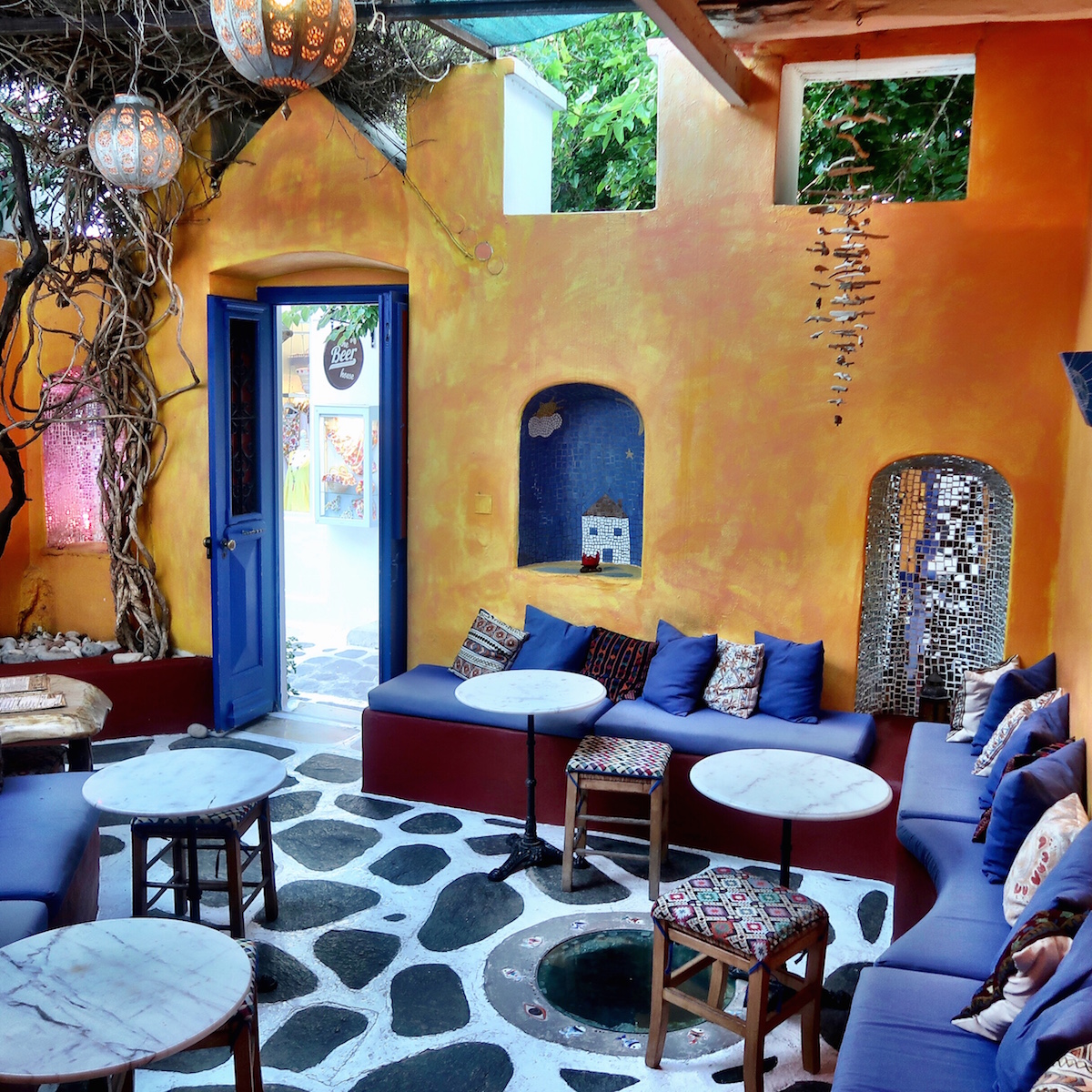 Kick back with a Cocktail: When you're ready for a drink, head to Sativa Music Bar for happy hour for a laid back, boho vibe, and enjoy the palomas, inventive Moscow Mules, the rum-infused Zombie cocktails, and more on the plush lounge seating. There's even a rooftop that's perfect for toasts at sunset.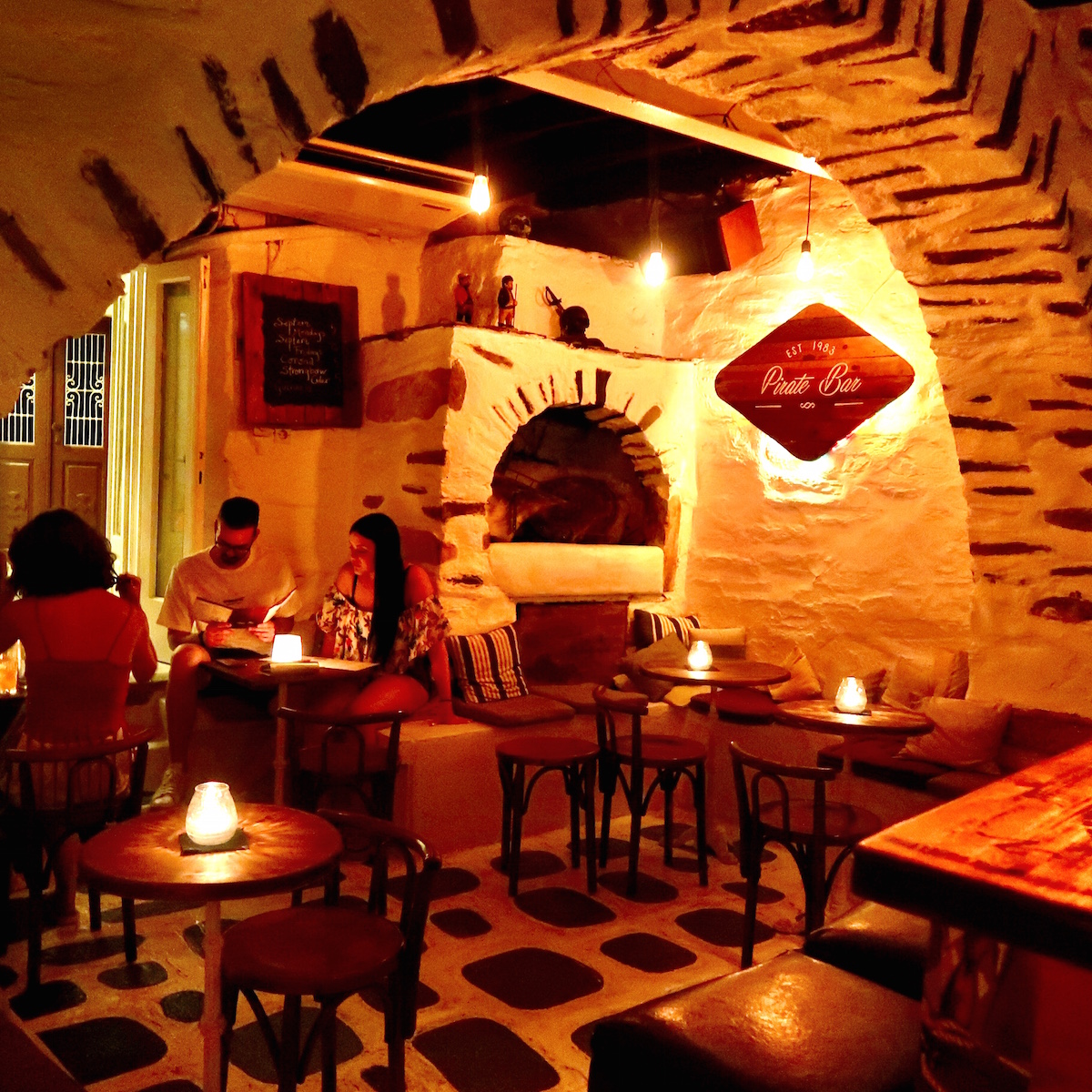 When night falls, go to Pirate's Bar. It's a hidden find in the alleyways of Parikia, but worth the not-so-long walk. It's sultry and low lit, with tables topped with the soft glow of candlelight. As you order your cocktails from the extensive drink menu, they'll serve you homemade chips (so. good.). The cocktails here were our fave in the city.
Grab a bite: We loved the bruschetta at Happy Cow and our pasta was delicious too. Head there or to Levantis and munch on the grilled octopus salad.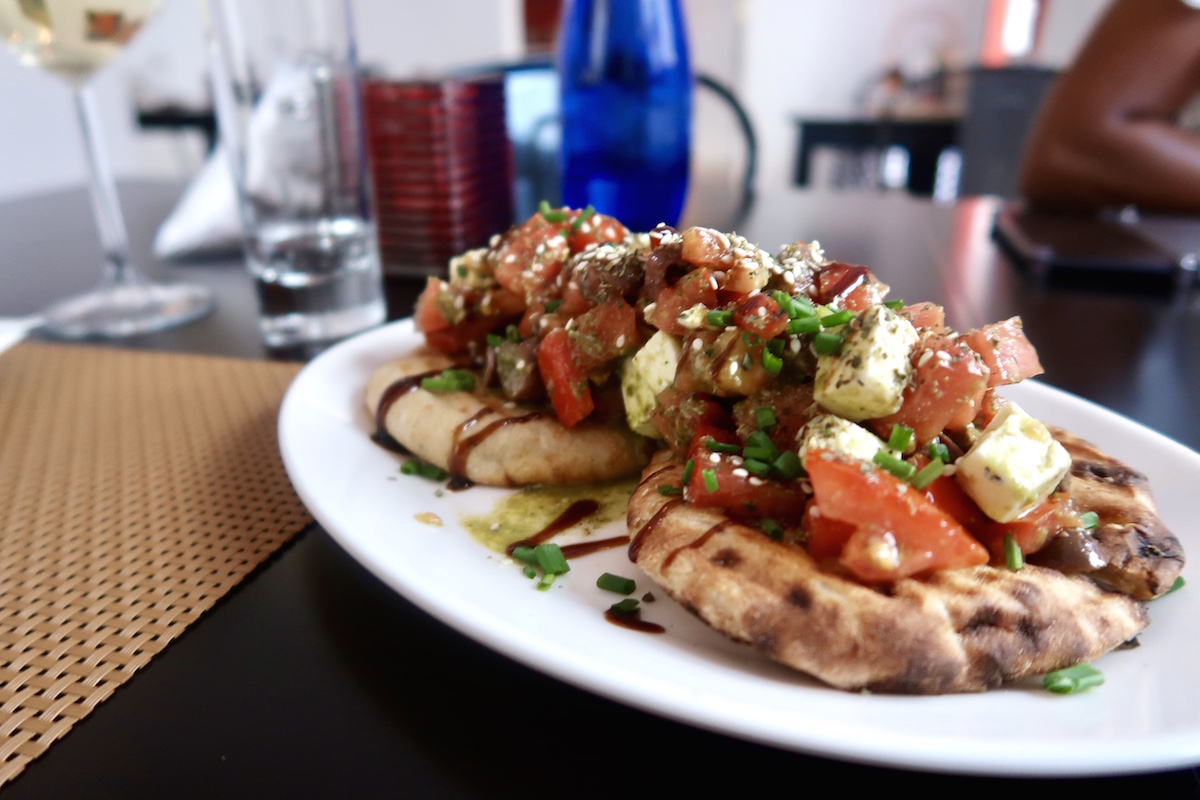 2. Venture to Naoussa:
Spend a night there: If you stay in Parikia (we recommend grabbing a hotel or Air B&B in Naoussa – we'll get more into that in our Paros lodging guide), Naoussa is only about a 20- minute ride by bus. It was scorching hot during the day, so we headed to Naoussa close to sunset. There are quite a few great restaurants in town like delicious modern seafood restaurant Bluefish, plenty of good bars like Fouska Bar, and seafront dining options as well.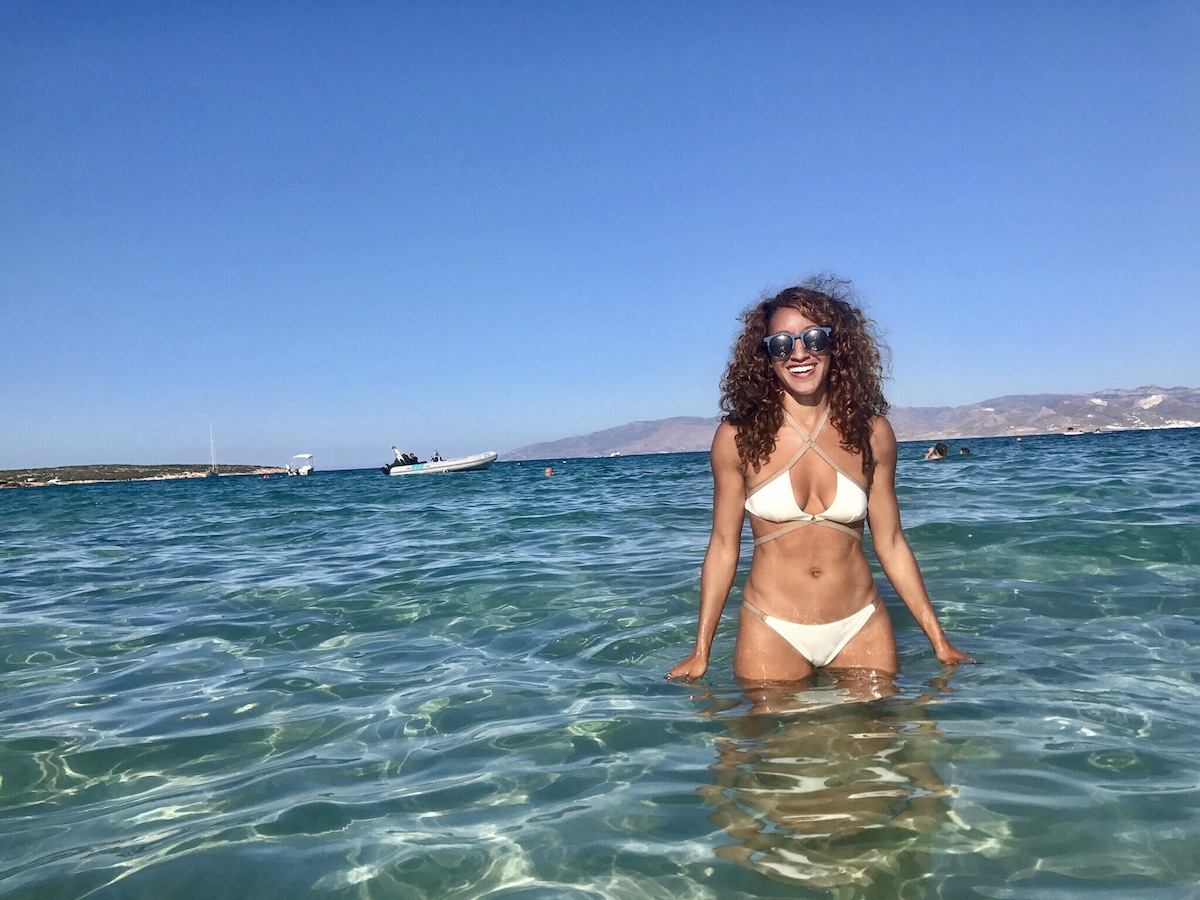 3. Spend the day at Santa Maria Beach:
Located near Naoussa, this laid back (but lively for Paros) oasis was our fave beach on the island. The emerald waters are crystal clear and so shallow that you can walk far out into the depths of the ocean and still feel like you're by the shore.
Grab daybeds on the beach for relatively cheap (20 euros for  daybeds w/ umbrellas), and order drinks and food to your chair. There is also a bar directly behind the daybeds where beachgoers were dancing and partying. It's worth checking out. But beware, the beach can get packed in the summer. When you see open daybeds, grab them.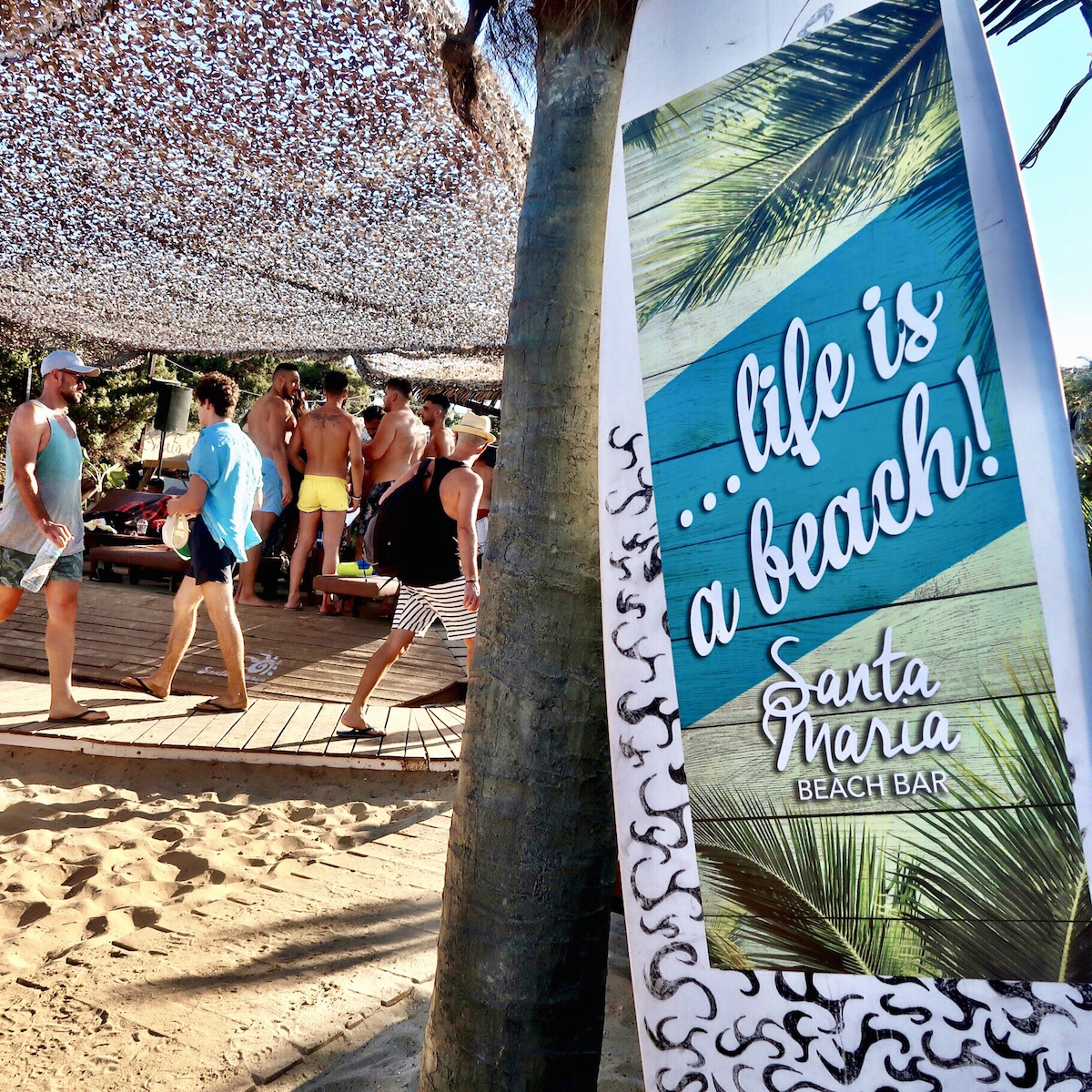 How to get there: If you're staying in Paros, you'll head to the bus station downtown (you can't miss it), and will grab a ticket to take you to Naoussa-Santa Maria Beach. Check the bus schedule here before you walk/cab down to purchase a ticket so you're not waiting on a bus. When you're ready to leave the beach, try not to wait for the last shuttle out. If you miss it, there won't be any more coming by to get you.
*Big Tip: Bring towels with you. There are no free towels for the daybeds and the boutiques on Santa Maria beach aren't the cheapest. We didn't know this and ended up buying blankets for 10 euros a pop (towels were more expensive). It did make for a cute souvenir though.
4. Kick Back at Golden Beach and Kolymbithres Beach:
If you'll be in Paros for more than a day or two, it's worth spending time at Golden Beach and Kolymbithres, which are both short drives from Naoussa. Golden Beach is one of the most popular beaches on the island, and is known for its windsurfing, crystal clear waters, and daybeds/umbrellas on the beach (for about 20 E a pop).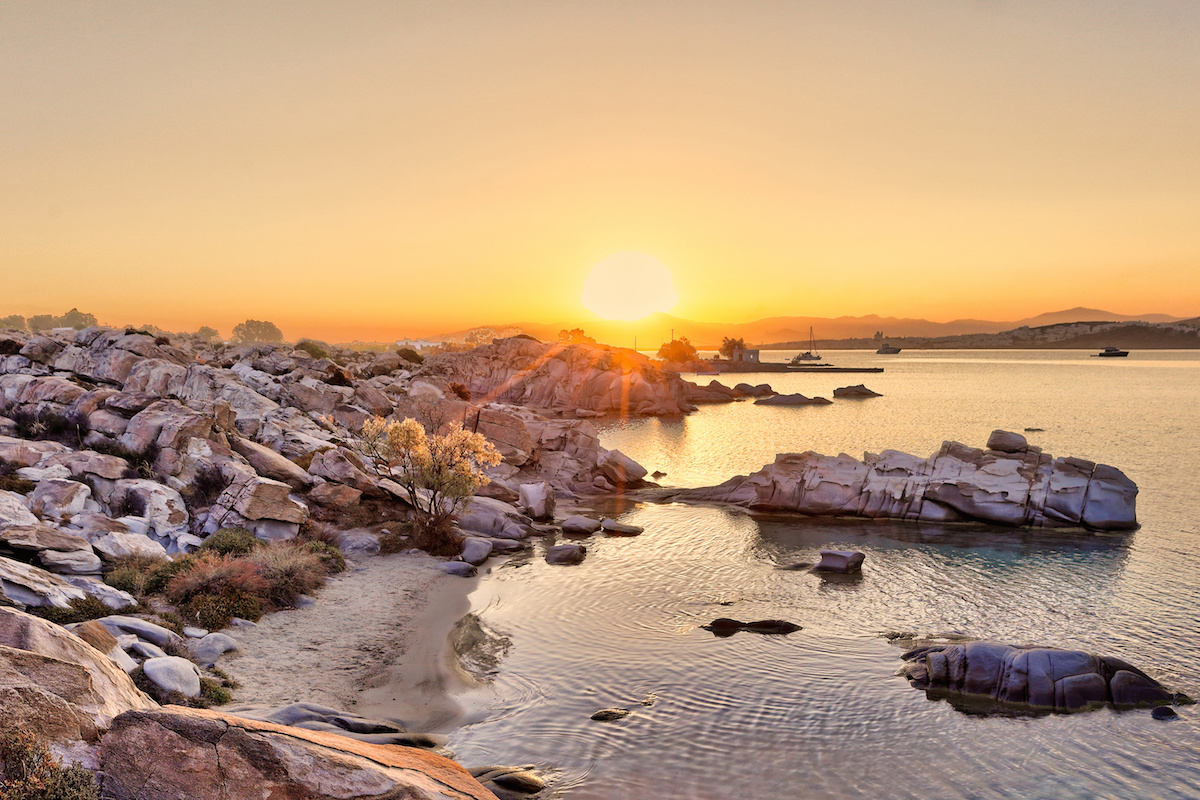 Kolymbithres is famous for its warm crystal-clear waters and stark white rock formations that line the beach that are millions of years old. You can take a ferry from Naoussa port for €6 each way to get to the beach, or you can drive there. Once you arrive, you can rent loungers that come with umbrellas or lay out your towel and lay in the sand. It's also great for snorkeling and kayaking, and there are quite a few places in the area where you can grab a bite to eat.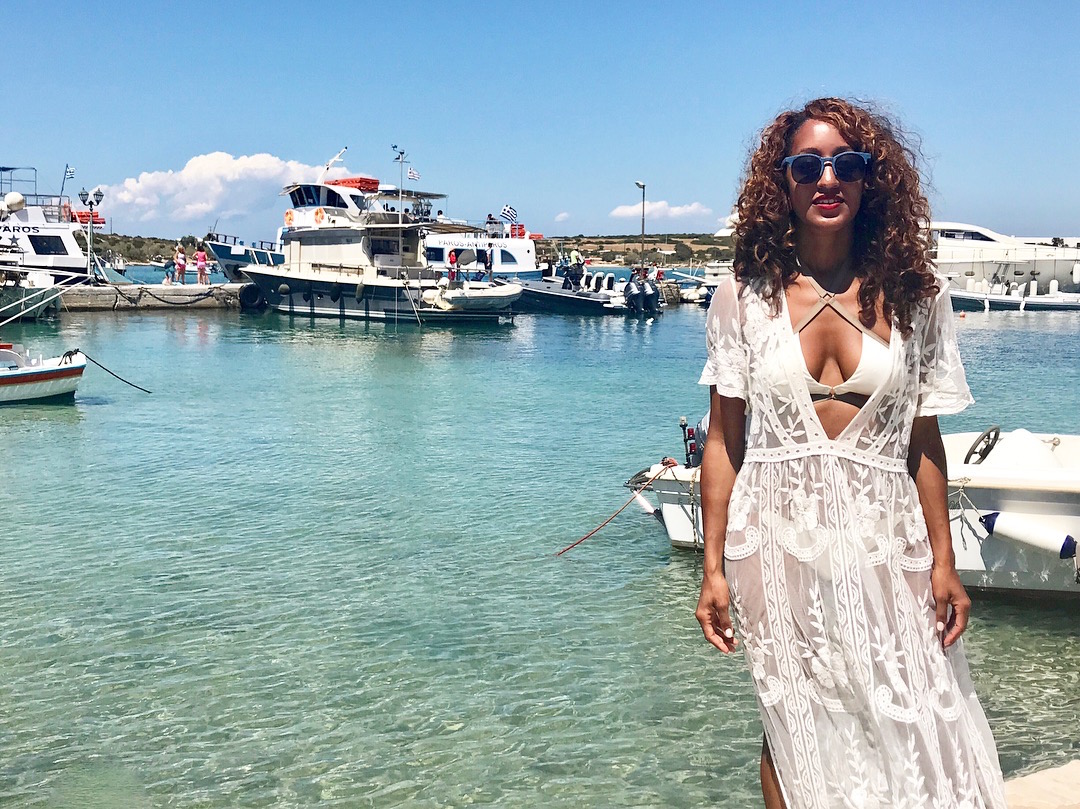 5. Take the ferry to Antiparos and explore:
The ferry from Paros to Antiparos. It costs 1.3E each way and the ride is only 10 minutes. Once you're there, here's what you should do.
Go see The Cave on Antiparos: This is one of those things that every fellow adventurous travel spirit should see…but it is a trek. Once you take the ferry to Antiparos, you have to take a bus to get to the cave (about a 20-minute ride). It's 411 steps down, filled with stalactites and stalagmites, and admission is 6 euros. The cave offers a reprieve from the scorching heat outside on hot days, but you might wish for a pool when you get to the bottom (I did – it was a work out).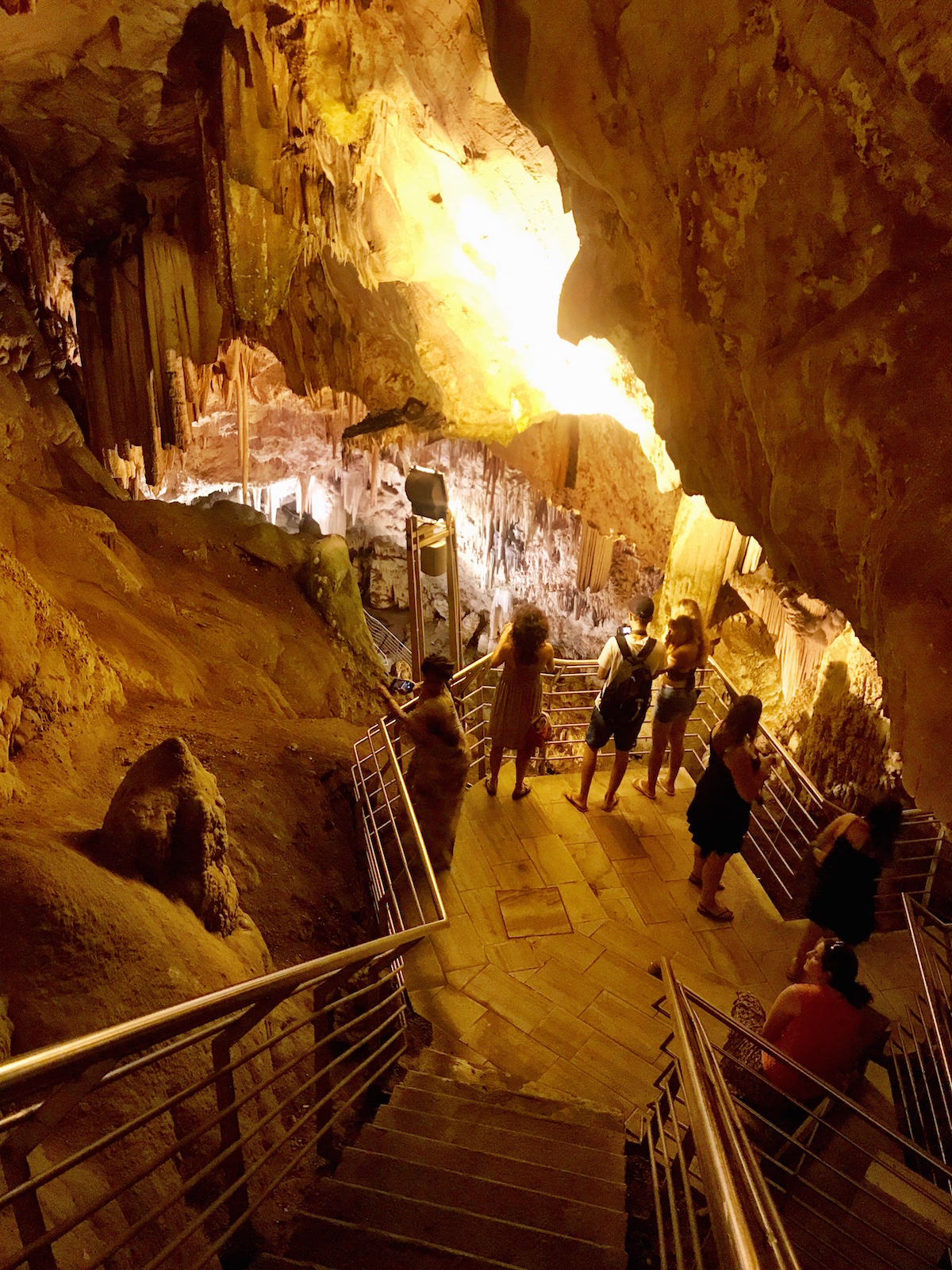 Big Tip (and true confession): Bring water and wear/bring tennis shoes. I thought the cave was a cool sight to see, but walking through the cave in sandals had my friends all the way over me for bringing them there. Their exasperation continued when we had to wait at the top in the heat for the bus to return (the bus comes by every half an hour). Keep those things in mind before you commit to going there. If you do have to wait, take in the panoramic views of the ocean. You'll be standing on the top of Agios Ioannis Hill and it's incredible.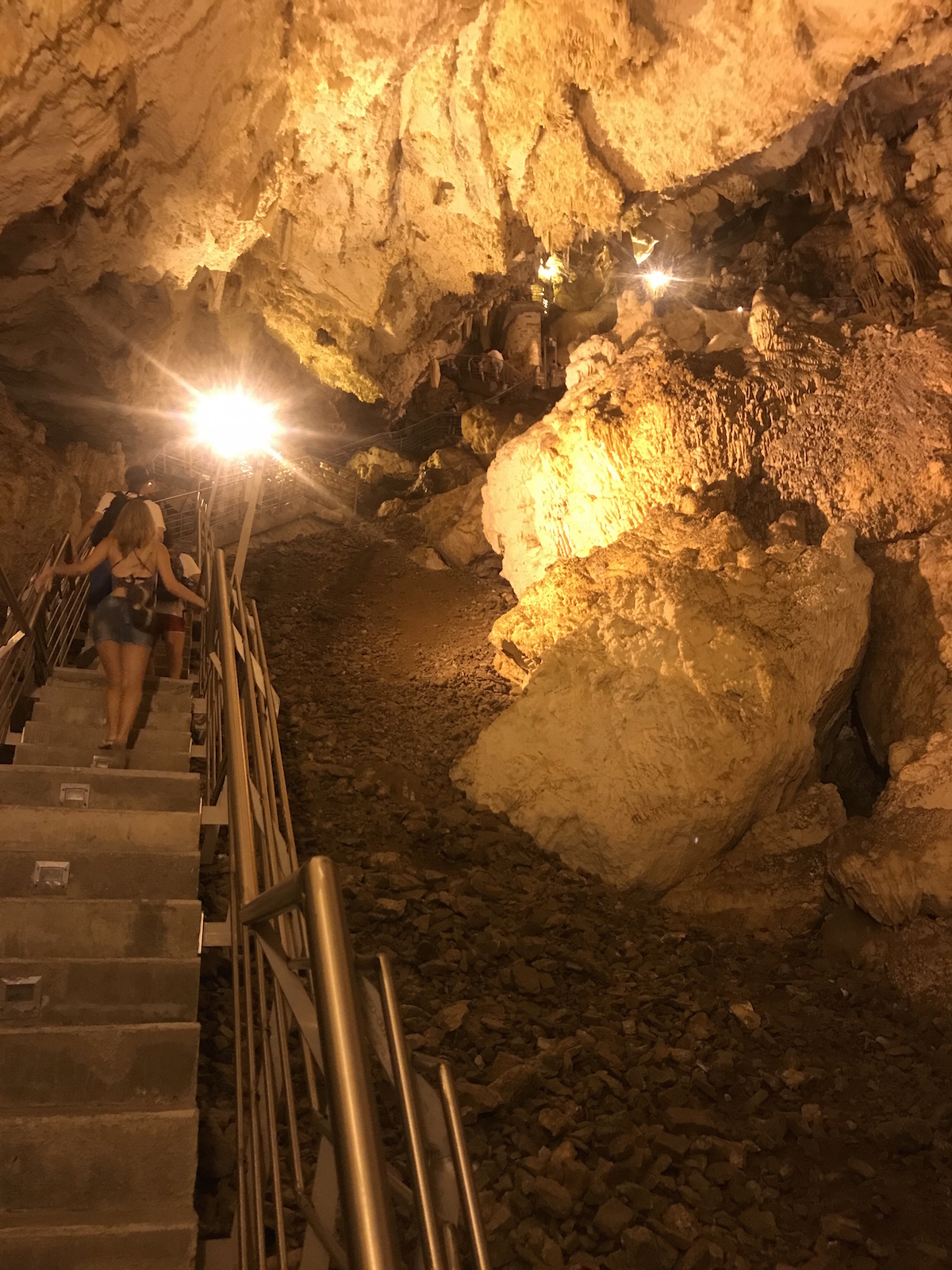 Grab a bite at Nautica restaurant: The restaurant is a close, convenient walk from the port and has the best pizza that we had on the island. There are also pasta dishes, Greek grub, crepes, burgers and more on the menu.