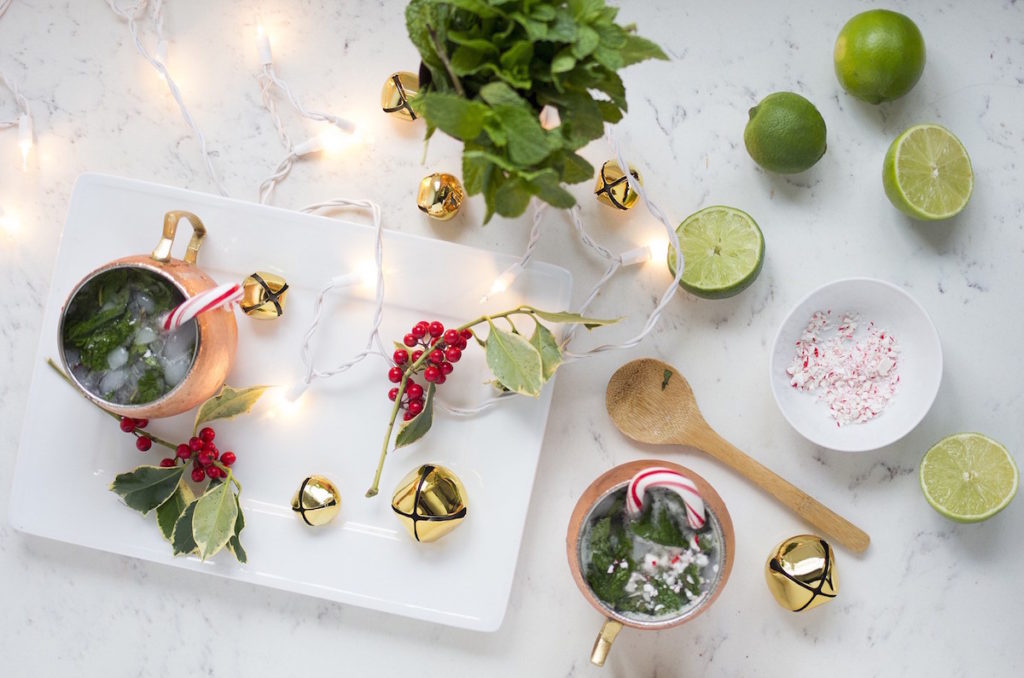 'Tis the season for giving…and a little martini shaking.
Whether you're planning your own bash or trying to find the perfect cocktail recipe to bring with you to a holiday house party, we've got you covered. After sifting through recipes on Pinterest (a personal fave) and taste testing at pre-Christmas parties at some of our favorite hotspots in Los Angeles, we came up with a list of five tasty cocktails that should be on every holiday party menu.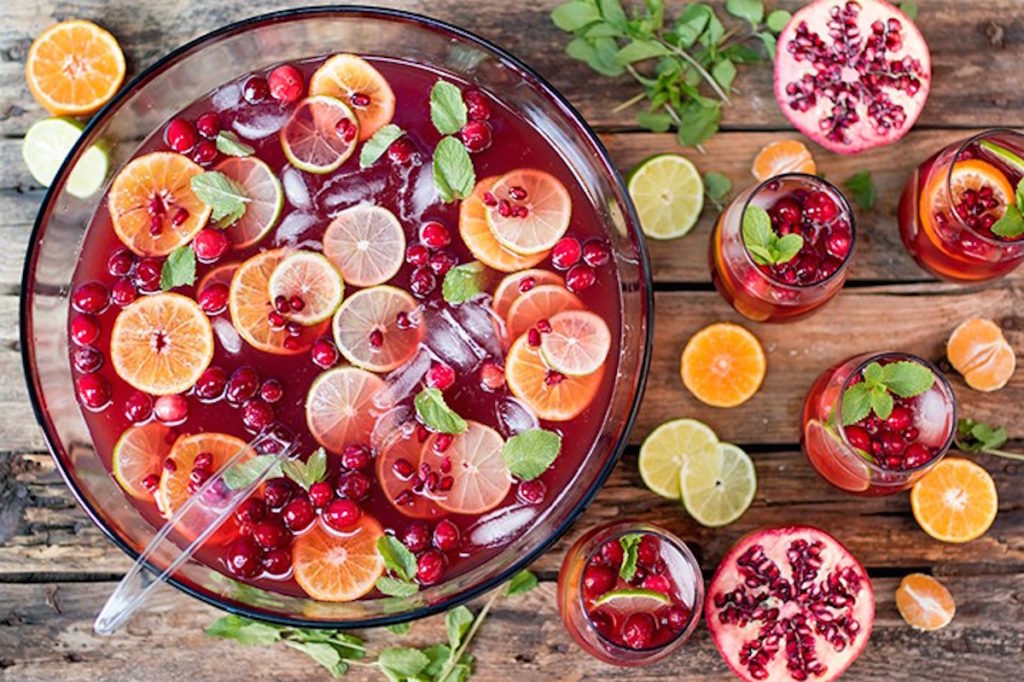 1. Christmas Day Prosecco Punch: If you're hosting Christmas dinner (or any holiday fete), this delicious, big batch recipe from Kitchen Sanctuary is awesome for entertaining a large group of people. Whipped up with cranberry juice, pomegranate juice, mint leaves, and more, this deep-flavor fruity punch is sure to be a hit.
Ingredients:
2 litres (1¾ quarts) cranberry juice
700ml (approx. 3 cups) pomegranate juice – I used Pom juice for a stronger flavour
500ml (approx. 2 cups) clementine juice (use orange juice if you can't find clementine juice)
Juice of 2 limes
3 limes, sliced
3 clementines, sliced
100g (1 cup) fresh or frozen cranberries
Seeds from 1 pomegranate
Ice
1 bottle of prosecco
300ml (1¼ cups) vodka
Small bunch of mint leaves
Directions: Grab a large punch bowl, pour the cranberry juice, pomegranate juice, clementine juice and lime juice into it, and stir. Next, add the lime slices, clementine slices, cranberries, and pomegranate seeds. When you're ready to serve it, add ice to the punch, then pour in the prosecco and vodka. Stir it and sprinkle on fresh mint leaves. To pack an extra punch, cover it and refrigerate it for 2-3 hours before you serve it (This recipe makes 18-20 servings).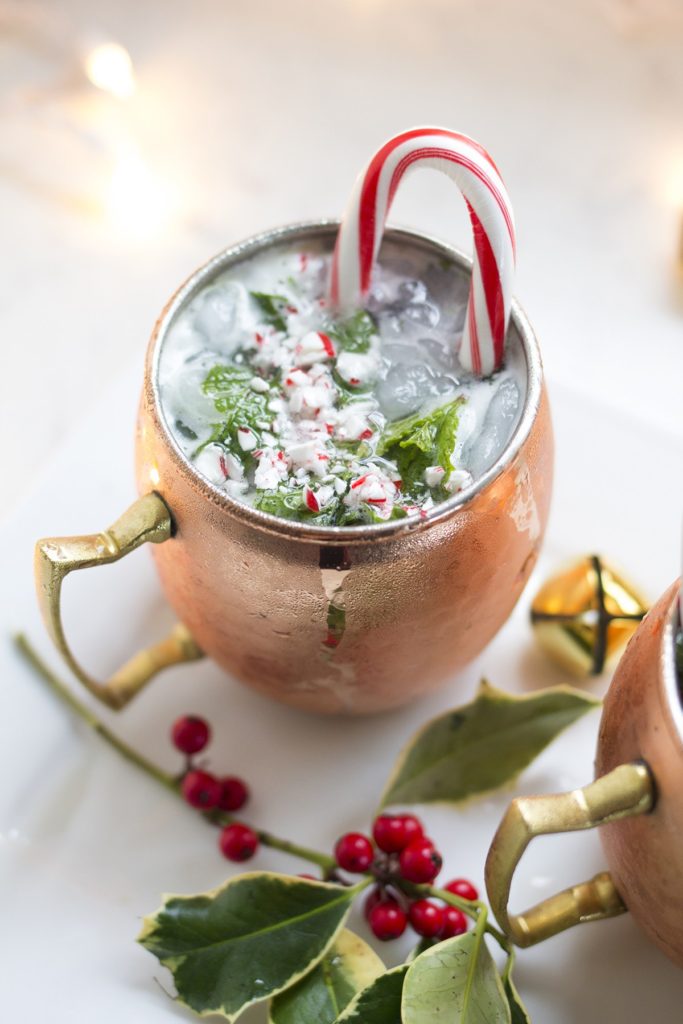 2. Moscow Reindeer Cocktail: What's a Christmas bash without some reindeer holiday cheer. Take a long sip of this holiday version of the Moscow Mule, created by Freutcake, and get your entire life. The drink is garnished with candy canes for a festive (and refreshing) twist on the classic cocktail.
Ingredients:
Handful of fresh mint (or fresh peppermint)
2 oz Carbonadi Vodka
Juice of 1/2 a lime
6 oz ginger beer (more or less to taste)
Crushed candy cane for garnish
Whole candy cane for garnish
Crushed ice
Directions: Fill a copper mule mug with crushed ice and a handful of mint. Muddle. Then, stir in vodka, lime juice and top it with ginger beer. Sprinkle crushed candy cane on top and garnish with a whole candy cane.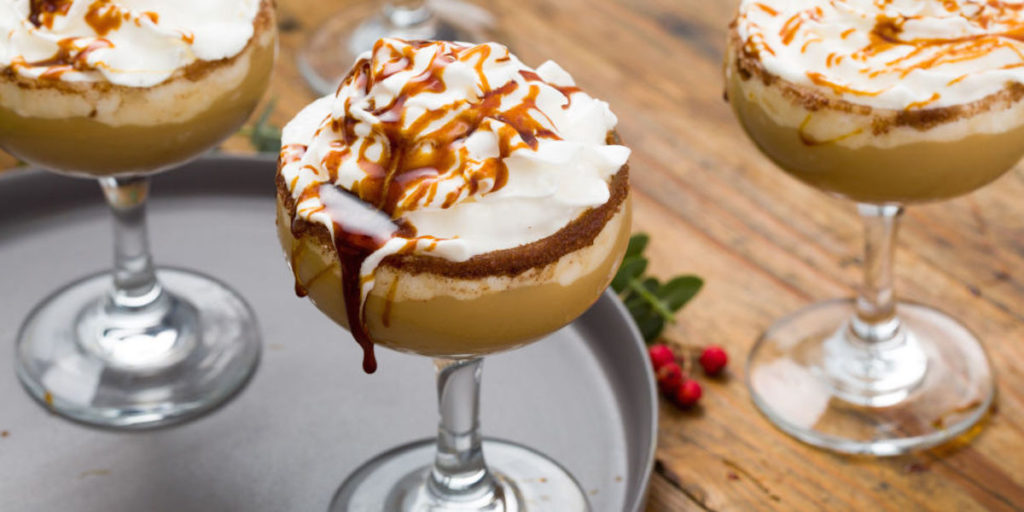 3. Gingerbread Eggnog White Russian Cocktail: Who needs a gingerbread house when you can have a gingerbread cocktail, am I right? This recipe from Delish weaves in two holiday faves – gingerbread and eggnog – and is easy to create.
Ingredients:
1/2 tsp. cinnamon for rimming glasses
2 tsp. sugar for rimming glasses
4 oz. eggnog
4 oz. vodka
4 oz. Kahlua
3 tsp. molasses
1/8 tsp. ginger
Whipped cream for topping
Molasses drizzle for topping
Directions: Mix cinnamon and sugar, then pour it onto a plate. Wet the rims of each glass and dip them in to that cinnamon-sugar mixture. In a cocktail shaker filled with ice, pour eggnog, vodka, Kahlua, molasses, and ginger. Shake to combine. Pour into glasses and top with whipped cream, then add a light drizzle of molasses.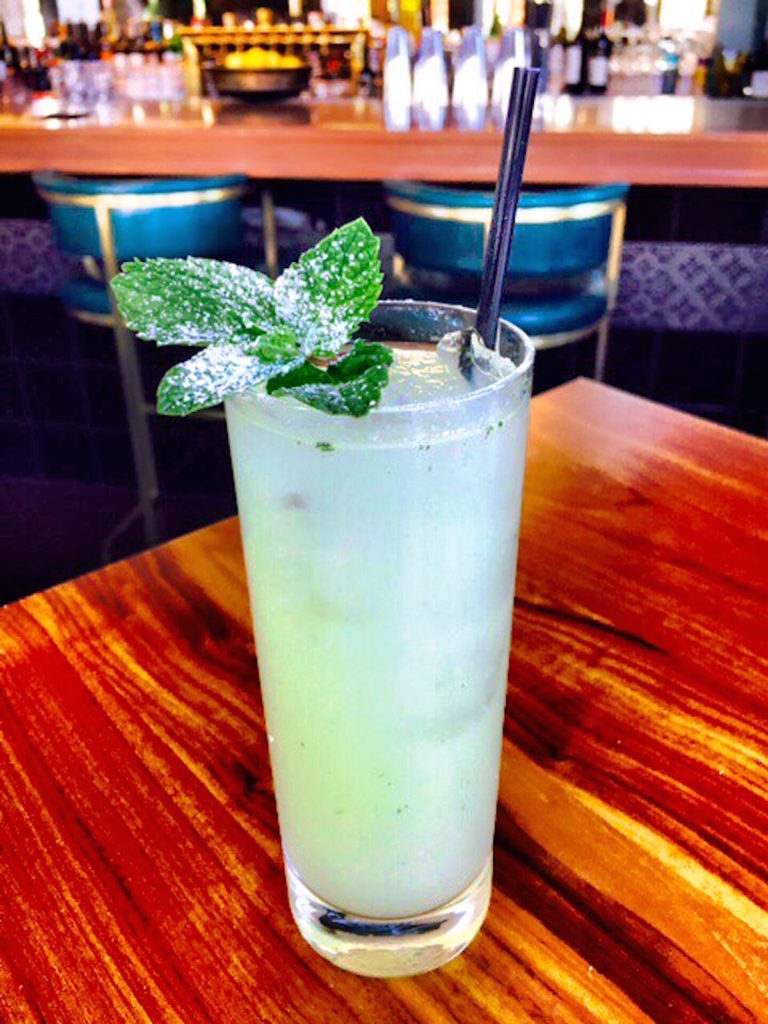 4. Cleo on Third Street's Spiced Ginger Mojito: Ginger, spice, and everything nice. This custom "Bespoke Cocktail" can only be found at Cleo on Third Street in Los Angeles, but you can put your own twist on it at home by taste testing and mixing your way through the ingredients in it below.
Ingredients:
Bacardi Rum
Mint leaves
Spicy ginger syrup
Powdered sugar garnish
Directions: Meld the mint leaves at the bottom of the glass, add Bacardi, spicy ginger syrup, and stir. Garnish the drink with powdered sugar.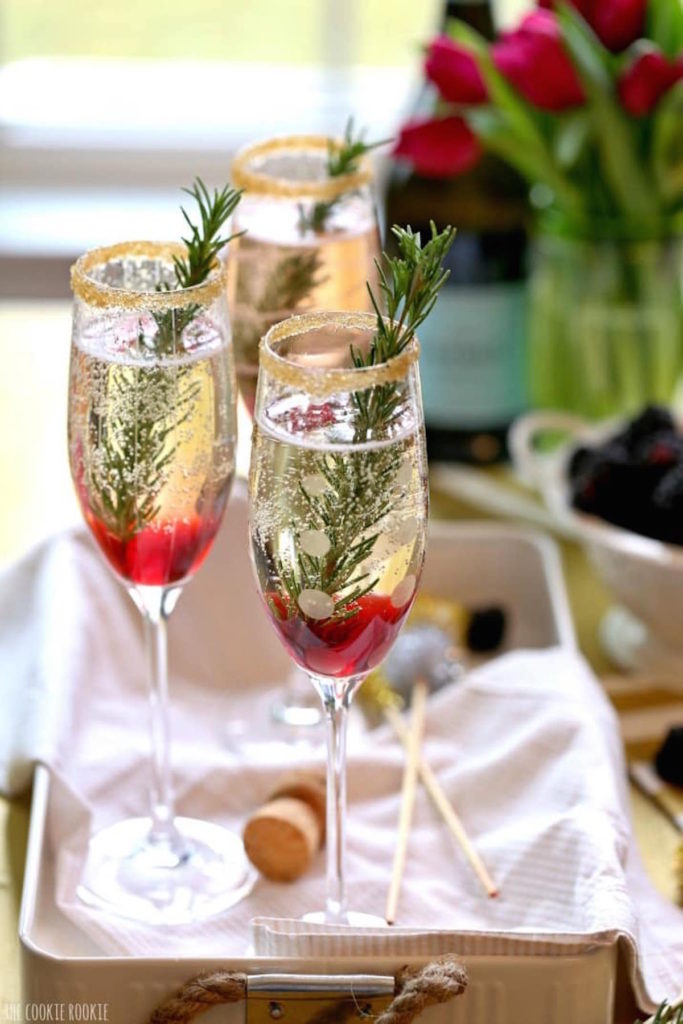 5. The Blackberry Ombre Sparkler: We love a good sparkle, so when we stumbled upon this shimmery cocktail created by The Cookie Rookie, we couldn't resist adding it to our list. All you need is a bottle of champagne, a few simple ingredients, a sugary rim, and you'll have a cocktail on hand that will wow your guests.
Ingredients:
1 cup fresh blackberries
1 cup sugar
1 cup water
4 sprigs fresh rosemary
1 bottle champagne
Instructions
Directions: In a small saucepan, combine blackberries, sugar and water.  Bring to a boil on high heat and then reduce to a simmer and let cook for 12 – 15 minutes.  When the blackberries soften and a pinkish purple syrup forms, remove the pan from the heat and drain the blackberries, keeping the syrup in a separate bowl. Set both aside and allow to cool. Once the blackberries and simple syrup are cooled, spoon about 4 tablespoons of syrup into the bottom of each champagne flute. Top it with champagne. Garnish it with fresh blackberries or the cooked blackberries and a sprig of rosemary.
Happy holidays – and happy sipping, Destination Fabbers!