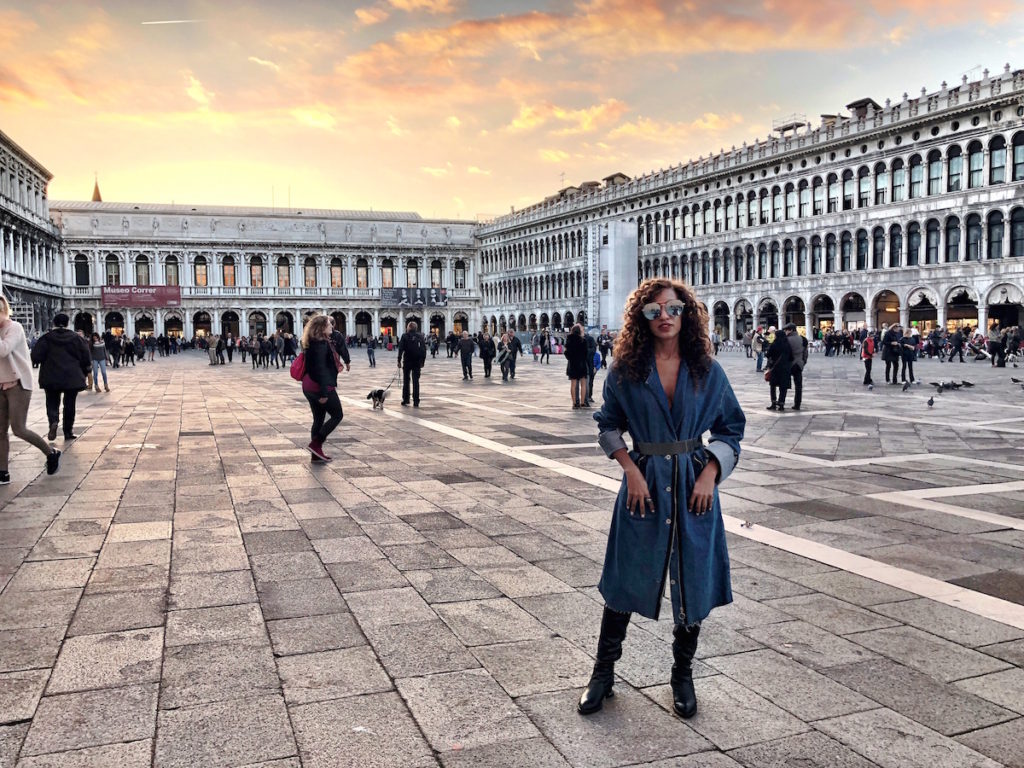 When wining and dining in Venice, there are a few things you can do to take your experience up a notch, particularly when you have the budget to splurge. Take a peek at our fab shortlist of the luxe things to do and the top luxury hotels we're swooning over in Venice.
The Fab Happenings:
1. Have a drink at Guidecca's Skyline Bar on the rooftop of the Hilton Molino Stucky Venice: We know people rave about the bellinis at star-studded Harry's Bar (it is said to have invented the tasty libation), but after you've had one there, don't miss sipping cocktails with panoramic views at this luxe hotspot. Situated atop a grandiose Hilton hotel, the bar serves up signature cocktails for about €18 a pop like the Smokerita and Grain 24, which has 24 pomegranate seeds at the bottom of the drink.
2. Savor high-end bites at the Belmond Hotel Cipriani's Oro Restaurant: Treat yourself to an imaginative, multi-sensory menu inspired by Executive Chef Davide Bisetto's passion for modern art.  Feast on the Blue Lobster, Egg Tagliatelle, and Crusted Sea Bass among other creative dishes, or sample five or eight of Bisetto's creations on the tasting menu. Whatever you decide, pair your meal with wine from the extensive list that features over 1,000 labels.
3. Shop at T Fondaco Dei Tedeschi: Featured in Vogue, this high-end shopping center, which opened its doors in the fall of 2016, lures in fashionistas with its trend-setting duds from Gucci, Valentino, Fendi, and many more. Gucci and Bottega Veneta have their own storefronts in the center, and there is also a delicious cafe designed by famed French designer Philippe Starck. *Bonus tip: Even if you only come here to window shop, don't miss the incredible view (and photo opp) on the rooftop observation deck. That's worth the trip alone.
The Fab Digs: 
When you're traveling with bae:
Aman Canal Grande Hotel: Does it get much more romantic – or luxe – than the hotel where George and Amal Clooney held their wedding? Tough call. When you're going for an over-the-top experience and have serious euros to spare, spend a couple of days at this ultra-luxe hotel. The price points aren't for the faint of heart given that rooms start around 1,000 Euros a night, so keep an eye out for deals early on if you're thinking about booking there. Here's what you will get if you do: A spacious, upscale room, which includes a personal bar, living area, views of the Grand Canal, and private boat transfers arranged by the hotel that will take you straight from Marco Polo airport or the metro to your hotel (a heads up: transfers do come at an additional cost).
When you're on a lavish girls' trip:
Corte di Gabriela: Stylish and charming, this 11-suite, modern boutique hotel is conveniently located in San Marco – just a 15 minute walk away from St. Mark's square – but far enough away from the congested, touristy area to provide a relaxed sanctuary. Each suite has its own personality, along with free wifi and iPads, and those who have stayed there not only rave over the luxurious rooms, but also the scrumptious breakfast, served in the courtyard each morning. There's just one catch: Although the Sant'Angelo ferry stop is nearby, you have to roll your luggage over a bridge to get there. Still, it's worth the slight hassle.