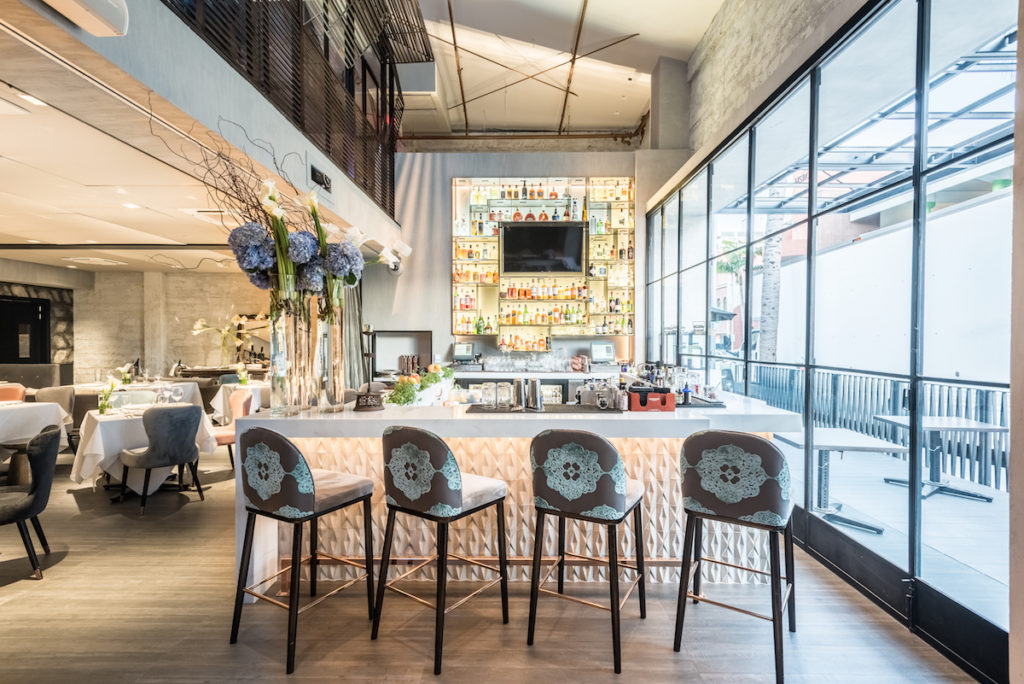 Beverly Hills staple Crustacean is back…and better than ever.
Following an 8-month hiatus and $10 million extensive redesign, the family-owned, famed, Euro-Vietnamese restaurant opened its doors again Tuesday, with a menu full of delicious dishes that blew our minds.
Ahead of the official opening, we headed to the Asian-fusion hotspot to preview the new menu and renovated digs, and were greeted by waiters toting two of the new cocktail additions – the Turmeric Mule and the Artichoke Old Fashioned – near a glitzy colorful bar stacked with bottles.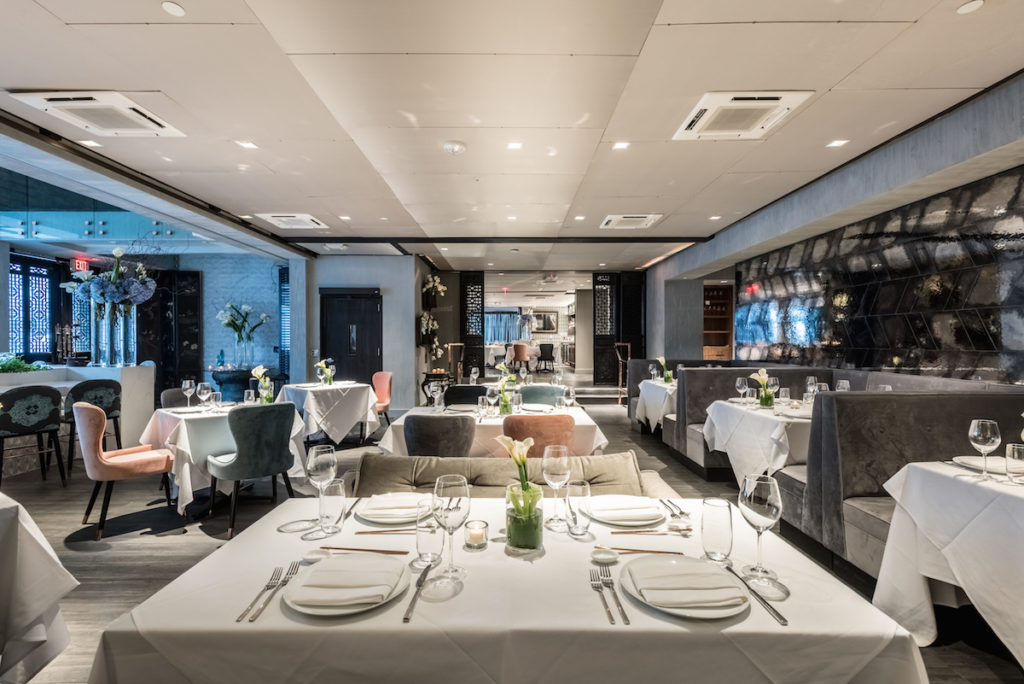 The revamped space is actually home to two restaurants now. Downstairs, there are two dining areas, an extravagant U-shaped bar topped with white lillies, an outdoor patio, and a chef's table with an open glass kitchen, where guests can watch chefs prepare incredible dishes like the fresh langoustine spring rolls and braised lamb dumplings.
Upstairs, there is an invite-only, high-end restaurant called Da Lat Rose, named after the Southern Vietnam city, Da Lat, where Executive Chef Helene An grew up. It will feature a menu by chef Tony Nguyen, and is set to open in May.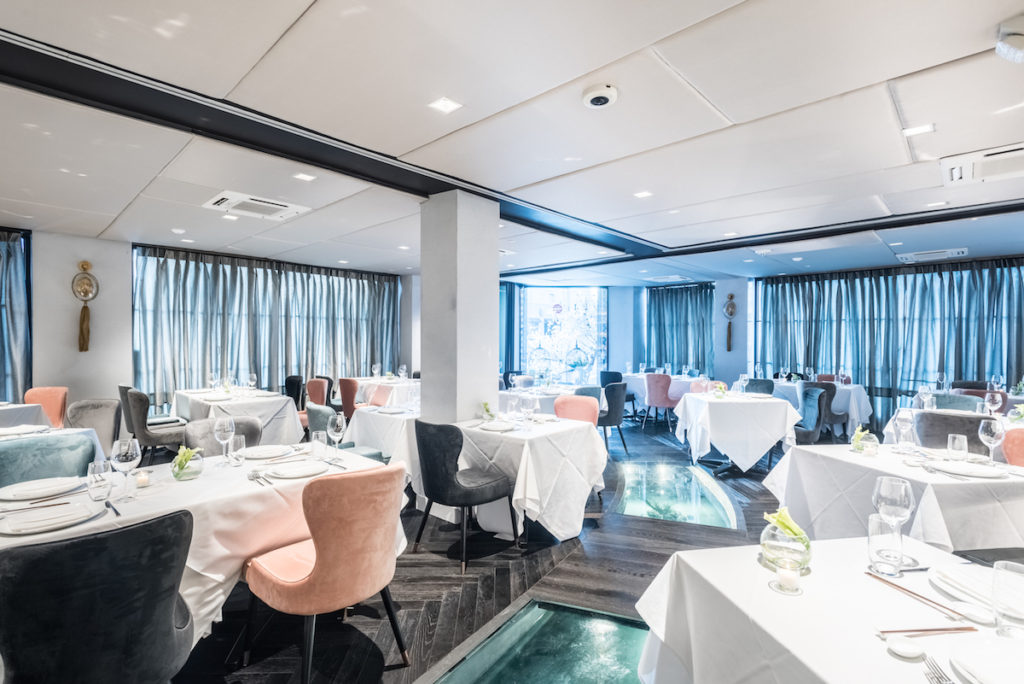 Speaking of An, the famed chef's signature garlic noodles and garlic roasted crab whipped up in her legendary "secret kitchen" are still on the menu, but there is also a new prix-fixe tasting menu and small plates to boot, including surf and turf sashimi, a vegan crab cake called Hearts of Palm, and scrumptious baby spinach in garlic sauce.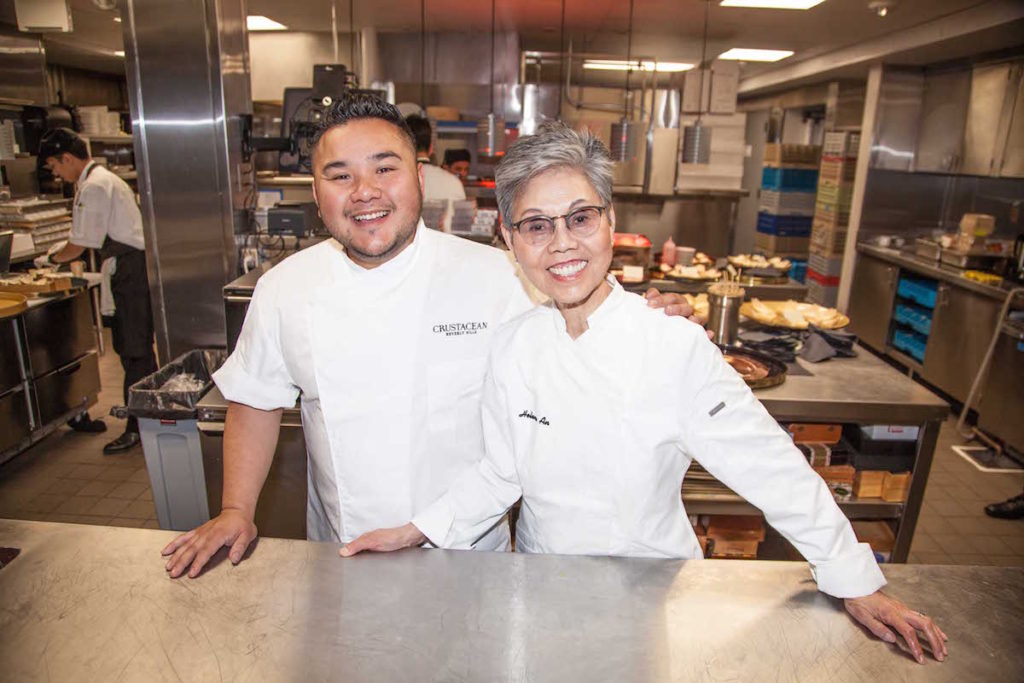 Every Vietnamese-fusion dish on the menu was beyond incredible, but there were several things that stuck out as our favorites. Here are the 7 things you must try when you go to the newly revamped Crustacean:
1. An's Famous Garlic Noodles (and Ans Famous Lobster Garlic Noodles): Crustacean is known for its noodles, and one bite of Chef An's famous signature dish will show you why. Buttery, rich, and unforgettable, it's tough to not to eat a whole bowl of them alone. Lobster garlic noodles, and royal tiger prawn noodles are also on the menu.
2. Ans Famous Garlic Roasted Crab: Order this with Ann's noodles for the full Crustacean experience. Full of garlic and flavor, the dish is brought out with the the crab's shell topping a plate full of garlic roasted crab claws and knuckles.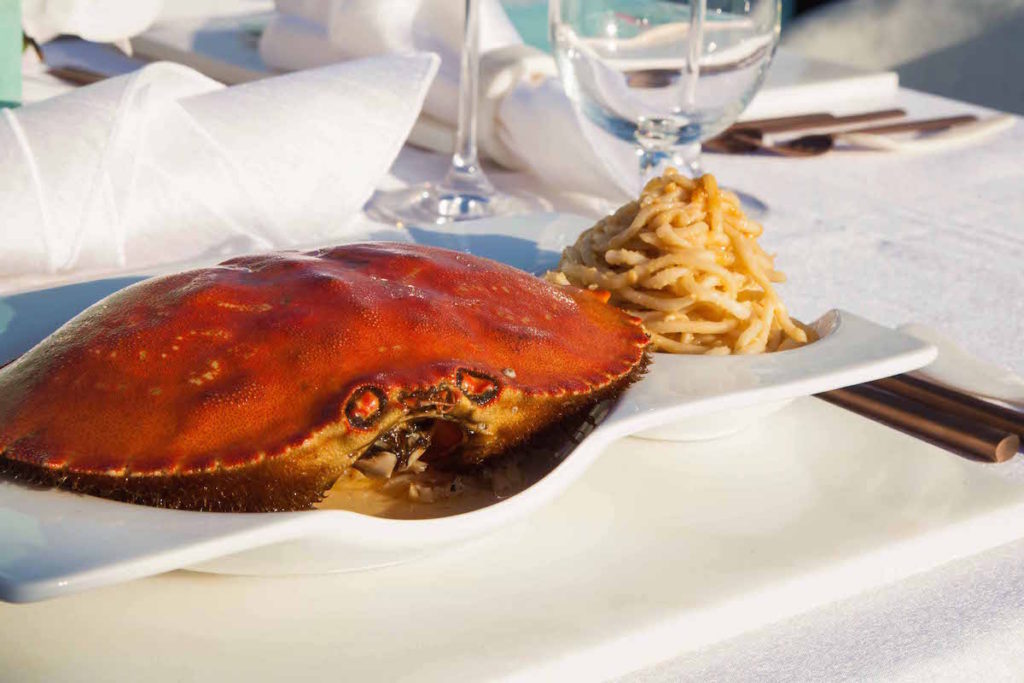 3. Kung Pao Eggplant: "It's like french fries, but so much better," a colleague sitting near us said, nailing our inner thoughts. Served up like a plate of fries, the sticks of eggplant were crunchy, savory, and the side dish that everyone at our table couldn't stop talking about. We'll go on record to say this is the best eggplant we've ever had in life.
4. Karate Salad: This unique salad will have you craving more after you fork the crispy thin-sliced Kennebec Potatoes in it that are surrounded by kohlrabi, with bits of black truffle and garlic blossom weaved in.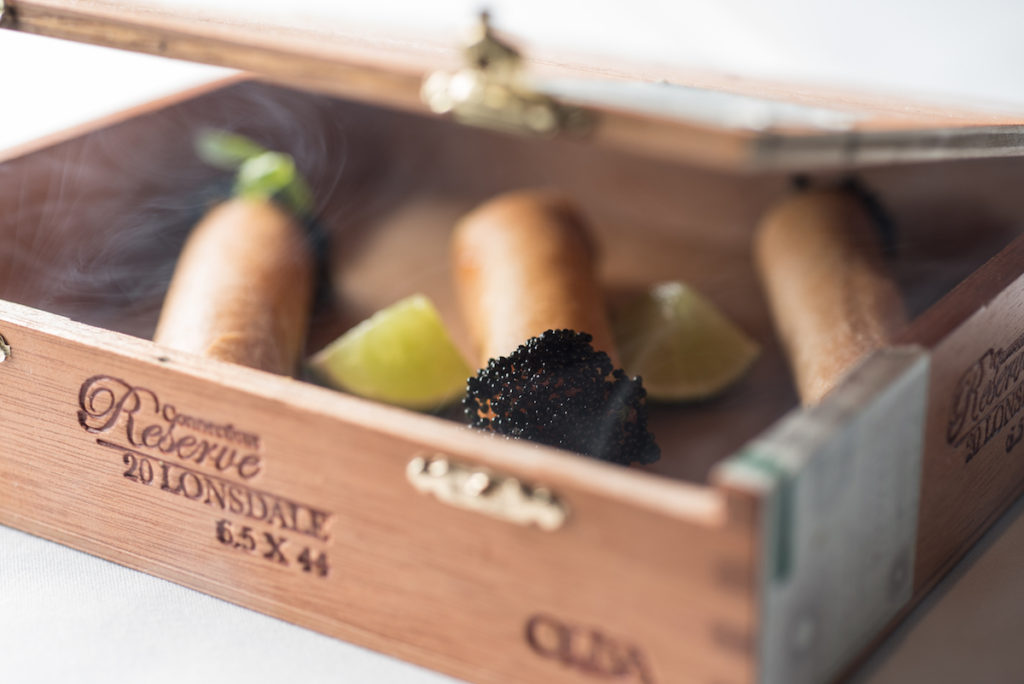 5. Tuna Cigars: If you love tuna and are a sucker for a good presentation, get this. Served in a cigar box that smokes when first opened, the tuna is wrapped in brick de feuille and topped with Tobiko Caviar.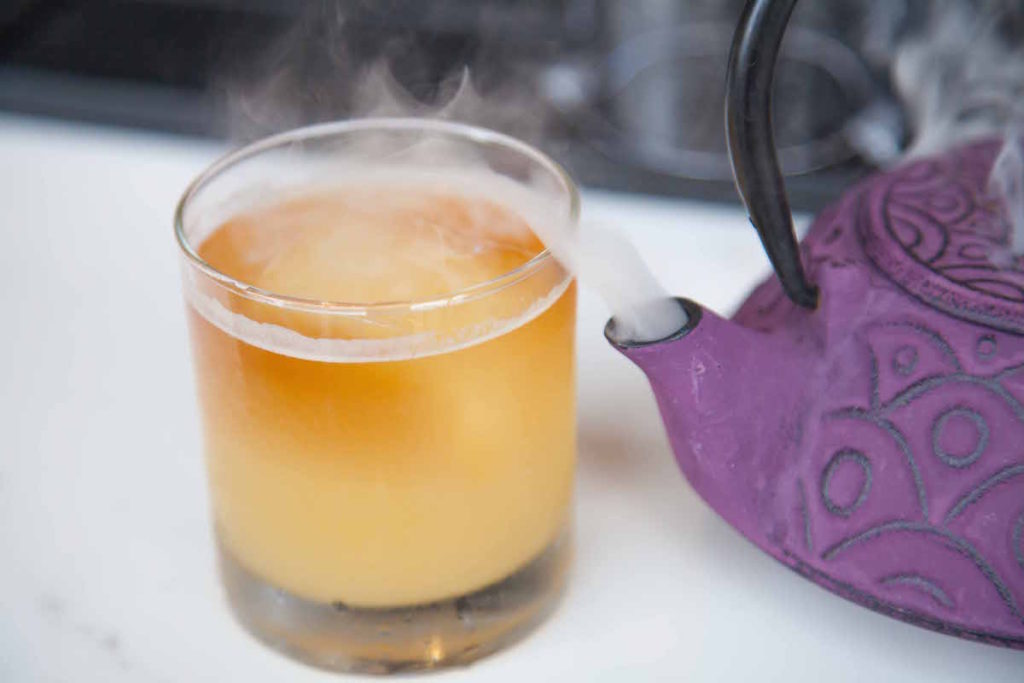 6. High Tea Penicillin: We had a thing for the Turmeric Mule, but this smooth tea-infused cocktail won us over as the drink of the night. It's a mix of black tea infused Chivas blend scotch, ginger syrup, black tea, and more, and complements the Asian flavors in the food.
7. Pineapple dessert: Whipped up with brown butter financier, oat honey streusel, creme fraiche cremeux, and dole-whip, this dessert went fast. It was tough to stop eating this one or the Sweet Potato dessert.
As for what you should wear when you go, the dress code is business casual. Wrap dresses, jumpsuits on the dressier side, blazers and skinny jeans, and cinched high waist trousers with heels are a few suggestions for the ladies. For guys, a button down with jeans and dress shoes, or a button down with slacks can also work. I opted for a floral Topshop wrap dress and black lace-up stilettos.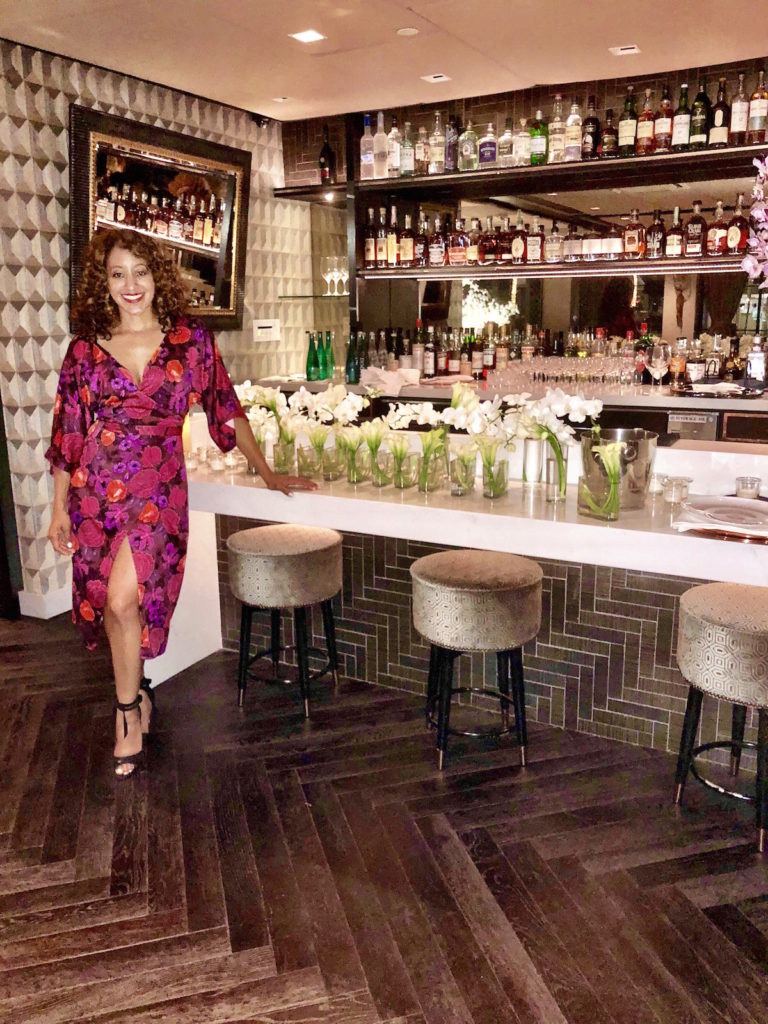 Do not miss the amazing grub at the newly reopened Crustacean (9646 S Santa Monica Blvd. Beverly Hills, Calif., 90210).
(All photos by Ian Bailey Photography)