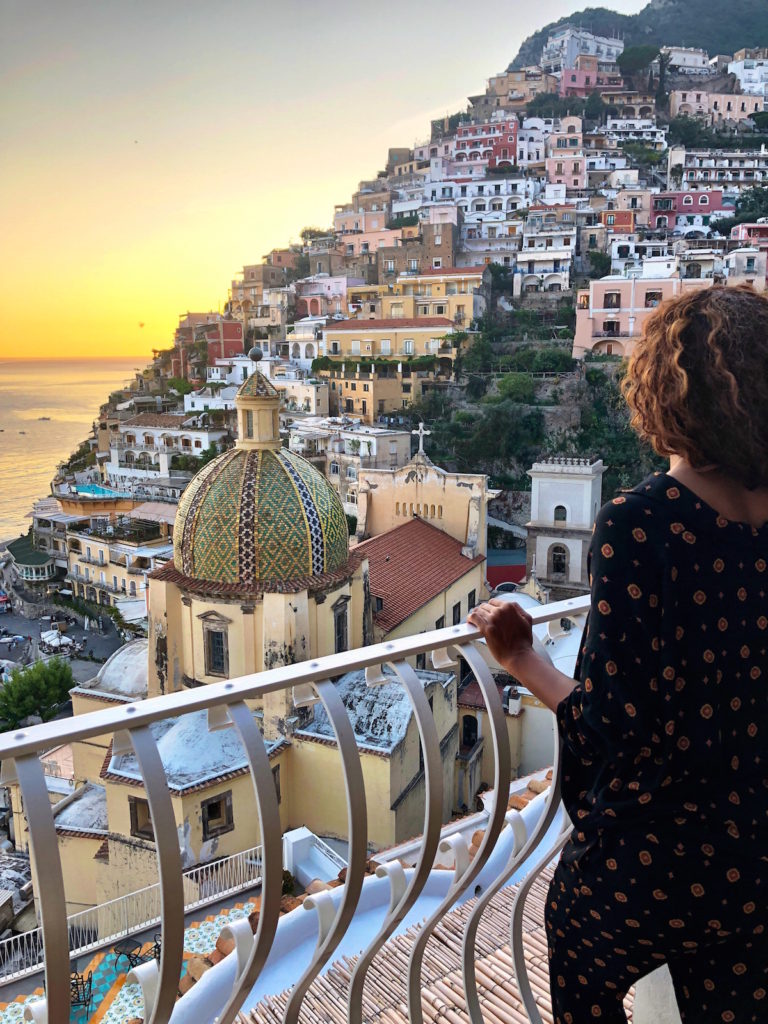 "Positano bites deep. It is a dream place that isn't quite real when you are there and becomes beckoningly real after you have gone." – John Steinbeck
Positano is a magical place, and it's hard not to fall in love with it at first glance. From sipping cocktails at Francos at sunset, to wining and dining at Le Sirenuse, and dancing the night away at Music on the Rocks, don't miss the seven things we loved the most about "The Vertical City."
1. Sip Limoncello and Meloncello shots at Caffe Positano and don't miss the housemade lasagna: We didn't love the cocktails in Positano (the wine was way better), but the limoncello and meloncello cocktails and shots were fantastic. Some of the best that we had were at Cafe Positano, which has seaside views. While you're sipping limoncello, make sure to order the lasagna. It's so good.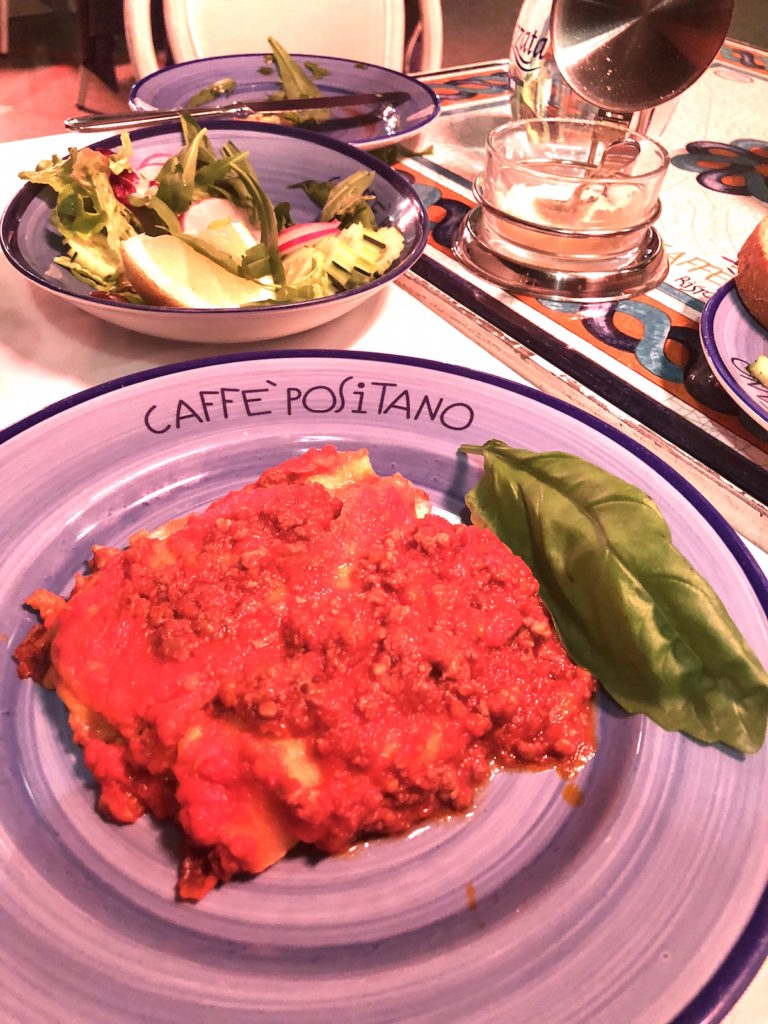 2. Grab a bite at the famed Chez Black: Consider this the see and be scene restaurant in town. It sits steps away from the beach, and is frequented by the likes of Denzel Washington and many more stars who have their framed photos on the restaurant's celebrity wall.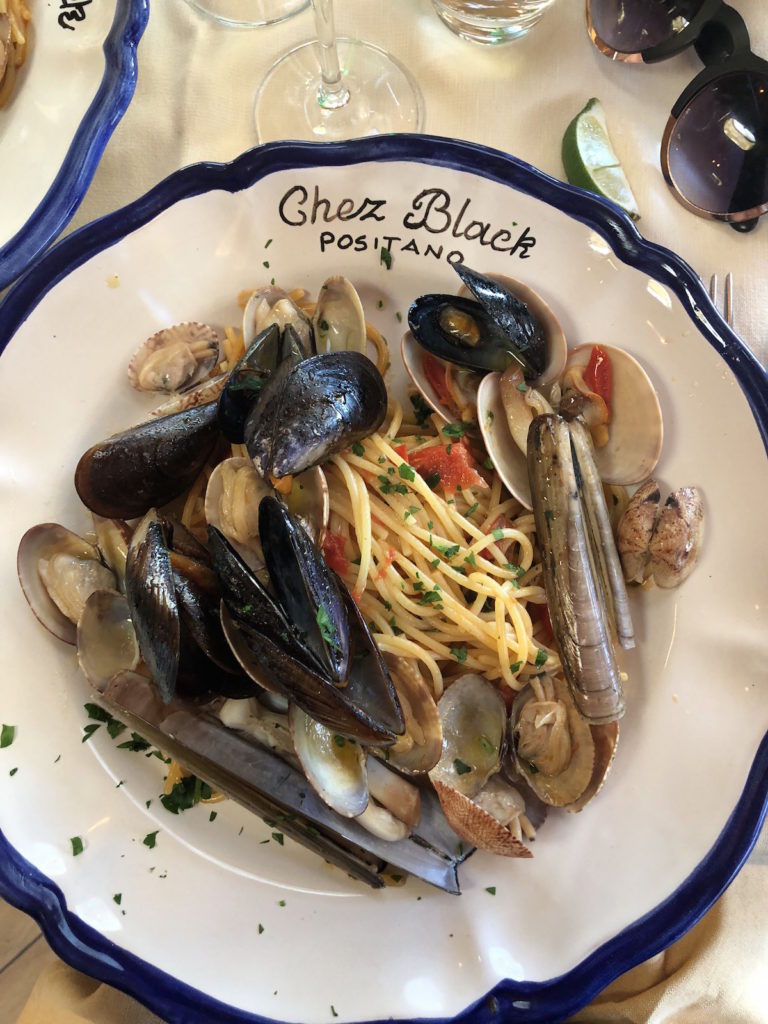 3. Hit the beach: Grab a towel, sunscreen, and take some time to enjoy Spiaggia Grande, the main and most lively beach in Positano, which can be reached by walking down a few long staircases. It's important to note that you won't be strolling around on stretches of white sand when you reach the shore, though. The beach is covered with black patches of pebbles and coarse sand, but it's soft enough that you can walk on it barefoot.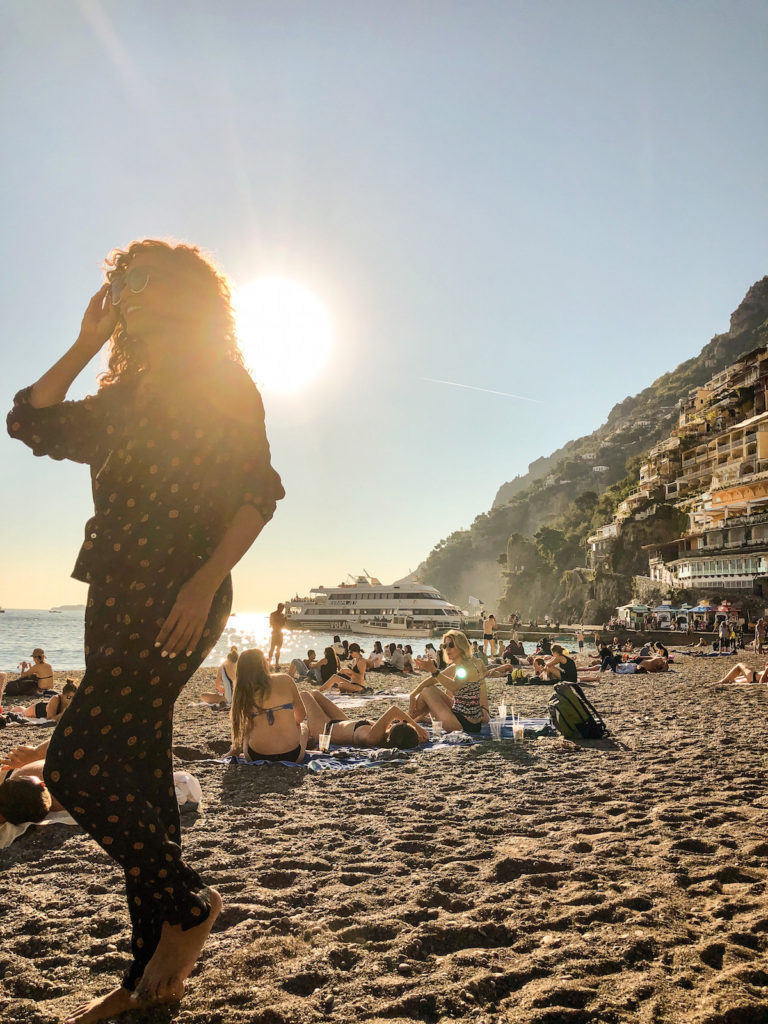 4. Take a boat ride to Da Adolfo : This beachfront shack is only a five-minute boat ride away from Positano and doubles as a beach club. The boat, emblazoned with a red fish, is free and can be reserved ahead of time. Da Adolfo not only serves up delicious grilled fish and savory mussels prepared three ways, but also one refreshing glass of white sangria melded with peaches.
5. Hop on a ferry to Capri and Anacapri: Positano is gorgeous, but don't miss the chance to explore the Amalfi Coast. When you walk down to the beach, there are several booths where you can buy tickets for boat and ferry rides to Capri and Anacapri. You can also pay to rent a boat to sail there yourself.
6. Dance the night away at Music on the Rocks or head over to Africana: Carved into a mountain on the beach in Positano, Music on the Rocks is one of the most unique clubs that I've ever walked into. It looks like you're partying inside of a cave, with a DJ pumping out beats in a booth above the dance floor. There's also an exclusive lounge on the top level of the club that offers a more chill vibe, along with killer cocktails.
Africana Famous Club is also another cool hotspot carved into a cave, and it's a quick drive away from Positano. Located in Praiano, it consists of about 800 square meters of natural caves and is just steps away from the sea, which you can see from the club.
7. Go to Happy Hour at Franco's Bar or take in a romantic sunset at Le Sirenuse: The sunsets on Positano will blow you away. If you're looking for a younger, cooler vibe or are traveling to Positano with friends, go to Franco's Bar for drinks at sunset. if you're on vacation with your partner, go for the more romantic scene at Le Sirenuse. The bars are side by side, so if you want to experience both, you can do that too. 
Franco's Bar focuses on its cocktails and serves no food, albeit a few bites like olives, potato chips, and almonds, but it's worth the trip. The space is gorgeous, with its bold yellow fountain and oceanside views. Guests kick back in bright blue hand painted tables and chairs and sip their famed French 75 and mango guava daiquiris for 18 Euros a pop (try the more budget friendly house white and red wine for $7-8 euros a glass). The neighboring Le Sirenuse is pricier, but so chic that it's worth going just for a glass of wine at sunset as well. If you have the budget to stay for dinner, do it.