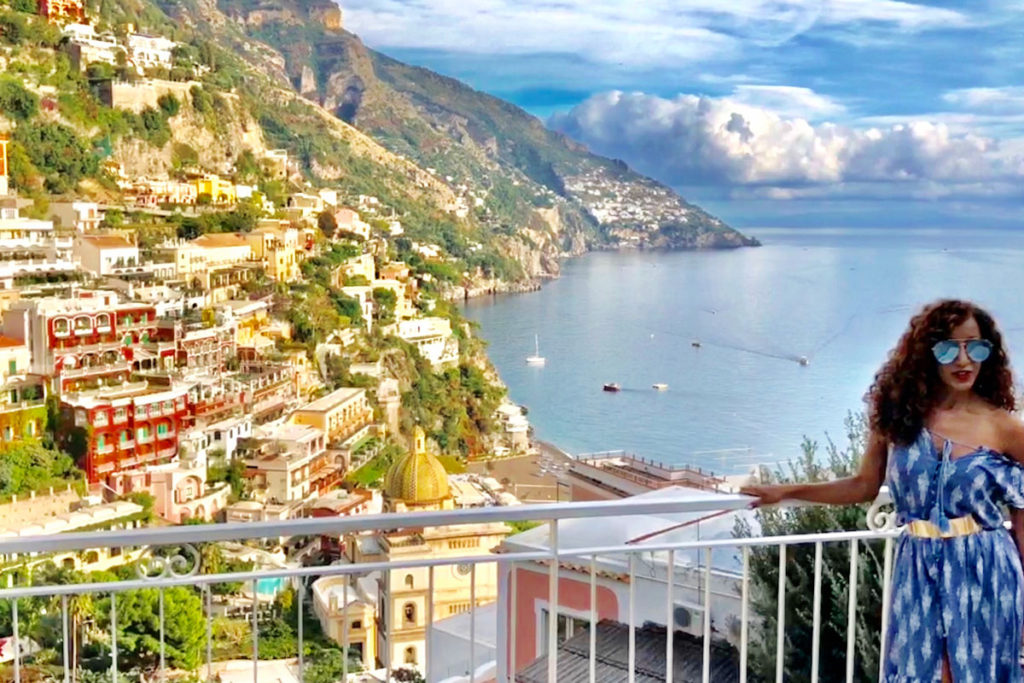 The seaside scenes in Positano are unparalleled – so picturesque that it will leave you craving glimpses of it over and over again.
So, trust us on this one: when you visit "The Vertical City", don't miss out on enjoying it from the privacy of your own room too. Booking a room with a view can add a little more on to your bill, but if you can spare it, book
The first time we spotted the otherworldly cliffside views as we winded around a cliff to our hotel, it felt like we were in a dream. So, we were beyond excited that the partial seaside view room we booked at Hotel Poseidon had the perfect panoramic view on our terrace – one that gave us visuals of part of the famed cliffside and the Tyrrhenian Sea too.
An important note about traveling to Positano is that it is a bit on the pricey side. Few things – from the accommodations to the grub to the cocktails – come cheap, but the experience makes it worth it. If you want to save a few bucks, travel to Positano in the fall during their low season in mid to late September. We were able to snag a great deal on our hotel because we traveled there in October.
It's also important to keep in mind that exploring Positano means walking up and down a lot of stairs. It's a work out, so if you have a knee injury or would have trouble doing it, keep it in mind before you go.
Here are our three top picks for hotels with views in Positano:
1. Hotel Poseidon: When I was booking hotels in Positano, I was looking for four things: centrally located, breathtaking views, comfortable, and budget-friendly. We found all of that at this cozy boutique hotel. Each of the 52 rooms comes complete with patios and terraces with panoramic views, and there is a rooftop cafe that serves breakfast (that you have the option to include with your room). Our room was fairly standard aside from the marble bathroom, but it was spacious. There is also an onsite spa that has a Turkish bath built into a cliff rock, and guests can rent an onsite VW Beetle to travel around town.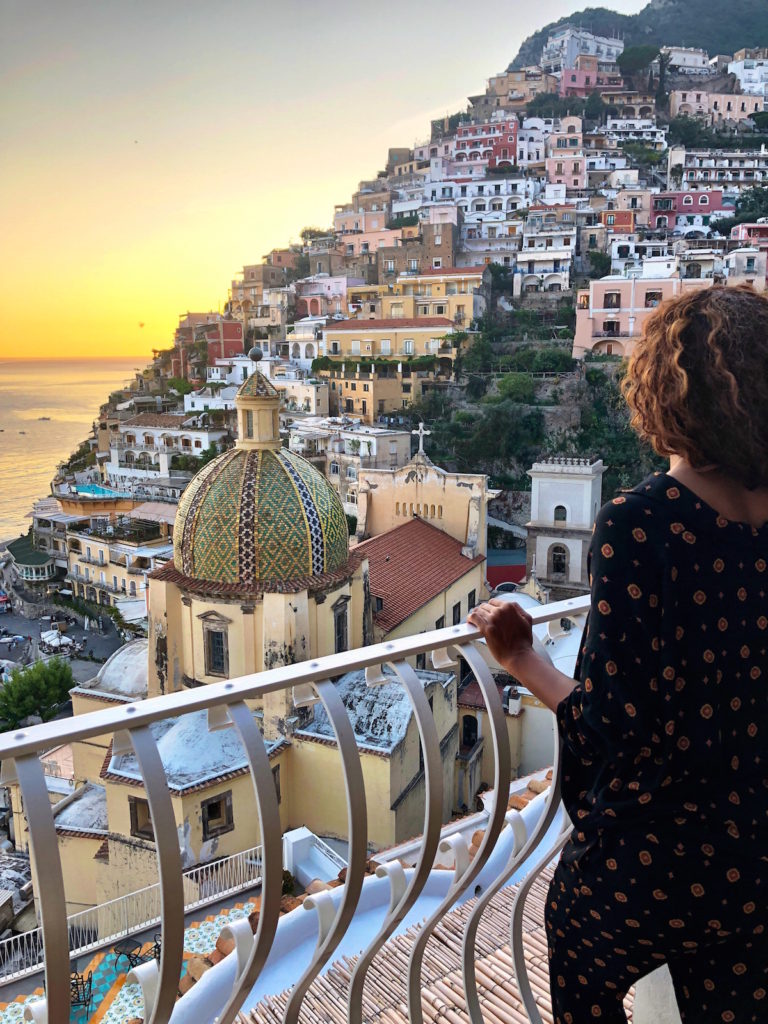 2. Le Sirenuse: Let me just put it this way…I saw a photo of people dining at Le Sirenuse at nightfall a couple of years ago, and put Positano on my bucket list. This is one of most luxurious hotels in town, so if you can afford to splurge, stay there. It's an 18th century palazzo turned chic hotel with dreamy suites coated with mosaic tiles and filled with plush white furniture and colorful decor. In addition to its  (even the standard rooms comes), the hotel is home to Michelin starred Mediterranean restaurant La Sponda, the stylish Franco's bar, and the poolside terrace bar, which have panoramic views. Le Sirenuse simply embodies what Positano is all about – romantic, whimsical, and chic.
3. Hotel Reginella: While this boutique family-run hotel isn't the most luxurious place to stay in Positano, it is one of the most budget-friendly spots in town with panoramic views. The hotel is central and there is a staircase nearby for a quick walk down to the beach. Guests rave about the breakfast here and the charming, helpful staff.