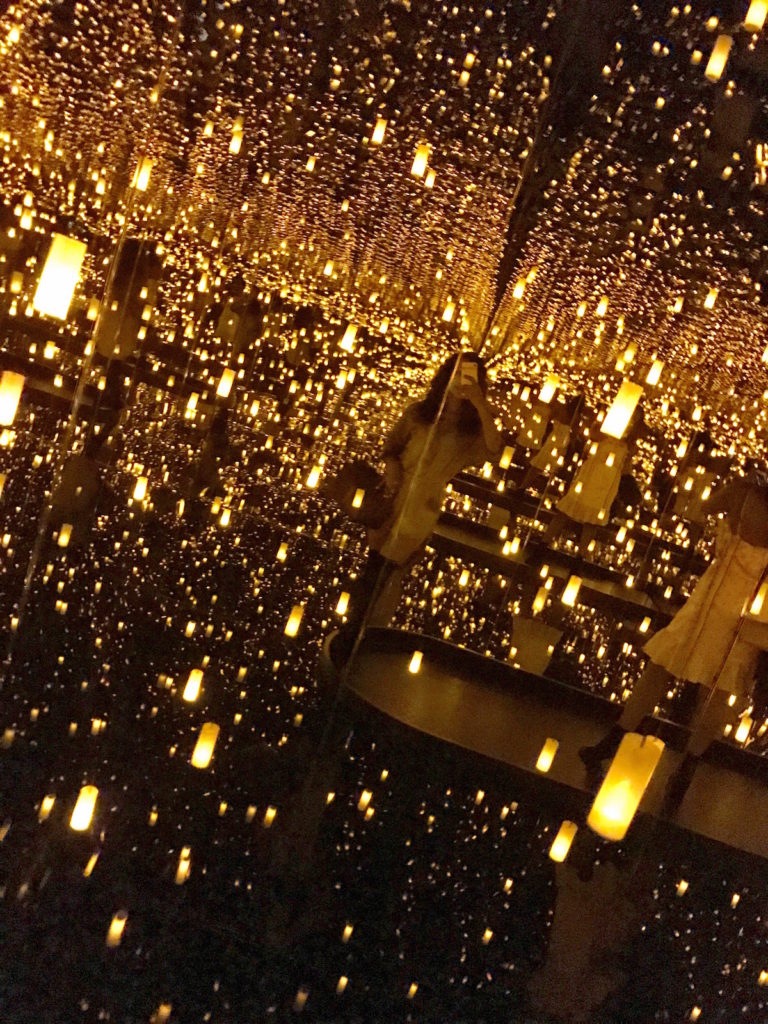 "I, Kusama, am the modern Alice in Wonderland." -Yayoi Kusama
Yayoi Kusama's Infinity Mirrors at the Broad Museum in Los Angeles was everything we hoped it would be: a creative, artistically inspiring, visual wonderland…with just one major catch.
Anyone who visited the exhibit had only 30 seconds to experience each room. It was so serious that there was a museum employee standing outside of each installation with a timer to make sure that no one went over that time.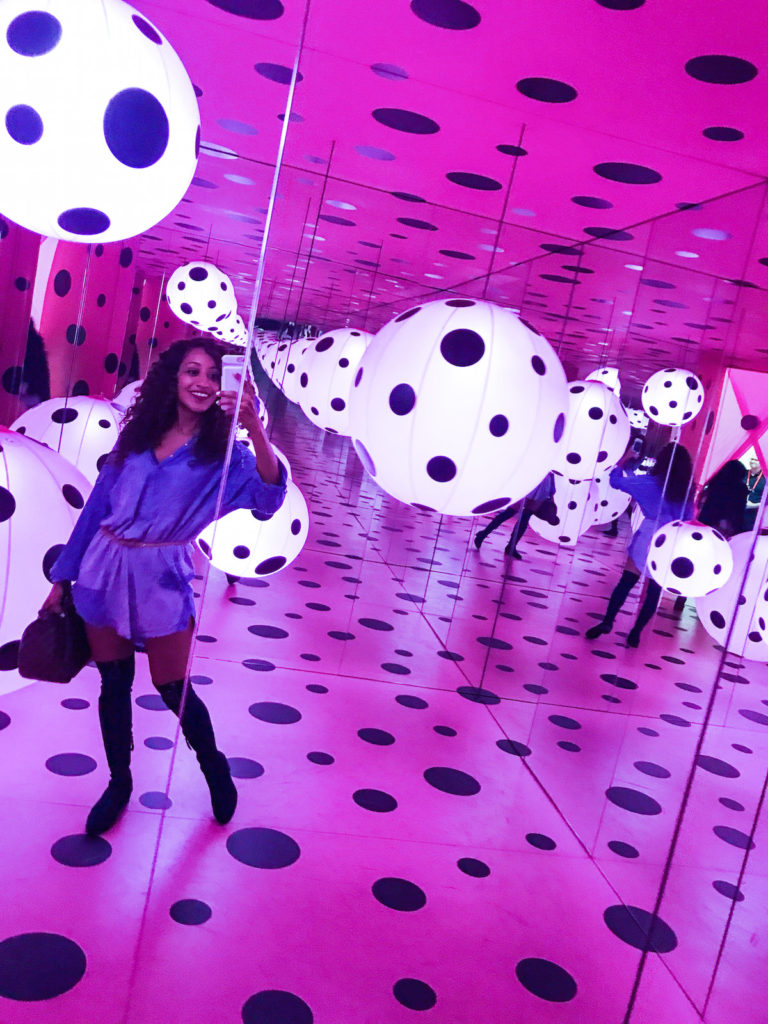 Like most buzzworthy LA pop-ups, Kusama's exhibition sold out quickly. According to the LA Times, 50,000 of the $25 tickets were sold less than two hours after going on sale in early September, and it was a big deal if you were lucky enough to snag one. We waited about an hour online in a queue just to have a chance to buy tickets, for example.
If you've never heard of the exhibit, here's the gist: It comes from the mind of the 88-year-old Tokyo-born artist, who was prone to hallucinations at an early age that included polka dots and complex patterns. Those themes came to define Kusama's work as an artist. Dubbed as the "Polka Dot Princess," the artist's much instagrammed Mirrors exhibit features mirror-lined kaleidoscopic rooms that wowed us every time we walked into one.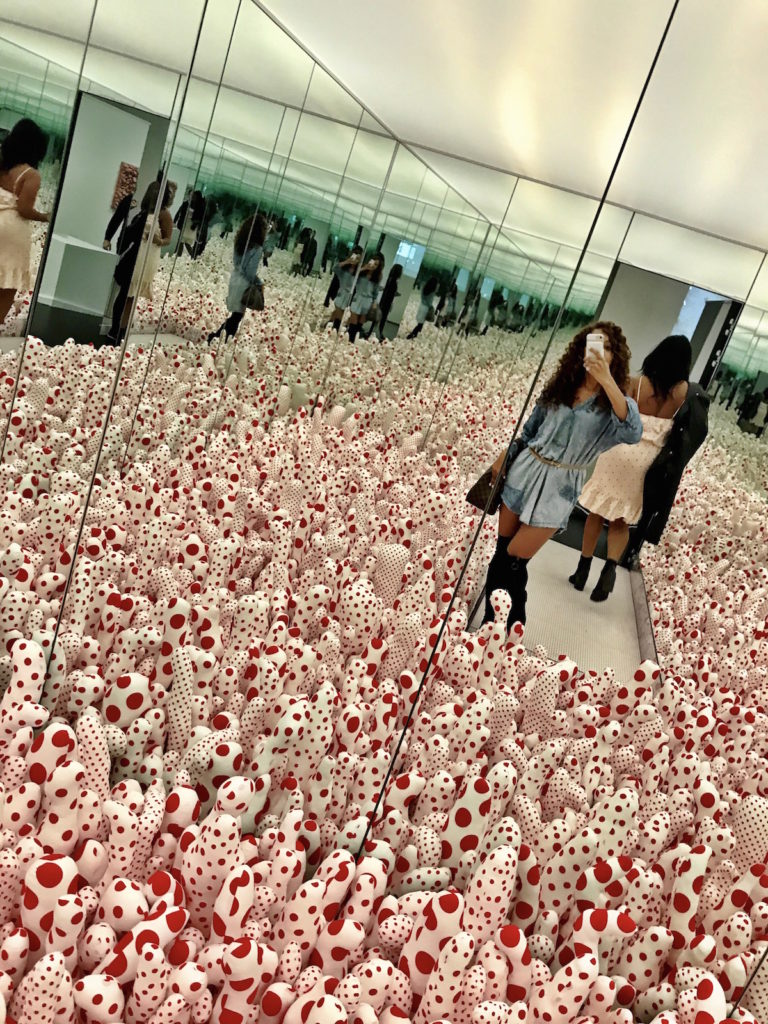 In one room, there were strings of multi-colored lights everywhere, making it look like we had walked into a twinkling starry night. Another bright pink polka dot room was illuminated with hanging polka dot lamps, and in another, we stepped into a field of polka dot figurines.
We poked our cell phones into a box lit with a neon maze of lights and snapped as many photos as we could in each one. There was just one room where photos weren't allowed (which happened to be our fave, unfortunately) – an installation filled with orange black polka dot pumpkins.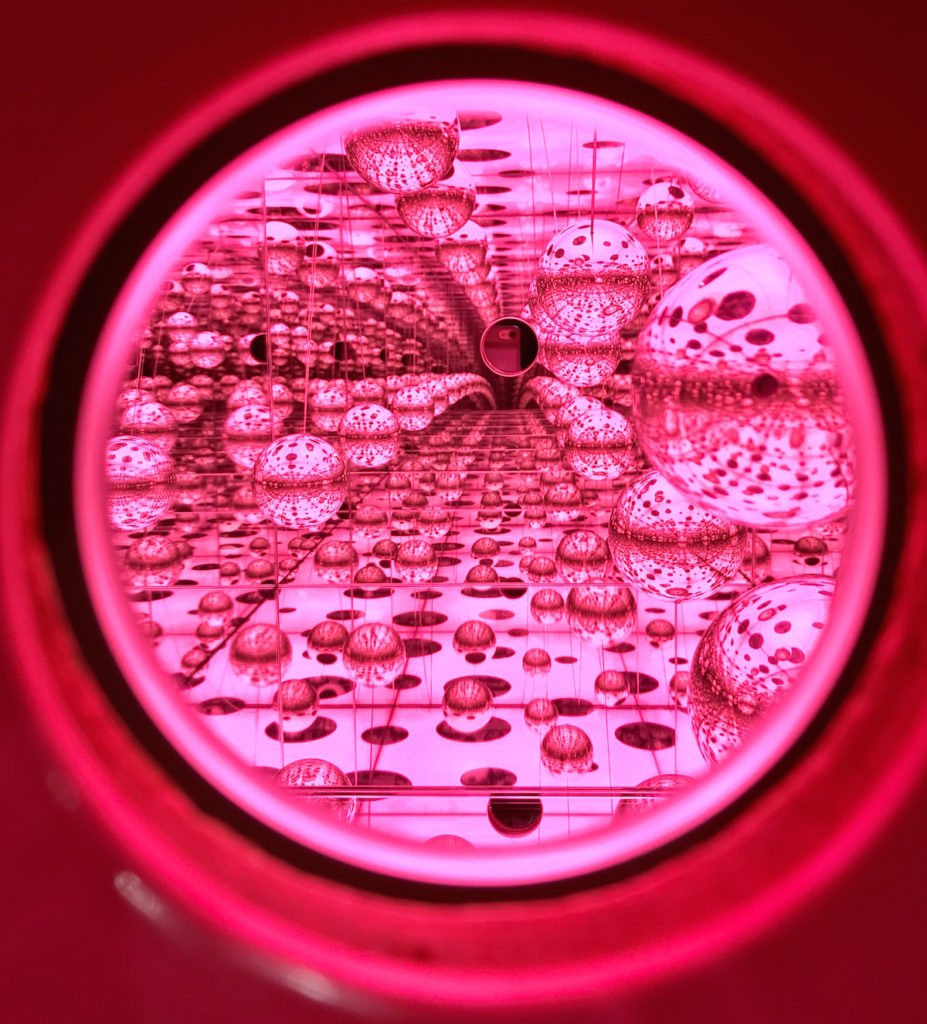 The exhibit wrapped up with one room where we could spend all the time we wanted – a large, colorful polka dot space that came complete with a dining table, kitchen, and living room. We were given polka dot stickers to add to the walls and had to do so before we could head out.
Kusama's Mirror exhibit wraps up at the end of December in LA. If you missed it in the City of Angels, here are four things you need to know before you go see it in another town. The exhibit is heading to the Art Gallery of Ontario from March 3–May 27 and the Cleveland Museum of Art, July 9–Sept 30.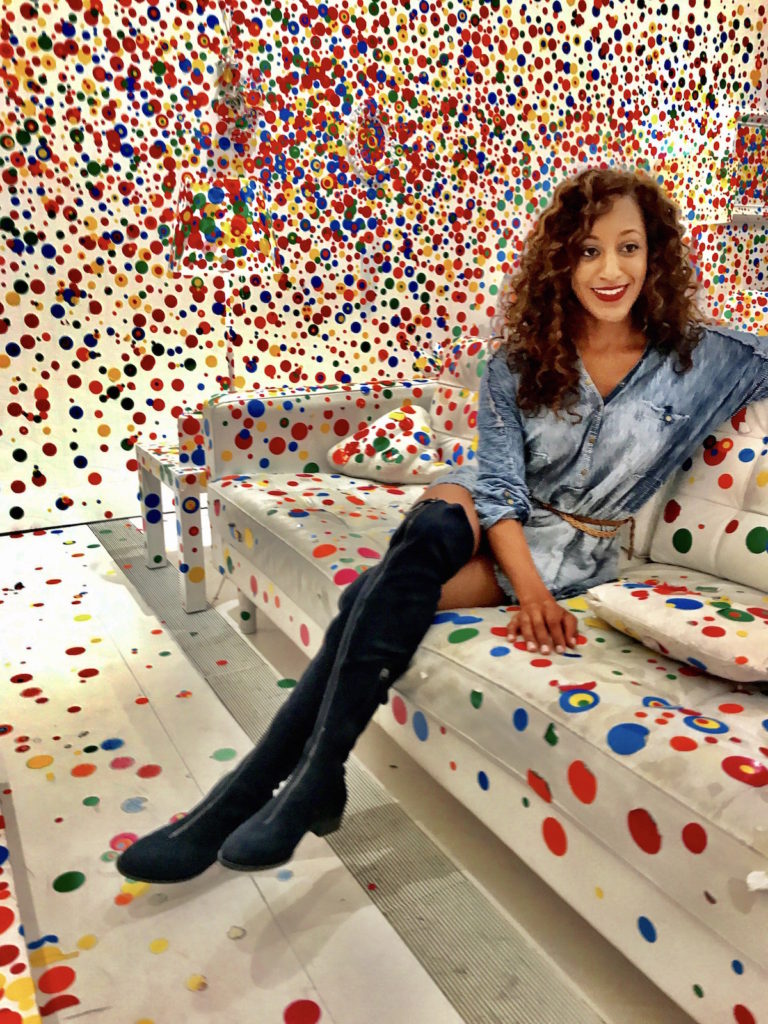 1. When release dates for tickets are announced, try to scoop them up as soon as possible. They will go fast and are worth the price.
2. If you want to take photos for the 'gram, walk in with a plan. Since there are mirrors everywhere, don't waste time having a friend take a photo of you (if you go with someone). Instead, go for selfies. Take photos of yourself in the mirrors or with your mirror partner.
3. You may only get 30 seconds in each room, but there can be long lines for each one. Because of the allotted time those lines move fast, but make sure to allot at least an hour in your day for the exhibit visit.
4. While you're taking photos, try to take at least a few seconds to enjoy Kusama's artistic magic. Each room truly is an awe-inspiring experience.