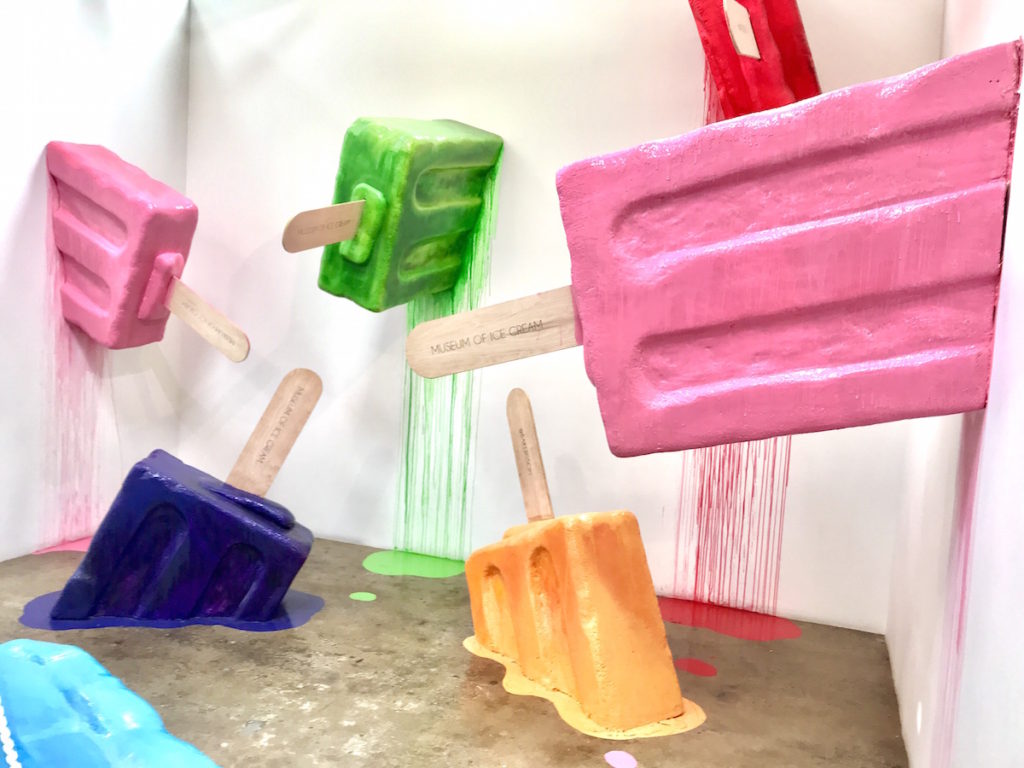 If Willy Wonka's Chocolate Factory had an ice-creamed themed sister location, this would be it.
Founded by 25-year-old Maryellis Bunn, the Museum of Ice Cream is exactly as its name suggests – a museum completely dedicated to ice cream, filled with whimsical installations and sweet treats. When it opened its doors in Los Angeles, so many people tried to nab tickets that it sold out in hours.
Why, you ask? The museum is a snap-happy haven so perfect for Instagram addicts that the L.A. location attracted the likes of Beyoncé, Jay Z, Gwyneth Paltrow, and more, with Queen Bey and her hubby even taking a dip with their daughter Blue in the museum's famed sprinkle pool. The Angeleno pop up came about after MOIC first launched a 45-day pop-up in Manhattan last summer. It was so successful that they expanded the pop up to L.A., and added more temporary ice cream hubs in San Francisco and Miami (and we're expecting more to come).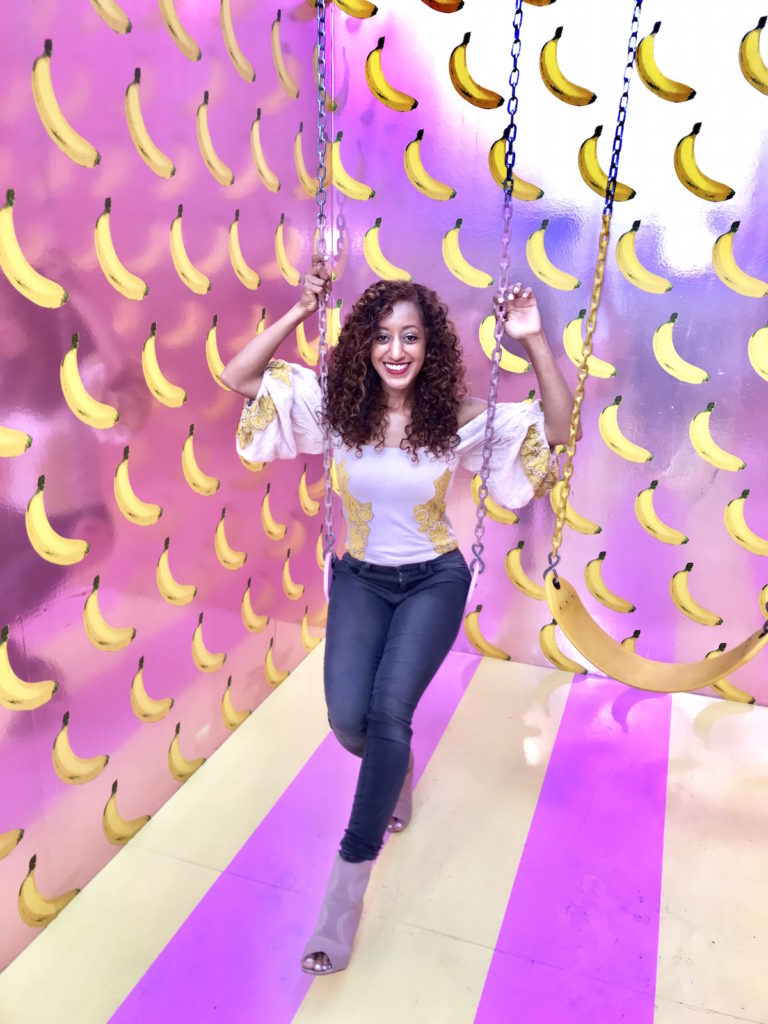 Before the L.A. location closed its doors at the end of December, we headed downtown to the arts district and stepped inside the bright pink building, where one of the bubbly greeters started our tour by asking a young boy in our group, "What is your team's name?" He shouted "Lion!". That was right when we realized that we were going full kid mode for this one, and embraced our inner children as we strolled inside with the rest of our ice cream squad.
Our group grabbed up Dove chocolates from a pink cart before we entered into a glittery pink mirrored tiled room (the beginning of the Instagrammable photo opps). Then, we trekked on, picking up a scoop of cookies and cream along the Ice Cream Walk of Fame that came complete with stars emblazoned with punny names like Strawberry Short Drake and Kim Carbstashian.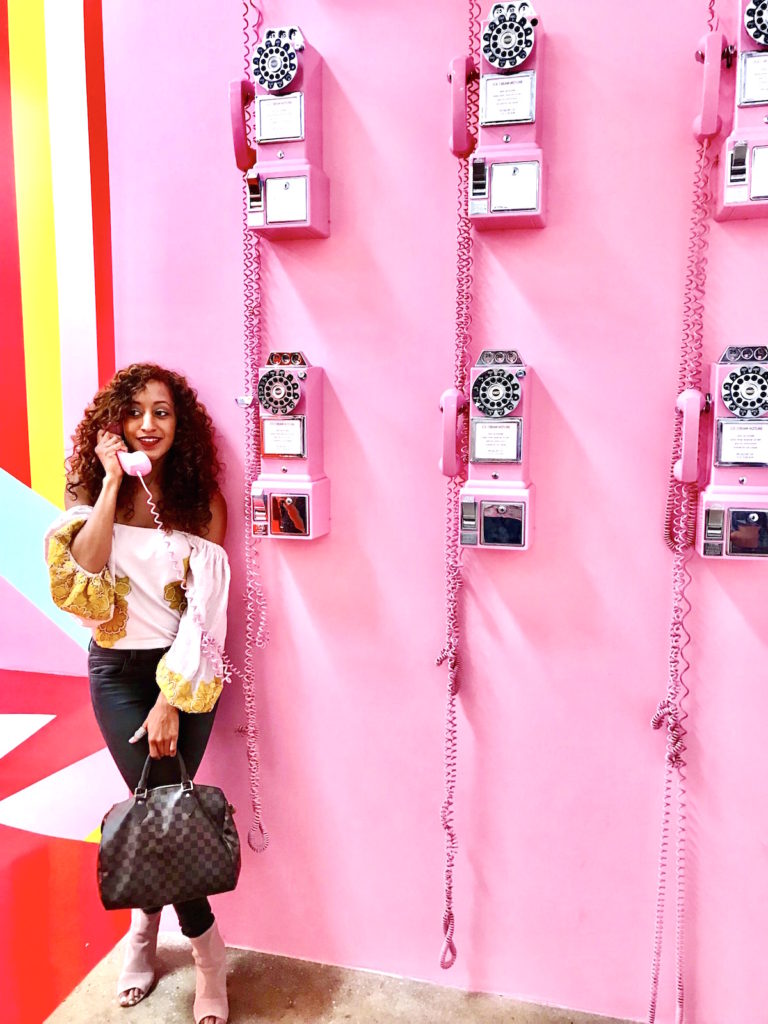 The museum is designed to bring people together and provoke imagination in each one of its creative installations, and it did as we went from room to room – hopping on a swing in a banana wallpapered room, munching on mint chocolate chip mochi in the mint growing room, and channeling the Bey/Lady Gaga "Telephone" video on the pink pay phones that lined a wall in another bright pink room.
In a rainbow-striped room sprinkled with life size gummy bears, museum goers did a "gummy bear dance" to receive a handful of gummy bears before they headed to the room that was our fave – the sprinkle pool room. We hopped in with a ton of kids, parents, and ice cream-loving adults like ourselves, and played until our allotted time in it expired.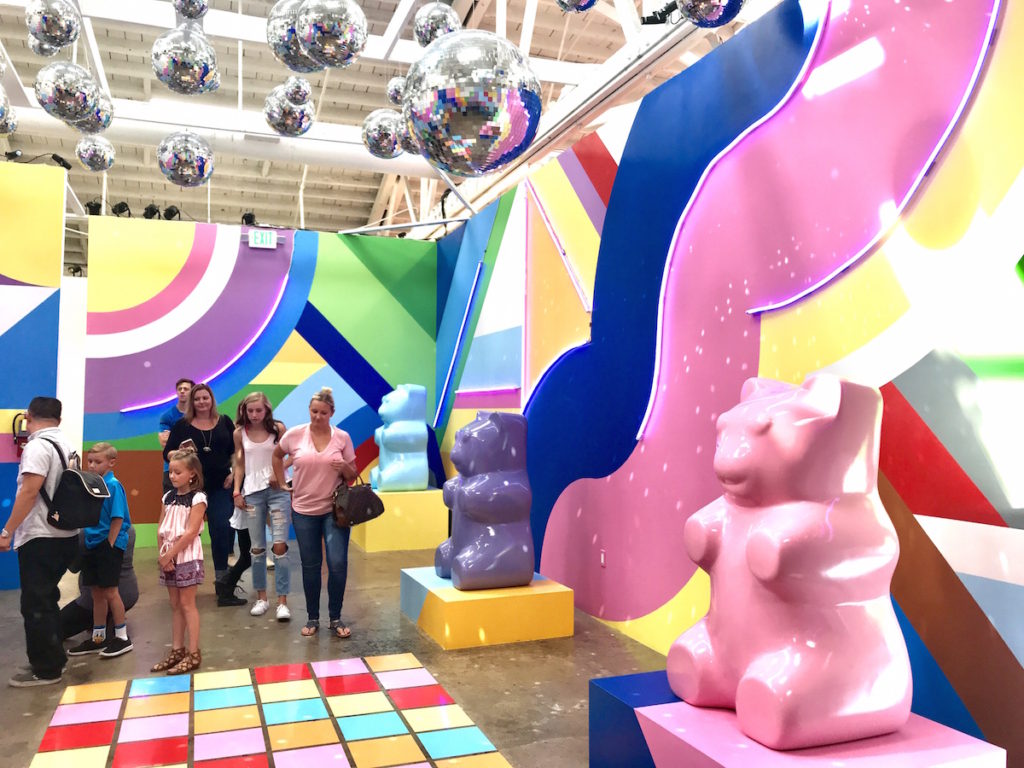 The exhibit wrapped up with a cone of pink ice cream and one last photo opp in front of a neon Museum of Ice Cream sign.
Here are 3 things you need to know about the Museum of Ice Cream:
1. You can't play games with tickets, which are around $29-$38 a pop depending on the location. While MOIC is closing up shop in Los Angeles for now, you can still visit the pop ups in Miami and San Francisco if you move fast. Sign up for the site's e-mail list and when tickets become available, buy them (there's often an hour wait in a queue online to do so).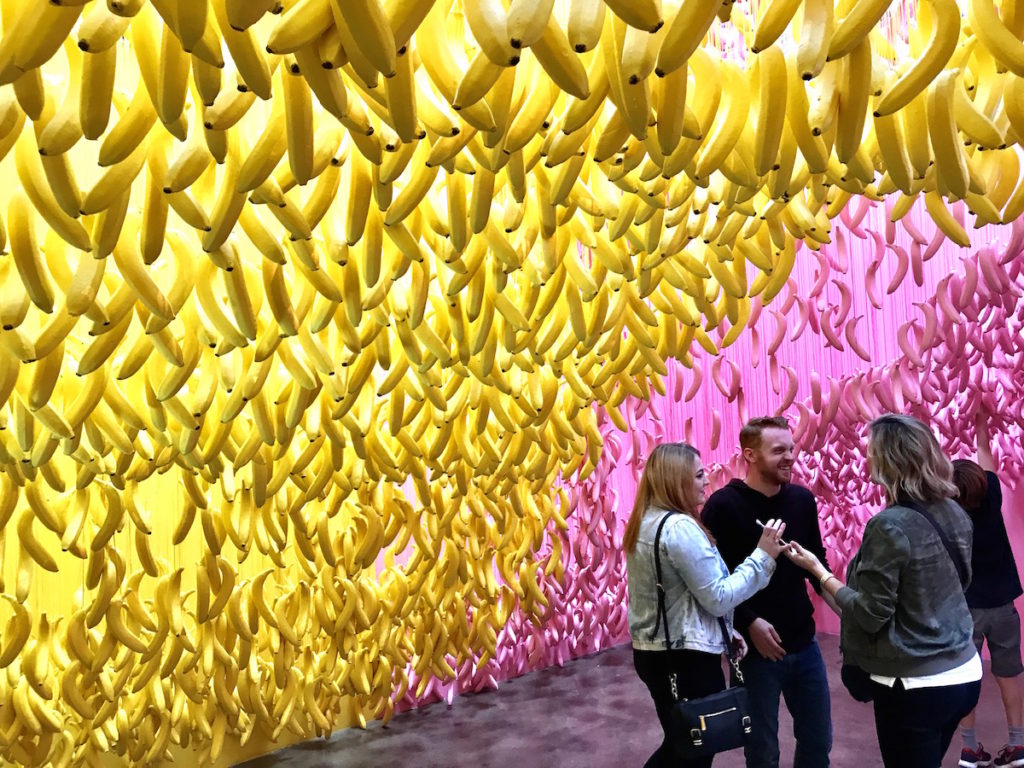 2. Aside from the sprinkle pool, you can spend as much time as you want in each room, but once you leave a room, you can't go back into it.  The sprinkle pool room is timed, and you only get about five minutes in it. If you want take photos there, walk in with a game plan, and do so for the rest of the rooms as well to speed up the process.
3. To experience the museum with more kids than adults, book your tickets at night (usually the last slot). We recommend doing that if you're not bringing kids with you to the exhibit. The experience will have a more grown up vibe.
However you choose to experience the Museum of Ice Cream, go if you have the opportunity. It is one sweet treat.